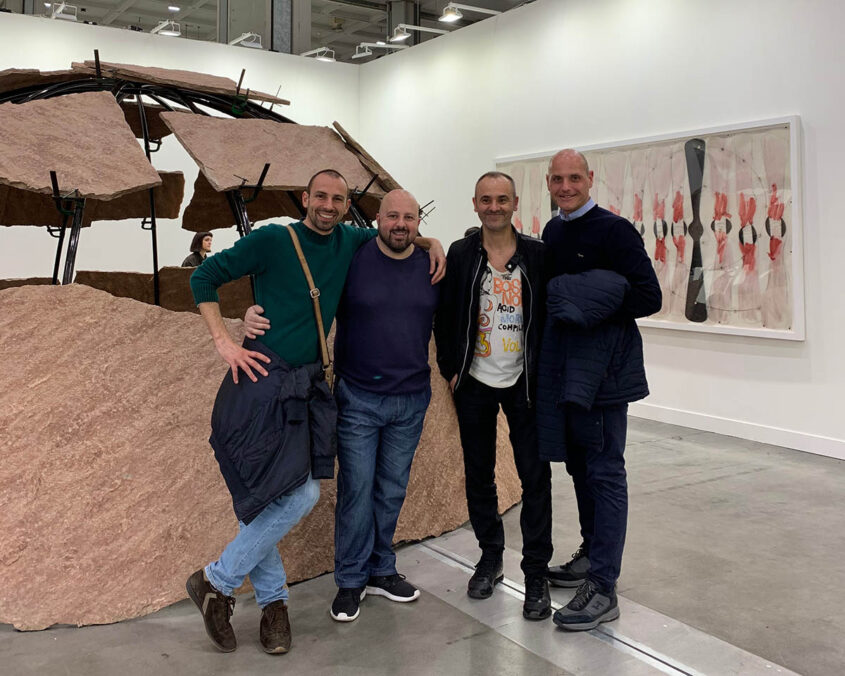 Erka Shalari: What is Underdog Collection doing in this hot summer?
Underdog Collection: With such hot weather and all four of us living in seaside cities, our first stop is always a beautiful beach and a dip in the sea, especially for Tony, who resides in Calabria. We definitely need to plan a visit to his place! Summer is a unique time for the art world. While some galleries take a break and pause their programs during the summer holidays, others use July and August to organize collective exhibitions featuring young, unrepresented and recently graduated artists. We are particularly interested in these shows, which are often underestimated by many but offer a valuable opportunity to discover new talents and emerging artistic visions. Young artists' freshness and creative energy fascinate us, and we enjoy exploring artworks that express the creative urgency of those starting their journey in contemporary art. These summer exhibitions are a source of inspiration for us and contribute to making our summers culturally meaningful and stimulating.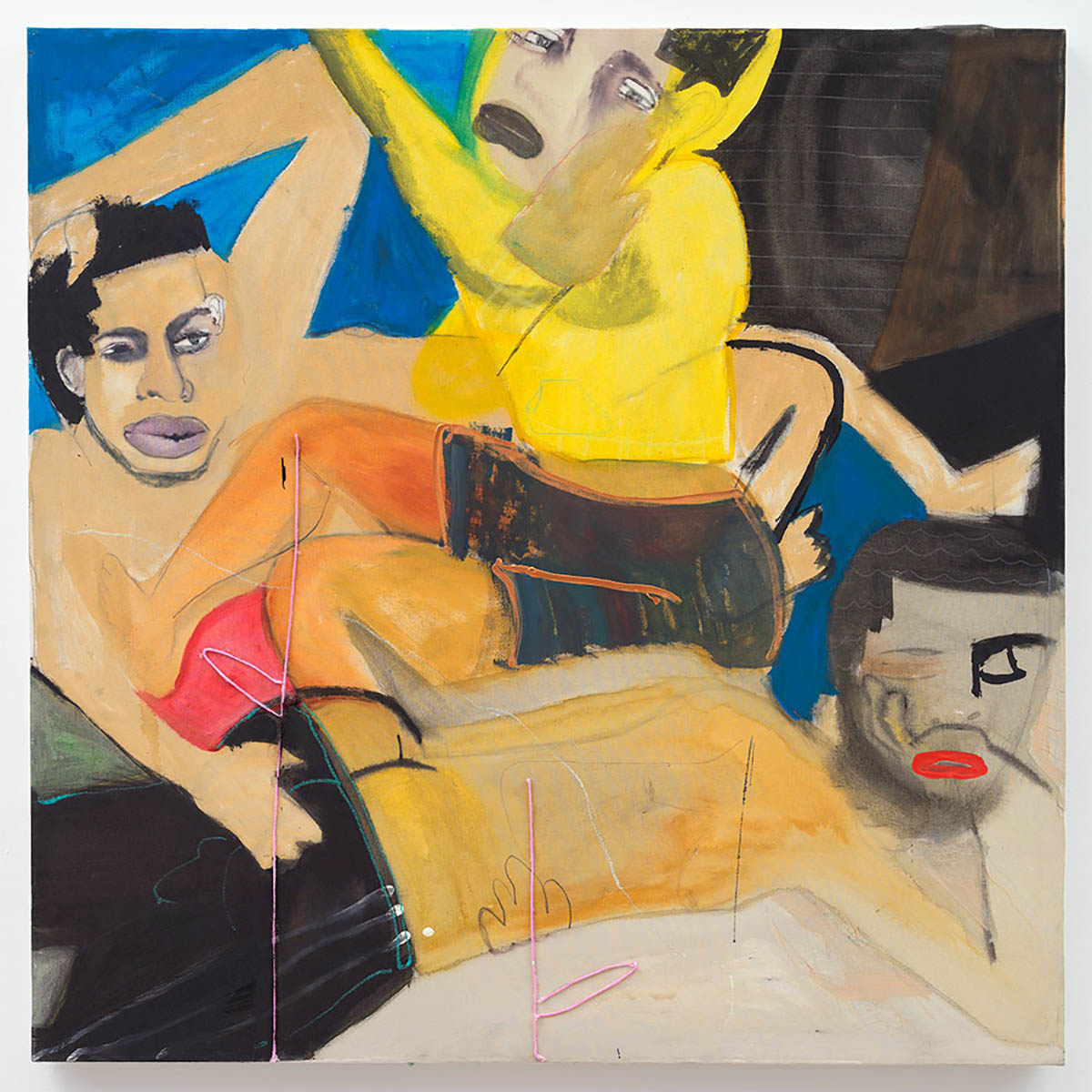 I have to ask you, how did the idea of being a Collector Collective come about?
We were all four very close friends for several years before 2018. However, the idea of collecting together was born in December 2018 after Il Sole 24 Ore, a prominent Italian magazine specialized in economics, interviewed each of us individually in an article about young contemporary art collectors. Before that date, we made individual purchases, each for our own collection and independently. After the interview, we wondered if it would make sense to become a collective and join forces since we already shared all the information and passions regarding the young artists we admired.
In fact, it was as if we were already a collective without even realizing it.
The decision was natural and swift. In less than a month, we officially became Underdog Collection and had already drafted what is, till now, our website! The desire to form a collective was so strong that we dedicated ourselves entirely and immediately to making it official. It was an intense month of continuous arguments and laughter, especially because it was during the Christmas and New Year holidays when we had plenty of free time (even for arguing!). We look back on those days with fondness, as they marked the beginning of our journey as Underdog Collection. 

And how do art galleries and artists find this model?
Some gallery owners, but not only the gallerists, find it fascinating. They are very curious, and if they get to know us as a collective, they take the opportunity to delve into what, for many, is an original approach to art collecting. On the other hand, artists give less weight to the matter. During studio visits, they reveal that they are impressed by our genuine curiosity towards them, their work, and the questions we ask, which we sometimes admit can be uncomfortable (but not too much!).

What are the most compelling stories you can tell us about Collective Collecting?
Being a group means that each of us brings something new to the others. Years ago, we discovered Jordan Casteel when she was still a student, and now she's a top artist. We often talked about her and wanted to acquire one of her artworks. We were able to find an available work, but it was pretty different from her typical figurative portraits of people as it depicted only a hand resting on a knee of a woman. Alessandro opposed the acquisition because the painting as it didn't show the person's faces (he was fascinated by the paintings, in which figures in all their entirety were present). Hence, we decided not to proceed with the purchase.
After some time, Jordan Casteel became a highly demanded and famous artist, and the painting we had turned down became a subject of debate in a prominent art magazine, considered a significant work for the artist's career. Since then, we've teased Alessandro whenever we came across a figurative artwork without the person's face. So, I can say that being a collective is exciting, and brings joy, but sometimes also some playful pain! 
Ultimately, these experiences taught us the importance of listening and considering different perspectives within the group during the decision-making process of collecting.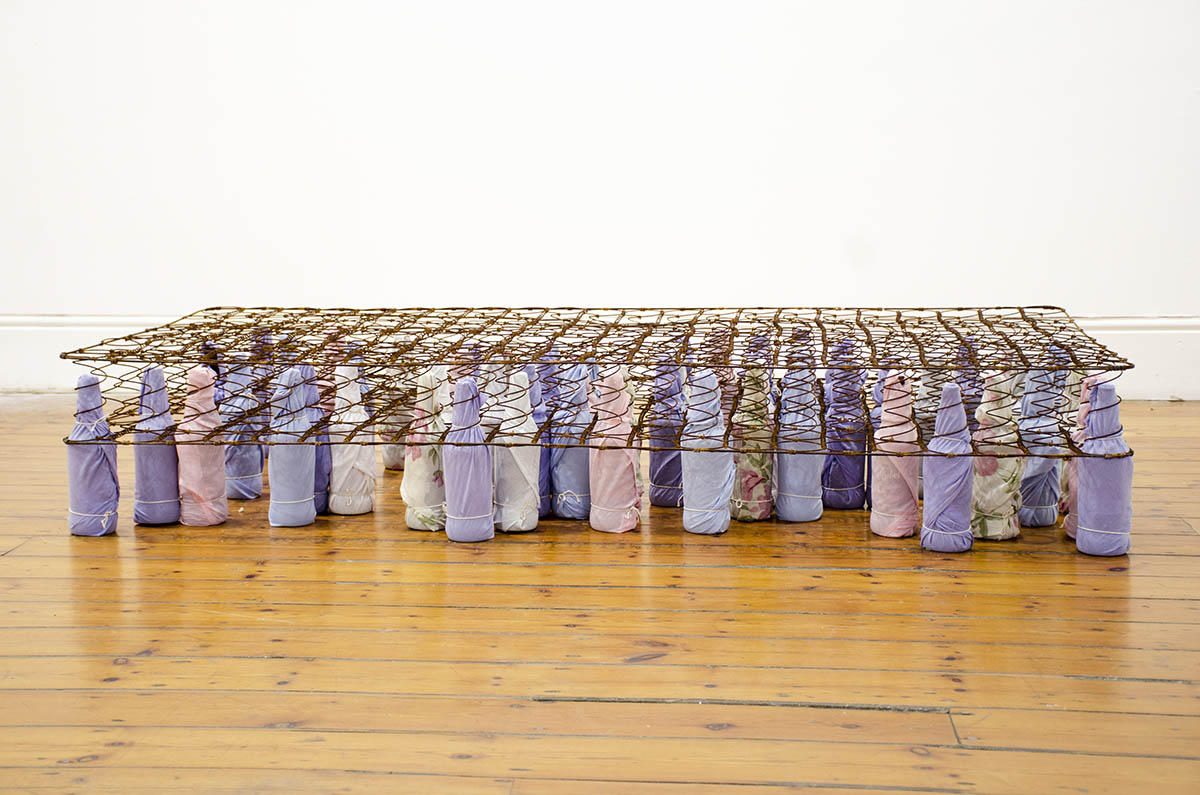 The latest works that have entered your collection?
Our latest acquisition consists of two works by Giuditta Branconi, a young Italian artist collaborating with the L.U.P.O gallery in Milan. We were drawn to her talent and artistic expression, leading us to select one of her works on canvas and another significant large piece on paper. We found it intriguing to have two artworks of her in different artistic mediums. 
Prior to acquiring the artist, we were fortunate enough to meet her in person and visit her studio multiple times. These encounters deepened our appreciation for her art and the artistic process behind it. We are truly delighted with this acquisition and look forward to witnessing Giuditta's artistic journey unfold.
I want to ask each of you to pick one group member and to introduce to the readers and me a kind of bio, something funny about the other, or an artwork or artist that he has pitched amazingly at the group and so making you fall in love with the position.
Fabio: Let me introduce you to Alessandro, the memory of our group. He's the one who remembers names and dates of any artist, even if he has only seen their work once. He also remembers each show in each gallery. He is our "wekepedia". He's a fan of Brazil and tries to convince us to collect every existing Brazilian artist. We jokingly call him "the striker" because while he used to discover many significant talents, now we tease him that he can't even score an open goal. Thanks to him, we discovered the highly acclaimed emerging Brazilian artist, Maxwell Alexandre.
Alessandro: Allow me to present Tony. He's the only one among us who, as we say, has two families – his own and us! He's fond of abstract painting and has developed an interest in Asian art. With this combination, he discovered the brilliant artist, Wang Xiyao.
Tony: Let me introduce you to Bruno. He's the jester of the group. Always laughing and joking, he manages to ease the tension during intense discussions. He's the conceptual lover among us. We tease him that whenever he sees an artist in person, he gets so excited that he starts bowing, cartwheeling, and doing pirouettes. Don't believe it? Just ask Wang Xiyao! Thanks to him, we've come to know and appreciate the sculptures of Dominique White.
Bruno: Allow me to introduce Fabio. He's the smartest one among us, and the one who actively maintains social relationships with artists, insiders, art collections and galleries. He appreciates beauty and always seeks quality in the artworks. His motto is: "We don't acquire an artist's work just because we want it; it has to be beautiful, meaningful and representative." You can't imagine how many times he's rejected certain works! Thanks to him, we have some of the most poetic artists in our collection, such as Guglielmo Castelli, Cassi Namoda and Bronwyn Katz.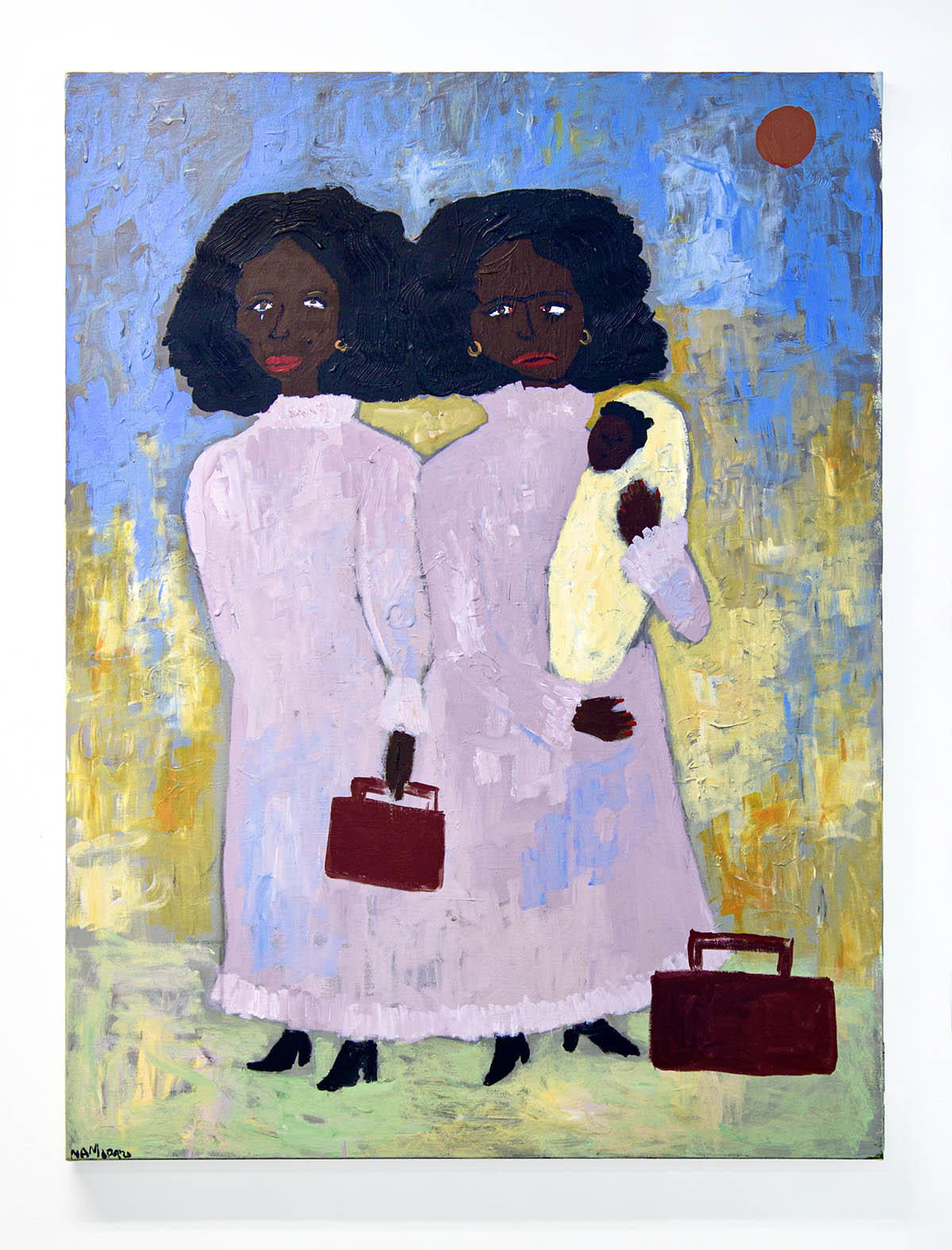 What is the role of art galleries in your choices? Which galleries have, for instance, had a crucial role in your collection?
The question is interesting because it does not have a single answer throughout our collecting journey. Initially, and for many years, we relied on our scouting talent without tying ourselves to specific galleries. However, in the last two/three years, while still purchasing works of young artists directly from their studios or new galleries, we have developed friendships and acquired more pieces from certain galleries that have become reference points for us.
These galleries differ significantly in their focus, giving us a 360-degree view of art. Among them are Luce Gallery, with a focus on black art, Era Gallery, highly active in Asian art, Gian Marco Casini for Italian artists, and Emanuel Layr for the European panorama. It's worth nothing that all of these galleries are Italian or somehow connected to the region, as in the case of Emanuel Layr, which, despite being in Vienna, had a space open in Rome for many years. 
This diversity in approaches and gallery focuses has allowed us to enrich our collection with a wide range of artworks and has provided us with an eclectic perspective on contemporary art.
Do you have patterns in collecting, kind of things that repeat, that you have the feeling that you are always fascinated from?
How would you describe your collection line?
Over the years, we have come to understand that we have many guiding threads and models of collecting. Artists speak to us about the world, about what happens around us, and we, being curious, seek to comprehend the message they want to convey. Thus, our collection has developed, for instance, a guiding thread centred around black American art when artists like Tschabalala Self and Jonathan Lindon Chase began exploring themes such as corporeality, the imagination of physicality, and sexuality within the Afro-American culture.

Subsequently, we approached the art of South Africa, where a group of newly graduated artists, including Bronwyn Katz and Lungiswa Gqunta, formed the collective "le Iquiya" to critique the country's art system and address critical social issues through performances. We were then transported to Brazil, where artists like Maxwell Alexandre and Mulambo introduced us to the harsh life in the favelas in a very raw yet poetic manner.
With these examples, in short, we aim to convey how our collection is an authentic life journey that enriches us day by day.
Besides galleries, where do you scout the artistic positions? 
There are no limits for us! We directly contact artists on Instagram when we discover them, to have a conversation and understand their artistic practice better. We enjoy following exhibition spaces created by artists, such as Cordova in Barcelona or Progetto in Lecce, and we pay close attention to awards and artistic residencies. Having no limits and prejudices is definitely our strong point.
Have to ask it, have you ever been to Vienna and are there any artists that you know from here?
Yes, we have been to Vienna, and it is a culturally vibrant city. We visited the city several times also to attend the art fairs. Additionally, we closely follow the programs of some galleries such as Vin Vin, Sophie Tappeiner, and, of course, Emanuel Layr. From the latter gallery, we have indeed acquired works by two young Austrian artists: a sculpture by Anna Sophie Berger and a work by Philipp Timischl. Vienna has a fascinating and diverse art scene, and it is always a pleasure for us to discover new artists during our visits.
Underdog Collection – www.underdogcollection.com