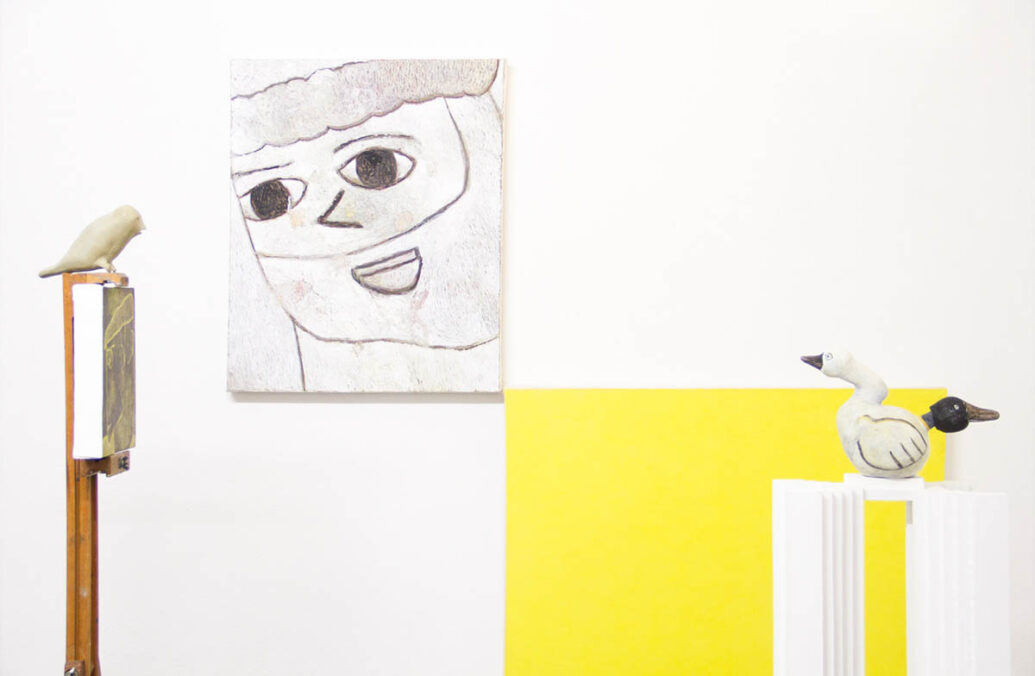 Prologue. BIRD: My name is Deltitnu and I'm dead. My heart no longer beats; only my killer knows what happened to me; I've been away from my studio for three days; I don't even know if anyone is waiting for me anymore.

I had a happy life; I soon found fame as an artist, but I made the serious mistake of considering art as a job; talent, inspiration, and mastery do not always find a fair reward in money; only when I met death tragically did I understand that the reward of art is art itself.

It is a miraculous fact that you can hear my voice despite my situation; I died but I was not buried, so my soul could not completely leave the body. Because of this particular situation of mine, I have therefore decided to tell you my story. Be careful and open your eyes and ears. Behind my death, there was a scandalous conspiracy. The last thing I saw before I died was my murderer's tail. 
Like all artists i died, but I have not disappeared.
I -Studio Visit. Where Deltitnu meets the duck for his first studio visit. I was very excited about my first studio visit with such an important figure. I had carefully prepared the studio, installing my best works; I knew that the Duck was certainly not a minor professional, on the contrary, she had a lot of influence on the choices of the Director.

I had seen the exhibition she curated shortly before her visit and I was really happy that she had decided to reply to my e-mail. For the occasion, I prepared my delicious biscuits and set up a small exhibition in my studio with the best works chosen for the occasion.
What follows is what I remember from our first conversation.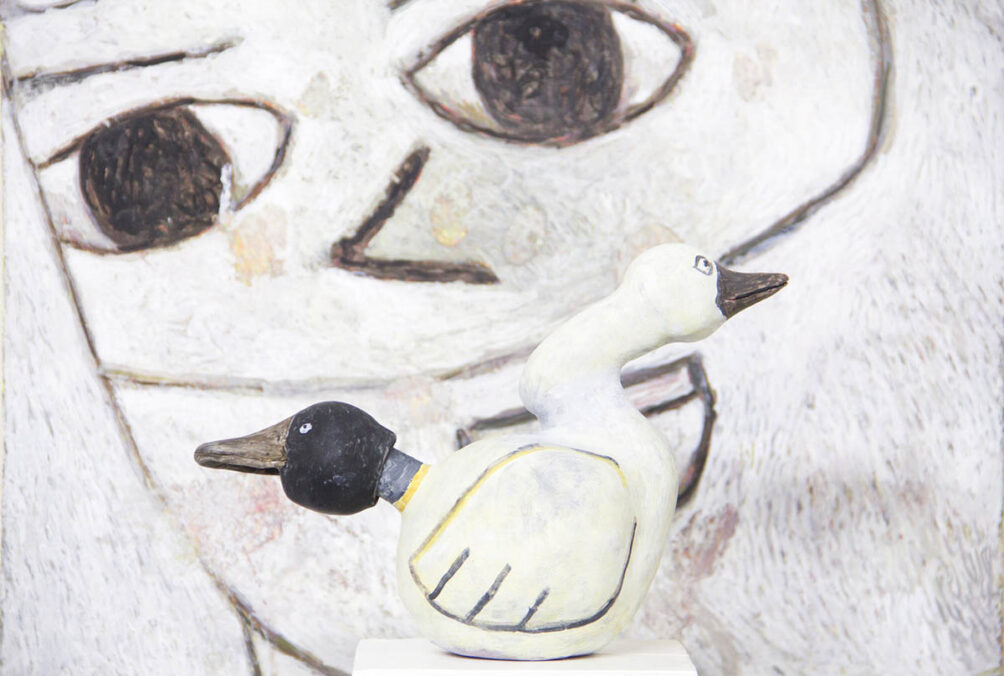 Duck: Hi Deltitnu, I'm happy to meet you in person. It was reasonable of you to invite me to see your work. I am very busy, but I tried my best to be here. This year I am constantly traveling, I leave tomorrow for the Venice Biennale and I have dozens of interviews and studio visits to do. 
Deltitnu: It is a pleasure to have you here, thank you for being able to come and see my studio. Would you like something? I have some delicious cookies. 
Duck: No. I don't have much time, let's go and take care of your work right away. I had a look at the portfolio you sent me; they seemed like good works, but I really need to see them live. 
Deltitnu: Here we are in the studio, however, I brought the biscuits. I hope you won't be too harsh in judging my work. 
In the following minutes, there was a silent conversation between her and my works. A strange wail followed, which I did not understand. I decided to break the silence to ask her what she thought of my works; but then I felt compelled to tell her something personal, something about me and my works. As of today, I don't know why I did it. 

Deltitnu: Often I am unable to work, and I try and try again until I reject the work. These canvases and sculptures were born out of pain. When I made them I was very sick, I wanted to force myself not to have to think. This is how these strange figures are born. They have something in common with death. The two smiling faces are complementary, and I think they are brothers. But these do not scare me as much as the image of the warrior, which I portrayed in charcoal, in pencil, and gouache. He is entirely an image born of my anxieties. I think he's a guardian, an ancient warrior. It is an image similar to time. I think every image is similar to time, but it is as if I expected this dark face, sooner or later, to start talking to me and making fun of me. And then…

I broke off. The duck's face was slightly contracted, and a slight grimace of her lip revealed an annoyance that was no longer bearable. 

Duck: You are boring, there is too much sentimentality and too much literature in what you say, you have to be simpler, the less you speak the better. The works are also very different from the documentation you sent me. There is some potential, but we need to work on it together. 

This cold answer left me blown away. I needed to sit down, but the only chair in the studio was already occupied by the duck.

Duck: Have you already shown these works to anyone before me? Did the Goose see them?
Deltitnu: No, you're the first one I show them to; I would have shown her to her only later, this is a research that is not yet completely concluded.
Duck: Are you sure it would be a good idea to show them to the Goose? She and I certainly don't work with the same artists; in case you'd work with her I could never introduce you to the Director.
Deltitnu: Why?
Duck: I am not authorized to tell you.

I apologized to her.

Duck: You see, dear Deltitnu, there are some unwritten rules. There are many artists and many curators, but not all of them move at the same level. In the art system, there are the upper levels, but also the low and sub-order ones: it is good to never get close to the latter if you want to deal with me. For example, do you go to the Director's openings? I've never seen you and he really cares about artists living and experiencing the institutions.
Deltitnu: No, I didn't know it was that important and almost necessary. But, talking about my work, what do you think? Can we also talk about my research?
Duck: Well, you clearly don't understand. We are already talking about your research. You claim to be an artist, but at the same time, you don't know the basic rules of art.

I was astonished. Then I remembered the only catalog of an exhibition of some importance in which I had participated and I thought of showing it to her. I found it under a shelf, but then it seemed like a devious testimony to my research. So I took my hands off the book and left it there. At that moment I turned and found the duck voraciously eating all the biscuits without saying a word.

Duck: Don't you understand that I'm the only one who can help you? There are, however, conditions. If the goose were to present your work, you would find the desert around you, the Director has very little consideration for her. Is that what you want?
Deltitnu: Of course not, but could you introduce me to the Director?
Duck: No. Only when he wants it. My job is to get to know and observe the artists and their work, then bring back what I have seen to the highest spheres of art. They will then decide. What is certain is that you are really naive. I absolutely have to help you look more contemporary. You have to be more cooperative, you have to trust me.

At those words I felt uncomfortable. I felt like I had missed my big break. I had worked so hard on those works and the duck made me feel stupid and unfit. I thought I knew something about art, but from this meeting, it became clear to me that this was absolutely not the case.
Exhibition duration: 11-11-2022 – 11.12.2022
Montecristo Project – https://montecristoproject.tumblr.com/