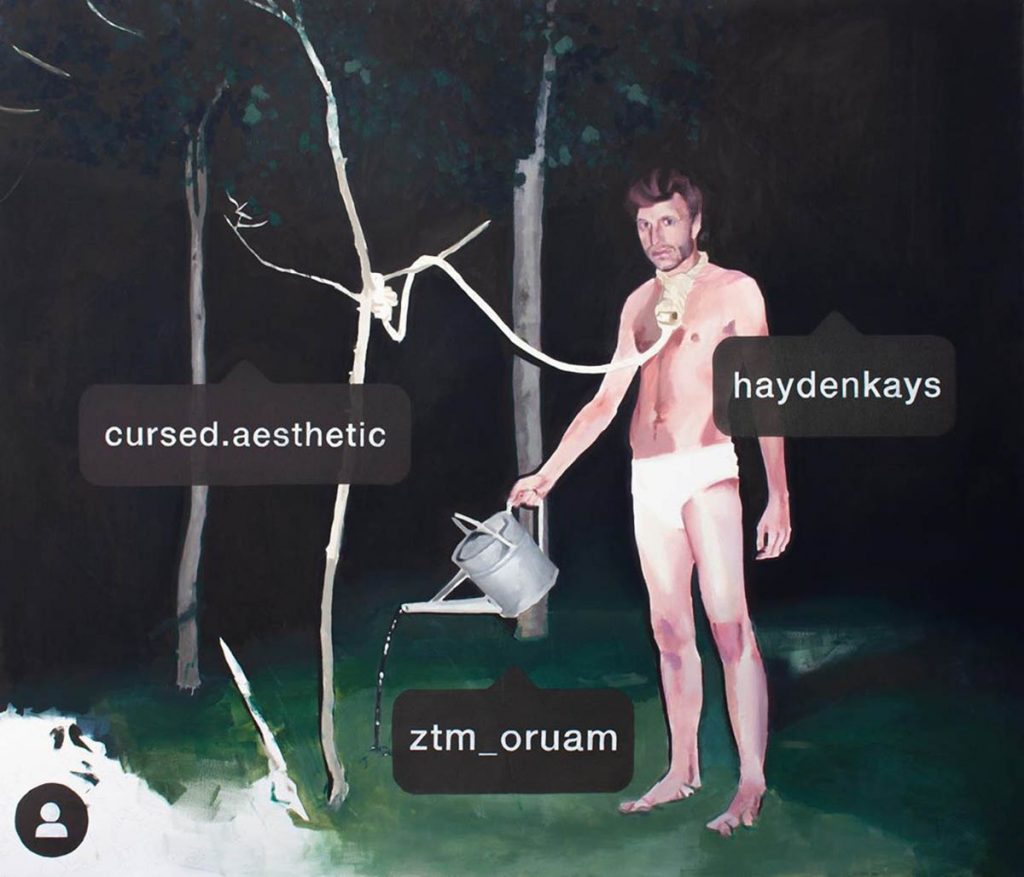 Yet the manifold social interactions happening online of course form the basis for exactly such a society – one that isn't defined spatially or geographically, but rather emotionally, mentally, and obviously natively digitally. There are myriad valid ways to criticize the dominance, intrusiveness and capitalist structure of social media; yet to countless individuals, social media is their "third place" – the canonic space between home and work. But, being digital and on your phone, it's decidedly cheaper, more readily available, and certainly more addictive than your local church or Starbucks.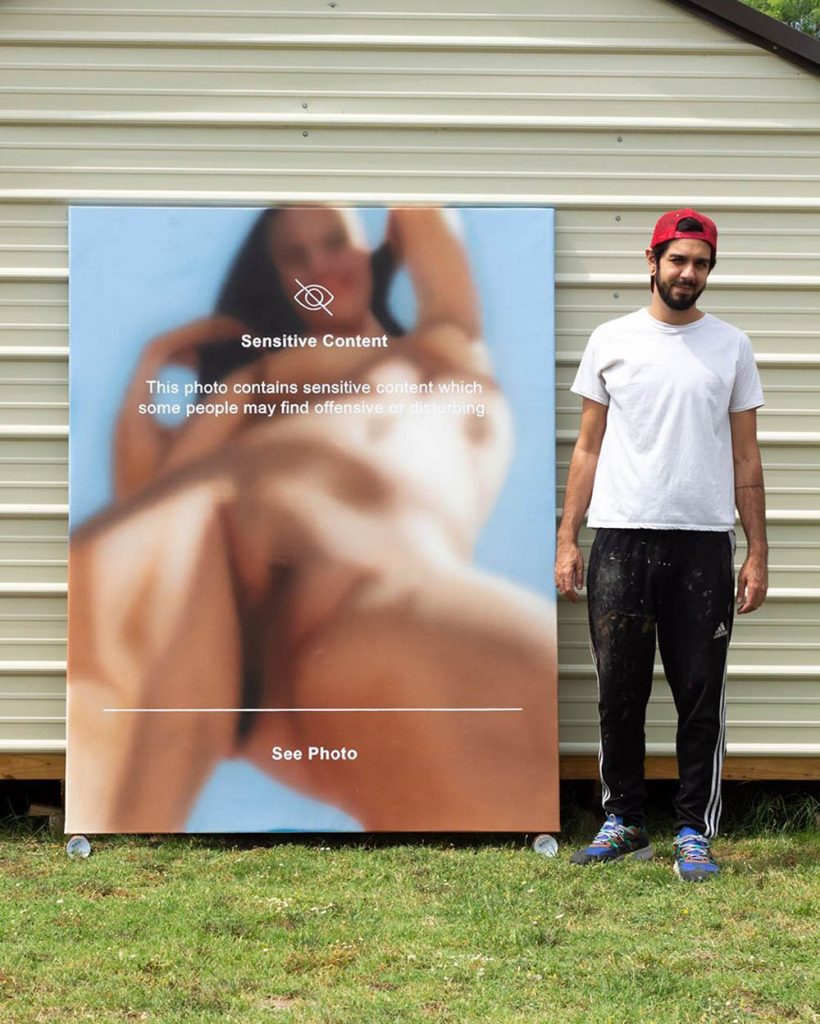 There are endless ways to depict society. Whatever approach an artist decides to take on this quest will obviously tell us a lot about them; with Martinez, there's a blend of humor and sincerity, mixed with a curiosity about the art world and a willingness to reflect the harshness of (both real world and social media) politics. Mix this with his knowledge about various artistic media and marketing approaches, and it becomes obvious that this is an artist who might not strongly differentiate between "physical/real" and "online/virtual"; rather, he speaks the languages of both worlds fluently.
Artists always also expand the vocabulary of their medium. One could think of Martinez as a painter of meme culture; while this might be true, it might make sense to also put his work under a more traditional art historical lens: genre paintings. Besides Martinez' sensitivities to America's green lawns and the global art world's clean exhibition spaces, his works' irony and humor enables a different view on classics like Grant Woods' "American Gothic" or Jan van Eyck's "Arnolfini wedding".
To think meme culture as genre paintings entirely changes our ability to view the works of Old Masters. Imagine a show with Brueghel, Kahlo and Martinez: oh my.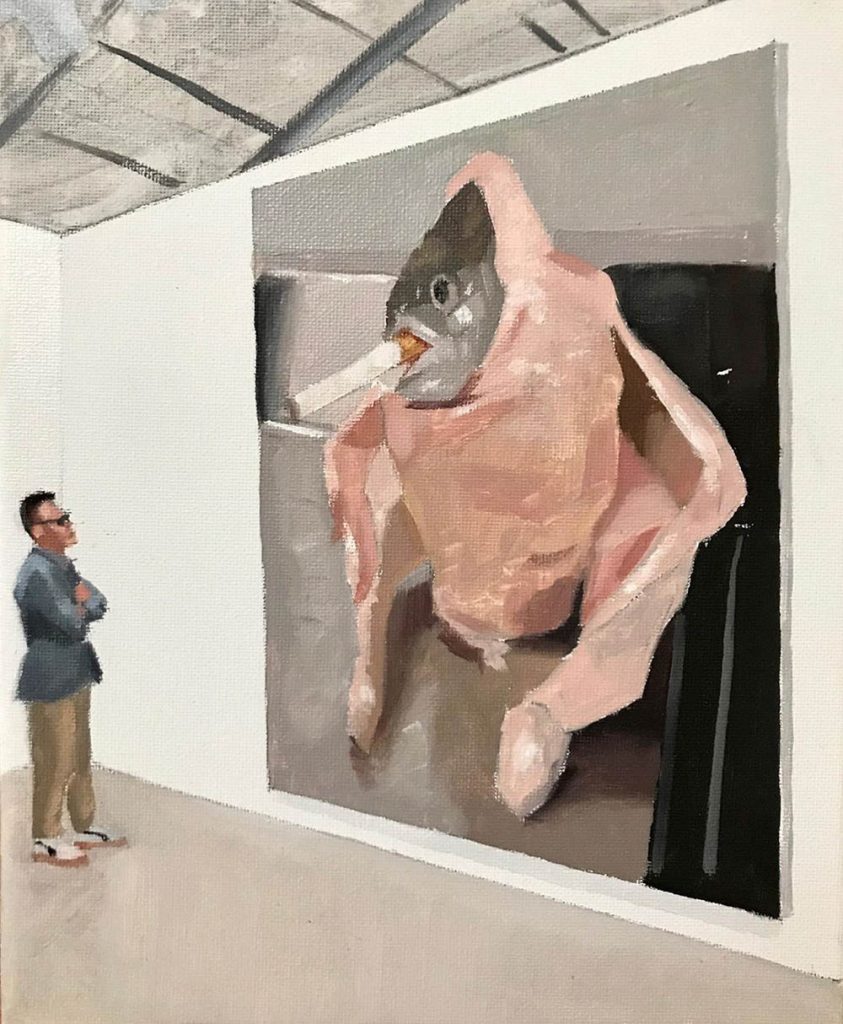 Martinez documents incidental, tiny moments of internet culture. Because of the nature of social media, these tiny moments always carry the potential to become tidal waves. Standing on specific art historic shoulders, he applies his contemporary muscles to actually himself create some sort of third place: one between art market and digital culture. Known to make more money from some painting's digital reproductions than from the sale of the actual artworks, Martinez' approach transcends Walter Benjamin's ideas about the original artwork's aura: Benjamin saw that "[e]ven the most perfect reproduction of a work of art is lacking in one element: its presence in time and space, its unique existence at the place where it happens to be". Yet social media changes our focus on time and space, and thus of an artwork's aura: we are happy with reproductions. We feel their aura, which we might have co-created by sharing that meme. We're part of the tidal wave, which now also exists as painting, as shareable digital reproduction (on social media), and as physical reproductions.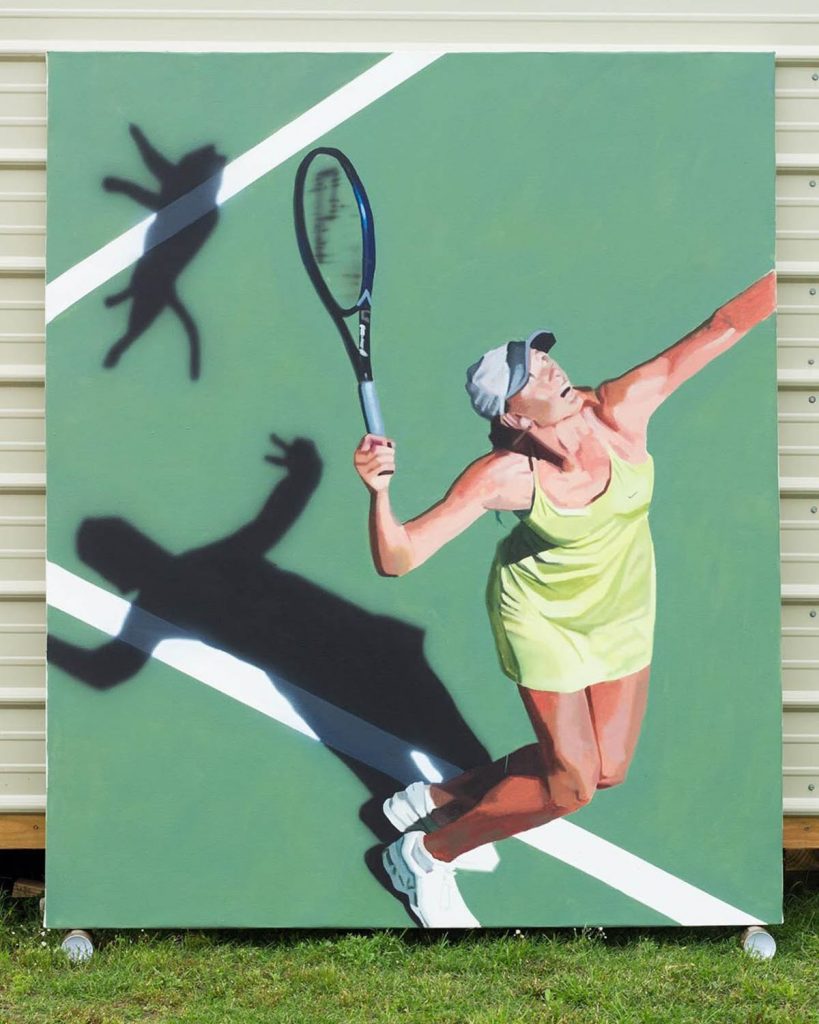 With over 60k followers, Martinez' today's visibility might also be the consequence of people ignoring physical uniqueness in favor of buying an artwork's reproduction – because the authenticity lies elsewhere. For now, Martinez himself seems to turn into a wave. With his first exhibition on the old continent, at Unit London, we can experience this tidal energy flooding us. Congrats to your show in London, Mauro! <3
Mauro Martinez – www.maurocmartinez.com
Instagram – www.instagram.com/ztm_oruam/