She got an MFA at the FLU, Cetinje, in 2008 and graduated as a Doctor of Arts from the University of Arts in Belgrade, Serbia, in 2012. She is currently based in Cetinje and Podgorica, working at Faculty of Fine Arts/University of Montenegro. Her works are in public and private collections.
Could you tell us more about the ARKIV Institute of Contemporary Art in Pejë and its mission?
ARKIV Institute of Contemporary Art is a non-profit organization founded by prominent artist Sislej Xhafa in 2018.  It is the first institution dedicated to contemporary art in the Peja region (Kosovo) with the mission to bring together local, national, and international artists working in various disciplines, but focused on advanced research, critical thinking, experimentation, and dialogue. ARKIV aims to offer visitors an unparalleled experience of culture and contemporary art. It examines the past through collection and archiving, the present through exhibitions and production, and inspires the future through education and development. What is so unusual and unique about ARKIV is the fact that it is situated in the public school "Vaso Pashë Shkodrani" in Peje. The school is still in use until the students move to a new one nearby. ARKIV preserves the authentic look of the school (building and interior with all content) and the courtyard, inviting artists to create works in such an inspiring environment. The site is already marked with layers and symbols of the past, so rich in meanings and very challenging to work in. It already resembles an archive or museum. 
In your mission statement, you mention that art is integral to an inspired and just society. How do you believe art achieves this, and what kind of impact are you hoping to make through your exhibition SORRË at ARKIV Institute of Contemporary Art?
I believe that art is one of the most powerful channels of communication that allows us to make our voices heard, raise awareness about important topics, and seize the freedom that art gives us to think critically and initiate change. My work is always related to the social context and inspired by various social phenomena, so it is difficult to understand some of my works outside of a certain context. Just society and gender issues occupy an important part of my artistic expression. Creating site-specific works titled SORRË (which means the crow bird in Albanian) in Arkiv Institute of Contemporary Art, I invite the audience to discover their important woman figures from history, which seem invisible and rather neglected. 
At the very entrance to the school, the audience is greeted by the deep sound of a crow's scream (that's the sound I heard when I visited the site the first time). The sound echoes repetitively through the space and invites the audience to pay attention to something hidden, yet critical, transcending the superstitions and the fear, starting a journey of introspection. Sorre's scream becomes a metaphor for invisible and underestimated female power. Using a battered part in the classroom walls, floor, and even toilet for artistic interventions I invite the public to discover the female faces, or just their parts, escaping through cracks. Those are portraits of important women from Kosovo, women in general, even my mother. In addition to the mentioned interventions women unexpectedly occupy the areas that are traditionally reserved for men. At the entrance of the school, next to the main board with the name of the pasha after whom the school was named, I place eight boards with names of prominent female figures, but also their professions (from scientist, gynecologist, artist to the parachutist ..). Thus, pointing to exceptional female figures who may never take Pasha's place, nor will a school be named after them. On the second floor, where there are framed portraits of important men, I dare to line up empty frames with women's names, without a figure. They shyly try to find themselves in that line. In this case, through this artistic intervention in ARKIV, I ask for equality for outstanding female figures from Kosovo. I invite the audience to be more active or at least to think more deeply about the role of women in society and topics that bother us all. As a source of research, I have used the book by Alketa Xhafa Mripa "Vepra e Saj".
Undermining the patriarchal patterns of the Balkan macho societies and beyond, I ask that the female voice be heard and that female contributions be recognized.
Can you share some insights into your personal journey as an artist? 
I work in different media: drawing, painting, site-specific, sculpture, video art, and sound. My works are dominantly inspired by situations that disturb me. The creative process depends on the idea, yet methodologies are changing. When it comes to the selection of media I often let my intuition guide me. I cannot follow established routines in my artistic research. I prefer to challenge myself and venture into unknown terrains. My schooling greatly influenced my work in different environments. Life in France was a turning point in my work. At that time my work had already turned towards critical thinking and a more engaged approach to art. I filled my paintings with irony and criticism, I had to react to the context in which I lived through art, which I still do today. My work questions stereotypes, deviations, rules, norms, and social constructions, things that I can't accept, and that needs to be corrected or changed. I act more like a nomad and I have to be in motion, not static. Daily work in a quiet studio is not something that suits my artistic sensibility.
The more I am into art the more I like site-specific projects. They challenge our comfort zone and I find that very important.
How can artists and the public get involved with ARKIV's initiatives? 
ARKIV's mission is to develop direct engagement of artists and the public, creating exhibitions and programs that communicate the transformative power of art in our time. An important determinant of ARKIV is to invite artists to create site-specific art, so the works must definitely respond to that specific context – school, culture of the city, country… It is already more interesting for the audience I think, to get in touch with site-specific art practices, because they can identify with the topics that ARKIV initiates and works on and get familiar with them. ARKIV is not a place where works are "exhibited", it is a place of discussion, cooperation, and contribution. ARKIV is a place of provocation and action. ARKIV organizes artist talks and art tours through the space, workshops, discussions, and live performances. The voice of the audience becomes important. The inclusion of international artists is very important in order to translate some local topics into a universal language and question them from different perspectives. It is always good and healing for a community.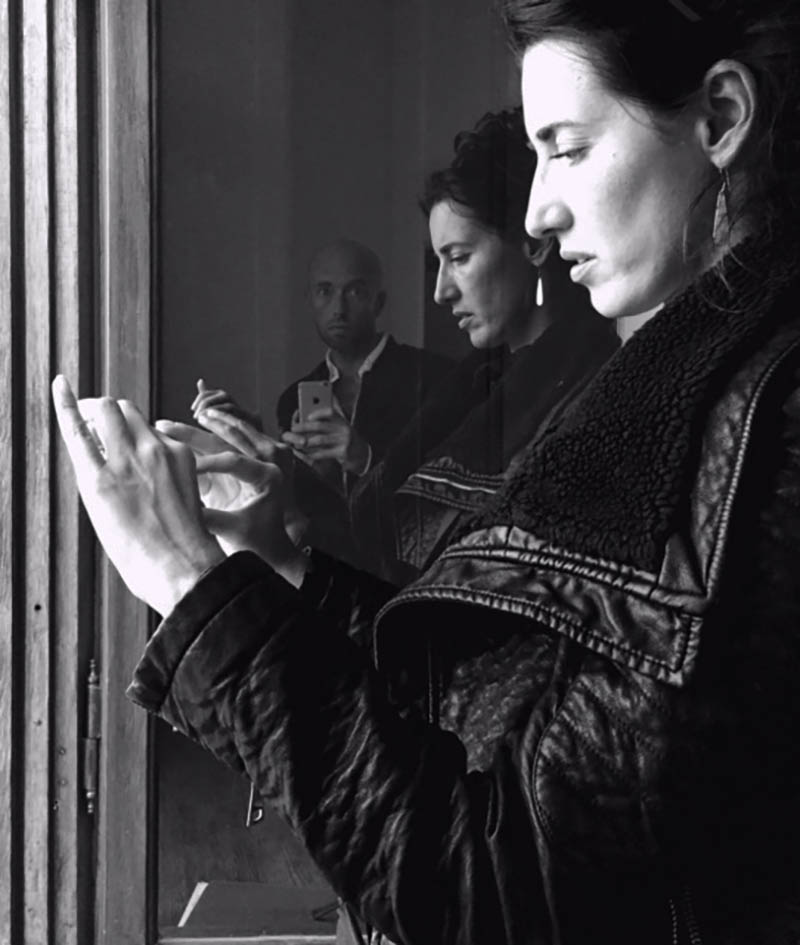 What do you see as the long-term vision and impact of ARKIV on the contemporary art scene in Kosovo and beyond?
The fact that ARKIV is such a unique site that offers both artists and the public a very unusual experience is already an important starting point. Kosovo is a small country, but very active in the international contemporary art scene and presented by great artists already. I believe that ARKIV could help the local community to get more familiar with contemporary art and get involved. I believe it could put the Peja region in the place where it belongs (considering that the first high school of art in Kosovo was established in Peja) and foster the local contemporary art scene. ARKIV's truly authentic and unconventional concept is something new, even for a much more developed artistic scene than Kosovo's. I believe it will help contemporary art be perceived as something important, as an opportunity for dialogue, an opportunity to open up important topics and overcome the burdens that torment us.
I don't question the long life and sustainability of an initiative like ARKIV because it creates a network of people around the same value system, and not just around works of art, which is the most important thing. That network can only grow and develop. I truly believe, the concept of ARKIV transforms this site into a place of joint resistance, joint action, but also hope and has universal value.
Milena Jovićević – www.milenajovicevic.com