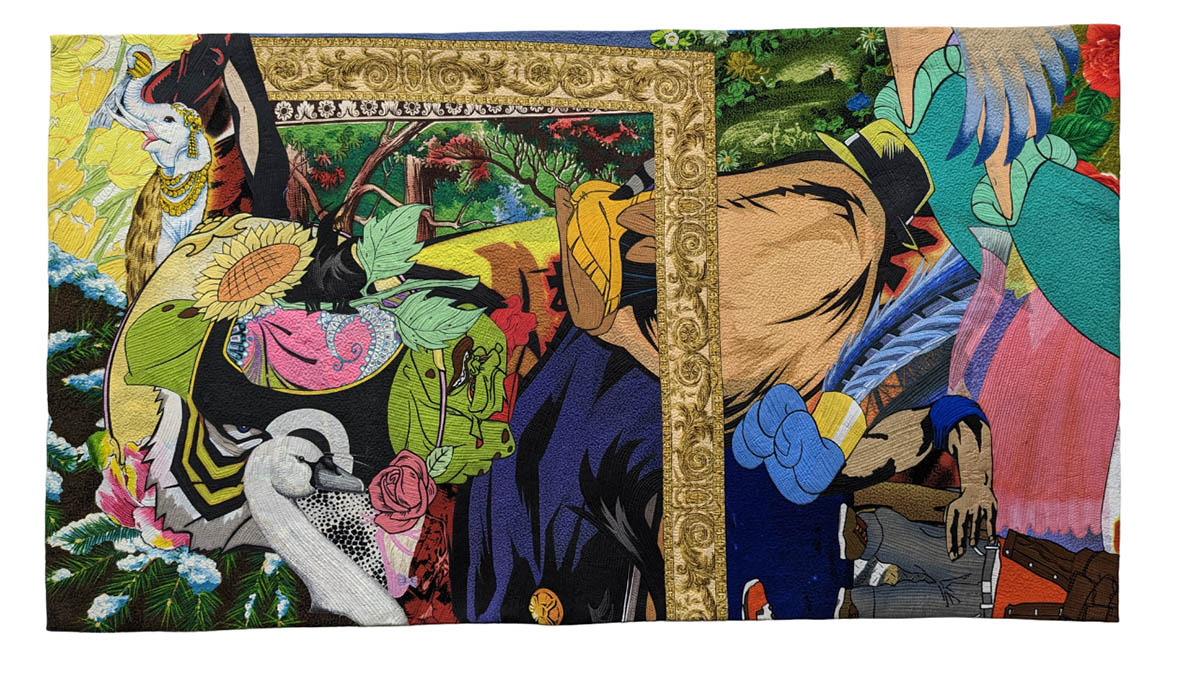 Lost in a delicate assemblage of splattered imagery, the viewer is guided down a winding road where Disney characters, golden frames, bits of glossy advertising and a whole lot more come in and out of focus.
The demanding color palette is "in-your-face" and easy to write off as a pop explosion, with cobalt blue, crimson red, sunny yellow, Barbie pink and jet black dominating the show. Yet the committed viewer is rewarded with unexpected depths, as Kijima's hard-edged "blankets" question a global relationship of shared yet fragmented childhood interconnectedness.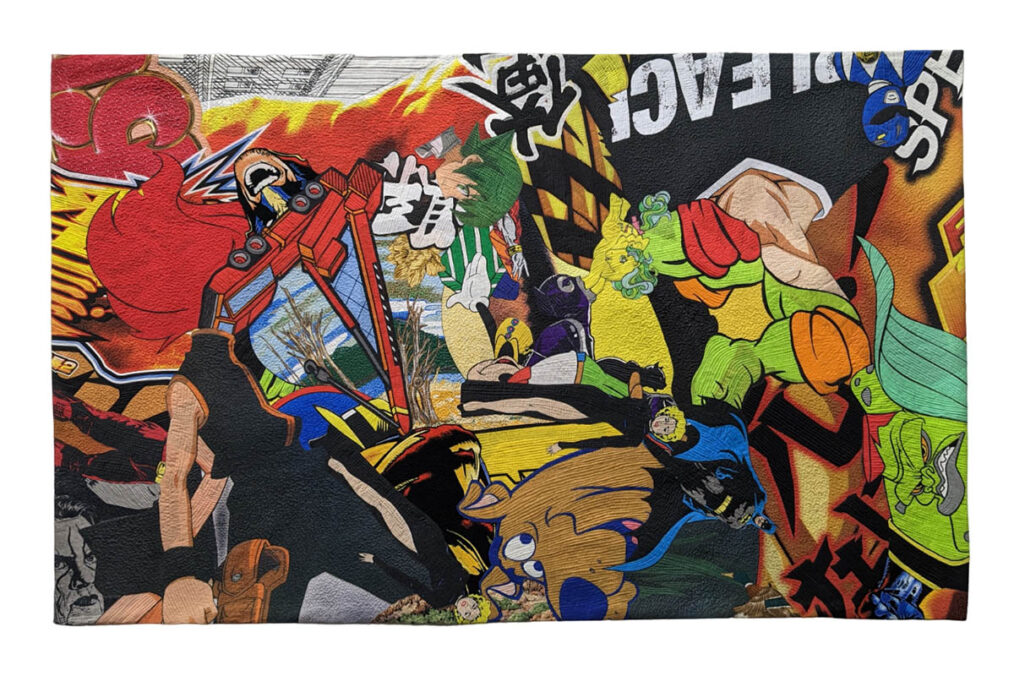 Kijima stitches the cut-out textile pieces together into her sleek wall hangings with such perfect craftsmanship that it appears she is using invisible thread. The patience behind her execution speaks of an old-world craft and attention to detail. Simultaneously, the often nostalgic imagery is revived and renewed. Kijima crops, trims, and aligns, as if building a puzzle for us to ponder. And "between the lines" is where the magic happens, sparkling along the edges of how she sets up relationships between her diverse cast of characters. To name a few: Bambi, Simba, Ariel, The Genie, Chip, Minnie and Bugs. They are all included in Kijima's vocabulary, yet only parts of them (an ear? a tail?) and completely out of context, in other words, a smattering.
Kijima builds a universe where we are allowed to spin out of control within the safety of softness. After all, the hard edges which she handles masterfully compete on even par with the sensation of fabric and thread. Does she offer, in these twisty textile "paintings", a place to rest our restless heads, as if onto a blanket of childhood memories? Is this an attempt to rebuild innocence lost? Or simply a commentary on the sensory overload of our modern world, and a way to humanize overstimulation with quilts?
Exhibition: Ai Kijima "Trance Shifter"
Exhibition duration: 19 Jan – 18 Feb 2023
Address and contact:
Galerie Ernst Hilger
Ballgasse 1, 1010 Vienna
www.hilger.at
---
About the writer: Lauren Nickou is an American artist and writer living in Vienna. www.nickou.net