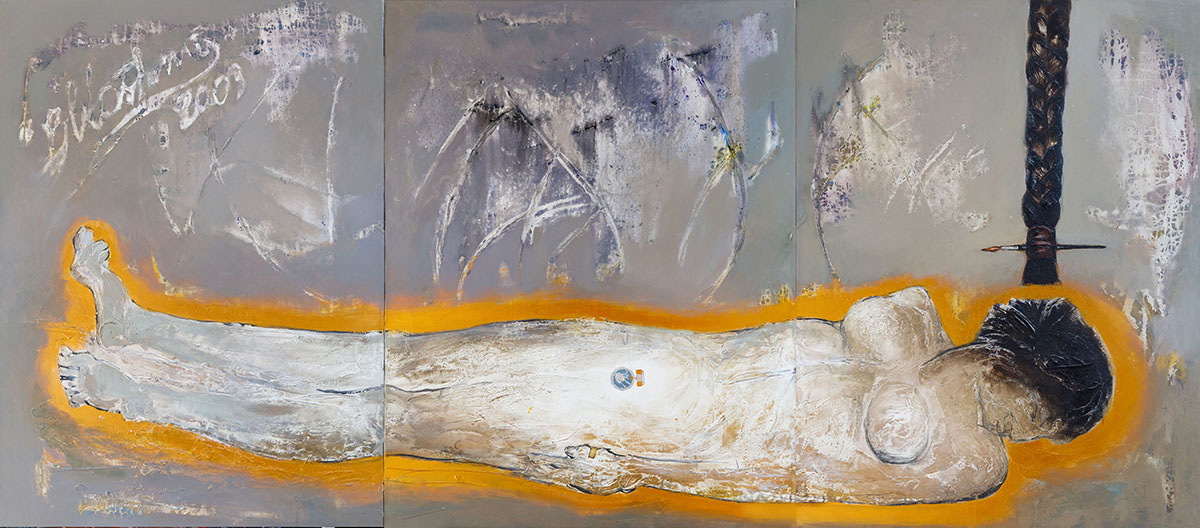 Cecilia Alemani, curator of this edition has assured that this Biennale will welcome predominantly women and gender non-typical artists, a conscious move away from the central role that men have held in the history of art and contemporary culture. Demetja, as the curator for Albania, considers it essential to mention that although the proposal has been welcomed and endorsed by the Albanian Ministry of Culture, there is still a lot of work to be done toward a progressive and equality-oriented cultural policy.
Erka Shalari: Initially, I would like to ask for a description of Lumturi Blloshmi and know how the title "Lumturi Blloshmi from scratch" arose?
Adela Demetja: Lumturi Blloshmi was one of the most interesting contemporary Albanian artists of her time, but due to several challenges (deaf from the age of five, oppressed by the communist regime for political reasons, being a woman in a male-dominated field), her work and life has not yet been fully displayed, researched, examined and contextualized. Tragically Blloshmi passed away in November 2020 from COVID-related complications. The opportunity to represent Albania at this year's Venice Biennale offered the chance for my team and me to get to know her from a deeper perspective. I have been working with the artist since 2016, and for me, this process is the continuation of what we started long ago. The difference now is that we are disclosing it to the public by using the context of the Biennale to share and to make whoever is interested acquainted with the world of Blloshmi. For me curating is an ongoing process that doesn't start or finish with the exhibition; therefore, everything that we do within this context, the information we share on our social media accounts, the design, the public talks, the interviews, and all the rest create a reality that is a vortex within the given reality. The notion and the directionality of that vortex that has as content the life, thoughts, and works of Lumturi Blloshmi is a new start "from scratch" and a forward-moving one. With the concept of the new beginning, I want to go away at least conceptually and energetically from the notion of a retrospective. The retrospective has, at least for me, an affiliation with melancholy and mourning. The artist didn't like melancholy and neither do I. Blloshmi was a very energetic being and always looked forward. "From scratch" therefore, is an idiom expression that illustrates the nature of our undertaking.
Before we delve into the pursuits for the Venice Biennale, I would like to touch briefly on one point in the artist's life. Sadly, Blloshmi was banned from her profession for almost a decade by the communist regime. What do you think causes such a thing in an artist?
I guess it means something different for different artists, but I believe it was not a pleasant episode for anyone. Many artists did not get permission to continue their artistic practices at that time. Especially for Lumturi, it was even more devastating, having the limitation of not hearing, art was a necessity for her expression. After graduating from the Art Academy in 1968, Blloshmi was sent to work (as a simple worker) in the offset department of a state-owned publishing house, while other students were given teaching positions or positions in artrelated institutions. The artist was considered with a "bad biography" because she came from a family classified by the communist regime as an enemy of the people. Her father, a major in the former government of King Zog, was summoned one night in November 1944 during investigations by the communists and never returned home; his body was never found. And therefore the artist was oppressed continuously by the communist regime. In the years following her graduation, she kept working and submitting works to official exhibitions and getting mostly rejected. Blloshmi didn't give up and eventually they finally started including her works in exhibitions, and she became for the first time a member of the Union of Writers and Artists.
In 1974, after a phase where the arts still under the socialist realism style had gained what the party considered a breath of liberalism and subjectivity, many artists lost their working positions and memberships at the Unions of Writers and Artists, were sent to prison, or to labor camps. The state regulated art strictly in this period; for example, one needed a special permit (membership in the union) to be able to purchase painting materials from the only establishment that sold these kinds of products at the time. Lumturi was 30 years old when she had to stop her creative process, not because she had done anything suspicious but just because she had the "bad biography." In 1985, she was finally rehabilitated and became a member of the Union again at the age of forty-one. Nevertheless, the artist didn't lose any time with remorse and started painting intensively, primarily landscapes and portraits, and finally opened her first Solo-exhibition in 1988 in Berat at forty-four.
What bodies of work are you going to show? Why did you decide to highlight works from the 1960s to the 2010s and not the last decade of the artist's oeuvre?
Although Blloshmi and me already talked about the idea of her representing Albania in Venice before her passing, we didn't manage to work on the concept together. But we had already started going together through her works, while I was documenting and cataloging them. We managed to go through 40% of her major works and then I had to continue the process alone. The best way to get an impression about Lumturi Blloshmi, especially for the international public, is to show a selection of works from different years. The core of the display is a series of self-portraits, the earliest a painting from 1966 when she was still studying at the Art Academy in Tirana and the latest a photograph from 2015. The artist frequently depicted herself in her paintings, performances and photographs. By doing so, she clearly created, through subjectivity, a relationship between herself and the given social political context, which allowed her and us to perceive history and reality from a self-defined and personal point of view.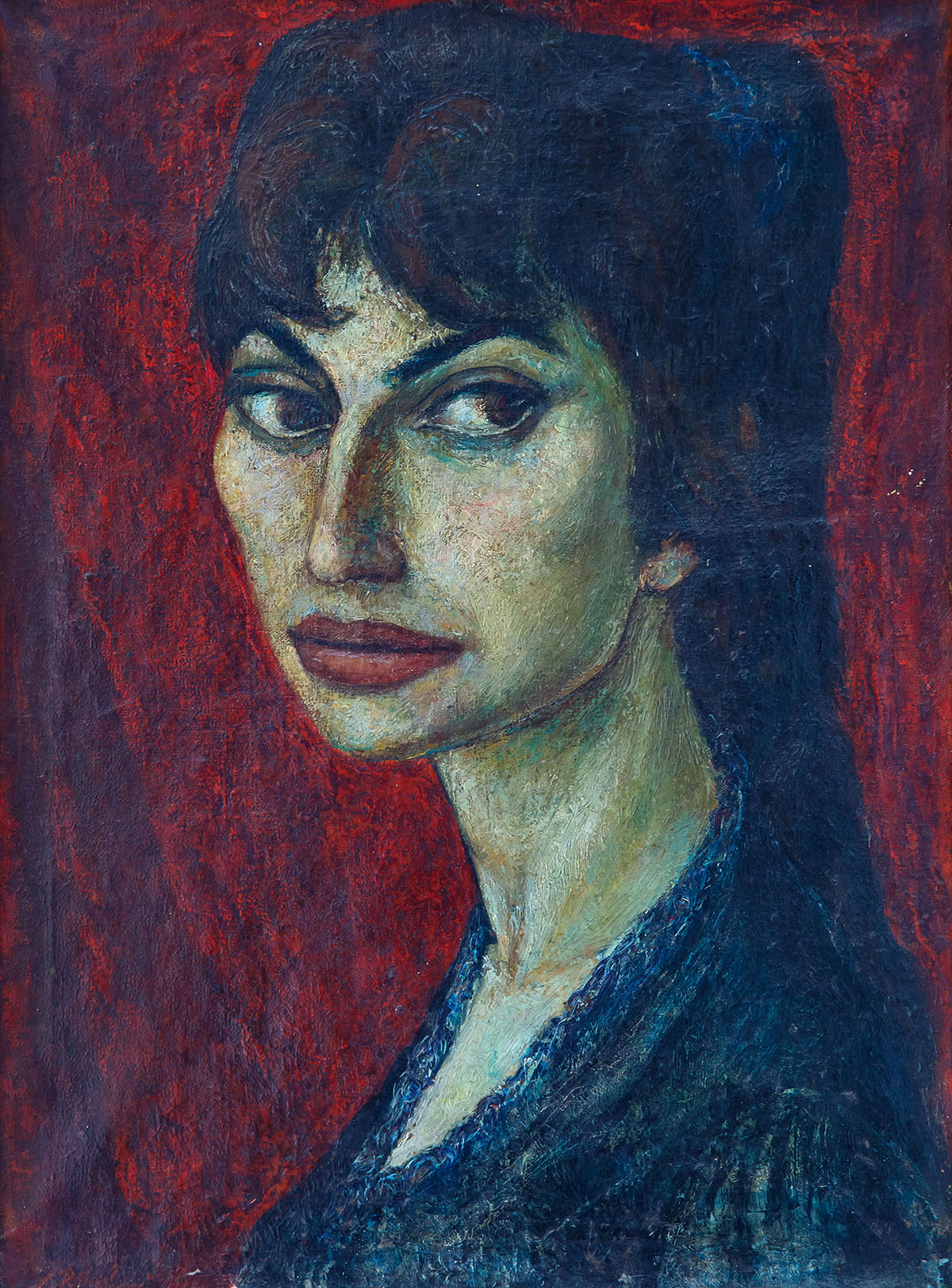 The pavilion comprises two further bodies of work: one that can be contextualized within the Albanian social-political-historical reality and a second that can be placed within a broader and more universal discourse. I had to make sure that each of the works has its own pertinence and that they could be considered independently from the larger framework, representing Blloshmi's practice, which was characterized by imagination and innovation, always pushing the boundaries of what she was dealing with and producing. Given the particular art history of Albania with the lack of modernism and contemporary art springing directly after Socialist Realism I thought it would be relevant to show the work of Lumturi as an example of an individuated art practice. Blloshmi's work constantly developed in dialogue with the self resulting in a distinctive and personalized approach rooted in metamorphosis; difficult to pin down to classifications and discourses within the canonized art historical discourse. This selection approach fits as well with the discourses raised by the curated section of this year's Biennale by Cecilia Alemani. Regarding your question about why I did not include the last years of artistic creation: In recent years, the artist was expanding her practice and creating projects with colleagues that were more performance, choreography and stage based which could not be adequately shown or included in the type of presentation I designed for Venice.