Although our cultural and cinematic references are not quite enough to predict the future, as visitors of this exhibition, we probably didn't consider the fact that ever-expanding automation processes do not signify the end of the (self-)exploitative system, or whether, by increasing efficiency, they actually provide an exploitation for even more. Most of us have already seen Spike Jonze's love story Her (2013), where a lonely writer develops an unlikely relationship with an operating system designed to meet his every need, and we are all familiar with Philip K. Dick's novel Do Androids Dream of Electric Sheep? What we expect from our robot assistants is way further than what we imagined before: as the curator, Vanda Sárai points out, instead of considering a more humane treatment, or even the liberation of livestock, we train ourselves for self-exploitation through automated agricultural technologies. And while the media echoes the idea that robots are taking our jobs, as victims of hustle culture, we often feel more drained and exhausted than ever before. The international group exhibition at Torula (a converted old factory building) questioned the place of emotional human existence in the societies of the future.
The exhibiting artists do not only interrogate our conceptions of our digital-age reality, care work, or new methods in agriculture. Here, robots find their place in our contemporary art world, where Wagner's expression of "Gesamtkunstwerk" finds far more diverse meanings than ever before. Walter Benjamin's thesis in The Work of Art in the Age of Mechanical Reproduction (1935) continues to be extended in a world where artificial and human intelligence differ not so much, and artists' use of AI is calling into question their authority,
I'M AFRAID I CAN DO THAT analyses the problems of our present and also visualizes the future: where will man's place be in a society where the role of machines is not as subordinate as it was in the Fordist society of the sixties? How can we act more ethically with animals, and nature more broadly, while in our technology-infused reality, it's become less clear what can be considered truly human? The curator Vanda Sárai also asks how this technological evolution affects our aesthetics and media culture.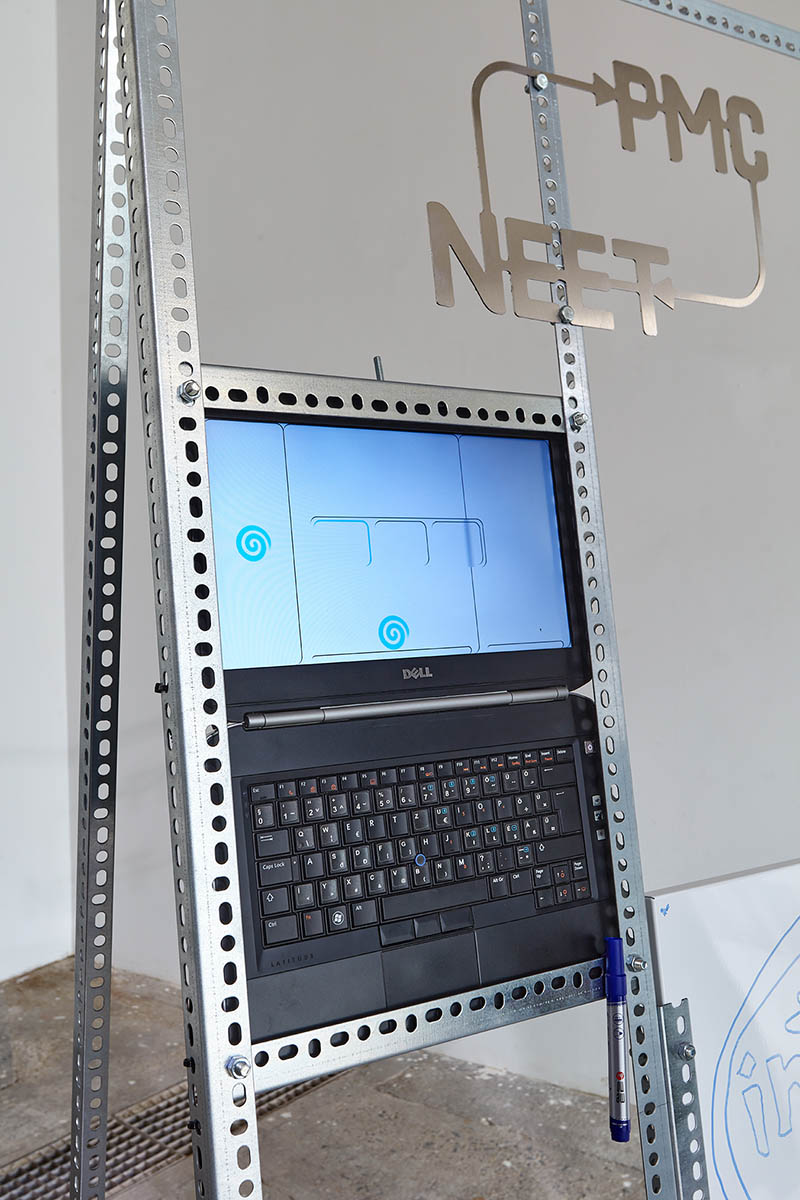 Political consciousness in the sense of Frederic Jameson could be also observed throughout the exhibition, in that all productions of our culture are "disturbed" by the historical and political reality that gives them their expressivity. More broadly, political consciousness pervades all cultural artifacts as a destabilizing force, pointing to the gap between the meaning of a cultural product and the 'repressed and buried' reality. To make our lives easier, many of us have invited new guests into our homes, such as Siri and Alexa.
As we become increasingly dependent on them, they are listening in and profiling us, to offer even more personal content. Considering the increasing amount of artworks and digital publications created by AI, Veneta Androva's pseudo-documentary AIVA (2020) could be seen as a comical recasting of female robot assistants through the eyes of an underrepresented woman in the art world. The animation highlights how most artificial intelligence is tailored to the demimonde of the white developed world, with a complete lack of female perspectives. Let Me Fix You (2022), a unique ASMR-style video-essay made by Dasha Ilina, engages with questions around the place of robotics in the field of elderly care while making the viewer the robot. Routine repair takes an unfamiliar turn as the assistant becomes conscious of its inability to provide proper care for its owner because it is simply not human. Kyriaki Goni's animation Not allowed for algorithmic audiences (2021)is a video installation touching on surveillance and the climate crisis about a virtual assistant named Voice, after the human faculty that the feminist philosopher Rosi Braidotti describes as "a unique audio footprint of a human's soul". Before patent expiry condemns Voice to an e-waste dump, its genderless avatar monologues about the rare earth elements they are made of, revealing information to their human owner regarding the listening infrastructures as well as the social dysfunctions and stereotypes on which their programming and operation are based. With this gesture, the robot surprises us with their capacity for empathy. When many humans seem to lack empathy, what does that mean for the power structures in our societies?
What we know now is that artificial intelligences are already capable of producing relatively good simulations and manipulations, while ironically in reality both the artist's working hours and opportunities in the industry are reduced. Barnabás Bácsi explores opportunities for career starters through the acronyms NEET (Not in Education, Employment, or Training) and PMC (Professional–managerial class). In his installation Freeze Fall Dance (2023), a computer playing an infinite visual loop and a whiteboard framed in cut-out steel are in conversation with a damaged scythe blade, which fits Bácsi's piece into the neo-goth contemporary aesthetic, reflecting current trends on the Hungarian art scene. With his project, he points out that all generations are affected by hustle culture and bullshit jobs, and there is no hope of escaping from it. Kata Geibl's photo series Prometheus (2023) examines the question of how users – often unconsciously – train robots and how the operation of a trained algorithm affects everyday life, to make things easier. The series presents the implications of the ambiguity of photography as a medium. We can observe that the images do not adhere to usual documentary methods that habitually signal truthfulness, as obvious trademarks of their creation with AI remain. Using ancient Greek mythology as a pretext, she underlines the boundaries between art, science, and technical development. There is even more playfulness and humor in Captcha: The Cognitive Race (2023) by Dávid Biró, a work in progress that deals with the development of artificial intelligence through the study of reCaptcha technology. This inverse Turing test is used on online platforms to filter out robots, while also teaching artificial intelligence (e.g. self-driving car algorithms) by solving puzzles, where human and machine cognition are essentially competing with each other. The resulting photographs are complex playful image puzzles that anticipate a turning point in favour of machine visual perception over human.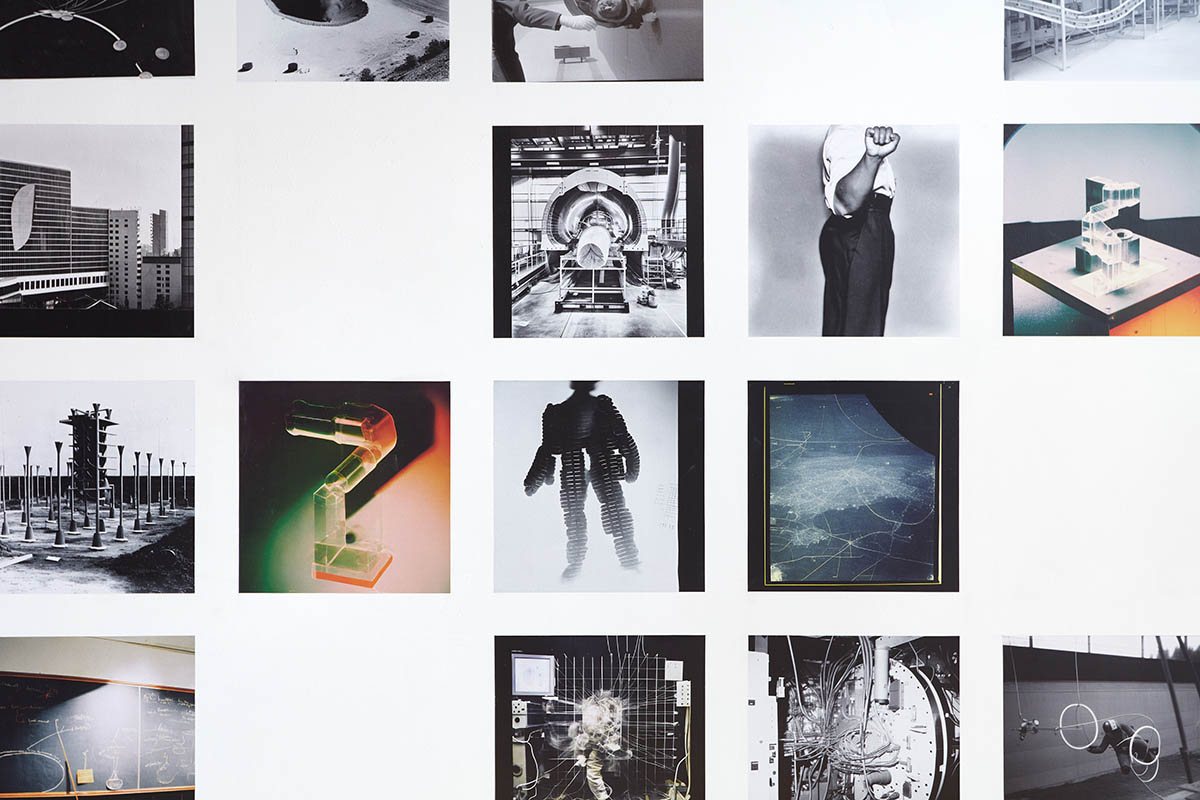 Upon arriving at Torula, a huge 3D-printed installation stood in the garden, called The Unit (2022). That artificial cow's udder is in relationship with Dániel Szalai's other project reflecting on surveillance, exploitation, and our relationship to nature, also shown at the exhibition, titled Unleash Your Herd's Potential (2019–2022), inspired by news about the development of a face recognition program for cattle. . Today's automated dairy farm functions as a modernized version of the panopticon in which animals are subject to continuous digital monitoring. The extensive technology infrastructure enables quantifying all aspects of the cows' lives and the treatment of animals as a mere dataset. Szalai addresses the issues inherent in applying surveillance capitalism to animals and consolidating the human–non-human distance through virtualization and gamification by rendering cows and their environment using photogrammetry. Originally used for cartography and surveying, this method gives a magical makeover to a raw reality: the exploitation and torture of our animals. The theme of cows and their non-ethical treatment evokes On Body and Soul, a Hungarian drama film, where two workers at a slaughterhouse discover they can communicate with each other through their dreams, while in reality they cannot even speak about their everyday lives. Facing up to postmodern emotional rigidity in the age of interconnectedness is the concern of both the film and I'M AFRAID I CAN DO THAT. The title of the group exhibition is a twist on the iconic line from 2001: A Space Odyssey in which the artificial intelligence named HAL 9000 turns against its human controllers and refuses to obey commands. The exhibition highlights contradictions such as the fact that while we create artificial intelligence and robots to make our environment easier, we find ourselves endlessly exploited, or the fact that what we consider human and ethical can be as much a robot's reality as our own. What will be left of this world of body and soul if more and more things are embodied in digital spaces, while human innovations take psychology and biopolitics to unreliable relations, undiscovered territories, and unforeseen places?
Exhibition: I'M AFRAID I CAN DO THAT curated by Vanda Sárai
Exhibiting Artists: Veneta Androva, Barnabás Bácsi, Dávid Biró, Dasha Ilina, Kata Geibl, Kyriaki Goni, Dániel Szalai
On view: 23.09.2023 – 21.10.2023
Venue: Torula in Győr, Hungary
Torula – www.torula.hu