She participated in numerous exhibitions in Serbia and abroad, including four solo shows. She expresses this through performance, video, photography, writing, and art direction. In the year 2023, she was selected as a finalist for the Dimitrije Bašičević Mangelos Young Visual Artist Award, which is organized in collaboration with Residency Unlimited in New York. She has been represented by Novembar Gallery since 2021.
Can you give us an insight into your creative process, especially when it comes to planning and realizing work?
Planning is crucial for me, especially since aesthetic value plays a significant role in my work. I've had to become quite a planner over the years, managing projects with all sorts of budget constraints. Each project brings its own set of dynamics, and my practice requires adaptability for potential last-minute problems. I need to be ready for everything, but I also need to know when to let go. Sometimes people ask me, "Which production house are you collaborating with?" But I operate as a one-woman show when it comes to the organizational process (with the occasional help of a friend).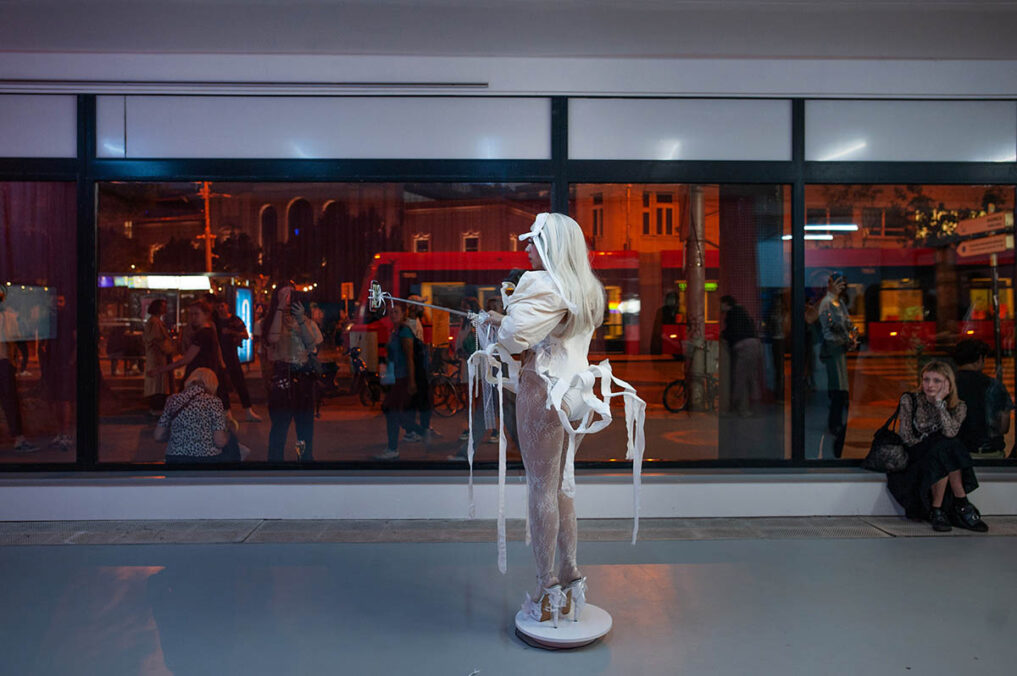 How do you choose the media for a particular project?
I mainly work in digital or performance mediums, rarely incorporating tangible objects, except for costumes or performance scenery that I occasionally display as installations. The choice of medium depends on the subject I'm working on and the exhibition space. I frequently explore feminine archetypes within a pop cultural context. Sometimes, I aim to immerse myself in fantasy or highlight unattainable aspects, resulting in a video performance or a photo series where I have control over every frame. On other occasions, I seek to challenge the abstract nature of these archetypes. In such cases, I treat the performance as a ritual, where the materialization of the archetype (performed by me) aims to 'break the spell' of their capitalistic allure.
Are there certain rituals that are particularly important to you?
Regarding my artistic practice, I always need some alone time before a performance because it can be mentally draining to exhibit yourself, even when in character. I always ask for any kind of private, isolated space in which I go through all the elements of the performance, practice, and focus on my mental state. I also need that space for practical things such as costume changes and makeup application. I am pretty obsessive with my work. In my everyday life, I feel like my skincare routine is the most ritualistic practice, and maybe getting tattoos will mark certain points in my life.
How do you see the interaction between the audience and your multimedia works?
Does this influence your artistic decisions? In my works, the audience assumes the role of passive observers, reflecting the position we hold as consumers of media culture. My guiding principle involves mirroring existing phenomena and recontextualizing their presentation. The audience's overall response can influence my artistic decisions if there is natural space for it. I can't force it. For instance, during my performance of '4ever connected' at the Queer Museum this November, I noticed a moment when the audience, while making a space for my hoverboard choreography, felt uneasy due to my appearance (I wore a latex anime mask and executed stiff, robotic movements). This created an inverse uncanny valley effect. At that point, I deliberately wanted to invade their personal space with my presence to provoke a stronger reaction. I got much closer to some audience members than planned, intentionally pushing the boundaries of their comfort zones.
Is there anything you are particularly preoccupied with at the moment, be it in your private life or your art?
I am currently focused on finalizing my studies and working on a potential publication (a book sounds too intimidating) that analyzes contemporary online feminine archetypes. I couldn't find much literature on the subject (please reach out if you do), so I started extensive research to define it better. In the 2010s, cultural dynamics underwent a significant shift, with the Kardashians emerging as influential figures and cultural ideals of their time. Utilizing social media, particularly led by Kim, they blurred the boundaries between their real lives and the carefully curated online personas they presented. At the moment, the idea of an ideal, once tied to real people, becomes more abstract and less restricted by physical constraints. This transformation serves as the focal point of my current research.
Can you tell me more about your video performance, "Emotional Masochist"?
"Emotional Masochist" is inspired by my childhood fascination with the movie "Grease." The video performance centers around the number "There are worse things I could do" from the mentioned musical. That song was my first conscious interaction with a piece of feminist media. Driven by the urge to impart my visual interpretation of it, I approached it from a music video perspective, through the lens of the Madonna-whore complex.
Since you live in Belgrade, could you tell us something about the local scene?
Are there any particular galleries, bars, or places that are a must-visit? The art scene is evolving significantly, but almost everything relies on enthusiasm. There are always a few ongoing exhibitions in the city, and it seems that younger artists are increasingly boycotting institutions and turning to alternative methods of showcasing their work. The most interesting exhibition spaces include U10, Kula, Eugster, and Novembar Gallery.  But a must-visit for me is Valentina i Karanfil, a charming small chocolate and coffee shop.
Do you already have plans for 2024? What are you working on right now?
Currently, I'm looking forward to sharing a photo editorial shot by my dear friend and colleague Pavle Banović, that complements a column I wrote for Selfi magazine. This magazine holds particular significance as it follows and examines women's production in the field of visual arts annually. I'm especially excited about attending the Venice Biennale next year, with a special interest in the Montenegro Pavilion curated by my close collaborator Ana Simona Zelenović. Looking ahead to the end of next year, I'm planning a trip to Brno and a collaboration with Gallery G99.
Anastasija Pavić – www.anastasijapavic.com, www.instagram.com/anastasija.pavic/