Her works are characterized by a platform, on which childhood toys, plants, and everyday objects rest – a plane of symbolic value that elevates, as in a theatrical scene, the ordinary and prosaic to an extraordinary and enigmatic dimension. The dreamlike atmosphere is provided by color and the singular juxtaposition of certain elements. The planes naturally frame and expose the artist's inner world, divided between dream and reality.
How did you first become interested in art?
Since I was a child, I have always loved drawing and painting. At the age of 11, I told my mother that I would be a painter when I grew up. I never changed my mind about that. In the same year, my grandfather gave me a subscription to an art magazine. It was the early 1990s, and he knew I would choose that path. It was a great help to me. Then I went to art school and the Academy of Fine Arts, and here I am.
What inspires you?
Many different things inspire me. I am inspired to create when I see things that look beautiful to me. From everyday objects to landscapes, to a person's face or hands. So the work becomes a mix of all these things, creating an imaginary dimension and space that don't exist except in the painting. Right now, I find inspiration mostly from my dreams and childhood memories and the folk stories of southern Italy, where I come from.
How do you feel your work has evolved over time, since graduating from the Academy of Fine Arts in Florence?
My work has changed a lot over the years. I have gone through many important transformations, perhaps especially existential ones, that have in some way kept my work to not being fixed on a single practice. From the end of the academy, where I was fascinated by large metropolises and urban landscapes, I traveled a lot and, over time, moved on to painting the interiors of abandoned houses and what was left of a human trace beyond the cement. All the way to the objects and still lifes that became the focus of my research during the COVID pandemic, where I, my home studio, and my personal objects were everything.
Do you ever wonder what it is like to be a tulip? What would be your answer?
The title of the group exhibition is borrowed from a work by Balasingham. Do you ever wonder what it's like to be a tulip? leads the viewer through the exhibition with an image that travels parallel to the content presented in it: how does it feel to be a tulip?
I think the reference to the artists' work was that everyone, with their own atmosphere, their own dream journey, and their own imagination, created their own tulip in a world where everything is possible. I can imagine being a tulip, and I'm sure that my tulip will be different from yours. But we don't know if tulips feel different from each other or identical.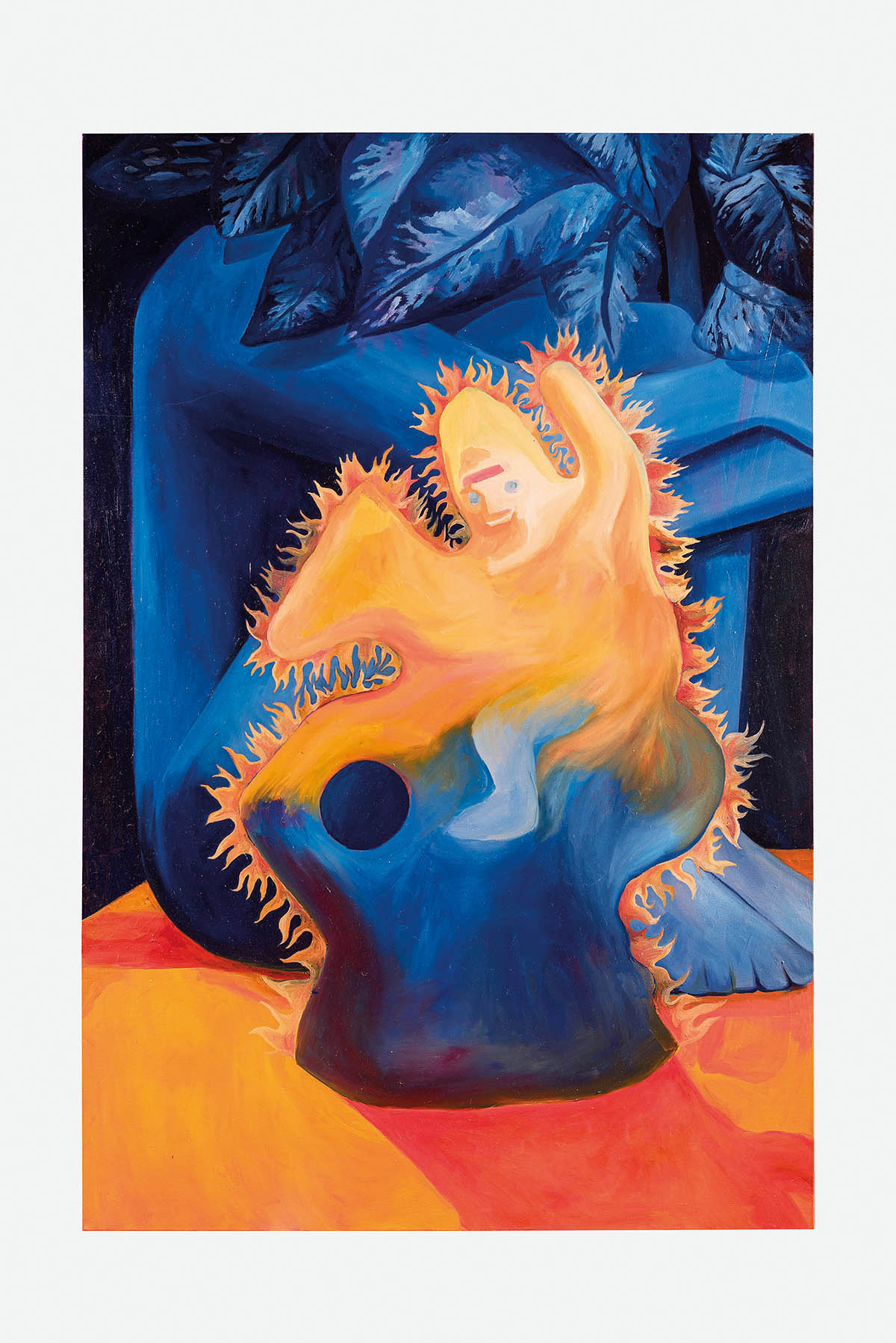 What do you hope viewers take away from experiencing your artwork?
I'd like to take the viewer to a moment suspended in a dimension that doesn't exist. Like looking into a crack in a wall and seeing a memory or a world far away, unknown, nocturnal, and perhaps a little disturbing. That crack can be a generator of light, of possibilities, of an imagined world that absorbs and changes one's perception of life in the eyes of the beholder. In a special atmosphere, with specific light and colour, our dream world, our memories, and our everyday life come together to give me a unique moment. Above all, I'd like this to be perceived – perhaps an escape from reality.
Can you tell me more about the artwork, LAME /1?
The main subject of Lame is a horseman made of sugar. It's a typical sweet from the regions of southern Italy that was given to children on the Day of the Dead, the night of November 2. The knight represents the soul of the defunct, who comes from the world of the dead to visit their relatives in the world of the living. By eating it, you regain contact with the dead. My representation is a childhood memory that becomes part of my everyday life, with a melancholy adult life towards a world of magic and the surreal.
What do you have planned for the rest of the year?
This year I participated in two important painting symposiums in Italy during the summer, one was Landina at Lake Maggiore and the other was at Fondazione Lac o Le mon in Puglia. For the end of the year and the beginning of next year, I'll participate in some group exhibitions both in Italy and abroad, and I am preparing a solo show that will be in Rome in January 2024. That is my main concern at the moment.
Anna Capolupo – www.annacapolupo.it, www.instagram.com/anna_capolupo/