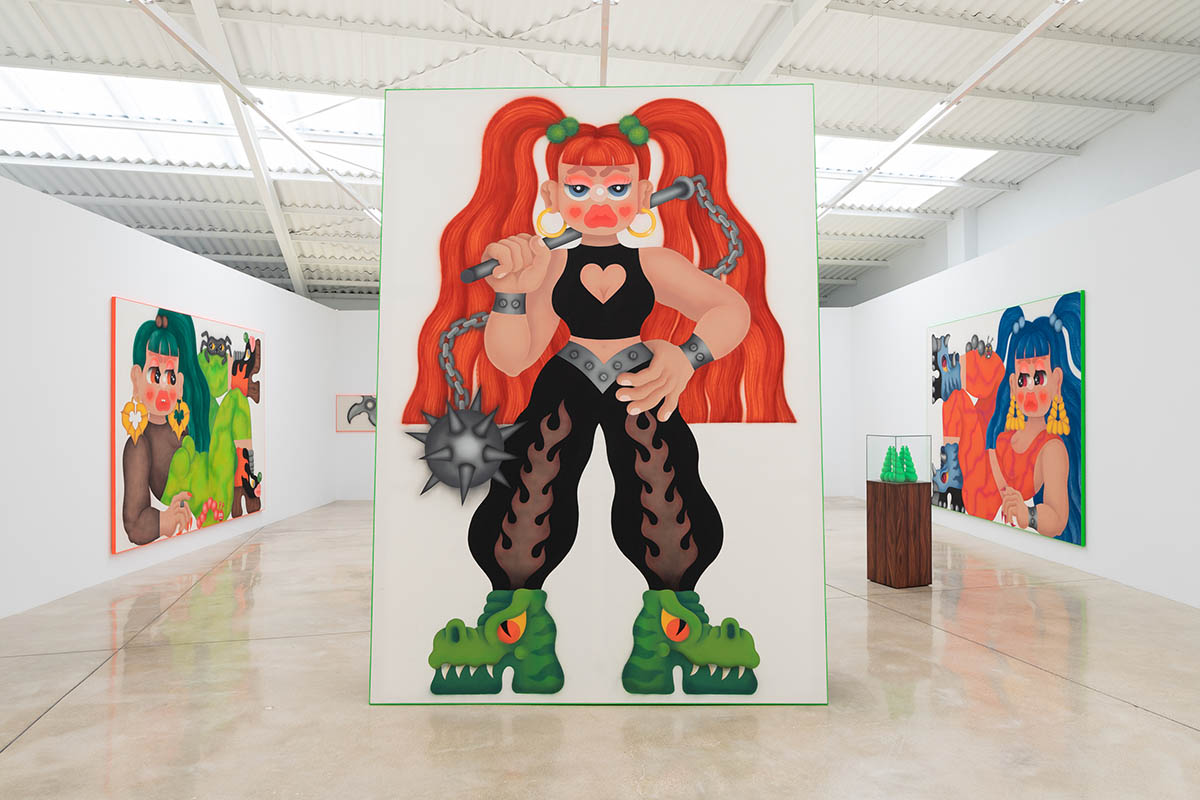 What's your background?
I have always enjoyed drawing since I was a child, but it wasn't until I was a teenager that I found my own way of expressing myself through graffiti. Xena was my nom de guerre, my alter ego, the one I have used for years to write on the walls. I was always attracted to underground culture, painting in the street without anyone's permission or approval. It created a bond in me, a sense of belonging that I hadn't experienced before. Although it was a fun time, it was also a challenging one. Graffiti was always a man's world, and that encouraged me to embrace a fighting spirit and develop the figure of the warrior that has accompanied me through the years. It was then that I felt the need to create warrior women, of gigantic proportions, my army of Amazons. It was my way of expressing power and strength through painting, and also my manifesto of self-affirmation.
What subjects inspire you?
Strong and inspiring women; healthy, empowered, voluptuous, sweet, daring, witches, warriors. Fruit, always present in my work, means to me a pure connection with the earth. At the same time, they have an erotic power and irresistible colours. They are symbols of abundance, and of eternal femininity. I get inspiration from animals, nature, and women I paint often stand next to crocodiles, spiders, cats, and snakes; which makes it a double self-portrait, where woman and animal identify with each other and create dialogues between them.
How do you work?
I usually make a pencil sketch and sometimes I transfer it to my iPad for colour tests, to add elements, and backgrounds, and play a bit with different compositions, sometimes not even that. I don't really like having a closed sketch or planning projects too much in advance. It makes me feel limited and I like it when the process is more organic, more natural, and flows as you paint and re-direct yourself towards a theme, a chromatic or conceptual decision in a much more unconscious way. I enjoy it more. I tend to work with several pieces at the same time, it helps me to paint in a more easygoing way, more relaxed, to space out the time, without getting stuck with a particular work. I like to see how different works take shape simultaneously, allowing me to rest my eyes and make the process lighter and more fun.
Describe your practice in 5 words.
Woman, Warrior, Witch, Thug & Tender
What's your work day like?
I go to the studio every day, I like to start early in the morning with the sun and natural light. It gives me power, it's my favorite time of the day. The first thing I do is to sort out the chaos of the previous day, mix the colours and make the first big stains of colour or spray on the canvas. It is a physical process, and a more tiring one, in which you paint with your whole body, and in the afternoon I stop in one particular part of the painting and I focus on working on the details. I usually draw at night: sofa, sketchbook, and blanket, the best plan ever.
What has been a seminal experience?
The moment when I decided to dedicate myself fully to what I like. I left my old job, I took a chance on my artistic vocation and it became a profession. It was the most wonderful and hardest moment of my life. Suddenly, all the stars aligned and I felt that all the effort had been worth it.
What does your atelier look like?
My studio is the home of my ideas and tends to be a reflection of what's in my mind and my workload, a beautiful mess. I have a rather industrial space, old with high ceilings, lots of light and with paint stains all over… I like to paint without protecting the floor and walls, it cuts me off and it's no good to try to stem the tide. Having a big space is something fundamental for me as I paint large formats and when I have tried to work in smaller spaces, I have felt constrained. I like to have plants, I love them, as well as odd toys or little treasures that I find in flea markets, things that for me have some personal value. In the end, I think you must have a space where you feel free to stain and move freely, and where you can turn it upside down, paint it all white, and start again.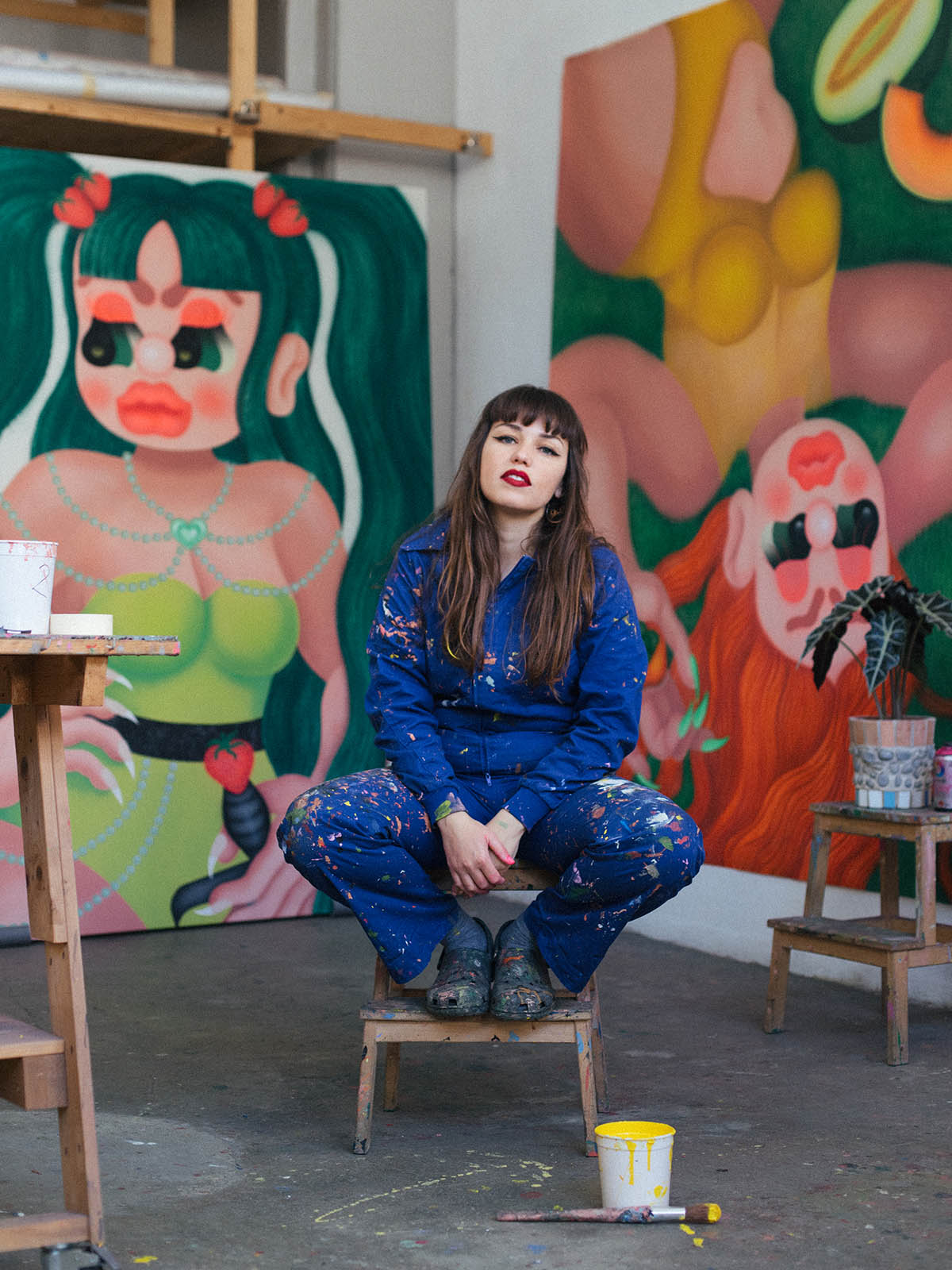 What are your plans for 2023?
I have recently finished a series of works for Arco (Madrid) 2023 together with L21 and I am currently working on several upcoming group shows in LA (Allouche Gallery), Berlin (Better go South), Hong Kong (JPS Gallery), and Palma (L21 Home), as well as two solo exhibitions, one in L21 Barcelona in summer and another one with Woaw Gallery in Hong Kong at the end of the year.
Besides Arco Madrid, in 2023 I'll also have worked in the art fairs Untitled Miami and CAN Ibiza, and I'm sure something else will come up last minute. I won't have time to get bored, that's for sure! (laughs)
Fátima de Juan is represented by L21 Gallery
Fátima de Juan – www.instagram.com/fatimadejuan/