This experience has particularly strongly influenced the content of her current works. Painting was introduced to Amela as a child by her artist father, whereas her mother taught her about fabrics and sewing. Since then, creating, and especially painting has been an integral part of her life and her favorite form of expression. In her current work, she incorporates the skills she got from both parents. During her sociology studies at the University of Trier, she learned new ways to consolidate her society-related questions and observations in order to subsequently incorporate them into her artistic works. After finishing her studies, she devoted herself entirely to painting.
What influences are there?
My work is stimulated by human interactions and relationships. It is based on my observation of the free, unleashed behavior and synergy between two individuals. I assume that every relationship has a character that develops from the personalities of the partners (including their past), the spontaneous, emotionally guided reactions of the individuals in the present moment, and influences from the environment. Most often, this relationship character can be seen/observed from the outside, as it affects behavior and body language. This, I try to capture in my paintings.
How do your works come into being? Can you give us an insight into your working process?
My first work step is to make a sketch of, or write a text about the body language of two people, resulting from the relationship character. Hereafter, I have a pretty clear idea of what format I can and want to use to best display the interaction.
The color scheme is more of a playful element for me, helping me to emphasize the difference between the characters.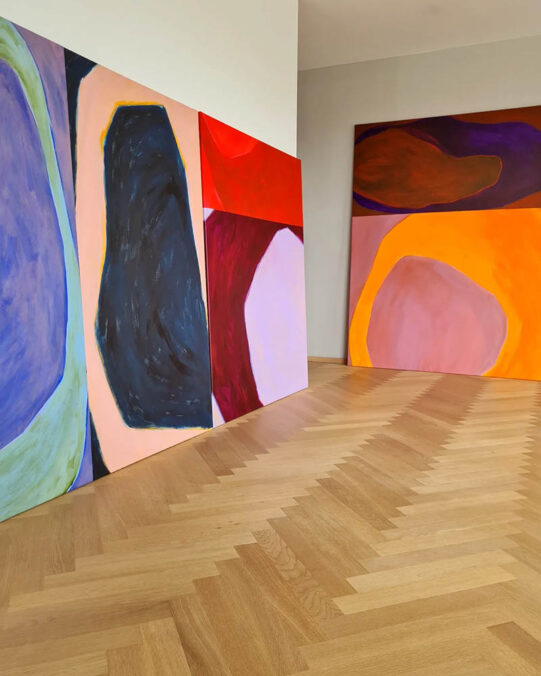 What does the term "identities" mean to you?
I grew up in two countries, bilingual, between two cultures, For me, the question of belonging was very burdensome and for most of my life, I have thought that national affiliation and the notion of home define my identity. Now I have realized for myself, that basically every encounter, every experience, and every decision can form my identity.
Do you have a ritual?
I really don´t have a ritual! Rather, I have daily goals. I also have three children (which is a lot of work and organization) and therefore also have to react to unexpected occurrences. Usually, I work late into the night to catch up on what I have left behind. My only ritual might be a lack of sleep.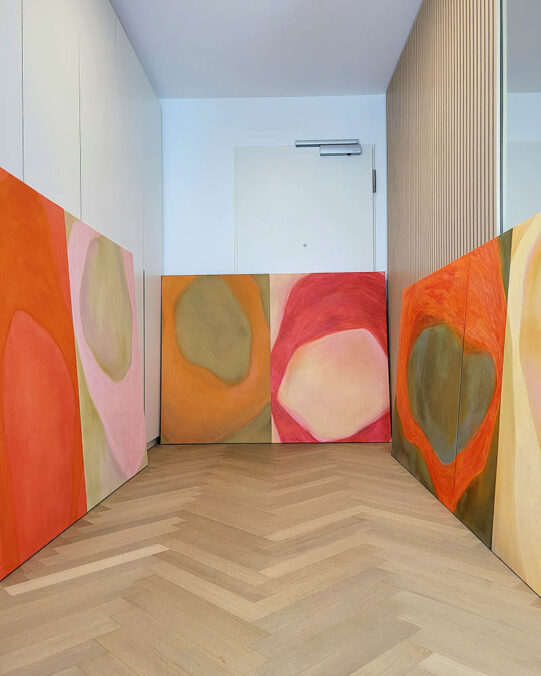 What do few people know about you?
I am very withdrawn, stubborn, not at all open, and prefer to keep silent than speak. I think there is a lot that most people don´t know about me.
Have you ever exhibited in Austria? Are you interested in it?
So far, I haven´t had any exhibitions in Austria. And the interview with LNR draws my attention to the fact, that my work is not as present in my current neighboring country. I am every now and again in Tyrol and I have wonderful memories of Vienna. Of course, I would be glad if I had the opportunity to exhibit in Austria in the future.
What are you currently working on? Do you have any exhibitions planned for 2023?
I am currently completing a body of work in which I assume that human diversity is the most essential requirement for human relationships. This work is based on a previously written text in which I describe the exact opposite and create an everyday life of an absolute and thoroughly homogenous population. This work will be presented by the "Yushu" gallery (www.yushu.uk).
Amela Rasinlic – www.amelarasi.com, www.instagram.com/rasiamela/