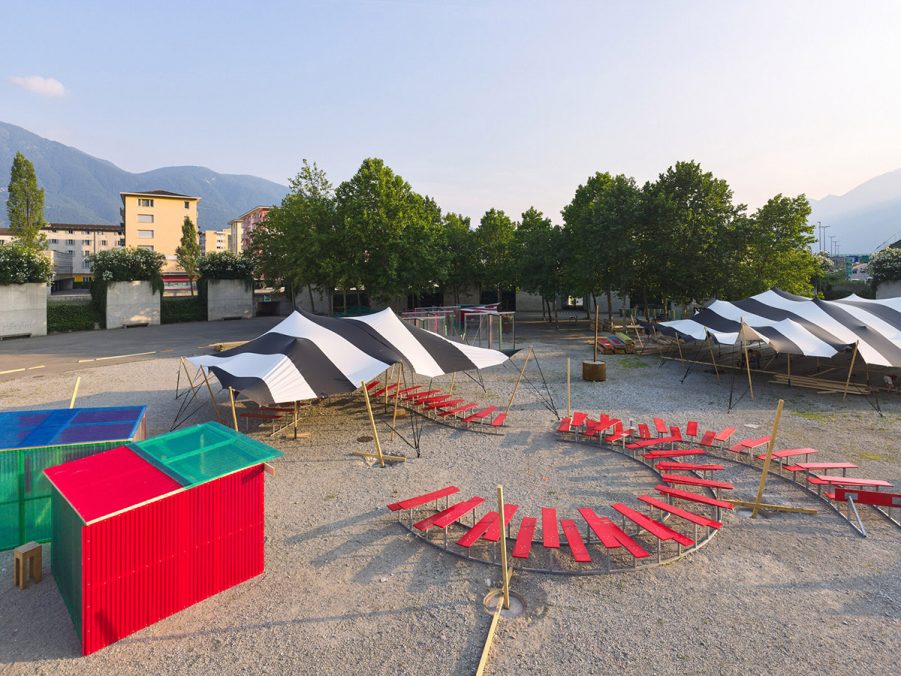 Pursuing his longstanding collaboration with the Locarno Film Festival and its main partner la Mobiliare, a Swiss insurance firm, contemporary artist Kerim Seiler unveils Come Together, a large-scale site-specific installation at the Locarno Rotonda by la Mobiliare, the sociocultural space of the Locarno74 film festival. A colorful spatial composition, the installation brings together a sampling of new works by Seiler, all part of the la Mobiliare collection, as he revisits the notion of space as a boundless canvas – as well as works by contemporary artists Maya Rochat, Julian Charrière and Ekrem Yalcindag. Prompting countless experiences of the space, the 3,000-square- meter rotunda – a large roundabout well known to Locarno's inhabitants and visitors – acts as the new social hub of the festival, inviting visitors to engage with a playful composition of art, cinema, music, and hospitality spaces reaffirming the importance of social interaction and cultural exchange that lie at the core of the Locarno Film Festival.
As part of the fifth iteration of the Locarno Film Festival's partnership with la Mobiliare, Come Kerim Seiler, Tender is the Night, 2020, installation for the Locarno Together is in the immediate vicinity of the Film Festival 2021, in Switzerland. Photograph by Ariel Huber. festival's main venue, the PalaCinema and the notorious Piazza Grande – one of the world's largest open-air screening venues seating 8,000 spectators. The multifarious installation of site-specific artistic spaces and artworks is part of Seiler's Situationist Space Program, an ongoing body of work rooted in the artist's practice of reappropriation, reiteration, and expansion of past and existing work.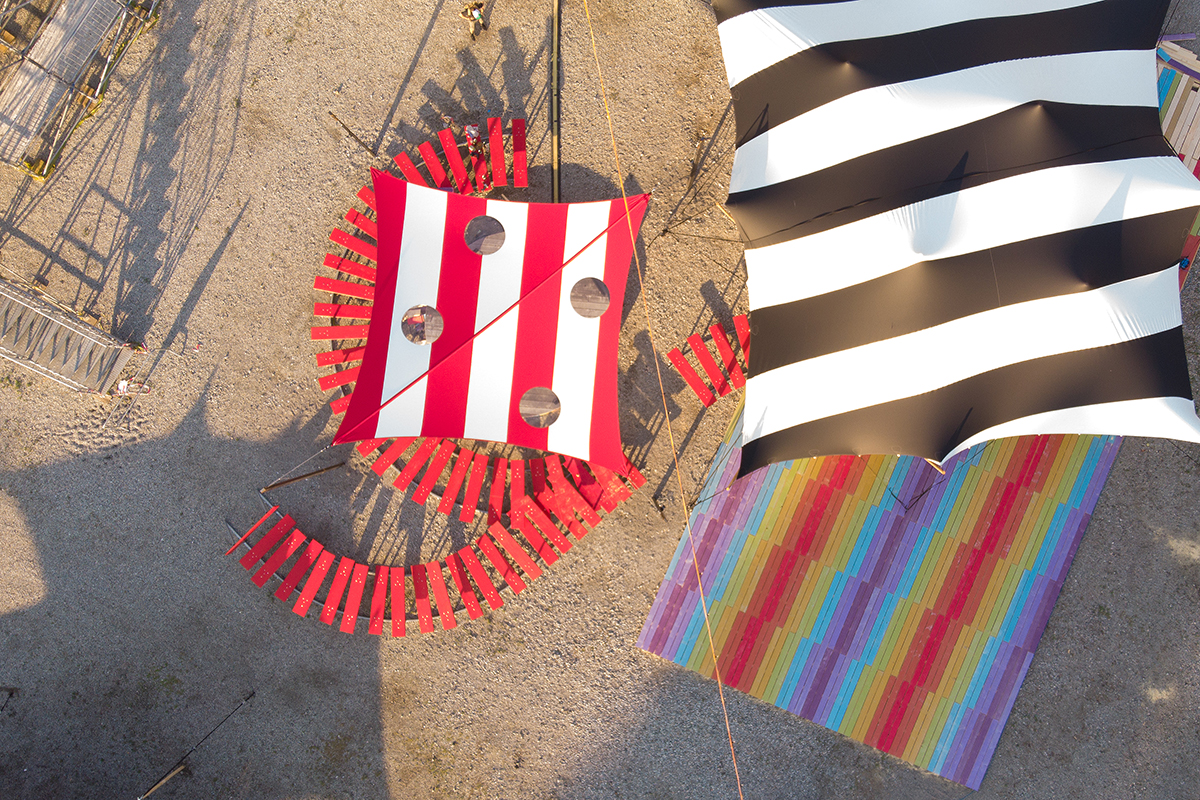 As visitors enter the main circular area, three spaces stand out at its core. The first is an ensemble towered by a vast rectangular tent. Asymmetrically positioned over the space, it converses with a new vibrant 250-square- meter floor painting – a striking assemblage of multicolored wooden boards. Next to it are a wooden bar and circular stage surrounded by Seiler's 2016 work, Tschutschu, a modular spiral of interlinked tables and benches. Made of wooden boards set on a welded metal structure, it can be assembled and dismantled at will, evoking a whimsical succession of train tracks, hence the name of the piece.
Analogous to the first, the second area exposes yet another new floor painting, though this time in black and white, playfully mirroring the monumental tent covering it. Adjacent to it, a disjointed structure, at once circular and rectangular, constitutes one of the Rotonda by la Mobiliare's three bar areas. As for the other two, the structure consists of three basic elements to be arranged, and rearranged, freely. Revisiting his Spazio Cinema installation designed for the festival's 2017 edition, Seiler repurposes the steamed painted wooden panels that.
Opposite the entrance as visitors traverse the space is an anarchic arrangement of artistic and social settings. An expansion of Seiler's 118 minus 11 (2012) installation at the Zurich Hauptbahnhof, Tender is the Night (2020) consists of four wooden 3 x 2-meter split-screen crosses, each containing a unique-size colored neon tube, creating a profoundly contemplative transitional "non-space." Taking its name from American author F. Scott Fitzgerald's 1934 novel, it recalls a nightly, near subversive experience of space – and of the mind. A spirited nod to the latter, the NEW/NOW (2017) neon installation is the mantelpiece atop the Rotonda's bar Bosco. Set on a random timer, the blue and red neon letters flicker from one word to the other, conjuring visitors' attention to the tension between the now and the new. Calling to the neighboring bosco (forest), they enter in a final visual ricochet with over 100 colorful fluorescent lights dispersed in the trees. Acting as the festival's annual Kids Town, dedicated to children, this glistening ensemble imagined by Seiler is a versatile platform where young and old, art and film, social and cultural converge.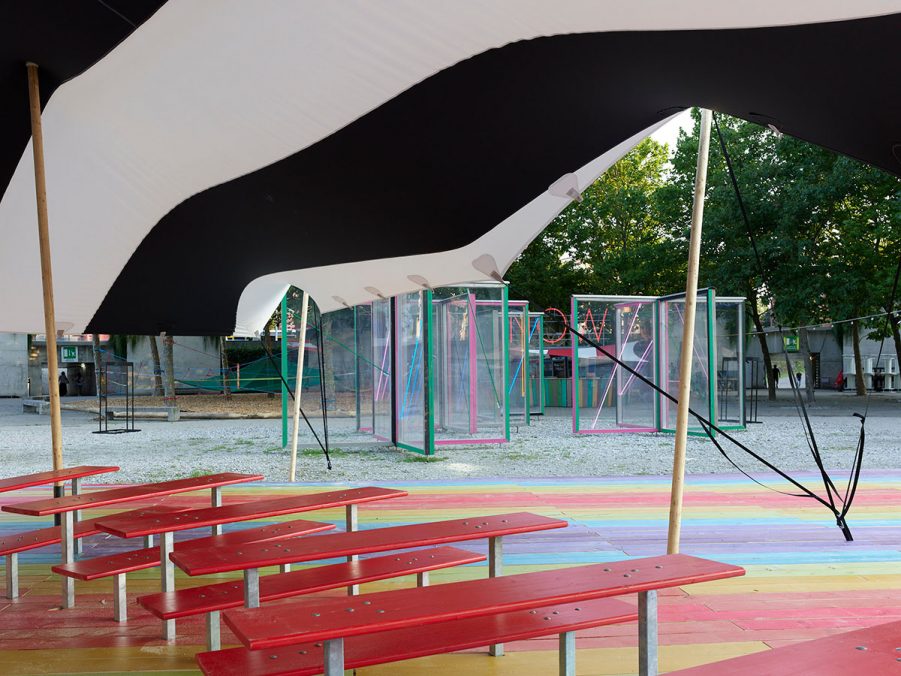 Complementing Seiler's spatial palimpsest, situated at the entrance of the space, Swiss visual artist Maya Rochat (b. 1985, Morges)'s psychedelic video installation is projected on a 100-square-meter screen (20 x 5 meter), set on a scaffolding composition created by Seiler. Activated each night, this magical color bath invites visitors to enter an alternative, seemingly dysfunctional mind space mirrored throughout the rest of the Rotonda. Loans from the la Mobiliare collection, as are several of Seiler's pieces, Swiss conceptual artist Julian Charrière (b. 1987, Morges)'s sculptures ponder the border between environmental science and cultural history. In a final addition, Turkish artist Ekrem Yalcindag (b. 1964, Gölbasi)'s over 100 specially designed ornamented pillows lie in joyful dialogue with Seiler's Tschutschu. An inherently versatile space, the Rotonda by la Mobiliare emerges as a bustling composition, where the plurality of spaces mirrors that of the experiences within it. After a year of isolation, it fittingly brings back and reinforces the essential social dimension of the event – and the social interactions that define it. Seiler explains:
The composition is rooted in the idea of space as a canvas. I move beyond the canvas, from two to three dimensions, as various planes, proportions, senses, and intensities intersect and interact. The sampling of colors echoes the sampling of spaces, in turn prompting a range of sensorial, conscious and subconscious experiences within the same space – and only with visitors' engagement does it fully come alive.
The key marker of Locarno74's parallel program, the Rotonda exposes once more the festival's lasting commitment to engaging with its visitors and the social, cultural and political dimension of film. Reflecting Seiler's emotional bond with the region, growing up not far from Locarno, it is his fourth collaboration for the festival with la Mobiliare's Social and Cultural Engagement branch, with previous installations at Locarno's Parco Balli (2017/18) and Castello Visconteo (2019). It also marks the latest of countless partnerships between Seiler and la Mobiliare over the years, among which the notable Pavilion Pollegio at the Gotthard tunnel (2016, Switzerland) and the Llloblyekk && Bboolyekk office furniture installation for the firm's headquarters (2015, Bern).
Kerim Seiler (born in 1974, Bern, Switzerland) has developed a complex, philosophic sculptural approach to working with space. From colourful and inflatable molecule sculptures to permanent neon light installations and architectural performative artworks, Seiler's visual language merges complex theories of positivism and metaphysics. Through his innovative sculptural concepts for social and urban spaces, Seiler explores and extends the sensible interaction and ambivalent relation between materiality and spirituality. Seiler completed the Vorkurs at Kunstgewerbeschule, Zurich (1991/92), studied Média Mixtes at the École Supérieure d'Art Visuel, Geneva (1993–1995), and Freie Kunst at the Hochschule für Bildende Künste, Hamburg (1997–2002). He received his Diploma with Professor Bernhard Johannes Blume, and a Master of Advanced Studies in Architecture from the ETH Zurich with Professor Ludger Hovestadt (2011). Seiler has shown his work in various international exhibitions in New York, Los Angeles, Paris, Marseille, Berlin, Zurich, Moscow, Cracow, Cairo, and Johannesburg. He is represented by Grieder Contemporary in Zurich.
The Locarno Festival is an annual film festival held every August in the Swiss-Italian town of Locarno. Founded in 1946, it is one of the longest-running film festivals, and is also known for being a platform for art house films. The festival screens films in various competitive and non-competitive sections, including feature-length narrative and documentary, short, avant-garde, and retrospective programs. The festival's main and widely reputed Piazza Grande section is held in one of the world's largest open-air screening venues, seating 8,000 spectators. Working with numerous public and private partners, the festival has demonstrated an ongoing sense of duty to culture and to the region. The 74th Festival, titled Locarno74, will run from August 4—14, 2021.
About La Mobiliare. Founded in 1826 and headquartered in Bern, Zurich and Nyon, Switzerland, La Mobiliare (also known as La Mobilière and Die Mobiliar) is Switzerland's oldest insurance group. Actively engaged in affirming its cultural and social responsibility, La Mobiliare has acted as the main partner of the Locarno Film Festival for the past four years. As part of the Locarno74 festival, the firm is launching a special cultural project, Come Together, at La Rotonda by la Mobiliare. The venue will bring together art through Kerim Seiler's large-scale installation with the participation of artists Maya Rochat, Julian Charrière and Ekrem Yalcindag; short films with the Space Explorers: The ISS Experience virtual reality project in partnership with the GIFF and BONALUMI Engineering; music in collaboration with Turba and RSI Radiotelevisione svizzera; a podcast; and panel discussions as part of the Forum and Locarno Talks la Mobiliare projects. La Mobiliare is also a partner of Locarno Kids la Mobiliare.
Maya Rochat (b. 1985, Morges) is a visual artist based in Lausanne, Switzerland. She works in the fields of photography, painting, video, performance, and installation. Her work has been presented in major international institutions including Tate Modern (Turbine Hall), London; Palais de Tokyo, Paris; Centre d'art contemporain, Geneva; Les Abattoirs, Toulouse; Kunsthaus Langenthal; and FOTOMUSEUM Winterthur. Maya Rochat is a laureate of the 2019 Prix Mobilière (by La Mobiliare), the 2018 Fondation Leenaards Grant; and the 2017 Abraham Hermanjat Grant.
Julian Charrière is a French-Swiss artist living and working in Berlin. Addressing matters of ecological concern, his work invites critical reflection upon cultural traditions of engaging with the natural world, frequently stemming from fieldwork in remote locations with acute geophysical. Working across media and paradigms, Charrière collaborates with composers, scientists, engineers, art historians, and philosophers. His work has been the subject of solo exhibitions at the Dallas Museum of Art, Dallas (2021); MAMbo, Bologna (2019); Berlinische Galerie, Berlin (2018); among many others. It has been featured in the 57th Biennale di Venezia (2017) and Taipei Biennial (2018), and in group exhibitions including at the Centre Pompidou, Paris (2019); Hayward Gallery, London (2018); and Palais du Tokyo, Paris (2017). Charrière is one of the four nominees for the 2021 Prix Marcel Duchamp, and a laureate of the 2018 Prix Mobilière.
Living in Istanbul, Vienna, and Frankfurt am Main, Ekrem Yalcindag (b. 1964, Gölbasi) developed his visual language as a student of Hermann Nitsch and Thomas Bayrle in Frankfurt am Main. His meticulous impasto technique executed with an extremely fine paint brush, demanding vast amounts of time, results in relief-like paintings made of hundreds of layers, recalling the American Color Field painters. A major figure of the non- European ornamental tradition through contemporary art, his work has been featured across numerous international institutions, including the Saatchi Gallery, London (2011) and the Museum of Modern Art, Istanbul (2010). It is part of major international collections among which the Goetz Collection, Munich, and the Kunstmuseum Stuttgart.
Locarno Film Festival – www.locarnofestival.ch