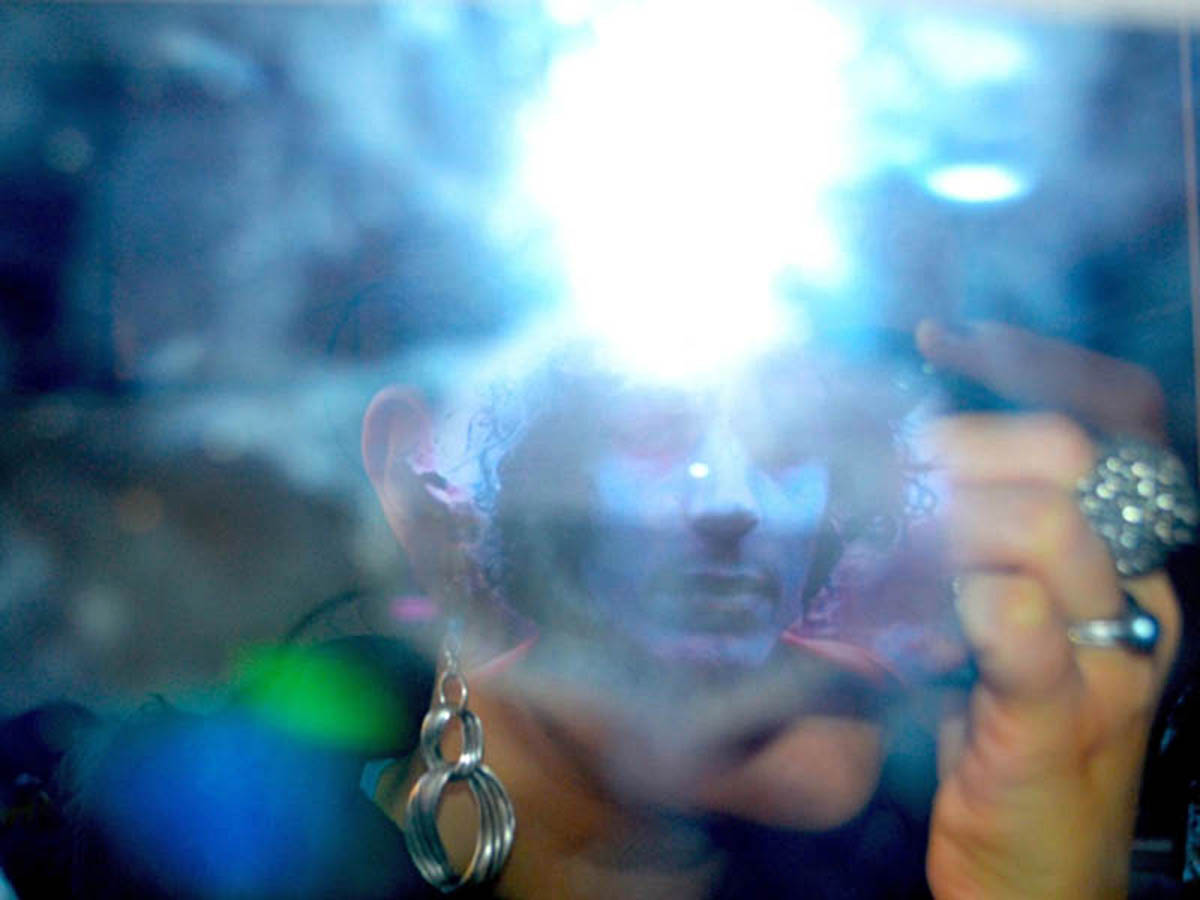 Erka Shalari: You were born in Caserta, live and work in Rome. The gallery that represents you, Tiziana Di Caro, is located in the city of Naples. So how did you find one another? I also wonder what relationship you have developed with Naples, as many talk about the very particular personality of this city.
Maria Adele Del Vecchio: Actually, I do not live in Rome anymore, I've been living there for ten years and now I'm momentarily back home in Caserta, trying to figure out where I should move next. Tiziana and I met in Rome, during the opening of an outdoor show/project "Qui sembra ancora possibile" (2011), I realized in Pineta Sacchetti, a large mysterious pinewood close to my roman house. The thing was simple, I invited art people to come in early evening time. It was October, so it was already dark at six. In the center of this huge park that lies in the urban area but seems to be forbidden and scary when the daylight goes down, I pointed some green lights on some cut trees, creating a sort of magic moment out of the dark. I remember on that occasion, Tiziana seriously staring and sometimes later she suggested my name into an art manifestation in Salerno. Then I was invited to a group show at her gallery titled "Journey to the end of the words" (2014) and we produced my neon "Herstory". After some months, we found each other ready to start a continuous work relationship. She opened her Napoli location with my solo show "Within rather than above" (2015). All that I can say is that I cannot imagine my work without that serious, supportive gaze Tiziana has always had on it. As far as Napoli is concerned, well Napoli is everything and its opposite. I belong to the city even if I grew up some kilometres north. A whole area in Secondigliano has the name of my great grandfather, Rione Berlingieri, since he built it at the beginning of the last century. I have always been related to Napoli. My very first chosen postures in life had this city as background: being an anarchist, being an artist, and the first house on my own. Now, these days I'm living a sort of distance, I had some profound moments with the city, and now I need to lower down, but it is magic, of course.
When did you start to study arts and how does one understand that his/her path is to be an artist? I also wonder how your time in the Städelschule Frankfurt am Main, class of Mark Leceky has been?
My time in Staedelschule has been tough. My father was suffering for a couple of years of a bad cancer story, so I was there but unhappy or unable to give my best, most of the time. I started being a guest student in 2005, then in 2006, I was admitted for a new semester and I really hoped to continue somehow, but then in summer 2006 dad left us, so my story with Frankfurt had its end. Anyway, Mark Leckey was brilliant, I already knew most of his works of that time, and I enjoyed the moments I confronted him. Staedelshule helped me to definitely become an adult artist, even if I kind of understood way late (compared to other stories) that visual arts were my field of creative action.
I was born in arts, my father was the best painter I've ever seen and a political artist, radical in many positions, but also a great teacher in fine arts academy (Napoli, Venice, Milan…), so I grew up in an atmosphere totally related to art speeches – many important names are familiar to my ears since I was a child. If on one hand it seems easy, I followed dad's path, on the other hand, it has not been like this. I had the idea that an artist was linked to fine arts skills, manual ability first of all, and I have nothing like that. I started considering myself an artist passing through cinema first and then video. Some years later, I started experimenting with material in an installative exception.
I remember that work of yours very well, I glimpsed it at Tiziana Di Caro (office desk). In this specific work, you include fragments of your father's work in yours. Can you explain a bit about it?
I bring my father unfinished pieces in my work, since I'm interested in creating a sort of impossible dialogue with someone who's not here anymore, and through this dialogue I create different art layers, one related to painting and one related to the use of words.
I'm not trying to take his unfinished pieces to an end, I instead think I do a sort or recursive operation in which the lasting of a work is postponed, keeps not finishing. 
What would you say is your media and are there any artists that have been crucial to you?
I'm neither a painter nor a sculptor, but I feel my non-abilities in traditional fields have helped me looking for my own tools between those used by avant-garde artists from the last century or younger artists I had the possibility to see around the 2000s. Artists like Giovanni Anselmo or Gino De Dominicis set my imagery; Giulio Paolini, for sure, and Bas Jan Ader, never forgetting the shock to meet in Milan Roberto Cuoghi, when he was experimenting being his father on his own body. This is in the beginning. Now I surely look at female artists and female practices, renovating the use of the word to create a female language, in art as in life. I write short stories and turn them into wall pieces for instance.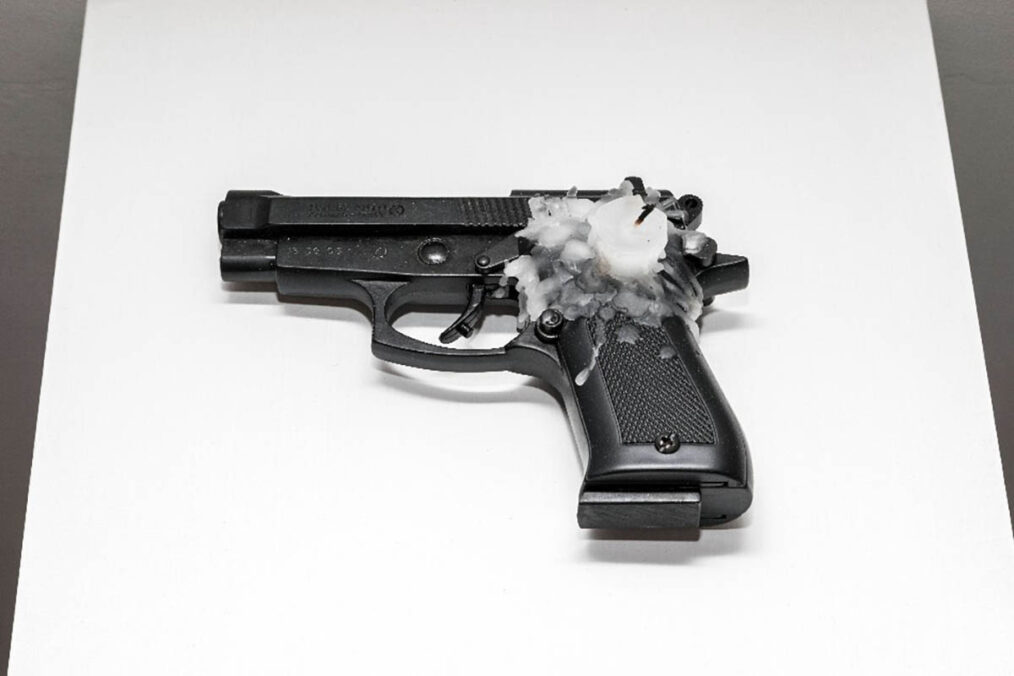 The stories behind your objects and works are for me always extremely profound. I refer here to works that I have got to know in person, such as the work we talked about before, or Untitled (Notturno) at Miart art fair, in 2022. This time I would like to pick a work that I haven't seen in person and ask you about its history. I would like to choose "Dandies".
I think my work deals with questioning identity and questioning will. Dandies came out while reading the biography of an Italian anarchist, Gaetano Bresci who killed the king Umberto I in 1900, and reading a sort of Baudelaire biography "Il ribelle in guanti rosa" (Giuseppe Montesano, 2007), I found out revolution has often been held by people strongly connected to their aesthetics.
I found out revolution has often been held by people strongly connected to their aesthetics. Melancholically related to their aesthetic choices and differences.
I decided to sacrifice my precious Proust Recherche edition in three volumes, transforming them into the basis for 3 anthropomorphic sculptures: this is an important anthemic detail for my work. Books, meant as "told stories" are the origin, the support of my whole practice. I can add that work emerges as an epiphany, then a necessity, while I deal with daily life.
Which references does your work wear?
On my mother's side, I developed a strong interest in literature and poems. I was used to spend time with mum, and her mum, reading things or hearing stories, i.e. on the greek myth. They also told me all they could about fascism, growing me and my sister and brother as proud antifascists, since my grandfather fought fascism in Tuscany hills during the IIWW. Dad is antifascist as well, of course. If these are my earlier hints, I added on my own a deep interest in cinema and punk music, garage punk music, so here we are with the grammars and semantics I tap into. I can add I learned from the movies I love, usually silent photographic movies, to be patient and to have a rhythm. When I studied movie script, in a private course with the great Ugo Pirro, he taught me things I still and prob. forever will apply to my production process. In the end, I have to mention philosophy and psychology, that together with an intensive research in esoteric dimension, et the conceptual basis from which I draw my movements.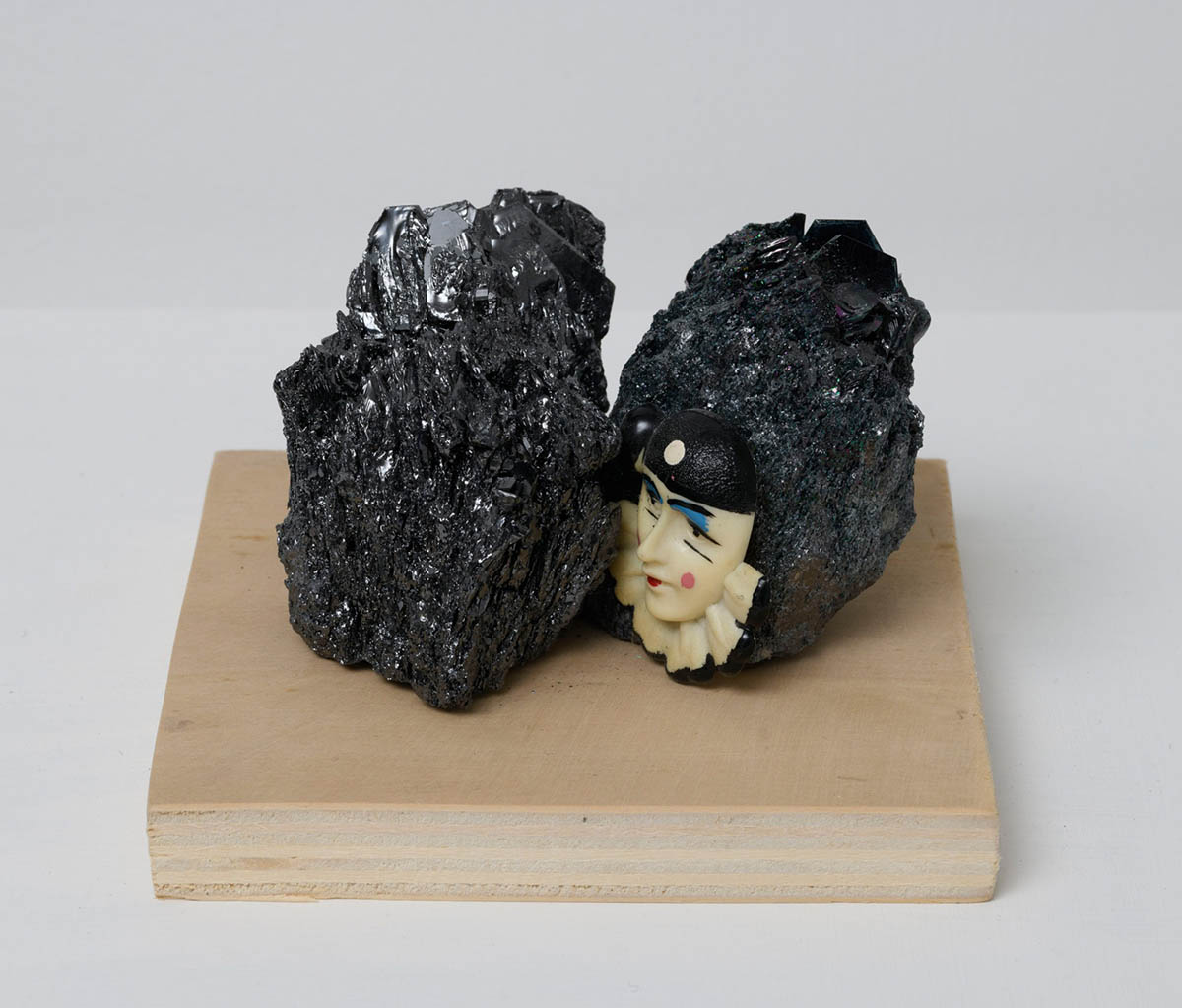 You also make me think a lot about family, they are (sometimes) part of your work. What do we discover about ourselves by getting to know all these humans better?
My family is me and not me at all. I am still trying to understand. For sure my bond with them is powerful and feeding.
One of your latest works is entitled "la ragazza". What happens in this work?
I wrote "la ragazza", and it is a short tale. We follow a man in his lunch pause who goes home bringing some food. The man thinks about a girl he met in a club, a few days before. The way they fell into each other, gazing first then starting talking, and it was immediately love for both it seems. There is a "crescendo", thanks to which we realize this beautiful spontaneous immersive love has gone wrong. The man enters his flat, goes to his room to bring food for the girl, who is gagged and bound to his bed.
What else are you working on at the moment?
I am working on a new text, again a tale, and I will perform it at the beginning of September in the contest of Panorama, a huge group show in Monopoli, curated by Vincenzo De Bellis. It is the story of a woman, a mother, who feels herself a ghost. It will be a ghost story.
When you say perform, what do you mean? What does it mean to perform a text?
I consider performative the whole process that leads me to tell my stories to an audience: a ritual made of choices and steps and crisis, while I am writing tales where you can find many autobiographical elements. I live it a bit like a "gestazione" and the final moment is really a "parto".
How does it look like a day of yours, and how will you describe your atelier?
My depression started in 1999, 23 years ago, and affects me a lot. It is hard to tell you about a typical day, since I often sleep all day long, which is pretty typical of a clinically depressed person. It takes me courage to do normal things. Meds help, but not completely. It is ok, I turned this depression into something like the price I pay for the attempt to live life with the strongest possible lucidity, try to steal myself from mundane superficiality, to stare straight our being part of a bigger drawing. Back to depression, I also talk about it, not only in my works, but with others who suffer from depression and appear to be abused by the social taboo this sickness is confined into. To answer your question, I never had a studio, I usually re-arrange a room of my flat in a workplace when the physical production has to be built up. Before that moment, I usually study and write about the project in my notebooks. My notebooks are always with me.
How is Caserta? I have the feeling that in different places and homes where we live, we deal with other thematics. Or that the place influences a lot the art, writing and so on.
My hometown has been a cultural environment when I was younger, some of the most important Italian cultural figures are born and grew up in Caserta (just to mention two – the actor Toni Servillo and director Pietro Marcello). Now I am sad to say I consider it just a sort of Napoli suburb, but I cannot say I feel fed up by the city.
Erka Shalari: Thank you Maria Adele!
Address and contact:
Galleria Tiziana Di Caro
Piazzetta Nilo, 7, 80134 Napoli
www.tizianadicaro.it

---
Maria Adele Del Vecchio was born in 1976 in Caserta (IT). She attended the Staedelschule Frankfurt in 2005/06. In 2014, she was shortlisted at Furla Prize, called The Nude Prize. Her practice involves installation, sculpture, photography, and video. The work of Maria Adele Del Vecchio is heterogeneous, as are the themes she deals with, from politics, to history, from literature, to sociology, but all connected by a common principle: to overcome the tendency to mass hypnosis, cancelling those automations that alter the behaviour of the human being.
Erka Shalari was born in Tirana in 1988 (AL). She studied Occupational Psychology at Tirana State University and Culture Management at MDW, Institute for Culture Management, Vienna. She focuses on discovering distinctive artistic positions, unconventional exhibition spaces and galleries that have deliberately broken new ground with their working methods. She relies on unorthodox publishing practices, coupling these with a nonchalant manner of writing – https://linktr.ee/erkashalari
Note: The performance En ce temps-là, 2020-22 from Maria Adele Del Vecchio has been performed once a day during the whole course of Panorama Monopoli 2022 – Monopoli, Puglia, Complesso S. Leonardo (cortile / courtyard), via San Leonardo 9.