Interview Setting: Interview with Lou Jaworski in the frame of his participation at SPARK Art Fair, March 2022.
Erka Shalari: Reveal to us something about the preparation phase for SPARK 2022? How do you usually prepare for your exhibitions?
Lou Jaworski: The booths at the Spark Art Fair have all the same size and look. A very simple form of presentation. Currently, I got an artist residence grant in Warsaw run by the stART Foundation, which allowed me to work in an ample space in a former polish radio factory. There is where I created a life-size model of the booth to install the works before the fair. All outcomes you saw are new and were introduced for the first time to the public at SPARK 2022.
In 2015 I was in Rudolf Stingl's studio in New York. At the time, he was preparing for an exhibition at Gagosian. He made some coffee and then opened a hangar door that led to some interconnected warehouse buildings saying, " This is the 1:1 scale model of Gagosian NYC. Same size, same light. We install all works here before they are leaving the studio". When it comes to an exhibition in a building, I am planning two shows simultaneously. One when daylight comes in, and one after dark. I spend days and nights in empty exhibition spaces to find details of light and architecture that are changing and can be included in the show's narrative, or influence my choice of works. Generally, I am fascinated by how light can influence spaces or our bodies.
What do we witness in the booth and how do the works relate to each other?
You see two wall installations and a floor installation coming from different series of works. There is indeed a connection – the materials and parts are all a kind of data storage. We see ferrite magnets, tubes drilled through few million years of marble stone and some former server racks, which for many years were used to store private and public internet data.
I am particularly captivated by your work META. During the conversation at the fair, you talked about a kind of silence that returns when we turn off the neon lights, then about Warsaw (the city where you live) and the presence of these lights. Can you elaborate more on this?
META 2022 is a work from a group of unique wall installations. The work combines the look of a neon tube lamp with marble stone, something very urban, a clear democratic and affordable design, and a core drilled through few million years of a stone straight from the earth. I like the idea of the "turned off" light source. Its amplifies silence in a space. It's connecting seashells, plants and chalk to concrete, bricks and white wall paint. I think this is what these works are about—amplifiers of light and silence. Then there is a dramatic gap between the production process of the marbles and how the works appear when they are finished and hanging on the wall. The works are all handmade by me, it's hundreds of hours of hand drilling, killer noise, dirt and water. A contemplative nightmare. You probably don't get that feeling when looking at them when installed. I like that, it is fair.
I was allowed to hold two mini components belonging to the work in the floor arrangement. It was captivating to feel the effects of the magnetic field.
It's not about effects. I use magnetic materials to create construction models, things that are built the same way how our body and everything around us is built and are things that can change. You have small parts influencing each other like atoms, creating groups and bigger parts, changing shape, et cetera. They might look like sculptures or installations, but for me they are models.
You said that someday you noticed that the people in the ferrite magnet "factories" were leaving noticeable imprints in the compounds they were crafting. At that moment, you approached them and asked if they could further process the material – making it even thinner and lighter (so those imprints would be even more palpable). Which qualities have this material?
The surface of a ferrite magnet is reacting and oxidates in magenta colors once touched or in contact with another magnet. It's reflecting light in a very strange way. Although it's steel, it looks kind of soft and has a silver-blue shade. A lot of people think it's graphite. I produced some big flat tiles which I connected using their own magnetic power into very large monochrome magnetic fields, showing so all the mysterious traces of human hands and movements.
In one of the displayed works are birds you imagine. Can you take it further with that thought?
The black magnetic floor arrangement is inspired by thousands of birds I saw leaving Warsaw before winter. I know some scientific Infos about how animals behave in swarms and some news about bird's brain and their recording memories. The work connects these thoughts in a very intuitive way. It might look like a city map from a bird perspective, but also like a server counting bird data, or a wind tunnel creating air streams. Do birds remember last year's stuff when they come home? How much data or memories do they create? Where is it?
'SIKHOTE ALIN' (in your portfolio) made me think of a transformative artwork by the striking Caro Jost (I saw the work at SPARK). In this painting, she has incorporated a receipt of a needle purchase made by artist Günther Uecker. I'd like you to tell us about SIKHOTE ALIN and why are purchase receipts (sometimes) so important to an artist?
The work you mention was my diploma work at the art academy in Munich with Gregor Schneider. It was the invoice I received for buying an iron meteorite. The meteorite itself was filed into iron dust and used as a pigment to print this invoice in original size on copy paper sheets until it was completely consumed. The work is about transformation, and it is dealing with our idea of human and nonhuman and it's somehow a cruel and funny work. Speaking about Uecker, years ago I found an inspiring text in an Italian library. It was Uecker's architectural proposal for a new Berlin. A futuristic manifesto inspired by culture and art. It was really good! Maybe it is time to stop with these nails.
April 2020/ OFF-WHITE MOON 2020/ CORE 2020/ T2020/ HYPATIA are only some of your work titles. Are titles essential to you?
Yes.
Do you think some of your works occur by chance or luck?
No.
And in terms of process, how is a work of yours created?
I realize physical work as late as possible. This puts me in a difficult situation, but I try to keep them as long as possible just as an eventual imagination. I think it's an ideal and free form. As soon as it's created and mixes with the language it starts to decompose.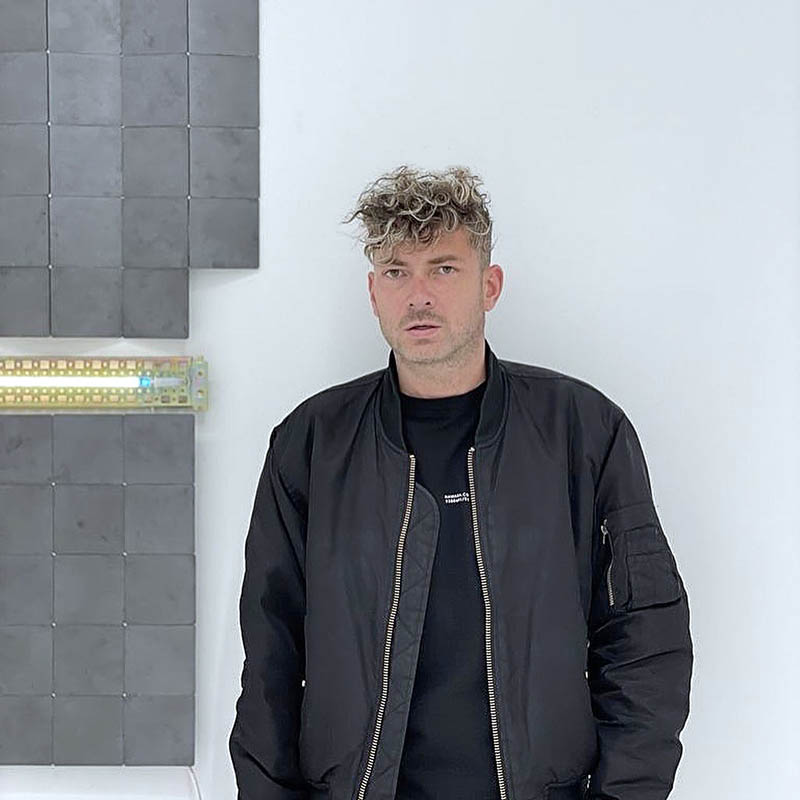 I am particularly interested in UNTITLED 2017, on its history, your performance, the four shirts…
2017 I was invited to take part in a 4 days group show with around 70 other artists at the Museum Hamburger Bahnhof in Berlin. The show was organized by Udo Kittelmann and Olafur Eliasson with the intention to show young movements in the German art scene. I made this work for this event. It is a mix of performative and documentary work, drawing and sculpture. I had four white cotton shirts where the original buttons were replaced with CNC carved graphite buttons. While wearing each shirt for one day in the exhibition space the graphite buttons were leaving dirty marks and drawings on the white cotton fabric.
E.Sh: This is it!
Lou Jaworski (*1981 in Warsaw, Poland) studied sculpture and installation at the Academy of Fine Arts in Munich under Prof. Gregor Schneider and received his diploma with distinction in 2016. From 2017 to 2020 he has been working as an assistant of Prof. Gregor Hildebrandt's class. Jaworski works with magnetic materials, iron, graphite, meteorites as well as marble for his installations and sculptures. His works are characterized by the tense interaction of material autonomy, ephemeral abstraction and physical laws and are often concept-based and implemented in a site-specific manner. The artist deals with metaphysical questions associated with formal reduction as well as with the phenomena of human perception. His works were u. a. exhibited in Phingyao (China), New York, Munich and Tel Aviv. In 2017 Jaworski was part of the Festival of Future Nows at Hamburger Bahnhof, Berlin, under the direction of Udo Kittelmann. In 2016 he received the debut award from the Bavarian State Ministry for Education and Culture and in 2017 the studio grant from the City of Munich. Lou Jaworski's works are part of the Bavarian State Painting Collections and are represented in private collections in Germany and Switzerland.
Lou Jaworski – www.loujaworski.com
---
Erka Shalari (*1988, Tirana) is a Vienna-based art author. She focuses on discovering unique artistic positions, unconventional exhibition spaces, and galleries that have deliberately broken new ground in their working methods. She relies on unorthodox publishing practices, coupling these with a nonchalant manner of writing. Her work oscillates between articles for magazines, exhibition texts and press releases. Erka studied Occupational Psychology at the State University, Tirana and later Culture Management at the Institute for Culture Management, MDW, Vienna.