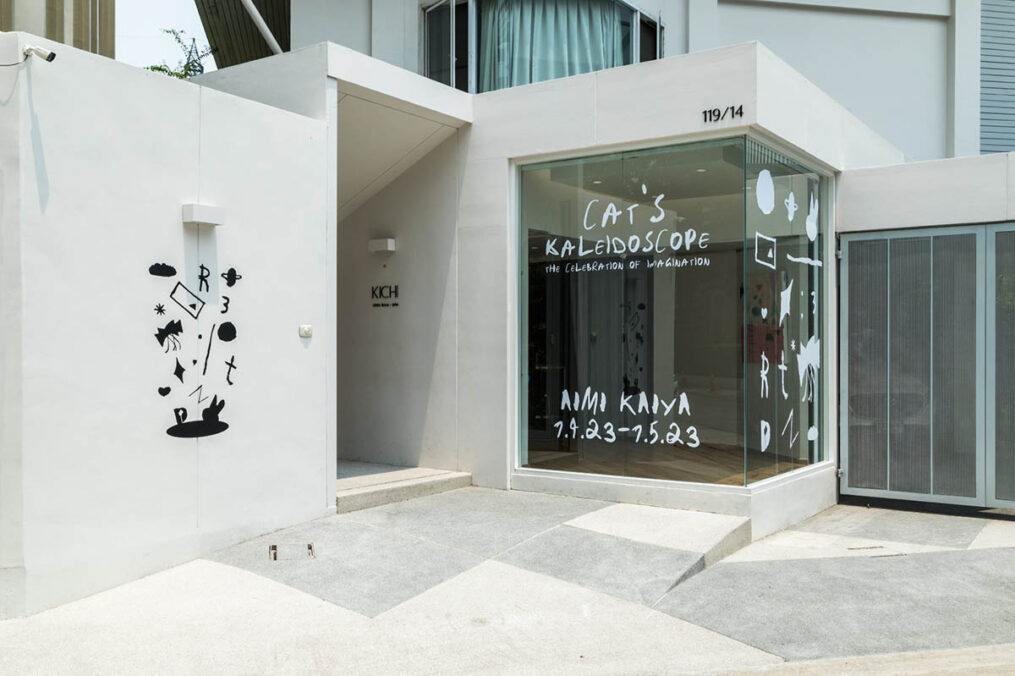 Award-winning contemporary artist Aimi Kaiya presents her latest exhibition, "CAT's Kaleidoscope," at the KICH Gallery in Bangkok, Thailand. The exhibition is a sequel to her previous solo exhibition, "Into the Alice journey," and promises to be an immersive experience that merges science and physics concepts into art.
The exhibition features Aimi's abstract expressionism art, inspired by the story of "Alice in Wonderland" by Lewis Carroll. This literary creation has captivated readers of all ages, and Aimi has used it to explore the limitless possibilities between art and science.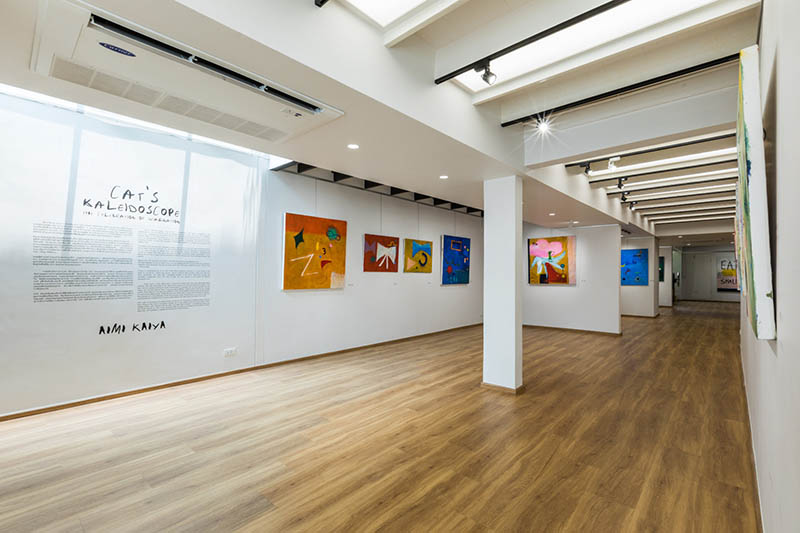 "CAT's Kaleidoscope" tells the story of a young girl named CAT, who is passionate about physics and falls asleep, only to wake up in a strange land where the laws of physics seem to be different. As she explores this new world, she meets many strange and interesting characters, gaining a deeper understanding of how the universe works.
Through her art, Aimi celebrates curiosity and boundless imagination, reminding us that the world is filled with undiscovered knowledge and creativity. The exhibition is a journey into a magical land where everything is possible, in our own way.
Aimi Kaiya is a self-taught artist who started painting as a self-therapy activity to understand herself and learn how to express her internal self through art. Her personal preference is contemporary abstract expressionism, and she likes experimenting with colors, lines, and symbols, and learning new techniques. Her inspirations are the simplicity of everyday life and surroundings, songs, movies, memories, natural exploring, and the Bible. The exhibition "CAT's Kaleidoscope" will be open to the public from April 7th to May 7th, 2023. It's a must-see for anyone who appreciates the beauty and complexity of the universe and is interested in exploring the connection between art and science.
Interview with Aimi Kaiya about her solo exhibition. Could you please tell us about your process to create "CAT's Kaleidoscope"?
My process included experimenting with different colors, shapes, and lines. I wanted to create the feeling of motion and energy in the artworks. The artwork will reflect the world that CAT discovered through her dreams and imagination. Some parts were inspired by my favorite artists like Joan Miró, Hilma af Klint, and Mark Rothko.
How did you use abstract expressions to deliver ideas and concepts in "CAT's Kaleidoscope"?
Abstract expressions allow me to create artworks that are open to interpretations and express the feeling of movement and energy. I picked the distinguished colors and geometric shapes combined with different lines to express the world that CAT discovered. Each artwork represents different perspectives of her journey. As I have studied clinical psychology before, I believe abstract expressionism is similar to the Rorschach Inkblot Test in that the hidden emotions and ideas from personal experience could be expressed. This is the charm of abstract expressionism.
What do you think about CAT and her passion for physics?
CAT is my representative in the world of imagination. When I was young, I never liked Physics, and now I still don't understand. However, I have questions and wonders about the law of the universe. For me, it's so interesting and made me think about how I imagine Physics possibilities on my way through CAT. CAT is representative of curiosity and endless imagination, which are the key characteristics pushing us to discover the unknown and new things. From the discovery, I have found the inspiration to create. I hope my artworks will inspire others too.
How did "Alice in Wonderland" relate to "CAT's Kaleidoscope"?
"Alice in Wonderland" is a classical inspiration for a lot of artists and creators and the starting point for "CAT's Kaleidoscope". Schrödinger's cat theory was related and tested the ideas in quantum mechanics. They are key ideas for this exhibition. The other inspiration is from Cheshire Cat, the beloved character in "Alice in Wonderland". It is the representative of curiosity, reminding the audiences that there are still many more to explore and learn in our world.
In the end, those components were combined to create a unique world, full of imagination in "CAT's Kaleidoscope".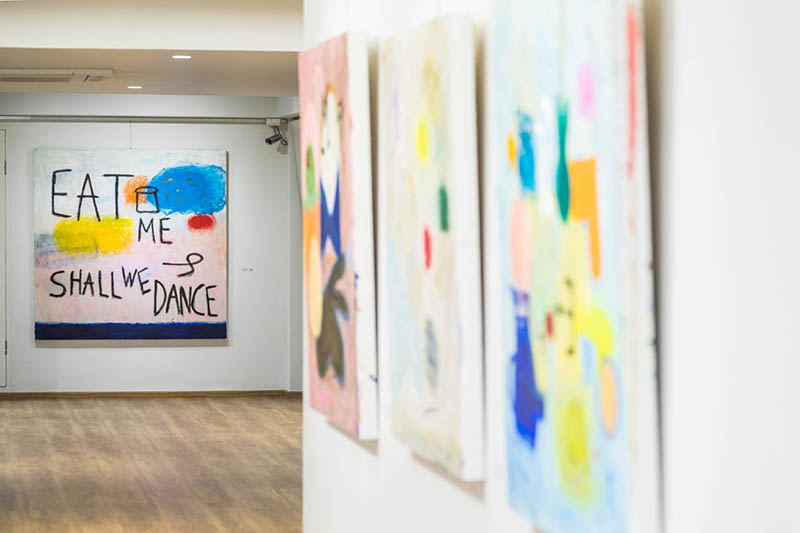 What is the role of abstract expressionism to express ideas?
I think abstract expressionism plays an important role in expressing complex ideas and thoughts. It helps us reach our subconscious mind and discover the world outside language limits and rational ideas. It is one of the artistic poetries that could stimulate emotions and ideas that could not be expressed by language alone.
How do you think that the connections between art and science could lead to new ideas and discoveries?
I think art and science are two sides of the same coin. We could combine both creativity and logic to advance different innovations. For example, scientific ideas could inspire art expression, and art could present new methods to express ideas. Furthermore, the process of artwork creations and scientific research usually involves experiments, trial, and errors for new ideas. Those processes require curiosity, observation, and taking risks. We could work together powerfully, leading to exciting theory discoveries. With those connections, we would unlock insights, ideas, and discoveries to improve this world.
What is the biggest challenge in the creation of "CAT's Kaleidoscope"?
The biggest challenge in the creation of "CAT's Kaleidoscope" is an attempt to capture the complex and mysterious bizarre world that CAT discovered, as well as the confusion in unfamiliar situations. I have tried a lot of colors, created the surface, and tested new techniques. But it was challenging to find balance. I still need each artwork to be unique and express different perspectives in CAT's journey.
I let my imagination and subconscious mind express without any plan or preparations. In the end, I was happy with the work. I think this exhibition reflects the spirit of imagination and endless boundless creativity.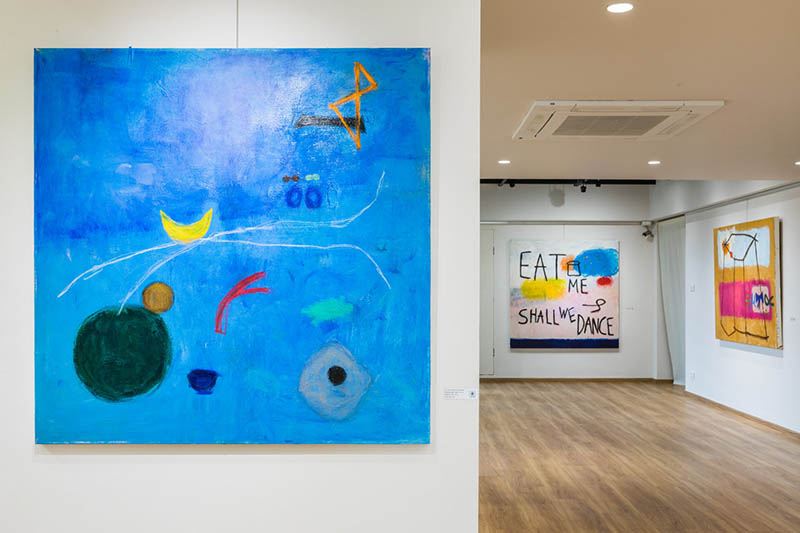 What do you expect the audience would receive from "CAT's Kaleidoscope"?
I hope the audience will be inspired to explore the beauty and complexity of the universe around us. The connection between art and science in this exhibition will inspire people for new possibilities to create the future and lead to new innovations.
Do you have any advice for those who want to create artwork that expresses unique creativity?
Believe in your instinct and let your imagination flow. Don't be afraid to try and take risks. Don't worry too much about failure. Art is a journey to discover yourself. The most important thing is to enjoy the process and expressions in your own way.
Aimi Kaiya – www.instagram.com/aimikaiya/