specchiooᴉɥɔɔǝds is pleased to present The Healing Song by Luca Marcelli Pitzalis, the first project in collaboration with SBT studio, curated by Arnold Braho and Paola Shiamtani. What to do with an aluminum flag so heavy that it cannot be waved at the slightest breath of air? However, waving it echoes the sound of thunder.

The Healing Song, an installation specially conceived for specchiooᴉɥɔɔǝds, appears through a phrase scratched violently on an aluminum plate. In the form of a macabre refrain, the question is extrapolated from a received provocation and fixed through an intellectual process that conceives sincerity as a discursive practice and fragility as a subversive practice, where the ultimate goal is nothing but happiness. The installation is part of the series Flags (2021 – ongoing), which the artist proposes in the form of possibilities as if to claim new forms of courage and self-denial, which intertwine and do not elect the artist as a producer of truth, but rather position him as the ventricle of the fragile.
The phrase highlighted on the plate like a mantra has taken the form of prose and verse, as part of the lyrics of a hypothetical, unorchestrated song, installed directly on the window with adhesive tape.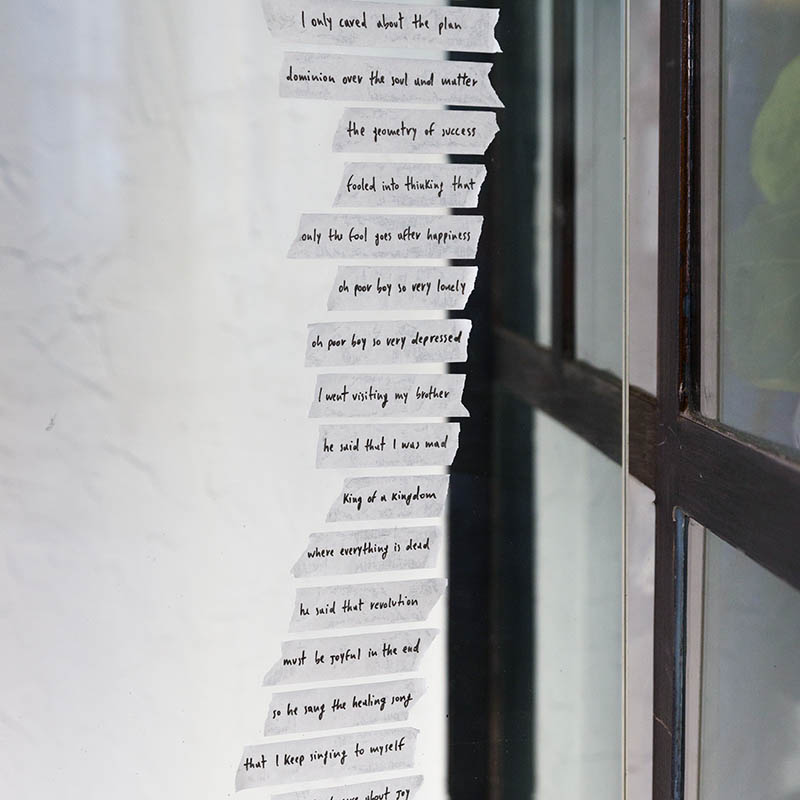 Luca Marcelli Pitzalis creates text and sound compositions that feed the semantic discourse. The words, consciously selected, derive from candid chats with friends and family, seemingly futile conversations, heart-to-hearts, and other people's online phrases and widely accessible vocabularies. The Healing Song is a provocation and reflection, but also a motto and song. A song that is also ours, a chorus waiting to be sung.
Exhibition: Luca Marcelli Pitzalis – The Healing Song. Curated by: Arnold Braho and Paola Shiamtani
Exhibition Duration: April 16 – May 13, 2023
Address and contact:
specchiooᴉɥɔɔǝds Studio SBT
Via Mortara 4, Milan
www.instagram.com/specchio_specchio_/

---
Luca Marcelli Pitzalis was born in the summer of 1995 in the island of Sardinia, Italy. He lives and works in Viterbo, Italy. LMP works in a wide range of media including installation, audio, video, performance, writing, and songwriting. His research explores the dimensions of intimacy and sensitivity in the infosphere. A countermelody of vulnerability and defeat arises from his works, as opposed to the translation of human experience into data, and to the dominance of the paradigms of growth and productivity – https://www.lucamarcellipitzalis.com/