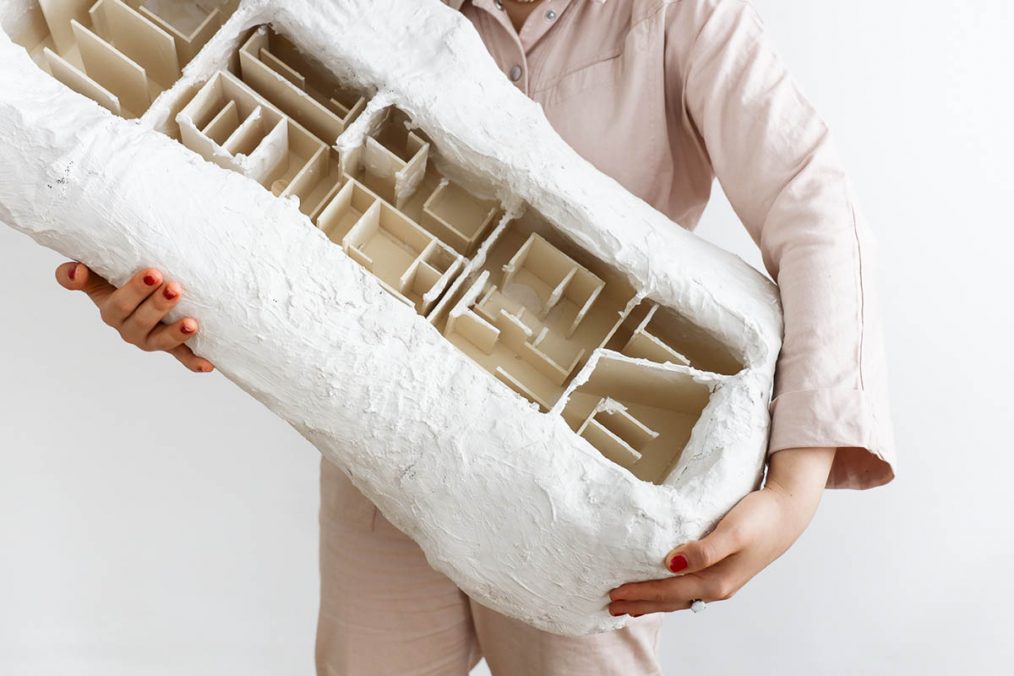 She was accepted and started to study stage design at the renowned Moscow theater academy MXAT. Somewhere in the middle of her studies, she decided to discontinue. The desire to engage mainly with contemporary art led her to the Textual Sculpture class of professor Heimo Zobernig in 2016. When reading her lines in the interview, one explores what made the artist go on various new journeys over time.
It is fascinating how she treats the materials, which connection she builds, why she employs each of them, and how sculptural and installation works then take life. In addition to cardboard, paper, wire, plaster, and medical gauze, materials such as stone, metal, ceramics, and clay are also incorporated. This first group has a unique arrangement – it keeps following the shapes that the artist is trying to form. In contrast, the approach to the second group of materials is different. This time the artist follows the material. She stays close to them and observes how they react, melt, change, dry, and surprise. These materials are often connected with very personal narratives.
Where were you born? Would you like to make us connected with your life context at that time?
I was born in the middle of perestroika (1995) in a southern Russian city called Rostov-on-Don, which is also called the "Gateway to the Caucasus" and is very close to the Ukrainian border, I can describe my childhood to be very happy and interesting, despite the poverty of those times. Different cultures and nationalities populate this area, so it has always been hard for me to define myself only as Russian. I still do not understand the full meaning of this apart from having a Russian passport. I traveled around a lot because of my father's job, still, I had never been to Europe till I was 17-18, simply because it was hard to afford it. At 16, I entered Art College, where I had been studying for two years but never graduated for numerous reasons. I also noticed that my native city doesn't have that much to offer considering artistic education, so I went to Moscow where I decided to study stage design with a strong technical, architectural and theoretical basis. I studied in a widely famous Russian theatrical academy called MXAT founded by Vladimir Nemirovich-Danchenko, who worked together with famous actor Konstantin Stanislavsky.
Would you like to elaborate on the reasons that made you quit your studies in Rostov?
I don't have to say that every move away from soviet realism was considered a betrayal of the Russian academic system (smiles). I was raised to think freely and to express myself in an open way. The system I landed in Rostov and Moscow was very authoritarian. Literally, the student was dependent on the professor, usually, the same one who did painting, drawing, and composition. And if the professor happened not to like you, you would have a really big problem, that is what I had, but in the end I'm proud of myself that I was brave enough to leave and to have one gap year to figure things out. In the beginning, everything was okay for me, but I did not understand why I had to draw over and over one still-life for half a year, which was very depressing.
It felt like a deadlock, my grandfather always says to me, if something stops making you happy, that means you're on the wrong way. The real pleasure was the class of life drawing which a very nice art professor led. The students were drawing each other since college didn't have money for a model, I drew really a lot, this professor always gave me very constructive feedback, and I felt that it helped me move forward. The other professor was very strict, but I am very thankful to him because he taught me discipline, after studying with him, I don't miss deadlines anymore. To be honest, the educational system in Russia is much stricter than in Austria, I still sometimes have the feeling that I'm on holiday here. I think I'm very lucky to have had both.
How did it feel to study in MXAT?
MXAT is the most famous and privileged theatre academy in Russia, it is situated near Kremlin on the main avenue of Moscow. As I came to Moscow, I was planning to enter a state art academy, but I was also deeply disappointed by how narrow-minded it was. I mean after Kasimir Malevich, Russian Avantgarde and VCHUTEMAS – it is really a shame. I am an idealistic person in a way when I have to deal with art, I knew the situation, but I believed in a better state of things. Then I met a friend from Rostov, she studied in MXAT, and she told me that they have a stage design department and that this year there is possible to enter this study program. So I went there to the last month of preparation courses and was hoping to be taken. In Russia, there is free education if you pass the competition, in MXAT that time there were four or five places in stage design department that the government funded. Paying for the studies yourself is way too expensive… I entered as the first, the problem was solved.
The studies were crazy I was in university from 9 till 18 every day, including Saturday. I literally lived in the university, it was very intense, but very inspiring. But after some time, theory classes, which I really liked, get fewer and fewer, my professor expected me to copy his aesthetics which was very far from what I wanted to do. It is impossible in Russia to change the professor, so I quit the university before graduating, that was a very risky decision.
Did you perceive yourself in MXAT already as an artist? To what extent does serve that period in your contemporary praxis?
After studying in art college, I knew that I wanted to deal with visual arts in the end. In Russian, we do not say stage design, we would say theatre artist, what makes a huge difference in the learning approach because we were taught as artists. Let's say artists with benefits. This study program was much more enriching than the one for visual artists in Russian state academies. Some contemporary art institutions propose study programs for contemporary artists but usually don't give a state level degree diploma, and to be honest, I wanted to have one. In the Soviet Union times, the theatre became a shelter for many non-conformist artists, I have the feeling that theatre education in Russia tended to reflect the changes in contemporary art culture, people there talked about performances and installations (In classical art academies, such things were not even considered to be art). That was very refreshing, I was able to build a great theoretical base for myself, still I could see that my visual aesthetics were not that relevant for what I was willing to express, of course there I could notice the bad things about realism, yes we can say that firstly we should learn how the artists from art history used to paint, but at the end, the hand learns how to draw too well and then it tries to go the easiest way which is very often not the right one. Also I enjoyed the strong connection of my studies with space. I remember a very interesting exercise we were once given in an architecture class: Everyone had to recreate some historical interior on a small scale, usually in such museums it was forbidden to take any measurement with special instruments or pictures, so students were supposed to measure the space manually with steps, or analyzing this space and its size by one common element as window, door or part of the wooden floor. This practice has carried in itself a big performative potential for me; after experiencing space in such a way, I've started to see and apprehend differently the rooms I am in.
How did Vienna occur to you?
As I was a teenager, I saw a documentary film about the Viennese art academy, and I loved the architecture, the history, it looked like a Disney. I got that time a picture of Graben street as a Bildschirm for my phone. Years later, I saw it in real.
How do the thematics of your work emerge?
In my work I come very often to my personal narratives and experiences towards a form I am working with. For example my last show 'Cosmic poetics' in Einstellungsraum, Hamburg deals with the philosophical movement of Russian Cosmism, I will continue my reflection to the theme in Kunstraum Lakeside in September. I realized the presence of cosmism in many levels of my life, from my childhood until now.
I grew up in a panel blocks area of the Rostov on Don. Though the city had nothing to do with Soviet Space Program directly, every street in this panel block habitat was named after a cosmonaut, space researcher, galaxy, planet or a star. It fits somehow really well into the cosmic speculation, which these thinkers were producing.
The names of the streets present a speculative past in a way, since there is no formal history between this landscape and space program. At the same time the high level of conspiracy in former USSR and still hidden archive documents give a space for an interpretation and for a chance that this piece of the ground could have had a history to share.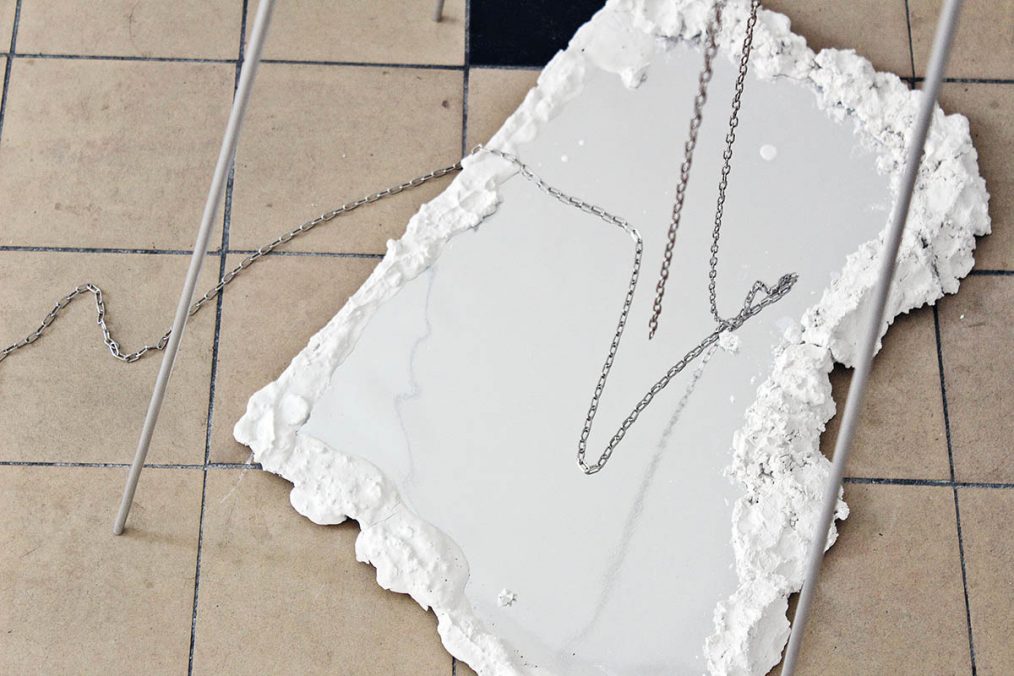 It would be really nice to hear something more about Russian Cosmism. Something else that I would be interested is the role of women in this movement.
Russian cosmism was predominately male, still it is hard to call it a movement, most of the philosophers worked independently from one another. The name was given much later. So I am now an eastern European post-soviet woman working with this theme. I guess the second wave is happening because of Boris Groys, who is articulating this theme to the western viewer.
What do you think about the Russian scene of contemporary art?
I am not very familiar with tendencies of Russian contemporary art, I didn't have a lot of connection with it since I left Russia. Russia for me now is only for quality time with my family. I would be happy if it changes, but for now that how it was for me. On the other hand since I've moved to Vienna I have met though art spaces of my native city or instagram many thrilling artists, I can see that Russian contemporary art scene is growing and that it now has many strong positions, it is always inspiring to see.
Let us veer our conversation into the materials that you use for expressing your narratives. What fascinates you about them?
I work a lot with cardboard, paper, wire, plaster and everything what is flexible and gets its form as I want it to. I also worked with stone and even was an assistant in the stone workshop in the academy, I'm still very much into working with stone, usually I use stone as a flat surface to create reliefs or text. Now I started working with ceramics, I worked with clay before but now on a different level because I think I developed a very complex relations with the material. I enjoy how flexible and smooth it is at the beginning, then very fragile when it's air-dry and then so hard when it's burned. I mean, it is incredible to follow the process where on every stage something can go wrong. For me it is important to follow the material, the way it reacts and changes. I also worked with metal and hope to do it soon again. For every project of mine I draw a lot, I collect everything through my drawings, they help me to precise my idea and to form it.
One of the elements of your work that intrigued me is the medical gauze. Can you elaborate on the history of this material and how was it chosen?
Medical gauze is another beloved material of mine for using in my artwork. This material also connects many aspects from my personal story and narratives. After the WWII, my grandmother had a prom, and this was a very poor time. My great-grandmother was a tailor, there was a huge deficit of materials, and she had only medical gauze, so she created a beautiful dress for my grandmother. Through cooking, and using starch, she changed this material and gave it other qualities, for me such stories are the narratives of metamorphoses. Also, my family is strongly connected with medicine, medical gauze was a very reachable and present material for me as a child, so I was playing with it around really often.
How do artworks or exhibition titles emerge in your case?
My works strongly reflect my feelings and states. The name can come from a poem, text from a song, or something I hear on the street at a certain moment in time. So the names are parts of these puzzles. The professor from the life drawing in Russia once told me that the artist must be attentive. I think this is my way of experiencing the life.
Names are part of my dramaturgy.
A bunch of pieces of segmented photographs, then sculptures and a title that awakens interest. Can you tell something more about the show "Something what has gone"?
I had a great show with Valerie Habsburg where our works were flowing from one another. We met in Neuer Kunstverein where we performed and somehow I felt straightaway a strong connection to her art works. So we decided to make a common project 'Erinnerungsinseln' which we were able to show in Pragovka gallery last summer, but it is still ongoing project, so I think it is even more to come in the future. Valerie works also a lot with memory, memorabilia and personal narratives. Our curator Lucie Nováčková wrote a beautiful text where she compared us with Solaris planet from Tarkovski movie.