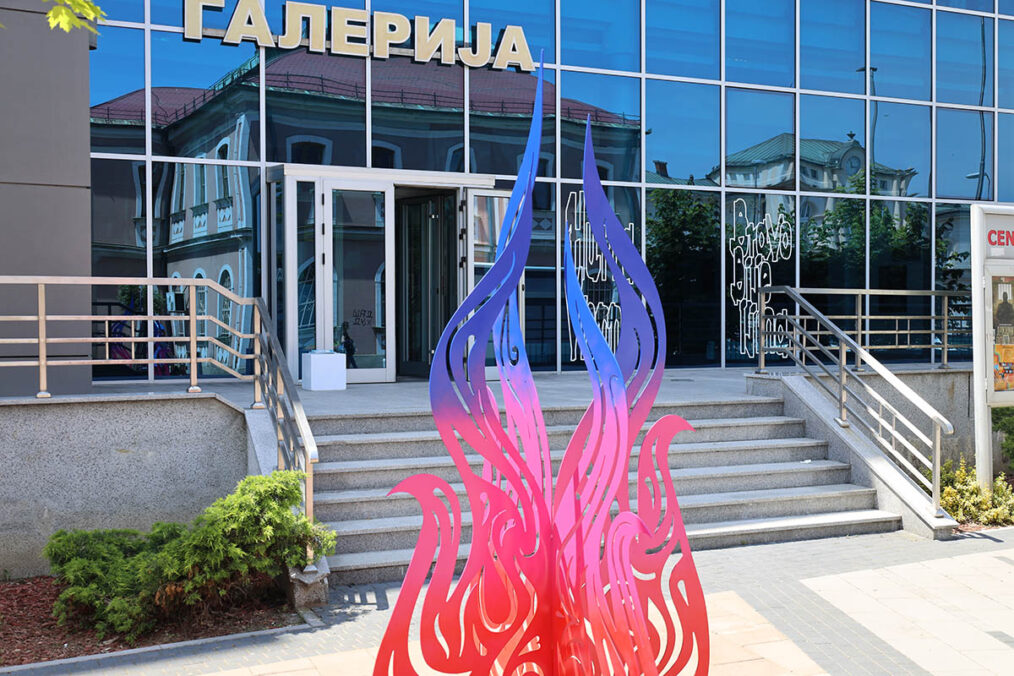 Bijeljina is a bustling town located in the border triangle of Bosnia and Herzegovina, Serbia, and Croatia. The inaugural exhibition BEČ BIJELJINA curated by Aleksandar Todorović and Pavle Golijanin aims to fuel the artistic and intercultural exchange between Bosnia-Herzegovina and Austria, while also setting a spotlight on the regional South-Eastern European cultural scene. Its aim is to faci­li­tate the con­ver­gence and presentation of contemporary styles from artists in Vienna, a vibrant European art hub, in inter­action with local authors from Bijeljina. In the interview with Aleksandar Todorović, we were able to gain comprehensive insight.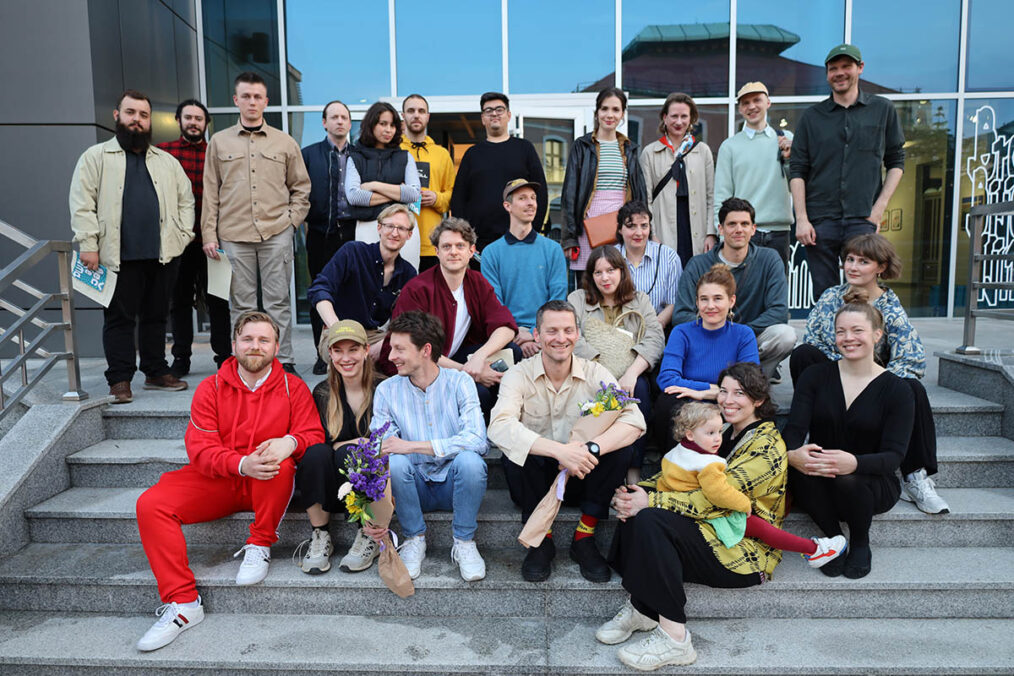 Could you tell me about the central theme or concept driving this exhibition?
The exhibition does not have a specific overarching theme, intentionally. We purposefully avoided imposing strict guidelines or placing excessive pressure on artists who were new to us and whose artistic practices we weren't familiar with. However, to establish some coherence, we selected "the table" as a symbolic object representing gatherings, discussions, and social interactions—a metaphorical centerpiece. This choice holds particular significance within the cultural and international exchange between Bosnia and Herzegovina and Austria, two countries with a complex and intertwined history. However, it is important to note that "the table" served as a starting point rather than a rigid theme that artists had to adhere to. Throughout the process, some artists drew inspiration from it, such as Anna Zimmermann's project, Susanna Hofer's photographs, or Dominik Louda's painting, while others chose different topics. We also did not want to impose any obligations on anyone, as mentioned, the table served as a kind of launching point. However, what clearly emerged as a focal point, and can perhaps be considered a topic, is the exchange between local artists, Viennese artists, and the participating workshops that collaborated and contributed to the exhibition's development.
What inspired the creation of the BEČ BIJELJINA project and the collaboration between Austria and Bosnia and Herzegovina in the field of contemporary art?
Typically, these situations do not involve extensive long-term planning. Initially, we had limited knowledge about the number of artists who would accept our invitation. However, as the process unfolded, we were pleasantly surprised to find that all the artists we invited agreed to participate, which exceeded our expectations. This positive response can be attributed, in part, to our approach of positioning ourselves as a relaxed and alternative platform, distinct from traditional curatorial exhibition initiatives. We fostered an open and accommodating atmosphere towards the artists, avoiding unnecessary formalities. Besides that, we intended to move away from art scenes primarily focused on the Balkans. While cities like Belgrade, Novi Sad, Sarajevo, and Zagreb serve as vibrant cultural hubs, and Austria has a strong presence there through the Austria Forum, we deliberately chose Bijeljina—a location that can be considered culturally underdeveloped—to offer a fresh perspective on art to the local community.
What can visitors expect to see and experience at the exhibition?
The exhibition encompasses a vast and diverse collection of artworks, featuring artists from both Vienna and Bijeljina. It showcases a wide range of artistic mediums, including paintings, design objects, photography, and sculptures, among others. Through this exhibition, the audience gains insight into the rich and multifaceted art scene of Vienna, now being presented in Bijeljina. It is worth highlighting that out of the 30 artists participating, five of them arrived in Bijeljina before the exhibition to create their artworks directly on-site. With the support of a screen printing workshop, a ceramic kiln, and ample workspace, Johanna Pichlbauer, Daniel Stuhlpfarrer, Paulina Semkowicz, Svenja Plaas and Gabriel Roland found inspiration in the local environment. Their presence added a distinct dynamic to the exhibition, providing a unique perspective on the creative process. Another notable aspect is the collaborative efforts with local artisans and workshops, bridging the gaps left by some absent artists. For instance, Daniel Ferstl entrusted his project to a skilled local tailor, resulting in an unexpected and captivating outcome. I coordinated with Lukas Thaler to facilitate the involvement of a concrete mixer, who meticulously crafted sculptures according to the artists' specifications. Furthermore, Gašper Kunšič and Anna Zimmermann submitted their designs in advance and arrived just before the exhibition opening to oversee the creation of their on-site objects, adding layer of artistic involvement. Overall, the exhibition represents a fusion of artistic talents, cultural exchange, and collaborative endeavors, resulting in a captivating and diverse showcase of contemporary art.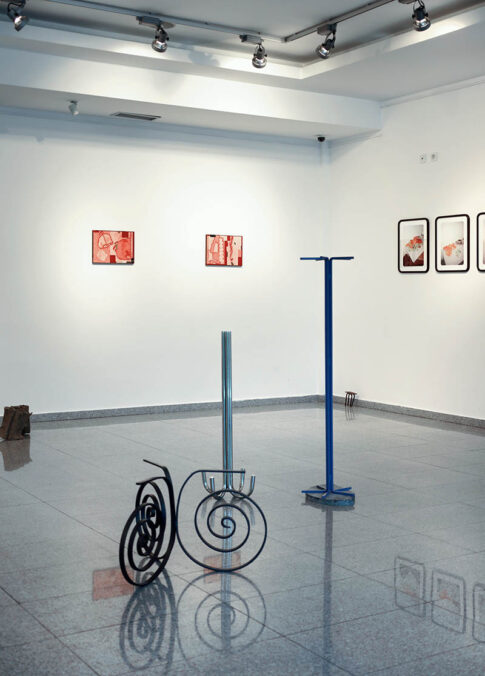 What are the expectations and aspirations for the future of BEČ BIJELJINA and its role in fostering long-term cultural cooperation and exchange between Austria and Bosnia and Herzegovina?
We have firm intentions to continue with this project, with a broader focus on Europe as a whole rather than exclusively on Vienna. This means that future exhibitions could bear names like "PARIS BIJELJINA" or "BERLIN BIJELJINA," among others. Our connections and networks primarily influence the selection of cities. In today's interconnected world, it is common for individuals to have friends, acquaintances, colleagues, and partners scattered across different European locations. What adds a unique and intriguing aspect to our project is the potential for Bijeljina to emerge as an affordable and alternative hotspot. Both of us are actively working towards realizing this vision. Regarding the current exhibition, which runs until July 16, there are possibilities for it to be showcased in Vienna shortly. Rest assured, we will keep you informed about any developments. :-)An important highlight of the exhibition is the personal camaraderie between us as organizers and the artists. As numerous artists have traveled to this event, we had the opportunity to spend several days together during the exhibition opening. This exchange has fostered closer connections and has been invaluable for all those involved, enhancing the overall experience and artistic community.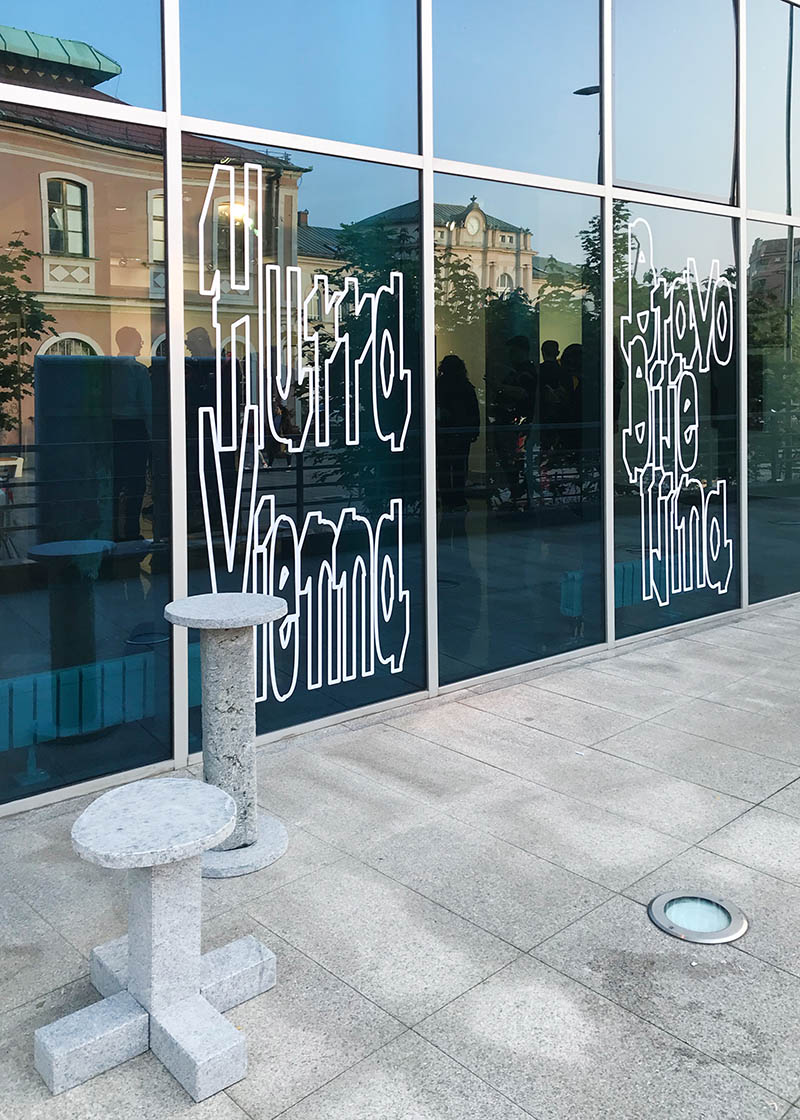 Are there any specific challenges or obstacles you faced during the organization process? How did you overcome them?
Organizing an exhibition of this magnitude in a small and remote town in Bosnia has posed significant practical challenges. Both of us had not previously managed such a large-scale exhibition with numerous artists, which presented a learning curve. Additionally, our demands occasionally overwhelmed individuals, particularly in smaller towns. It was a struggle that we had to navigate. One of the aspects that make this exhibition particularly special and intriguing is the creation of many artworks on-site, guided by artists from Vienna. However, this required extensive effort and coordination. Furthermore, the gallery space itself presented its own set of challenges. Initially perceiving the extremely blue glass front as suboptimal, it eventually became a distinctive trademark of the entire exhibition. Consequently, many of our photographs are imbued with a strong blue filter. Rather than blending in with white rooms, our intention to be different and stand out was reinforced by this unique characteristic—the Blue Cube. It is crucial to acknowledge that Bosnia and Herzegovina is still an emerging country, with financial resources not as abundant as in Western metropolises. This reality meant working with fewer resources, but we refused to use it as an excuse. Instead, we set high standards for ourselves. We were determined not to settle for presenting an inferior or lower-quality exhibition. This challenge became the driving force behind our relentless pursuit of excellence.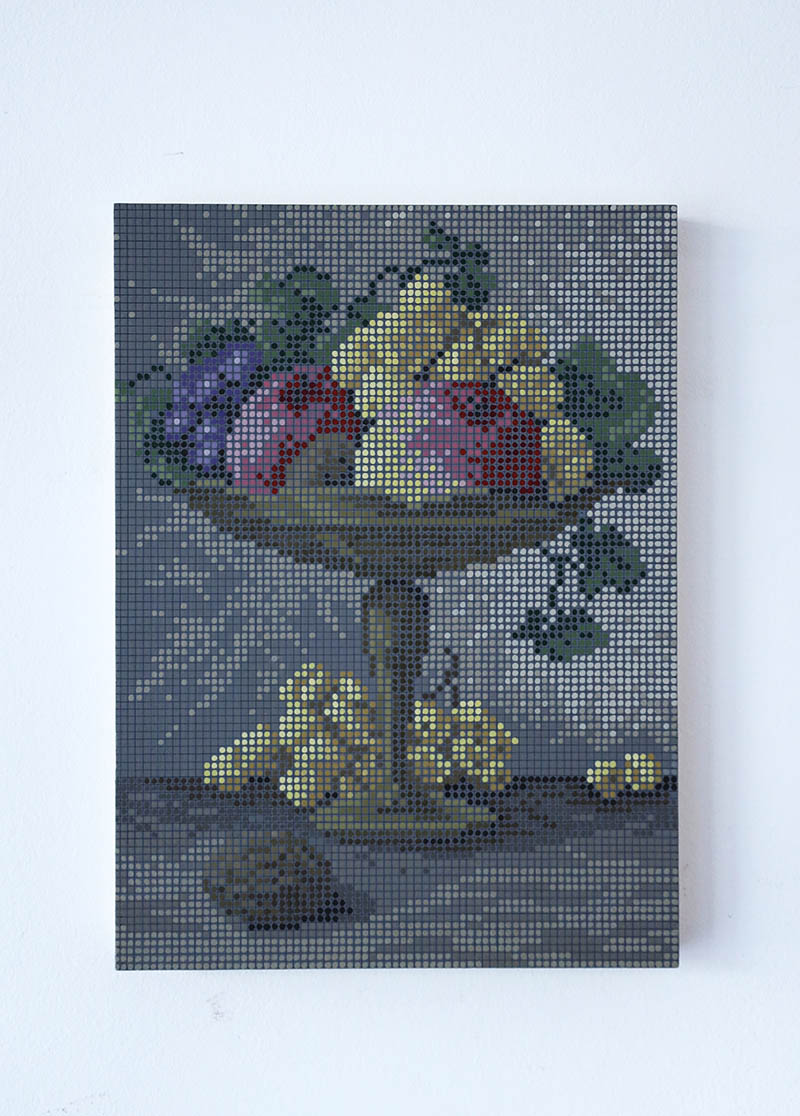 BEČ BIJELJINA. What significance does the name hold in representing this collaboration?
The inclusion of the term "Beč" (in all official languages of Bosnia and Herzegovina word for Vienna) adds an element of exoticism to the exhibition. Many Viennese individuals will likely encounter this term for the first time, prompting them to approach it with a fresh perspective. When something familiar is expressed differently, it tends to pique curiosity and evoke questioning. It is intriguing to note that despite the significant presence of individuals from the Balkans in Vienna and the enduring influence of Vienna in terms of history, architecture, cuisine, furniture, and cultural expressions in Bosnia and Herzegovina, there is still considerable room for improvement in terms of collaboration between the two regions. This observation highlights the untapped potential for further development and engagement in this regard. Moreover, the name "Beč Bijeljina" is intentionally chosen to reflect the essence of the exhibition. It is worth mentioning that the project is also commonly referred to as "Bijeljinale," which serves as a more general term. This playful nod to the well-known Biennale adds a touch of humor to the concept, adding an element of lightheartedness to the overall experience.
Exhibiting artists: Amelie Bachfischer, Anna Zimmermann, Andreas Waldén, Daniel Ferstl, Daniel Stuhlpfarrer, Dajana Douglas, Dragana Lukić, Dominik Louda, Gabriel, Roland, Gašper Kunšič, Johanna Pichlbauer, Katharina Höglinger, Lena Sieder-Semlitsch, Linda Reif, Lisa Kainz, Lukas Thaler, Magdalena Kreinecker, Marie Melchiorsen, Max Freund, Mladen Mićić, Matija Kanjerić, Paul Pibernig, Paul Riedmüller, Paulina Semkowicz, Peter Jaunig, Petar Vidaković, Stefan Pani, Susanna Hofer, Svenja Plaas, Žarko Aleksić
BEČ BIJELJINA – www.bijeljinale.org
---
About the curators:
Aleksandar Todorović (1981) is an artist and graphic designer. He studied in Düsseldorf before completing his studies at the Gerrit Rietveld Academie in Amsterdam in 2009. Since October 2022, Aleksandar has been a master's student at the Academy of Fine Arts in Sarajevo.
Pavle Golijanin (1995) is an artist and doctoral candidate at the Academy of Fine Arts in Novi Sad. He has been a curator at the City Gallery in Bijeljina. His artistic focuses include graphics, sculpture, and digital drawing.