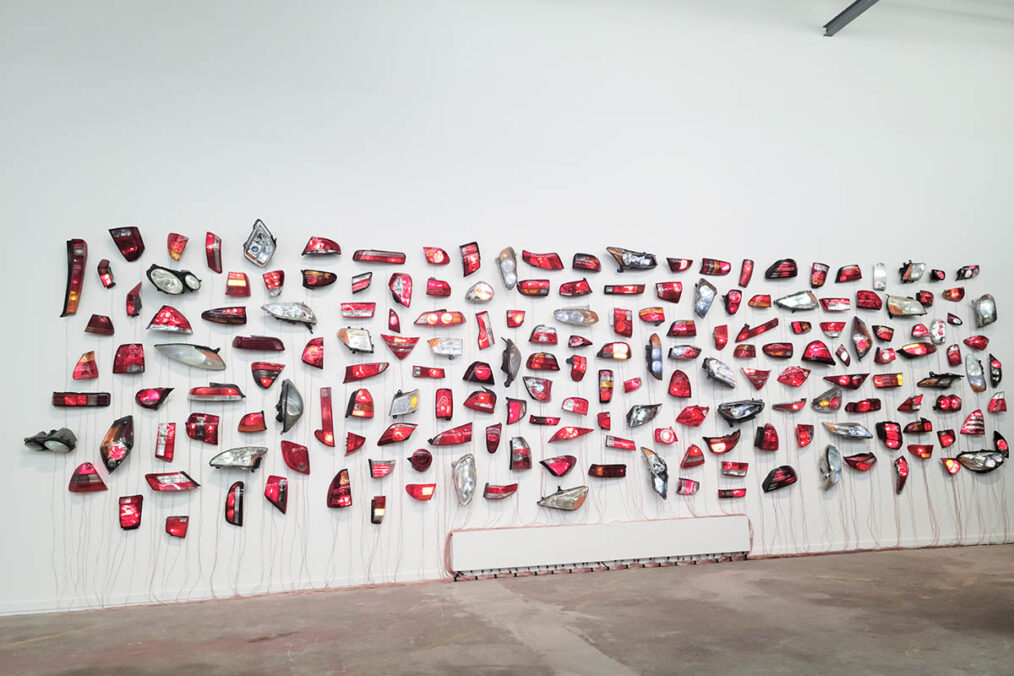 Brake lights have long been under-recognized agents of progress. Their lives are spent graciously retreating so that the rest of us may move forward. It's as noble an act of self sacrifice as any, and a singular sense of purpose most of us spend our whole lives hoping to discover.
Extracted from its proper context, however, purpose is reduced to mere function, as Madeline Hollander's latest work illuminates, quite literally. Heads/Tails, Walker and Broadway 2, (2020) was part of the group exhibition recently shown at The Watershed, which is an outpost of the Institute of Contemporary Art Boston. Hollander, an artist and choreographer, recovered hundreds of brake lights from various junkyards across Los Angeles, retrofitting and connecting them so they are synched with the traffic lights at the intersection of Walker and Broadway in Manhattan. When that traffic light turns red, the brake lights all along the wall asynchronously light up, when it turns green, the brake lights go dark.
Until now, Hollander's works have been composed of dancers who perform to or interpret the sounds and patterns of infrastructure and machinery. In 2019's "Future Delay," they performed choreography to data taken from Helsinki Airport, in front of three large fans that mimicked the wind on three of the airport's runways. With Heads/Tails, the only people involved are the pedestrians, unwitting, unwilling participants, moving with relative spontaneity and agency along a crosswalk 400 miles away. This vague awareness of distant movement, makes the tail lights affixed to the wall look even more static, helpless, desperate to communicate, like they're calling out, in vain, for help. They twitch. They perform the equivalent of muscle memory.
They find no help or even camaraderie in each other, nor in the hundreds of headlights that are also affixed to the wall. The headlights go on when the sun sets somewhere in an undisclosed location, and default to fog mode when the sun rises. Community is more than likeness gathered in close proximity. Without the whole system of singular purpose running in between them, heads and tails are farther apart than ever.
Revival: Materials and Monumental Forms is one of many shows in recent times that feature works of found materials. True to the title, these materials are rescued, resurrected and given a second life. But as tempting as it is to categorize their state as "repurposed," lack of purpose is exactly what unifies them all.
The exposed brick and cogs and chains in the Watershed recall its own history as a copper factory, and subsequently a dry dock. It's a fitting section in which to display Joe Wardwell's contribution to the group titled Gotta Go to Work, Gotta Go to Work, Gotta Get a Job (2022). A mural of lyrical excerpts writ large across the walls of the aft third, a montage of sentiment and statement from working class heroes like Springsteen, and Dustbowl troubadours like Woody Guthrie.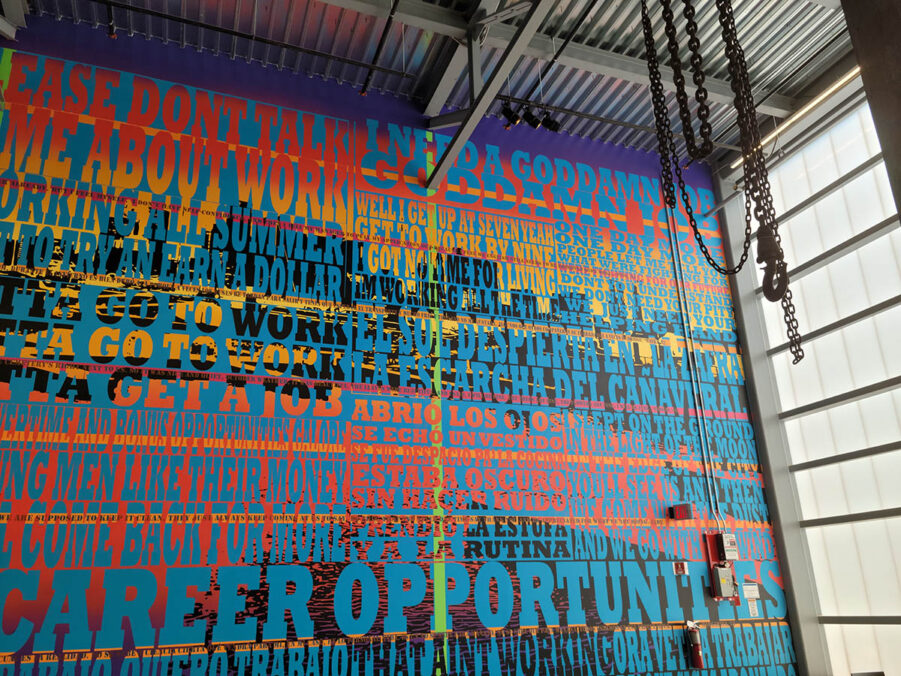 Woven together like so many hours from part-time jobs and side hustles, crosshatched to form a makeshift proverbial roof-over-our-heads, many of these lyrics beat the drum for unions. Others sing about being forced to give every last bit of time and energy to their 9-5s, while still barely being able to eke out a living, let alone a life.
Pairs are so affixed in our minds that one alone is instantly overshadowed, if not altogether defined, by the absence of the other. Some, like headlights and taillights, can carry the burden of purpose well enough alone for a while. Yet, it's difficult to think of anything with less purpose than a single shoe.
It was the sound of shoes being repaired (if not reunited) that woke Ibrahim Mahama each morning while growing up in his native Ghana, a sound that bears out phonetically as ko-ko-ko. The phrase is scrawled intermittently across various points along his 144 × 240 × 30 inchnon-continuousstructure Non Orientable Paradise Lost 1667 2017 that dominates the show from the center of the warehouse. This massive collection of stacked wooden boxes is lacquered with scraps of old advertisements and lottery tickets, affixed to the front are empty jars, iron hand tools and bits of clothing.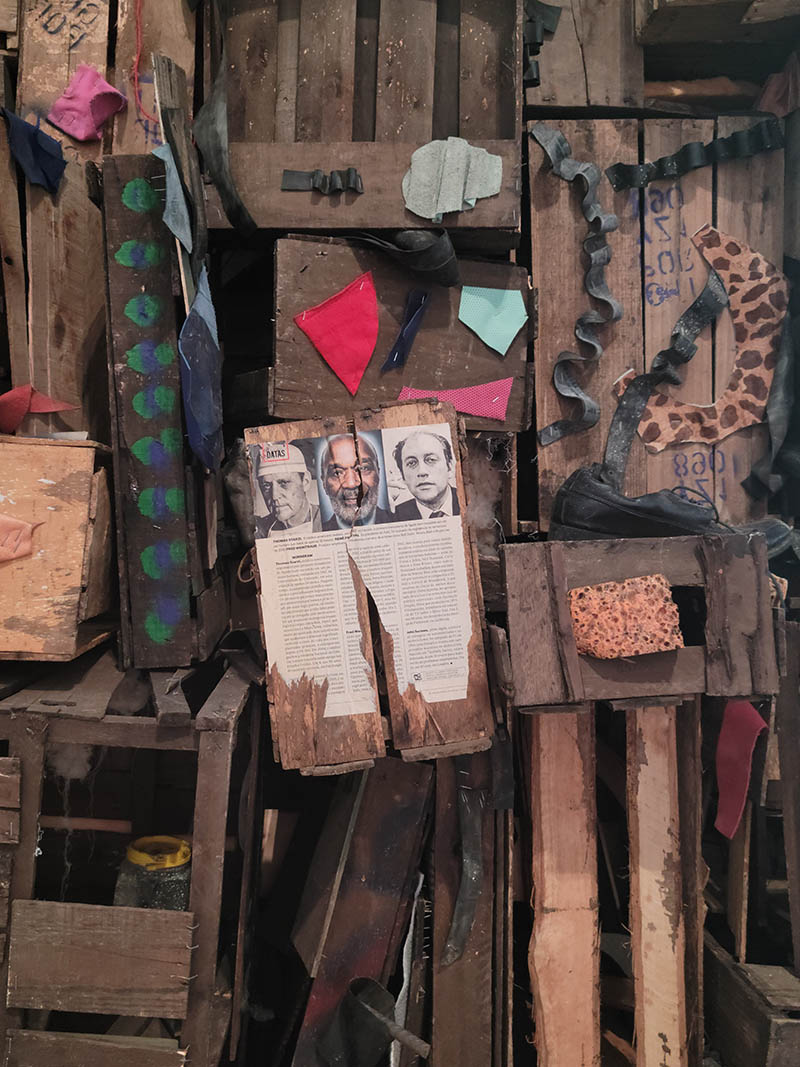 Materials are gathered from an abandoned factory that Mahama bought, which, like the warehouse where it took temporary residence this past summer, was an empty space looking for a new reason to be.
Countless, mateless shoes—dingy baubled mule, snapped flip flop, scuffed loafer—stand upright in front of their allotted box. Mahama notes the boxes' resemblance to "little houses," and as one rounds the massive corners and walks down the aisles of the structure, as the eye scans the mass of dark wood and shadowy hollows and rotting splinters, associations warp and change in a rolling motion. From panelak, to way station, barge ship carrying refugees from their homes, hotel for transients. The shoes look at once like widows waiting eternally for their other halves to return, and refugees newly arriving at port. Like those who arrived at the Watershed in the 20th century. Who rose and fell to a distant sun.