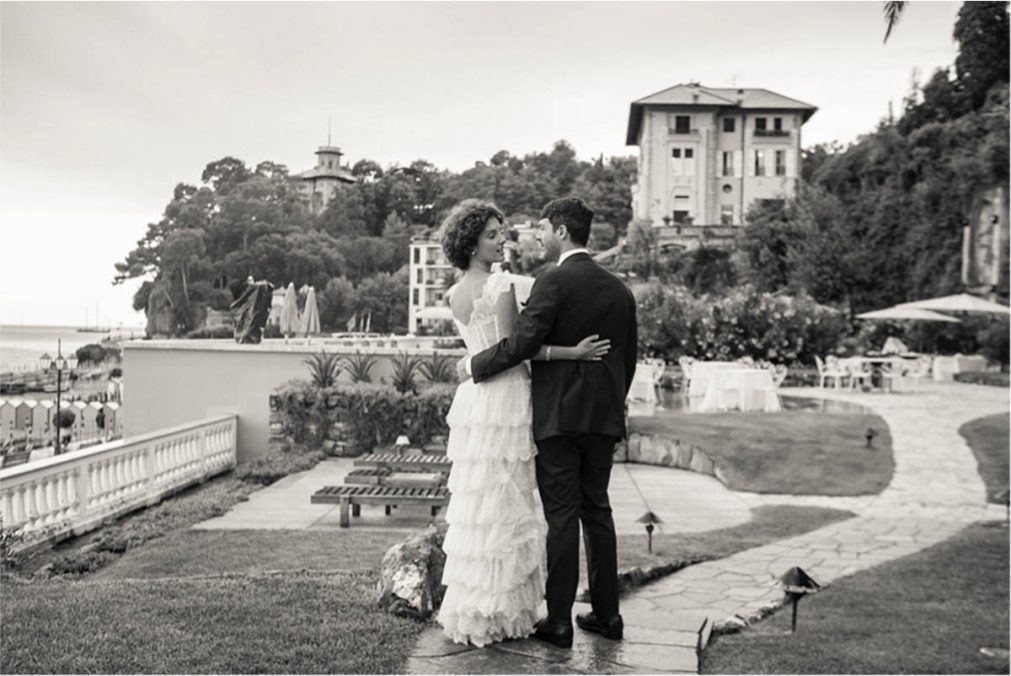 The way Italian institutions, galleries, artists have acted during these severe months was deeply touching. They accepted the situation, but soon after, started with in- novation, re-modeling, re-thinking of how things could be done. That's how I got to know Collezione Taurisano (collectors: Sveva D'Antonio & Francesco Taurisano), a Naples based collection that collects and supports art from artists of our time. The way how they dealt with the crisis and continued collecting and supporting pushed me to ask for the chance of an interview. Their artists have quite an extensive oeuvre, so in order to understand the collection line and get to know them better, I asked to get access to their collection database. Kindly, the request was accepted, also with a link to their database. The collection consists of more than 400 artworks from over 100 international artists. Renowned artists such as Anne Imhof, Candida Hofer, Daniel Spoerri, Mimmo Paladino, Tobias Zielony, Apparatus 22, Henrike Naumann are part of it. Beside, they have names that I was not aware of yet such as Vera Vladimirsky, Sol Carero, Débora Delmar, Emanuele de Ruvo, Paige Jiyoung Moon, Jean Claracq (scrolling them is recommended). They have exhibited in many other cities such as Hamburg, Berlin, Paris, London, Tel Aviv, Athene, but as far as seen from their websites, their work has not yet been shown in Vienna. Are these some of the names that will be exhibited in Institutions such as Secession, Kunsthalle, Belvedere21, or on some Vienna art gallery… one day?
I was happy to start the conversation with Sveva D'Antonio, we talked about their history, and then the conversation shifted to recent times. Pandemic, contemporary melancholy, alternate realities, initiatives, and collectors' role in today's art system were some of our topics. For the readers of Les Nouveaux Riches Magazine, I asked which artworks obtained a special meaning during these quarantine days.
How is yours and Francesco's life during these days? How is the situation in Naples?
The situation has been tragic in the last period. Still, many losses in Italy and our region Campania is still under emergency; lack of beds in the hospitals. We stay mainly at home, avoid going out for no reason. Of course, when it's sunny, we try to go for a short walk nearby our house. That's it. Social life reduced to zero, no contact with other human beings, apart from our parents. This makes you depressed and steals your hope for the future. That's why I started not to use the word future anymore but rather say what we can do for tomorrow. Every day I get up, and I try to think, create, communicate. I am projecting myself on tomorrow, set goals that I can reach, but without so much stress and anxiety.
Paulo Taurisano started this collection, can you tell us something about his personality and Naples of those years?
Paolo Taurisano, the father of my husband was the initiator of Collezione Taurisano back in the 90s. He is and has always been a businessman; he runs his own company and travels a lot for this. The way he was collecting is very different from ours. He was buying from, let's say an art advisor. At that time art advisors could also be people not working at all in the art world. Maybe having a job in a pharmacy, but passionate about art. A.D was his art advisor. He was proposing to him significant pieces by Italian artists of that time, bringing artworks and then spending entire evenings during weekends talking about art and artists. Naples of those years was super vital. Contemporary art was blooming. Exceptional galleries like Lia Rumma were challenging their public with the conducted shows. Paolo did not like crowded places and cheap talks. He preferred to speak with passionate humans, that had a deep knowledge of art. He did not meet many artists in person; the only exception maybe being his relation with Gianni Pisani, a great Neapolitan artist who has been part of biennales and has created iconic pieces that made history in the art world. I met him as well. Gianni is such a character, can start to talk and make you lose the concept of time. He can tell you about Robert Rauschenberg, Pierre Restany, not only general things but very intimate ones. Unveiled personal stories, he met all these characters in person.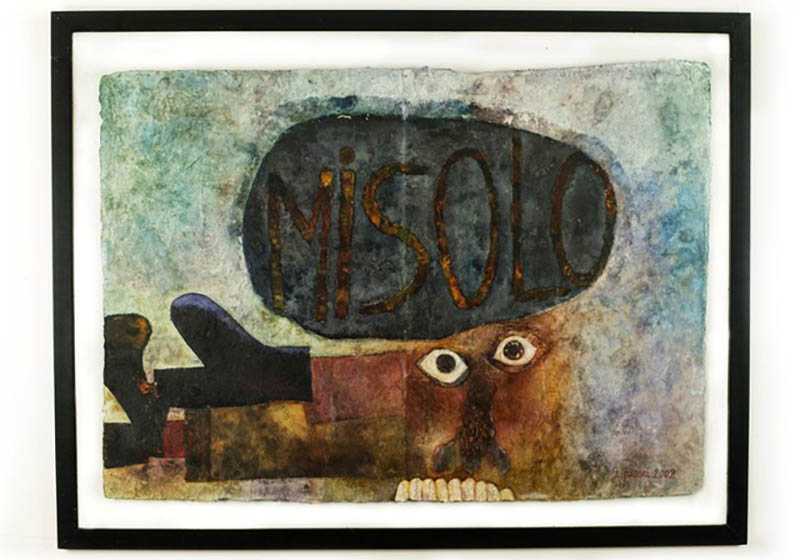 Italy is known for its groundbreaking artistic movements. What kind of painting will one see when visiting your flat?
You will see Transavanguardia, Nuclear Movement, Les Affichistes.
In which year did you and Francisco take over the collection. When did internationalization start?
More than ten years ago, we started to open our horizons to the world. We exited from the comfort zone of collecting just from our territory and began to discover the unknown.
Are most of your artists represented by galleries? Do you usually buy from galleries or from artists?
I dare say that 85% of them already have a gallery representation. We hardly ever buy directly from artists.
Which art galleries have played an essential role in building and expanding the Taurisano Collection?
We visit each year many galleries and exhibitions worldwide, in their respective cities and in art fairs. When thinking, which gallery has played a crucial role in our growth, is without any doubt T293 (based in Rome in Trastevere District). T293 always conducts intense research about the artists that they are representing and showing. Their roster consists of artists from different generations, nationalities, working with diverse mediums. Each show of them is spasmodic research for us. When I'm in Rome, this gallery is a must. Even receiving an email about a new show or a new artist from their side excites me. It brings me directly to study modus. It is crucial to have such a feeling after 15 years of collecting.
Curiosity is essential, and I like to visit and buy from galleries that are skillful in further developing their programs. Today, we face many art galleries that do not take a risk on their shows. Some of them have since long stopped developing further. This way of operating could offer something to the newcomers in the art world but not to collectors, who engage every day with readings and research about contemporary art. I honestly think that this is something that doesn't work anymore.
What kind of changes do you expect to occur to art fairs?
I think there will be downsizing. I believe that fairs will become smaller. Also, on the selection processes will occur shifts; the fair commission will add new indicators in the future. Submission would have to be very qualitative, and part of the art fair would only be those galleries who dare and are ready to bring new types of presentations. This is my imagination of how the fairs of the future would be.
APPARATUS 22 is a transdisciplinary collective that Collezione Taurisano loves and supports. Can you tell us something about the exchange you had when they were Artists in Residence in your flat?
APPARATUS22 for us it's family. So when we invited them for the residency, it was very natural to have them around for almost one month. The residence was divided between Modica and Naples. The first phase was more about getting to know the local traditions, food, everyday habits, religion, and different people. It was a cultural exchange. They were looking out to find diversities and similarities between these parts of the world and the place where they come from. In Naples then, more the productive part of the residency was happening. They realized customized lightboxes that were then used as dresses for their talk performance in our house. In the performance evening, we have been inviting lots of artsy people from all over Europe. Some of them knew the work and practice of APPARATUS 22 and for others this was a totally new discovery. That evening was a way of getting to know them profoundly. After the talk, they cooked a special dinner with recipes from their country for all the guests. I must say that everyone enjoyed it and was curious to try something new.
What tangible and intangibles traces does art leaves behind?
The tangible ones are the artworks we have in our collection. The intangibles are the most important ones, the ones that keep you remembering the artist, and the moment when you buy the work; it is the memory you save, the encounter you make. All of this enriches you, let you grow stronger and more aware of the world you live in. Intangible is the narrative that the artworks jointly create or the dialogue that older pieces conduct with the new ones.
Intangible is the narrative that the artworks jointly create or the dialogue that older pieces conduct with the new ones.Vibes are also intangible; they occur when you see the artworks, and you suddenly feel their physicalness, their presence.
You two are a voice of a generation of engaged collectors. What sets them apart?
They are super dynamic, globe trotter, truly engaged with the artist and the work they do. They are aware of the importance of their role in the art system. They believe that acquiring only one artwork is not enough. It is only the start of a fruitful relationship with the artist and the gallery. Support is a crucial factor in these relationships. Engaged collectors make efforts to establish long-term relationships with their artists, to understand their practice and the context in which they operate.
How are artists dealing with these times?
I think every artist in the pandemic was working on proximity. The concept of closeness and which people we are allowed to see and visit has changed, also where we can go. The perspective changed completely. Many places, shops have been closed in many countries. I think that artists are adjusting and modeling their practices. They continue to create, despite what is happening around them. Their artistic creation right now is so essential. The works that they are producing now will have a massive meaning for tomorrow.
The works that they are producing now will have a massive meaning for tomorrow. Their productions are an investigation of the present, of the now occurrences. I cannot rely only on the media's information; I need alternative points of view, and artists can offer this.
Where were you when the pandemic became obvious?
When the pandemic exploded, we were in N.Y.C for our annual stay over there, doing studio visits, seeing museum shows and art fairs. On March 13th, we were forced to go back to Italy. Once back, we felt sad and lonely. Then we thought that we could find a new way of still doing those studio visits, virtually and this time not just for us, but also by sharing it with our Instagram followers. We called this live series "We care" and we streamed it on our Instagram tv (IG TV). It was a huge success: artists were happy and willing to open their studio, and the public was curious to discover. Then, we expanded the concept and started to conduct interviews with other actors in the art system. We wanted to understand how they reacted to the pandemic and hear their way of supporting artists. 
How can one be part of the IG TV?
We ask our beloved artists every week to send us a video of max. 3 minutes, where they narrate their ultimate work, giving us references about their inspiration that can be a book, a person, a song, a situation they experienced or just the tree outside their window. We want to continue the narrative, we want to avoid the sensation of being in an emergency status. This is our "now", and art can help us to be aware of it and to think creatively about what to do tomorrow, starting right now.
What is "Because of Many Suns"?
It is a New Acquisition Award, established by Collezione Taurisano for the Art-O-Rama Art Fair in Marseille to support emerging artistic practices. The Award is given to an artist or a collective whose practice provides a profound understanding of our contemporary society. The way "Because of many suns" is written was conceived from the artist collective Apparatus 22. This year, like many art fairs, Art-O- Rama had to change the format. They went from the physical experience to an immaterial salon (showing this year only intangible works). To keep the dialog open and search for alternative perspectives of these times, Carolina Ciuti (curator of the Art Fair award) and us started a series of interviews with curators, gallerists, artists, art fair directors. The aim was to search together for new alternative perspectives (if possible) regarding the way how to experience and live art. The last contribution to our IGTV is named "WHAT IS GOING TO HAPPEN IS NOT THE FUTURE BUT WHAT WE ARE GOING TO DO".
I'd like to invite the readers to go on our IG TV on the 5th of December because we will release an exciting episode of this series.
The title of this episode bases on a quote by Jorge Luis Borges, which invites us to be alert and adopt a hands-on approach with the present, suggesting the future is a concept that does not exist any longer, having arguably finished with Modernity in the 1950s. We think it's necessary to envision now a new everyday life, and we see the platform as a tool for staying connected and sharing the development of everyone's practice with others.
What do you miss most during these times?
I am missing; we are missing many things. First one traveling, meeting our friend all over the world, visiting our beloved galleries and museums. But what I truly miss is the physical experience of touching a new artwork, of discovering new artists with our senses. This tactile way of approaching art is the richest, and the virtual one can't replace it.
How will the post-covid society be? What do you wish for "tomorrow "?
I hope there will be significant changes; artists seek recognition of their professional status, which has to come from the government as well. We don't have to rely on the web too much. I also do not believe that the web is democratic because this space is a place of significant inequalities; those who have more money can also manage more content creation. I hope that tomorrow there will be more support for artists.
Can you share with us some artworks that have taken another meaning for you during the pandemic?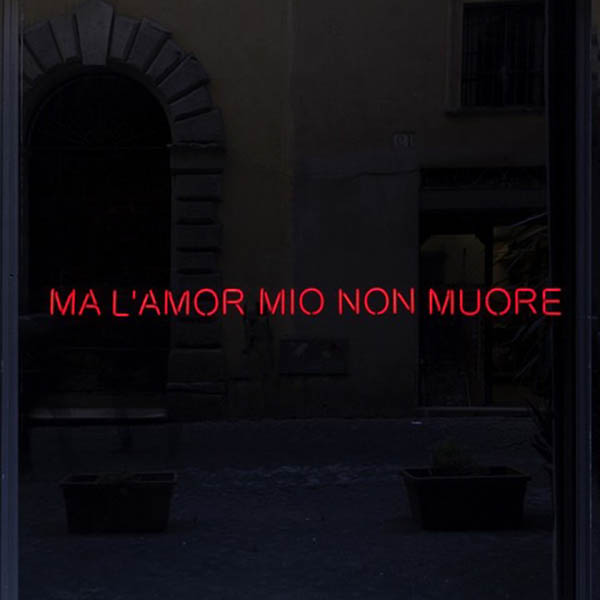 What is your wish, let's say, towards the coming next 50 years of your collection?
We have no rush. We will build our collection consistently brick by brick. We do not need art in order to live, but we can not live without it. I imagine that our collection will continue to grow. We will support in every possible way the artists that we feel a connection. The collection is our life, so it will live till we die. After this, we hope that someone will recognize the importance of the narrative that every artwork in our collection has brought us, and that will share it with the future generation.
The collection is our life, so it will live till we die. After this, we hope that someone will recognize the importance of the narrative that every artwork in our collection has brought us, and that will share it with the future generation. I imagine that this "someone" will be a public institution or something similar.
How could one spend a cultural day in Naples?
Naples is a gorgeous city in the middle of the Mediterranean. You have several archeological sites to visit, the amazing Archeological Museum where they keep the biggest mosaic of the byzantine era. Numerous contemporary art galleries in the historical center with different programs, some of them are more established the others more experimental and focused on the youngest generation of artists. You just have to walk in the streets and look around to discover unique palazzos and nice tiny bottegas where millennial artisan are keeping up with the tradition of craft. Then there is the Museo Madre, of course, the contemporary art museum with a very interesting permanent collection liked to the territory but not only and temporary exhibition looking at an international vision of contemporary art. It's not all about art of course, you can enjoy delicious food near the sea with a warm southern atmosphere. I highly recommend to come to visit Naples once in your life, at least.
Collezione Taurisano – www.collezionetaurisano.art
Instagram – https://www.instagram.com/tv/CBBNVT7F7lW/
Instagram TV – https://www.instagram.com/tv/CDV7RTCHfpT