Cooper was born in Glossop, in the Derbyshire Peak District, England, in 1953. She studied first at Goldsmiths College (1971-74) and then at the Royal College of Art (1974-77). Cooper went on to teach at a wide range of art schools including St Martin's, the Royal College of Art, City & Guilds in London and latterly at the Royal Academy of Arts. In 2000, she was elected a Royal Academician. From 2010-17 Cooper served as Keeper of the Royal Academy, one of only 4 officers selected from the 80 Royal Academicians, and with primary responsibility for the Royal Academy Schools, thereby becoming the first woman to be elected to this role since the RA began in 1768. Her commitment to the development of emerging artists continues to be a particular focus.
Cooper was made an Officer of the British Empire (OBE) for services to Art and Art Education in 2016. She is an Honorary Fellow of the Royal College of Art, and of Murray Edwards College, University of Cambridge, and was awarded an Honorary Doctorate from Southampton Solent University in 2014. She has exhibited widely in the UK and internationally, and her work is held in many public and private collections such as the Arts Council Collection; the British Museum; Manchester Art Gallery; Middlesborough Institute of Modern Art; New Hall Art Collection, University of Cambridge; the Royal Collection; Victoria & Albert Museum; Dallas Museum of Art, Texas; Kunsthalle, Nuremberg; Walpole Library, Yale University, USA.
How do you describe your work to those who are unfamiliar with it?
Figurative, imaginative and from a female perspective, with prints, drawings and paintings being at the centre of my practice.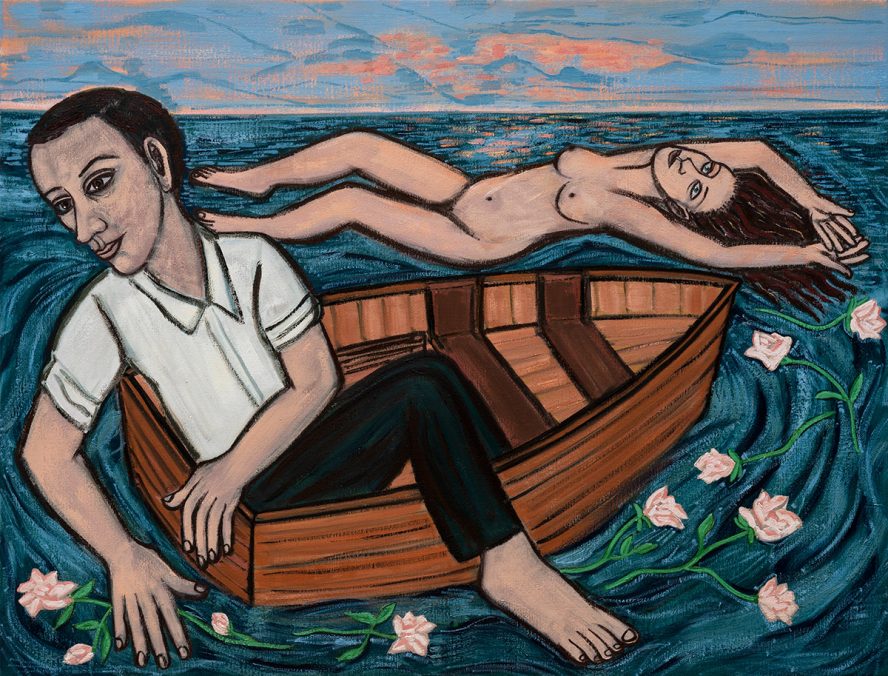 What themes do you pursue?
Different themes have developed over decades. As a young woman, sexuality and then motherhood were important to me. Duality and identity are constant themes. I've been called a 'magic realist' which feels appropriate in some of my work. I like to challenge myself and I enjoy a degree of difficulty. In recent years (having abandoned objective drawing in my twenties) I made a large series of ambitious portrait drawings from life, often large scale. This felt very intense trying to capture the subject in one session. Though the dialogue between observation and imagination is ongoing. There has always been an element of performance in my work, the settings conceived sometimes as a stage set. For example, another recent project was following the Akram Khan production of Giselle, making both drawings from the dancers at rehearsals then large-scale paintings in my studio.
Though the dialogue between observation and imagination is ongoing. There has always been an element of performance in my work, the settings conceived sometimes as a stage set.
In 2000 you were elected a Royal Academician. Tell us more about this?
The Royal Academy, founded in 1768 is an artist lead independent organisation, with a free postgraduate art school and ground-breaking exhibitions being at its core. It's a very worthwhile and historic institution, and it's an honour to be a Royal Academician, where one is elected by a group of distinguished artists. I believe I've managed to play some part in the RA becoming more inclusive and forward looking, more representative of the wider world and contemporary art. I'm happy to say it's still evolving…very different from the Academy I joined in 2000.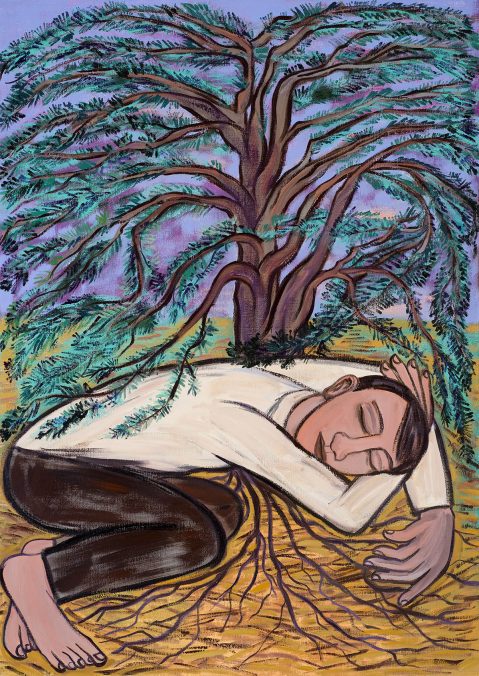 What are your favourite places besides your studio?
I love London Parks, I'm based in an urban environment, so these are hugely important!
Do you work on weekends? If not, how do you spend your weekends?
Yes, I work at weekends. I've had a long career as an artist running alongside being a mother and working part time as an art school tutor. So now I'm older I'm working as much as I want to and whenever I choose.
What are you working on right now? Are exhibitions planned?
I tend to have numerous projects on the go at the same time. I find working in a different medium, such as drawing, or printmaking is stimulating and provides a 'break' both physically and intellectually from, for example, painting. I really do live to work and to some extent creative work has been a theme of mine. I have a show of print-based collages – illustrations for a novel – coming up in Spring 2021 at Sims Reed Gallery in London. I'm also beginning to focus on my second exhibition of paintings at Huxley Parlour Gallery, London in late 2021/early 2022. In the meantime, some of my works are to be included in a group exhibition in Chongqing, China.
Eileen Cooper – www.eileencooper.co.uk