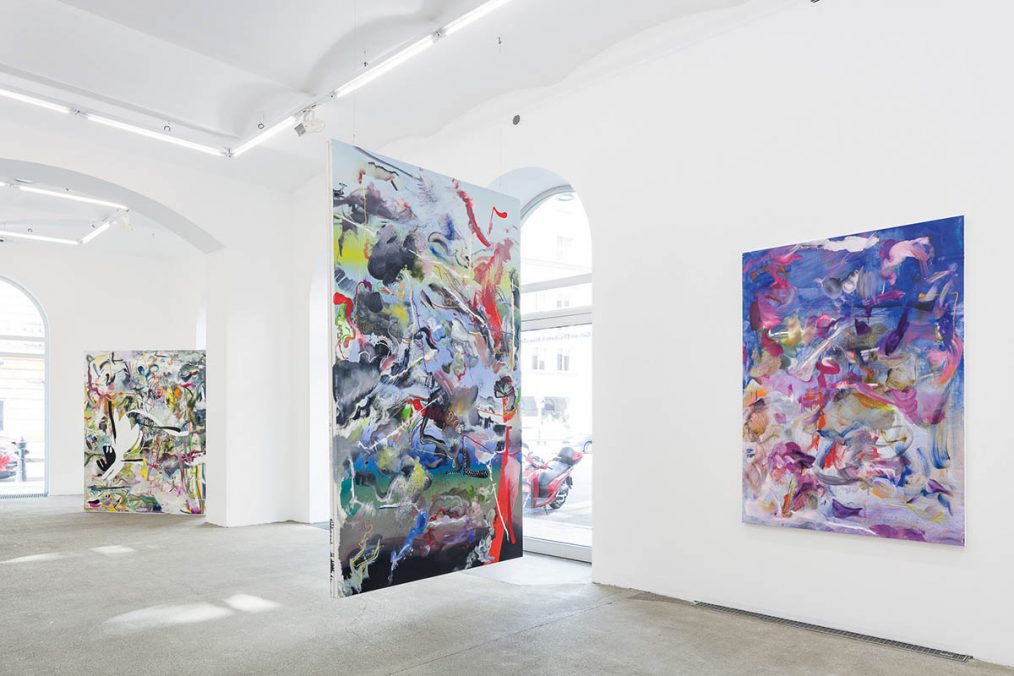 In the side gallery, artist Michael Kienzer exhibits Formfolge Vol. 5, an expansive work (325 x 224 x 42 cm) that has the power to release multiple associations in one. Meanwhile, in Innsbruck, the gallery presents the first solo exhibition of artist Albrecht Fuchs, showing exclusively photographic works and portraits, which demonstrate to be same time pragmatic and sensitive.
Florin Kompatscher. ROKOKO Tints
Rokoko Tints comprises paintings from the years 2018 until 2021, that fill up the exhibition space in a baroque manner. For his show in Vienna, Florin Kompatscher designed two new installative interventions together with the extension of the "red kitchen". In his painting, the artist has always been generating bizarrely aesthetic dream worlds that are impossible to narrow down stylistically. The form appears to emerge from the subconscious and to hark back to surrealism, while the atmospheric dissolving of colour is reminiscent of impressionism. Especially in the new work series, the serene playfulness of the composition comes across very dynamic and also cheerful in the choice of colours. Kompatscher's painting has thrown off any didacticism and aims at the subjectivism of the viewer; the receptive responsibility is referred to the viewer alone. "Lightness and light-heartedness resonate in the space, seducing the viewer to lose himself in the flood of ambiguous sensory stimuli. The scenario offers a game of dazzling obstinacy, into which one should enter with relish" (Margareta Sandhofer on the works of Florin Kompatscher, Parnass Magazine, 2020).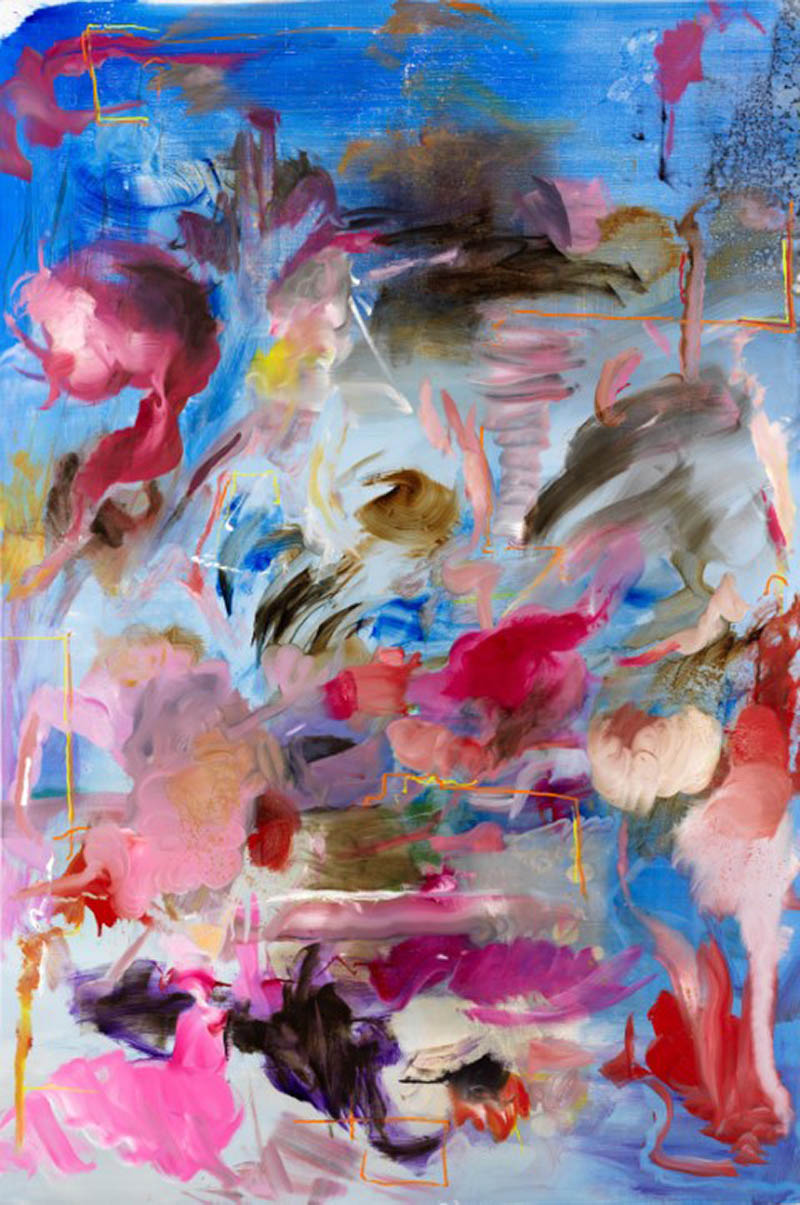 As part of the exhibition finissage, a catalog presentation will take place – Florin Komaptscher, Rokoko, Snoeck Publishing House, 2021. Presentation: Friday, November 26, 2021
Florin Kompatscher, born in Bolzano, Italy, in 1960, studied with Carl Unger and Adolf Frohner at the Academy of Applies Arts in Vienna from 1981 to 1986. Since then, he has had numerous international exhibitions, which left a lasting echo in the public mind not least for many a catchy title, such as ROKOKO Tints (Galerie Elisabeth & Klaus Thoman Vienna, 2021), Comix & Atlantix (Galerie Elisabeth & Klaus Thoman Innsbruck, 2020), Discrete Austrian Secrets (Galaxy Museum of Contemporary Art Chongqing, 2019/2020) Genie out of the bottle (Haverkampf, Berlin, 2018), schleie farbe lief (Galerie Elisabeth & Klaus Thoman Vienna, 2018), Fluss ohne Ufer (Künstlerhaus Bethanien, 2018), Trip de Roche (Galerie Elisabeth & Klaus Thoman, 2012), Der Himmel hatte Fieber (Kunstverein Offenburg-Mittelbaden, 2012), Wake Up Before You Go Purple (Galerie Andreas Binder, Munich, 2010), Die Scherbe des Himmels (Galerie Strickner, Vienna, 2010), My Brain is on an Elevator (Galerie Eva Bracke, Berlin, 2009), Der scharfe Rand der Erde (Galerie Elisabeth & Klaus Thoman Innsbruck, 2008), Purple & Asphalt (Forum Kunst, Rottweil, 2007), Alles Andere ist wahr (Tiroler Landesmuseum Ferdinandeum, Innsbruck, 2006), Die Lange Heimat (Kunstverein Heilbronn, 2006), or dumdidldauda (kjubh Kunstverein, Cologne, 2002), to mention but a few. Following several stays abroad, in Rome, Madrid, and Paris, each lasting for several years, Florin Kompatscher, together with his wife Maria Brunner, has been living in Berlin since 2003.
Exhibition: Florin Kompatscher, ROKOKO Tints
Exhibition Duration: 03.09.2021 – 26.11.2021
Michael Kienzer. Formfolge Vol. 5, 2021, Aluminium, Stahl, 325 x 224 x 42 cm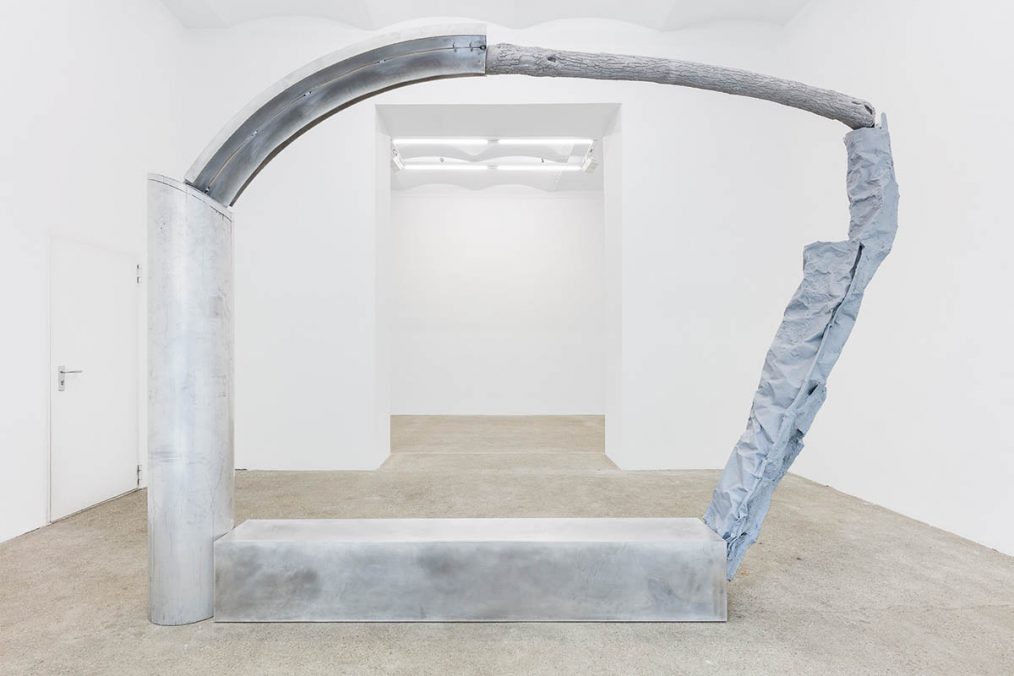 Five different elements made of aluminum and steel are continuously connected at the ends to each other — creating a circular, self-contained sequence, which the artist then sets up vertically and positions into the center of the room.As a floor element, there is an elongated block of rectangular surfaces, which is joined on the left by a deep tube diagonally cut, and on its right by a free form made of a thin crumpled material. Towards the top, the circle is closed with a rounded double rail made of steel and with the casting of a wide branch in aluminum.
All – the penciled preliminary drawing for realizing the cut on the pipe, the gray layer of paint on that crumpled surface and the nature cast in a hard material, refer to the artist's working process and seem like a snapshot within the sculpture.
Similarities with past sequences of Forms Vol.1-4 can be spotted: Construction from utilitarian elements of building industries are combined with new forms, obtained by the artist from the usage of different, mostly hard materials. The continuity that leads to the eponymous sequence can be traced in the repetition of certain forms, which can be brought together associatively only sometimes (the round pipe meeting an angular counterpart). The monochrome silvery colorfulness of the works, even if obtained from different parts, makes them appear as if they were cast in one. Kienzer's expansive sequences of forms leave open connections to everyday objects and thus invite an impossible made activation. The Vol. 2 made of several tubes lying on the floor for example is reminiscent of roller blinds machines used in large-scale industries. However, the tubes merely joined together by a rectangular frame would immediately roll apart if stepped on or touched. Formfolge Vol. 5 invites one to linger and sit as if it was a bench, but at the equal time the sharp edges negate that. In his sculpture, as so often in his art, what matters here to Kienzer is the contrast, between attraction and distance, order and chaos, function and dysfunction, openness and closedness, as well as various constellations of carrying and resting.
Michael Kienzer, born in Steyr, Upper Austria, in 1962; 2001 Otto Mauer Award; 2012 Austrian State Prize for Visual Arts; 2013 Anerkannt. Etabliert. Angekommen. Art Austria Award; lives and works in Vienna. Numerous international exhibitions and public art projects since 1984, e.g. 2005 Neue Immobilien MAK Wien; 2007 Vor Ort Museum für Gegenwartskunst Stift Admont; 2009 Out site_02 MUMOK Wien; 2010 Malerei: Prozess und Expansion MUMOK Wien: 2010 Triennale Linz; 2010 Linea Kunsthaus Zug; 2011 Fünf Räume Austrian Cultural Forum New York; 2011 54th Biennale di Venezia Glasstress Palazzo Cavalli Franchetti; 2012 Logik und Eigensinn Kunsthaus Graz; 2014 Gironcoli + Kienzer Galerie Elisabeth & Klaus Thoman Innsbruck; 2016 24 von 274.668 Tagen Klangraum Krems Minoritenkirche; 2016 ABSTRAKT – SPATIAL. Malerei im Raum Kunsthalle Krems; 2016 The Body Extended: Sculpture and Prosthetics Henry Moore Institute Leeds; 2017 Lose Dichte Gerhard-Marcks-Haus Bremen; 2017 Lärm und Linien Kunsthaus Zug; 2021 Parallel Vienna.
Exhibition: Michael Kienzer. Formfolge Vol. 5, 2021, Aluminium, Stahl, 325 x 224 x 42 cm
Exhibition Duration: 30.09.2021 until 22.10.2021
Albrecht Fuchs. A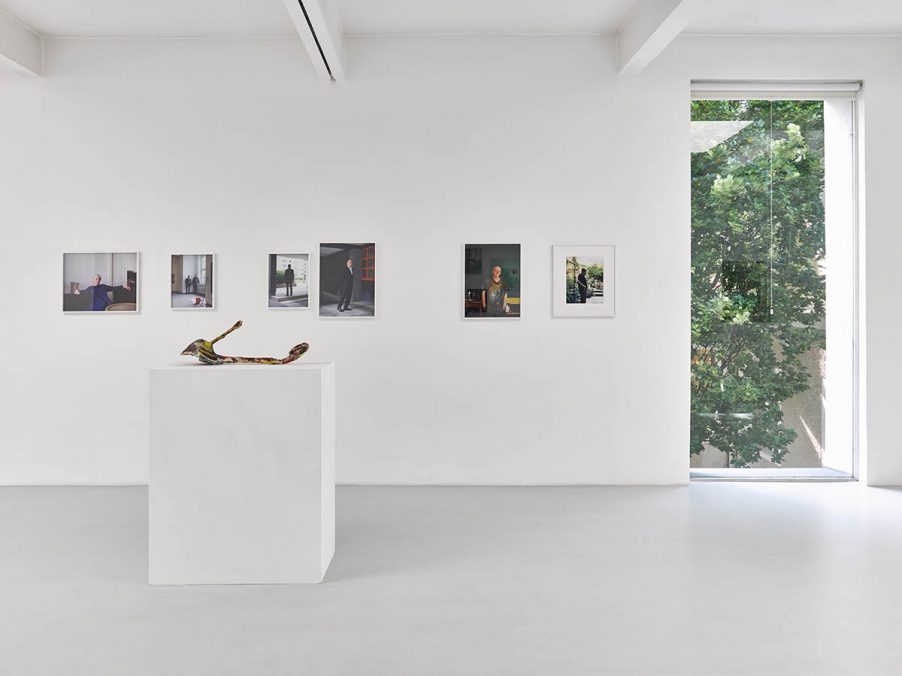 "A" is the first solo exhibition of Albrecht Fuchs at Gallery Elisabeth and Klaus Thoman. Fuchs, who studied photography in Essen from 1986-1993, is especially engaged in portrait photography. In his practice he created multiple works with international artistic personalities. "Medium-format color separations characterise Fuchs' formal strands for years and his portrait series is steadily growing, including longer-lasting portrait sequences. The portraits shown are as pragmatic as they are sensitive — Albrecht Fuchs has for many years been a colleague who is highly esteemed by those portrayed. The work is mostly created in studios or private spaces as well as outdoors and other surroundings. Fuchs uses a subtle approach, naturally incident light and a standing or lying representation of the protagonist, which gives the images his characteristic expression. The secret of his portraits lies in the perfect measure of closeness and distance between the photographic actor and the sitter.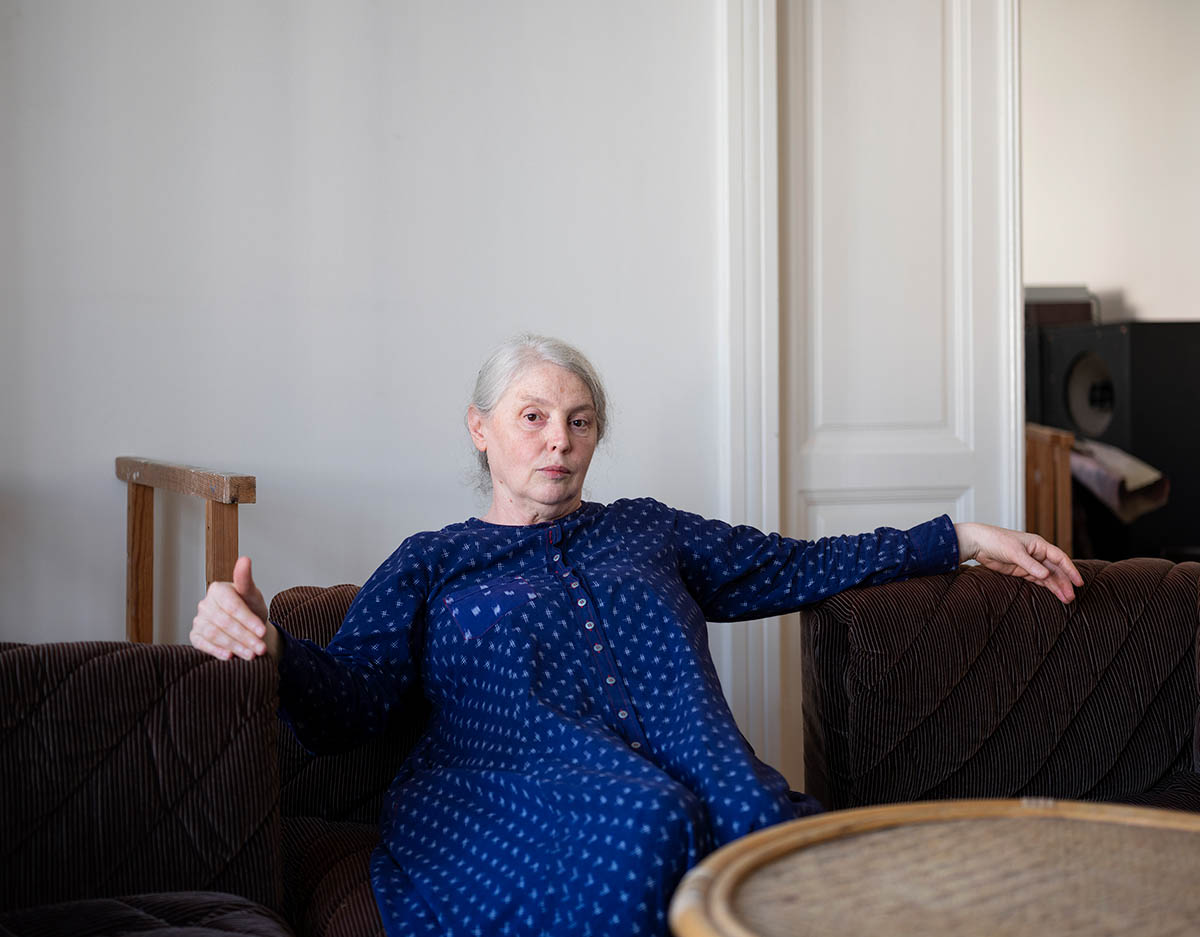 In his exhibition in Innsbruck, the artist will show new works created in the last six months, within various stays in Austria, featuring some renowned Austrian colleagues. In addition to older portraits, the exhibition is supplemented with artworks of portrayed artistic personalities. Among the personalities are Herbert Brandl, Heimo Zobernig and Eva Bodnar. In addition to the works by Albrecht Fuchs, works by Thomas Feuerstein, Paul McCarthy, Raymond Pettibon, Franz West and Joahnnes Wohnseifer will be shown.
Albrecht Fuchs was born in 1964 in Bielefeld and lives and works in Cologne. He studied visual communication with a focus on Photography at Gesamthochschule Essen and is known for his portrait photography. His works have been shown at Temporary Gallery, Cologne (2102), Galerie Annet Gelink Gallery, Amsterdam (2013), Galerie Nagel/Draxler, Köln, Berlin (2016 and 2020), Kunstmuseum Bonn (2016), Galerie Elisabeth & Klaus Thoman, Vienna (2017) and Kölnischer Kunstverein (2018). His survey show Album – Portraits 1989 – 2020 at Museum für Photographie Braunschweig (2020) and Kunsthaus Nürnberg is having a third station at Leopold Hoesch Museum in Düren – running until November 2021.
Exhibition: Albrecht Fuchs. A
Exhibition duration: 18.09.21-20.11.21
Address and contact:
Galerie Elisabeth & Klaus Thoman
Seilerstätte 7, 1010 Vienna or Maria-Theresien-Straße 34, 6020 Innsbruck
www.galeriethoman.com