FIRST E-MAIL: INTRO. I have to make a promise to myself, even if only for the time it will take to write this text. Consider the history of art not as a succession of masterpieces, but as the history of men and women who over the years have done so many different activities that today we call works. So if I have to and want to talk about my work I have to talk about what gave birth to these objects. July 2020, an email from a friend – Paolo writes to me that I have been selected for the Armonia residency. Five months of my life in which I could finally concentrate my energies only on my artistic research. Five months in contact with a good curator like Sergio Risaliti, five good artists: Ambra Castagnetti, Chiara Gambirasio, Diana De Luca, Ludovica Anversa and Nicola Ghirardelli. Five months to live and share at the Manifattura Tabacchi in Florence. This story of mine cannot exist without these fundamental ingredients. I would betray them and myself if I excluded them. In my small town in Tuscany, my Civitella in Val di Chiana, where the only thing that had changed during the lockdown was the absence of emails that continually engage my mind, I had found myself a man, but not the artist. Being an artist has always been a wave, which sometimes makes itself felt in the soul, hits and then withdraws. I was feeling the shock again, but not harnessing that energy. I was living a macabre and wonderful dream in which I could immerse myself. Really isolated, alone and perhaps finally free from all those little daily hindrances, easy excuses to escape making art. The wave brought a work to which I am very attached: my first digital work. For a long time this work remained on my desktop, unable to take shape because, just like the first few times you touch something new, I still didn't understand what I had come across. A work that was born from my need to do something else, from the freedom to create without asking the problem of understanding where I was going. A profoundly free job, even from myself. I wrote this about: An image devoid of mystery. An adhesive vinyl print applied to the wall surface. Through digital reworking, the details move, mix and vanish and then resurface. Our gaze slips, unable to grasp or reveal anything, welcoming the work as a visual activator. There is no sense to look for, it is a flat shape that does not move, but imposes a new emotionality to be appreciated. Art is just a beginning, leaving the rest to each of us just as the roots do, which generate and nourish life, but it is not their task to decide how far the leaves will go. Everything that is mysterious fascinates and interest. This is not. It just makes the easy difficult through the useless. It was the talisman that I took to Florence for my residence. Leaving is sometimes the only way left to stay.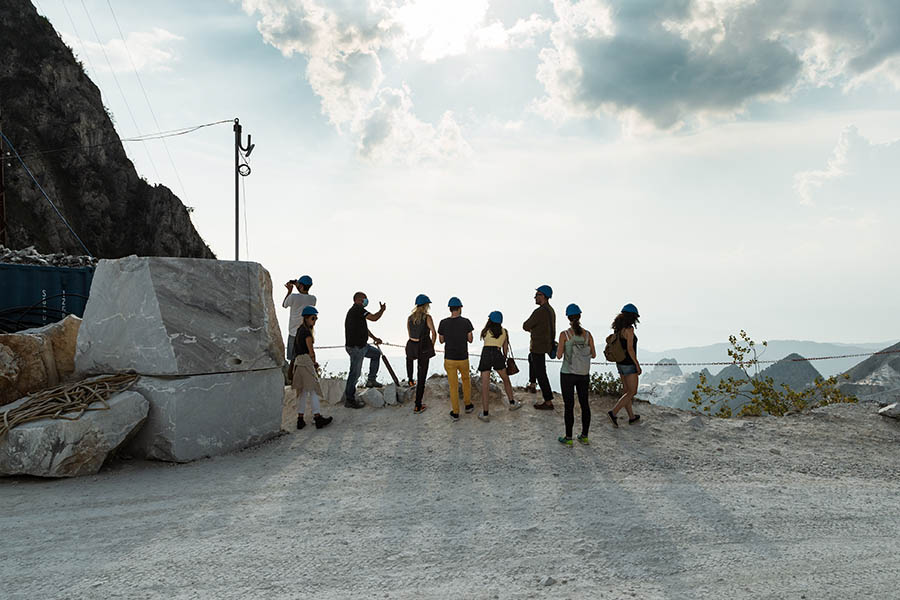 SECOND E-MAIL: CHAPTER I. Condensing the thoughts of an entire search in a text is certainly a mistake at the start. I believe that works of art retain different levels of reading and do not crystallize a unique message during their life, but continue to emanate energy, to change our emotional spectrum on them differently, without interruption. If a ten-century-old sculpture still excites us today it is not because we know and share its original message, the initial driving force, but simply because it is an open work, which digs something into us and continually succeeds to re-propose an emotion, changed but always powerful. With this conviction I will therefore try to talk about my artistic path undertaken during this last year.
My research basically arises from a challenge. For a few months, before my residence at the Manifattura Tabacchi of Florence, my interest had shifted to digital image processing, at first small modifications of pre-existing photographs and then approaching a technique that is very close to the pictorial one, only completely immaterial.
There was no definite purpose, not at the beginning at least, but only the will to use this medium as a catalyst for those sensations that could not take shape in my mind. I realized that this condensation was impossible to comment on in an element, in a work, so I essentially abandoned myself to the creation of images devoid of any content, precisely to dig in a stubborn and contrary direction to the one I had undertaken. What is seen triggers a reaction in us. My question was simpler than the radical ones that often lead artists to work on wonderful research ridges. I simply limited myself to asking myself the fundamental question: why do I like to see and indeed works? Why do great artists unleash something in me even if I don't fully know the research, while others leave me completely devoid of interest? And consequently to our thought, without however directing it. The emotion that bursts inside you when you see a sublime work is too strong, that message without content and words is too powerful. It is an electric shock that passes through you, makes your blood circulate in your veins, activates your thoughts, makes you grow inside a strange awareness of being there, of having a time well spent, a belonging with this moment of your life. This is all that tension for much of the history of art comes through images, and only secondarily does it make us reflect on them, on their nature, make us discuss their perfection or allow us to arrive at some deduction. What is the point between the form and the content? For me art is the content in the form, the same tension contained in those images. a message that is conveyed with that lexicon Let's face it: we have chosen to be visual artists and the lexicon we have chosen is that of forms. Through them we must learn to communicate. Let's leave the words to the poets, who surely know how to use them better than us. I would like to give an example to clarify: Let's try to think of the work Being River by Giuseppe Penone, composed of two identical rocks side by side. The artist took a stone at the mouth of the stream and one at the source. Replacing nature, he sculpted the second rock in perfect mimesis with the first. Penone here is a river, centuries and a man at the same time. It is a work that breaks your heart, that makes your blood spin, sets your head and thoughts in motion, makes you alive. If we were to find this work after millennia of oblivion, such as the Altamira or Lascaux caves, only two identical stones would appear to our eyes. The rest would be lost in the passage of time and the work would no longer be activated in us. What I am looking for is that likewise tension. The same degree of involvement, only already condensed in the raw material of the work, crystallized as much as possible within those forms, those settings, ready to explode at simple visual contact. It is not a question of making a break with an entire way of conceiving art, it is simply a choice of personal vocabulary; I have chosen the forms, with all the risks that this entails. In all this there is always a thought of art, but this must be, for me, the consequence of an epiphany, of an encounter with the work.
THIRD E-MAIL: CHAPTER II. So I immediately started looking for this power, to relate to my work, trying first of all to understand what really was part of me. An inner crisis and a flaw that I could not fill with the simple act, with the simple presence in that residence and in that place. I wanted at all costs to be part of myself, even if not totally, at least in fraction. I yearned spasmodically to find myself and be a participant in my feelings, not just a spectator. Being original means discovering one's origins (…) This passage, in reality, was the gift of a young artist, of Chiara, who brought me into a world of mine, which I had never known.
She made me understand the simple and disconcerting truth behind the title of that residence: Harmony is always being true. I am grateful to her for that. And from here I started.
From myself first of all. I am a voracious lover of art, I have dedicated myself to the point of exhaustion in the study, knowledge and self-denial of this subject. It has always filled my mind, all art, to understand that for me art is all contemporary, as it is the result of a single enormous body that over centuries and centuries has developed the same emotions in an ever new way, neither adding nor removing anything , was the first step to reconstruct a vision in me. I do not find it at all strange that an artist studies and captures the visual power that can derive from another work of art, as long as the aim is to test its communicative charge in order to be able to elaborate in his/her work. Everything is original, but nothing is original. We are a stratification of histories and cultures that preceded us and knowing how to dialogue with them, remaining absolutely contemporary to us, is an added value. When this alchemy occurs, it generates spectacular things, and I wanted to do them. I looked a lot at Florence. There are still places that remind me of beautiful moments of that human experience that was the encounter with those five beautiful souls. Climb to the top, visits to remote places, bingeing together and happy drinking, never exaggerated, all seasoned with a sense of abandonment, that strange euphoria of evasion that surrounded us, we elected while Covid plagued the whole world. We were carefree, or rather we only thought about our work and the evolution that this was taking. Here, I don't want to lose those human sensations, those changing veins of emotion that memory erases.
The other part of me I was looking for was them, my affections. I met so many people that I will carry in my heart in Florence. And I am convinced that it was that human warmth that transformed the colored material into something real and authentic.
FOURTH E-MAIL: CHAPTER III. Works are incapable of expressing anything but themselves. I will not attempt to give a universal rule of what a work of art is. Four centuries of Aesthetics studies have not succeeded, and I don't think I can do it in a few lines. I just try to hold this position in my work, that's all. When I say that the work is an activator, I mean that they are just forms, unable to express anything other than themselves. What after all do they tell us new? Let us think of Damien Hirst and his works from the 90s. They speak of death and our relationship to life. We all have direct experience with these fields, we all live this tension on a daily basis perhaps. I believe that art does not have the strength to tell us something new, but sometimes it brings to the surface something that in our depths we already know in such a cloudless and lucid way that it appears to us as a revelation. It is not in the nature of art to increase our culture. Unfortunately, it is a very bad conveyor of notions, yet we need it. Sometimes in art, we find truths, ours, even when we weren't looking for them. So, do not try to put something new into the world, but to create a lever to make something resurface. Four works were born from this experience. The challenge with me was won, but I had not yet managed to relate this newborn vision with the concreteness of doing. The hurdle now was to make tangible what existed only in my head, a union between that industrial space, our emotions and my quotidian. This residence had Harmony as its theme and therefore it was spontaneous for me to create a link with the magnificent but violent Rationalist environments present there, which almost never showed a curved line, almost never a yielding. They were perfectly males, in a sense as archaic as possible. Granitic, strong, vigorous and not at all inclined to the Decadent. Practical and clear-cut.
This series of works started from the desire to insert elements that would collide with those volumes. I wanted my works to create a stinging friction, a feeling of discomfort. Looking at them you had to guess that something was wrong. That ideal of grace and visual power that came from the past, from that Florence that, even if you don't want to, continues to scream in your ears even when you are inside an industrial space. Where it is canceled, was the matrix of everything, but it had to decline with my contemporaneity. I couldn't hide that violence, I didn't want to hide it. I then wanted to enhance it by contrast, accentuating more and more the relationship between those architectures and my architectures. I challenged them openly.
The first to be born was Intradosso, a 4.30 meters high structure that surrounded one of the pillars of the room. Keystone. The break was clear. It was something that, combined with the wooden structure, which leaked the underlying pillar, accentuated that sense of precariousness, so mixed and tempered by the beautiful interior decoration. A huge landscape, like the Renaissance ones and at the same time a digital drawing that merged flames in fragments of color, images in silhouettes – white, black and the whole palette in which it was possible to immerse oneself.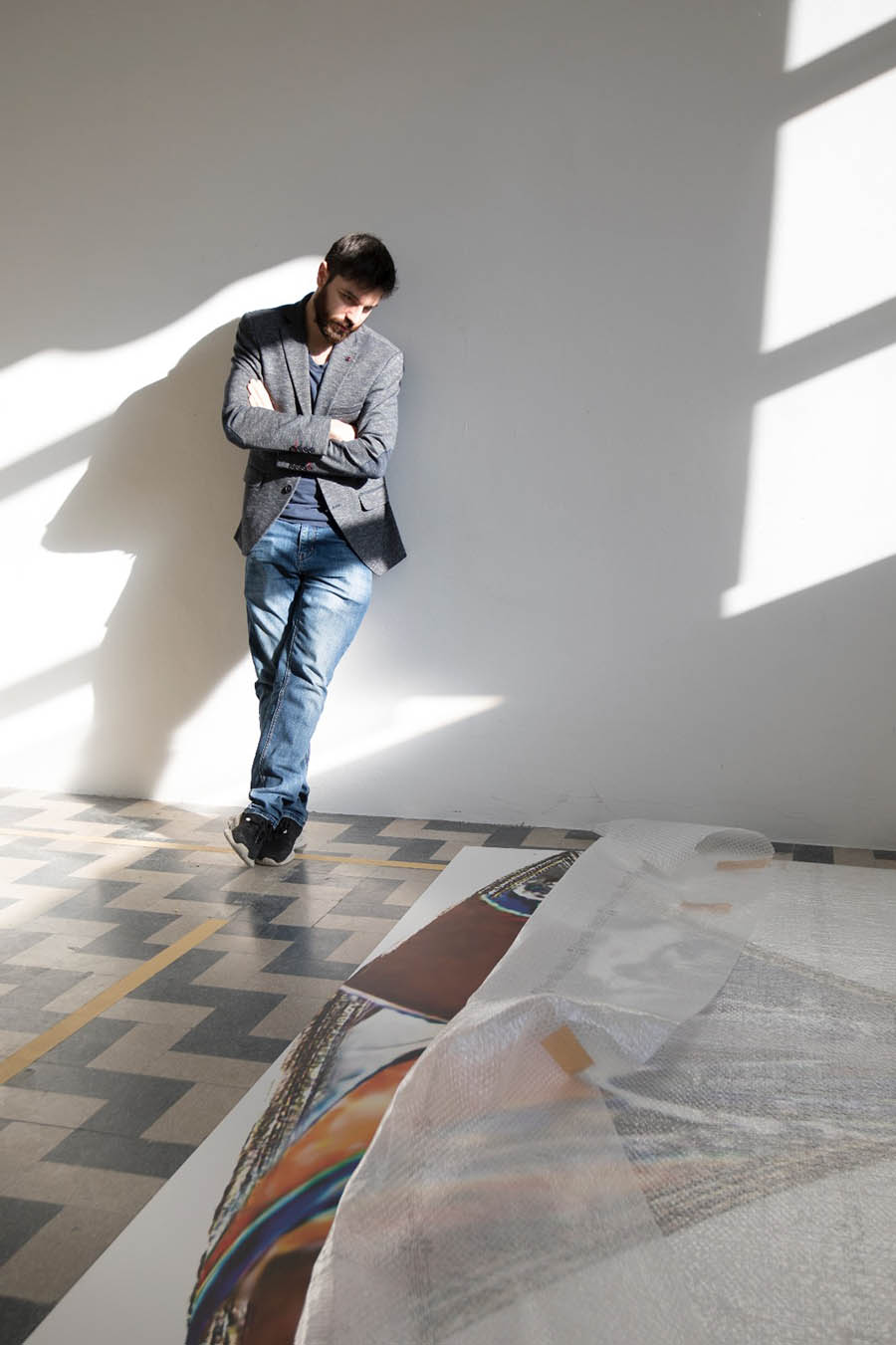 You discovered this by entering the room, first glimpsing from the post office the back, the wooden skeleton, and then, turning behind the pillar, seeing the color and light appear that filled the room and illuminated it directly. Majestic, even where you didn't expect to be amazed. I am tied to this madness, to this play, total and enormous. It was my first epiphany, in a sleepless night of drawing and redrawing with the computer until I could no longer find anything to fix. The next day I slept all day, peaceful. Finally freed from that performance anxiety. I had found my way. Making peace with one's origins and history had inserted me into it. From there, the idea of striking the viewer also began. To bring that idea of grace and power not only into the works, but to adapt it to those spaces, which contained their beauty not in theatricality, but in the practical cleanliness of the lines, in their being so beautiful as essentially functional. I wanted to line up and hit that beauty line. I wanted to upset its dynamics. Intrados was actually not the first chance I gave the viewer to enter my world. No, the first work I had guessed was him, but my visiting card in the exhibition was of a completely different nature. What magnificent stairwells, so visually deep and so dynamic and their swirling. And what amazement to see, after yet another inspection of that empty and industrial space, the breaking through of the ceiling appear to me as a sort of revelation. That work was born from taking the freedom to dream. How crazy is a young artist who proposes to create a huge print to be placed on the ceiling of an environment as open and wide as the stairwell, with enormous technical difficulty on the set-up level and how fascinating it was to discover that an upside down, a Renaissance fresco that served precisely to alter the architecture, could be done not physically, but by projecting that image on the white wall without affecting it, without really getting in the way of that architecture.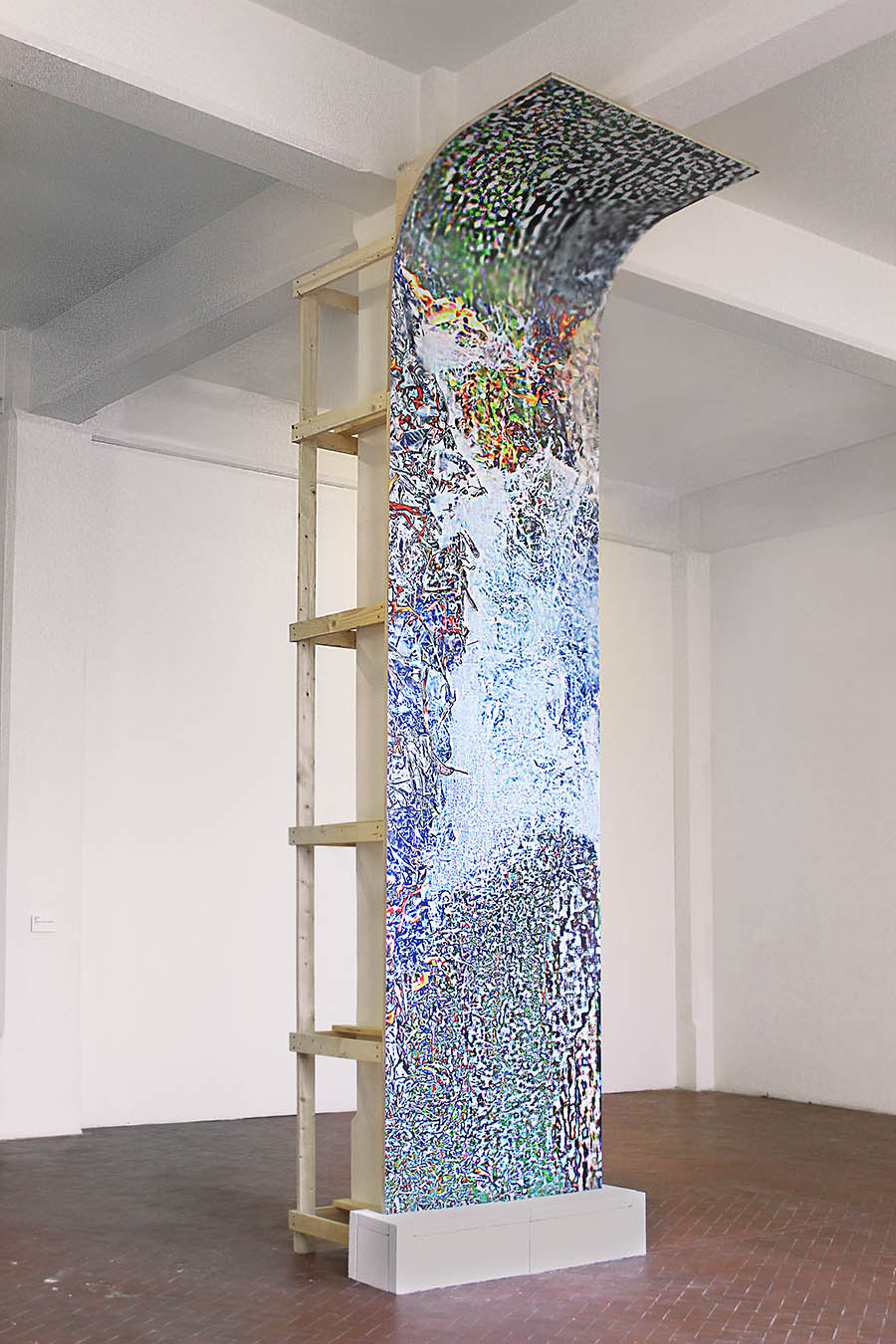 What a strange effect in that staircase, in that compartment when from below, immersed in the half-light, your eye went upwards and saw this color and these shapes that welcomed you and sucked you towards them. It wasn't skies or cherubs or angels, no, it was something falling towards you, a meteorite or whatever, a huge mass of matter and color spewed on you from another dimension.
The architecture was sublime, but the result after being sweet at first, was then distressing… it took your throat. Upside down it was born from a denial of its very existence. And here is the third child, the child who comes from experience. Not born from the initial passion, not born from the desire to improve, but from the technique and thought that have now vented and can work together. A connecting element between a pier and a vault that was not present there. Dulled in its ability to leap forward, weighed down by its castrated nature, it remains marvelous in its grace, in its essence, almost as if its failure to soar made it even more "human". A dialogue, not a camouflage, with the underlying architecture. Plume is all this and yet it is something else, an enormous being, a butterfly, a bat with irregular and stinging shapes, a false panel that reveals the darkness behind it.
Beautiful, elegant, yet always in the wrong place.
Those voids to me were all that Pennacchio could never have been in there. Changeable with each shift, in continuous self- determination. Finally the daughter arrived, the smallest work, the most delicate, which almost disappeared in the presence of the importance of the other forms. Small yes, but the most precious. If the others dialogued with the light in a Dionysian way, it assumed an Apollonian and subtle position in space. A small precious object embedded in the wall. A digital image printed on a gold metallic paper, a gold leaf that simulated Byzantine altarpieces. She did not speak with space, she spoke with light, the only real element that makes architecture exist. Without light, these volumes would not exist. I condensed in her all my sweet, evanescent being – a work impossible to see, impossible to photograph, which always reflects the light and dazzles you. Never legible in its entirety, but entirely, always fragmentary, just like those rays that looking at the sun burn our retinas, but you would never want to stray from their brilliance. Finally, I keep a promise, the initial one. These works existed because, besides me, there were five other artists who continuously filled my soul and my mind.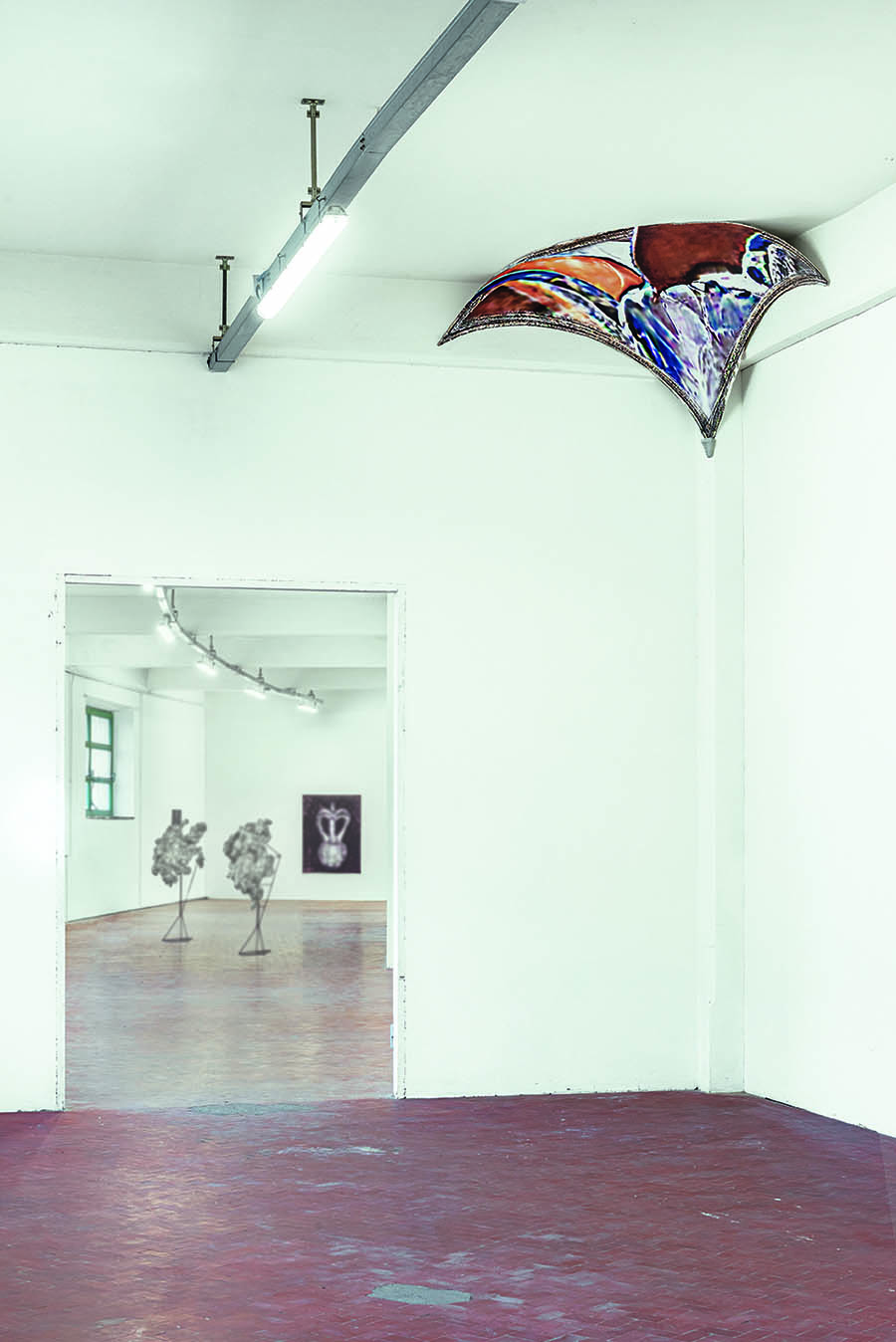 It goes without saying that an artist can generate work from nothing. Everything is original, but nothing is truly original. We are the consequence of the dynamics, people, and stories that pass through us. Perhaps the real difference is that, in our sensitivity as an artist, those experiences leave a clearer trace, a stain that we can process and propose to others. We do not live on experienced emotions alone and we must necessarily evert into other forms. So, I would like to write about them, not believing that there could be a way to condense the work, research and life of an artist into a few sentences in a universal and objective way, if objectivity in art can really be talked about. These are just my subjective visions of the five precious stones that have decorated my research. The jewels I am most attached to – Ludovica Anversa taught me to look at that distant painting for me. She taught me to feel the canvas and leave room for color, in which the shapes can be leaked. Who would say that so many figures, necessary for you, can come out of such a small being? So strong that they end up becoming strong for us too. Ambra Castagnetti has, for me, the same consistency as its resins. She is lucid, seductive, mysterious and traumatizing. You know when you open a can of paint with a screwdriver? That feeling of annoyance, uncomfortable tension, risk that then suddenly jumps and leaves you with an aftertaste halfway between the escaped danger and the satisfied and that sensation of velvety clarity in the eyes? These forces are at play in her, beautifully. Diana de Luca is Leggera, a subtle girl, even in her sensitivity. Her work, for me, is a great act of generosity. Nicola Ghirardelli, a male work, fast, strong and above all devoid of fiction. That's right, he can't pretend, he can't deceive. It hits you and leaves you in a whirl of matter, with sharp but warm edges. They always console you at the end. Chiara Gambirasio is light, like that light that shines through the shutters at the first light of the morning, when it is still dark in the room. Very strong in your eyes, but evanescent as soon as you touch her. You have to keep up with her world, don't try to use it in yours.
Max Mondini – www.maxmondini.weebly.com, www.instagram.com/maxmondiniartist
---
About the Interviewer: Erka Shalari (*1988, Tirana) is a Vienna- based art author. She focuses on discovering independent young and emerging artists, unconventional exhibition spaces, and galleries that have deliberately broken new ground in their working methods. In this regard, she relies on unorthodox publishing practices, coupling these with a nonchalant manner of writing. The work oscillates between articles for magazines, exhibition texts and press releases.