Now in her latest work, she reveals paintings infused with a new and vibrant palette of Magic Blue, Space Indigo, Perglanz Blue, Space Turquoise, Magic White, and Space Red. The artist pours these brilliant hues made from acrylic pigments diluted with Plextor onto her canvases with sensitivity to colour and brush dynamics. As a result, her work exudes an 'intense lightness' and allows multiple layers of potential meaning.
What is your background?
I am the child of a teacher and an engineer. A sister of a biochemist. It was kind of hard growing up in Serbia back when I was young. My generation carries a lot of fears, as we were in the most vulnerable ages when all that violence happened in the Balkans. But I was stubborn enough to start with an art boarding school at the age of 14 in Novi Sad, which is a town in the north of Serbia. There I could get good foundations in art history, literature and of course all different kinds of art techniques. As my mother has an infallible intuition, she was the first one to support my idea of studying abroad. That plan didn't run smoothly at all at first as we couldn't travel outside our borders. The way of getting to the entrance exam was real hell. And I better don't tell you the whole story, as it may involve illegal acts. In 2009 finally, I was able to continue my education at the Academy of Fine Arts in Munich. What a blessing. The Academy has big studios available 24/7, even on holidays. I enjoyed many privileges of studying art in Germany. I finished my diploma in 2016 and since then I have been working in my Munich studio.
What themes do you pursue? What inspires you?
Giving chaos an order but at the same time giving up control. I have been focusing on that topic for almost a decade now. There is a constant, ongoing conversation between the controlled colour-slathering and fully accidental splashes. To be able to handle such a polarization, my process is made out of repeating one motive several times. For years now I have been painting from the same photos and always work in series. I believe that working on multiple paintings at the same time frees you from all the unnecessary factors that are interrupting the act of painting to become more instinctive and intuitive. To the point that it is converted to something almost spiritual and seductive.
The finished works are harmonious vibrations of colours that rush together and fade out, pulsating between movement and a sense of stillness. When you look closely you'll notice delicate speckles of paint on the canvas. A whole world for itself made out of surfaces, strokes, splashes.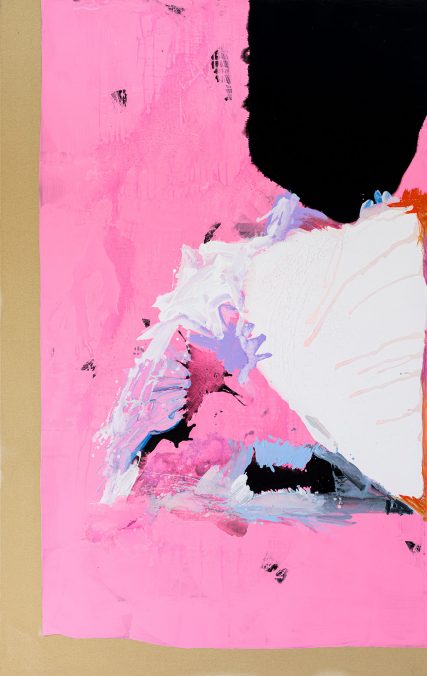 What do you enjoy most about art?
When I am standing in front of someone's work that I admire and adore, I get tremendously excited, to the point of being in a state of trance or something. It's almost unbearable, almost uncomfortable. I can't tell you why, but when I see that somebody has a perfect brush stroke, I get so overwhelmed. There is so much in just one brush movement that I can look at it forever.
How do you spend your free time?
That's a hard one. After work, I like to: ride a bike, listen to gipsy music in the house, drink, buy more books, take a bath, do a power walk, watch porn, talk with my teddy bear, enjoy the new and fresh bedsheets, drink coffee, coffee, coffee, meditate in the bath top and then drown myself into the oils, eat in bed, collect interior design photos all over the internet, visualize the next 20 years of my life, search for pieces of wood and stones in the forest and bring them home.
What have you been working on recently?
With my latest sequence "Persian Orange" I started a project of painting with just two kinds of formats all year long. I chose it to be one big format – 300 cm high and 190 cm wide – and one small of 60 by 50 cm. Pure exhibitionism! I started the series in 2020 and as of now it contains 15 large-format paintings and 60 works in the small format.
Pure exhibitionism! I started the series in 2020 and until now it contains 15 large-format paintings and 60 works in the small format.
The 60 small-sized paintings are made on HDF Boards and are a group of self-portraits presented with pulsing pink, flashing yellow, and dripping colour effects. With this series, I celebrate colour and chaos in excess. What you see is perhaps not necessarily a portrait. It is more like when you look in the clouds and search for a shape you know. You get lost in brush moves and your eyes follow one stain to jump to another one. The work is very lively, almost humorous. Because of its size, it's easy to move and I enjoyed looking at people combining, turning and making different puzzles out of them. It's made to be easily "recycled" and in direct communication with the space it's in.
The title "Persian Orange" comes from a certain colour tone, which every picture of this series contains. The process of searching the names is always the same: I go to the Wikipedia of Colours where you can find endless lists of colour system descriptions, their palettes and a whole universe of colour names. I like to pick the craziest ones. However, the name should have absolutely no connection to the topic of the painting. It's a small game I like to do with the observers. Because I am so precise in everything else, it's just funny to see people's scepticism.
Ana Pusica – www.ana-pusica.com