With a background in Fine Art as well as International Relations, Lemberg-Lvova translates social engagement into art, thus emphasising the act of artistic activism in today's society.
What was your first influence in art? Why did you pursue art in the first place?
My first encounter with art was at the age of six when I attended art school in Russia, but with time I figured out that I do not only have a fable for Fine Arts, but also for design as it appeals to my hand-on practical side. Although I briefly attended the Fine Arts Academy in Liège, I have to say that my arts education slowed down a bit, when I moved to Belgium to study Financial Engineering. After a year and a half of studies I decided to give that up to further pursue an education in the arts in Estonia, where I majored in Fine Arts with a minor in International Relations. The reason why I stuck with this field of study is the freedom that it provides – I could never imagine myself working a 9 to 5 job. Contemporary art simply offers a great playground for a menagerie of one's own interests that, with the help of aesthetics as a tool, can grow into something useful for a deeply rooted goal. It's a mishmash of various options and possibilities. This summer I held an open studio at Kogo Gallery in July, where I prepared the works for the subsequent exhibition at the Freedom Gallery in Tallinn in August. Moreover, I am currently working on my next project with PACE Estonia, which will be an art forum specifically for young artists. On the whole, art was a part of my life so far all along.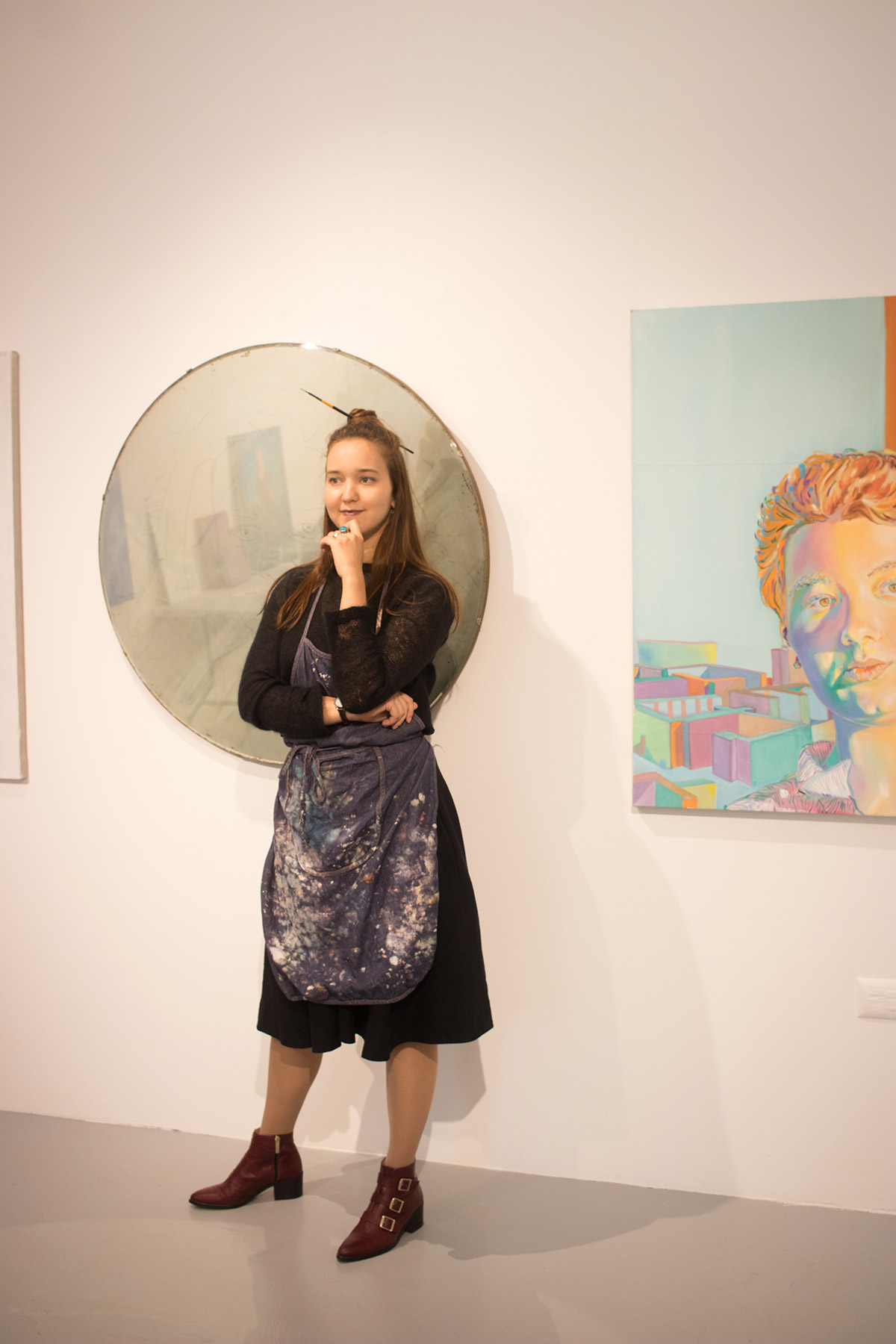 You are very socially engaged, how did this come about?
As a teenager I have gained certain social awareness through youth organisations such as the European Youth Parliament. I have been involved with that particular organisation for ten years now and it has helped me enormously in addressing and analysing various issues, even the ones that are prevalent in my immediate surroundings. I would regard my general sense of rage at injustices as a big contributor for my social engagement. Things and actions that are plainly silly and make no sense are still happening on a daily basis. A small example from my life in Estonia has to do with paper advertising. People here receive an ample amount of print ads in their post boxes and throw them straight into the bin – there are paper bins located next to post boxes for the sole purpose of gathering ads – without having any interaction with hem. This is such a waste of paper in the first place and, of course, waste of a means of communication and someone's work.
As you have a background in social activism, why do you incorporate this aspect of your life in your artwork?
To put it bluntly, it is a much easier way to reach the target audience. The customary way of approaching social problems is having a conference with a group of elderly men holding high offices and speaking from a podium. These men use their own vernacular to highlight certain issues and suggest improvements, the audience claps and then everybody goes home. Whereas, when you translate the problem for a gallery space, it adds a completely different layer to the understanding and perception of the issue at hand. My latest exhibition had a multimodal structure consisting of text, video and paintings. The initial idea sprung out of an International Session of the European Youth Parliament in Yerevan, where I have asked the 300 participants to name aspects of their life, which they want to change, regardless of the scope of the issue. The answers were diverse as they ranged from planting more trees in their neighbourhoods, to global change such as the wish for high speed railways or universal access to tap water. I have received 100 answers out of which I have put 52 into text. Out of the 52 I chose 7 and painted their portraits with my interpretation the wish they expressed. Afterwards I visited those people to interview them on camera. The point was to provide a platform for the viewer to express their own hopes for change and put that into practice in real life. We are taught to succumb to this learnt helplessness from little on, that higher powers are at play and thus change is difficult to provoke when not tackled at source.
The subtext of my exhibition was to allow ourselves to express and formulate wishes or hopes when it comes to our home and surroundings.
Do you believe that art and social engagement share the same space and if so, do you think it is necessary for today's artists to promote social/current issue through their art?
From my point-of-view, artistic practices are extremely diverse and every single one of them deserves a spot. If an artist's approach is to solely explore aesthetics it is just as deserving as the work of a socially engaged artist. I would not generalise the idea that art needs to be socially engaged or has to have a specific statement. Although I am personally more interested in socially critical exhibitions due to the symbiotic relationship of the artist's aesthetics and the philosophy of their work. To sum up my answer – not necessarily, but for those who truly feel a deep calling or motivation to explore such issues through art, definitely yes.
What is the most crucial issue to you and which one do you incorporate the most in your artwork?
The topic that interests me and that I have explored the most is the power of an individual. Today's reality keeps bombarding people with the same message – typically one of worthlessness and helplessness. If one does not fulfil certain criteria, they should logically feel inferior and their opinion immediately has less value. We as a society are constantly surrounded with absolutely ridiculous expectations of appearance or drilled to believe that we are too small to have an opinion that matters. These are examples of issues I am enraged by – when have we given up the power of self-worth and self-value? Being a woman, I am very familiar with the nonsensical societal beauty standards that cause one to simply crumble inside. It is hard to find a young female today, who could not relate to this statement. It clearly shows the scope of the struggle. Nowadays we are starting to dive into some issues that women face, but I would also like to understand the male perspective. We often blame this repression of the female gender on patriarchy and male aggression but what do we actually know of the inner struggles men have to deal with? From what I see, men are rarely invited to open up and the public is left wondering what it is we are doing to our men to push them to feel the need for dominance and authority.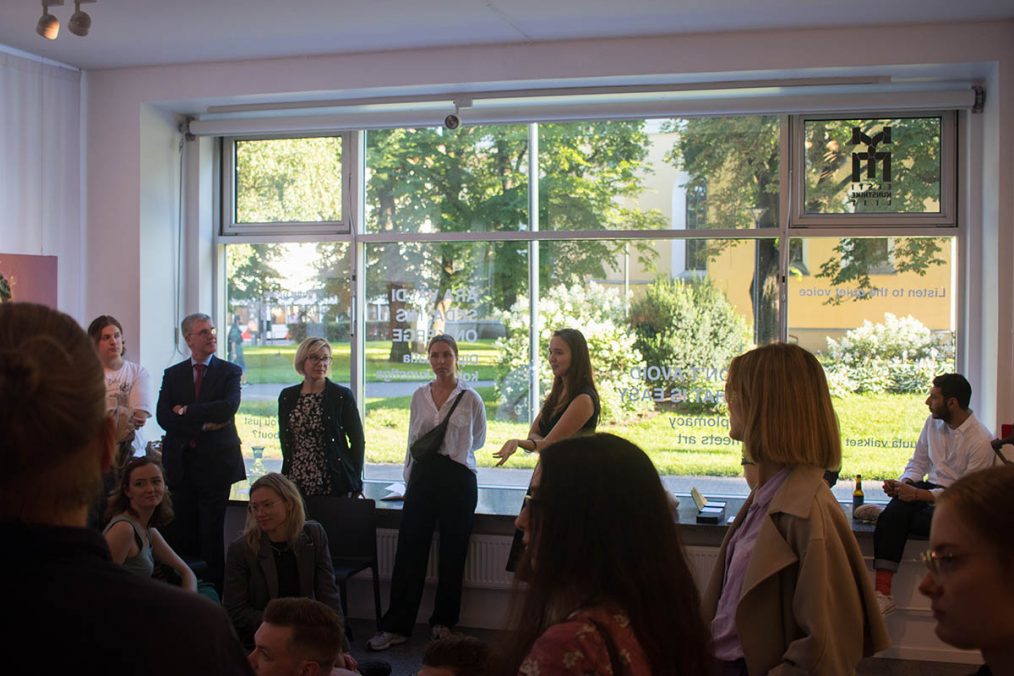 You were a panellist at some events here at the "Diplomatische Akademie Wien", how did this happen?
Will you be exhibiting any more of your artwork in Vienna? This conference happened in the beginning of July and it consisted of three panels. The first and third one included former politicians, diplomats and high-ranking officials. The second panel, however, was organised by the Culture for Peace initiative. It is that initiative that invited me to speak. The topic of this specific panel debate was different approaches of tackling social challenges in different fields of life. I have primarily put a focus on the topic of empowering individuals through art for this conference. I was invited to create a peace for a project called "Artist in the fore/background". Me and the other participants of the project were to hold a group exhibition in Vienna this year, but due to the Covid-19 pandemic it has been postponed. The main organiser is once again the initiative Culture for Peace which is bringing people together from various backgrounds ranging from science, art, music and sports with the goal of examining society and how art and culture can contribute to a positive change.
What's next?
For now, one of my paintings will be exhibited at the REA! Art Fair in Milan happening October 30th to November 1st. Other than that, the art forum together with PACE Estonia, which I have mentioned before, is still in works. The idea is to gather recent graduates and young professionals in the fields of visual and performing arts in order to offer them a platform for exchange. The forum's objective is to provide the attendees with a thorough insight of the infrastructure of the art world after they leave university ranging from cooperation with galleries to artist fees and artwork taxation. Graduates often find themselves unprepared for the world of art after graduation and thus fall victim of the starving artist mentality, this whole label needs to be killed. Accordingly, the forum will put forward expert talks and lectures as well as realistically feasible group projects to be carried out after the forum.
Anasatsia Lemberg-Lvova
www.lemberglvova.com
Kogo gallery – www.kogogallery.ee
Culture for Peace
www.upf-cultureforpeace.org
PACE Estonia – www.peaceaction.ee