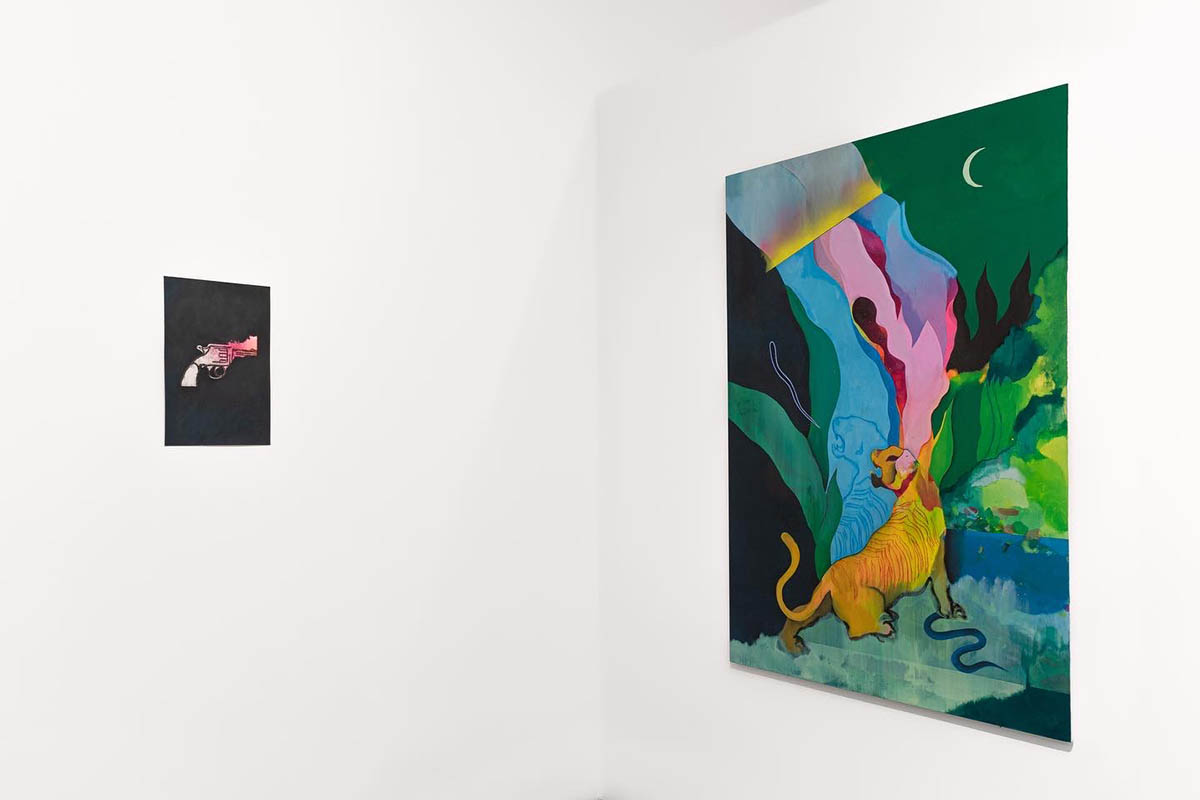 The exhibition arises from a new pictorial cycle by the young artist, partly created in Turin, after a long period of reflection on his pictorial practice and a crescendo of inner and aesthetic research, a purifying ritual.
How are you today?
Well, after ten years of wandering down and out I opened up my studio in my house, in Vicenza. I get up and paint.. coffee and the kitchen are always handy, as it is my record player. I hope I don't get too lazy.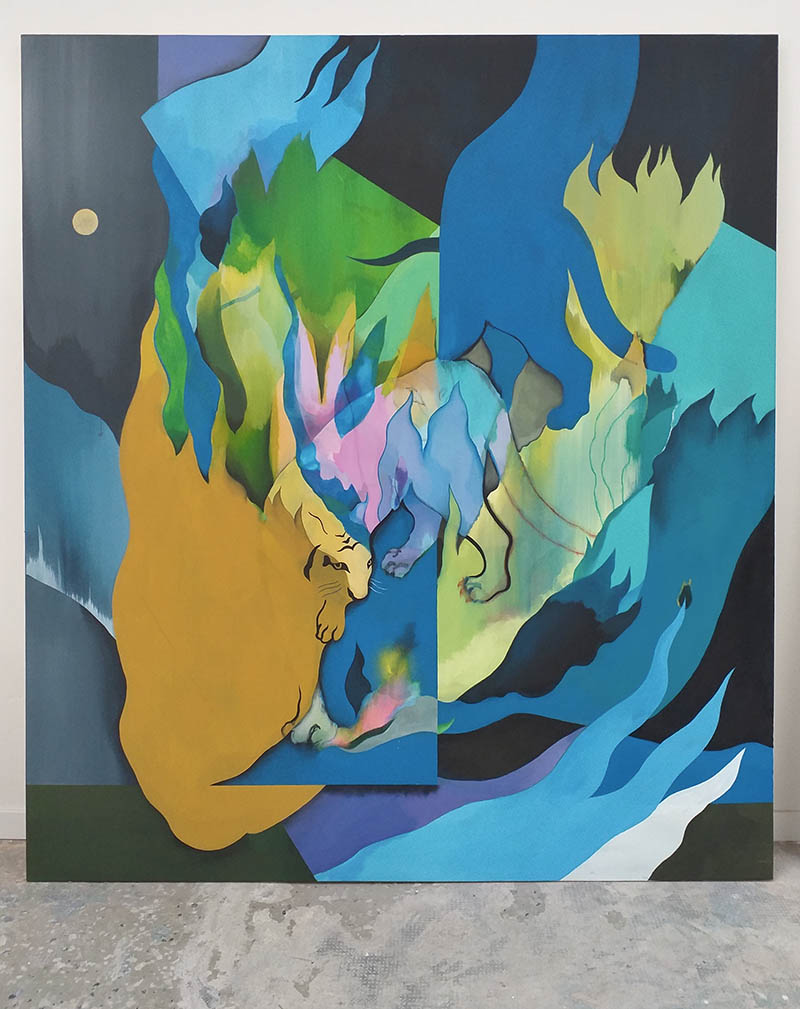 What's your background?
My mother's culture is music and I started creating images because of it. When I finished high school, I didn't really know what contemporary art was. I just made (illustrated) posters for punk concerts, album covers, and different kinds of merchandise for bands' and friends' bookings. Underground circles and self-productions had been a major influence on my political thoughts and aesthetic choices. I come from a small but assertive town that has always stood up well for its alternative scene. Then, studying Decoration & Visual Art in Venice, different expressive needs from materials to motivations took over. Graphics gradually turned into paintings, still retaining certain overtly illustrative languages.
Where do you find inspiration?
Blaze is the latest series of paintings shown at Crag Gallery. They are the result of a quick, summer job: about a month and a half of isolation in Turin. I had just returned from a trip to Thailand where I had bought some of the raw fabric I wanted to use for the following works. Most of the newly painted forms arose precisely in relation to the cotton, which broadens and enhances the bright-toned, richly transparent paint. I, therefore, let myself be guided by a natural, abstract, and vertical flow of forms, arriving spontaneously at the recurring motif of the flames. I usually work with no planning at all. When I'm interested in something I develop it and include it in what isn't its standard or real context. My influences are varied, seemingly contradictory, and constantly changing. In the last period, I have been keen on observing the European early medieval decorative tradition from which I take some formal (or animal) details, but at the same time, I have rediscovered a love for Depero's plastic works and certain colors discovered in Thai painting culture. I think my curiosity for theatricality and two-dimensionality is guiding me in this sense.
What does your work aim to say?
It is like a ritual where images burn in flames and psychedelic fumes. Ferocious animals, coats of arms, relationships, and flags go up in flames along with everything that becomes a symbol of my daily certainties such as that feeling of belonging to something or someone. It is a purifying rite, where things are deformed and regenerated by mutating into something else, often into abstract forms that I don't care to define… "destroying themselves in order to then rise again"! I try aesthetically to make the images very scenic, silhouetted, and sometimes ironic because of the simplicity of certain forms. This aspect allows me to downplay the themes, and make them more ambiguous.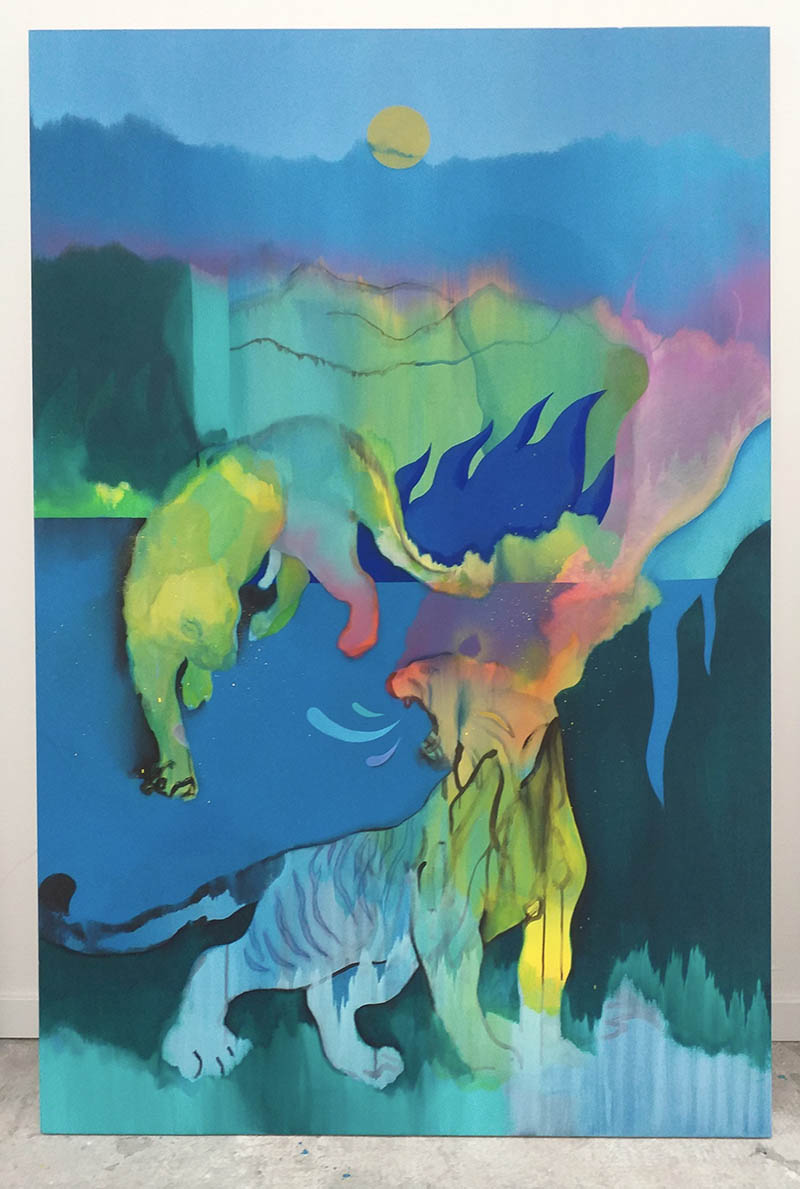 Do you read books? What types of books?
I don't have a favorite genre, I love Russian literature and I think Notes from the Underground was the book that absolutely marked me the most.. a turning point in my life. Lately, out of laziness, I have decided to read again books that I have in my library that might be a bit underrated. I highly recommend The Triumph of Metaphysics.
What are your impressions of ArtVerona 2022?
I have heartily seen a rich Italian panorama filled with talented painters. In this period, it seems to me that the shadow of the "schools" has faded away and has been replaced by a varied and much freer language, focused on the international situation.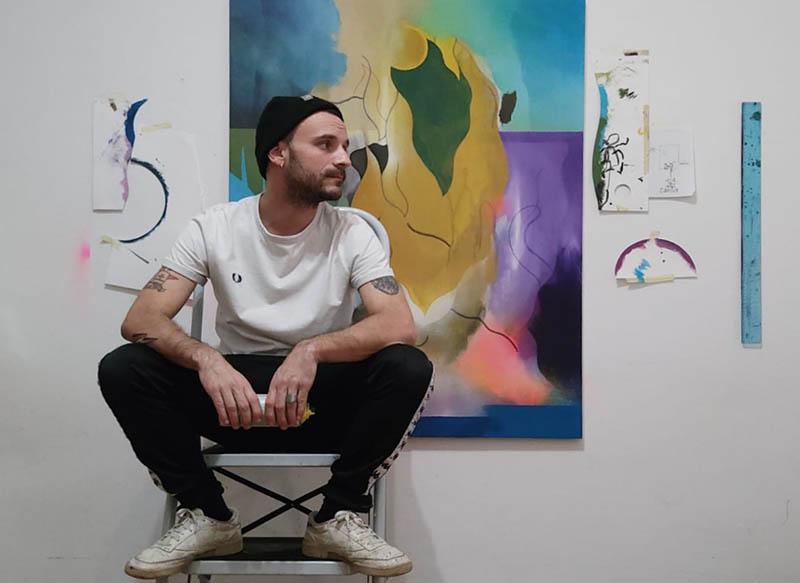 Do you have another exhibition this year? What are you planning for next year?
I will devote myself exclusively to studying during the following months. Since my last solo show, I have been confronted by a number of exciting new things and I want to explore them all. I am laying the foundations for a new exhibition where I will try to combine different media and work on intense themes. At the same time, I am also working on an artist's book. This is where I will enclose a series of monotype prints mixed with paintings and texts taken from pieces that have particularly inspired me along my artistic and human journey.
Exhibition: Giacomo Modolo. BLAZE
Giacomo Modolo – www.instagram.com/jack_modolo/