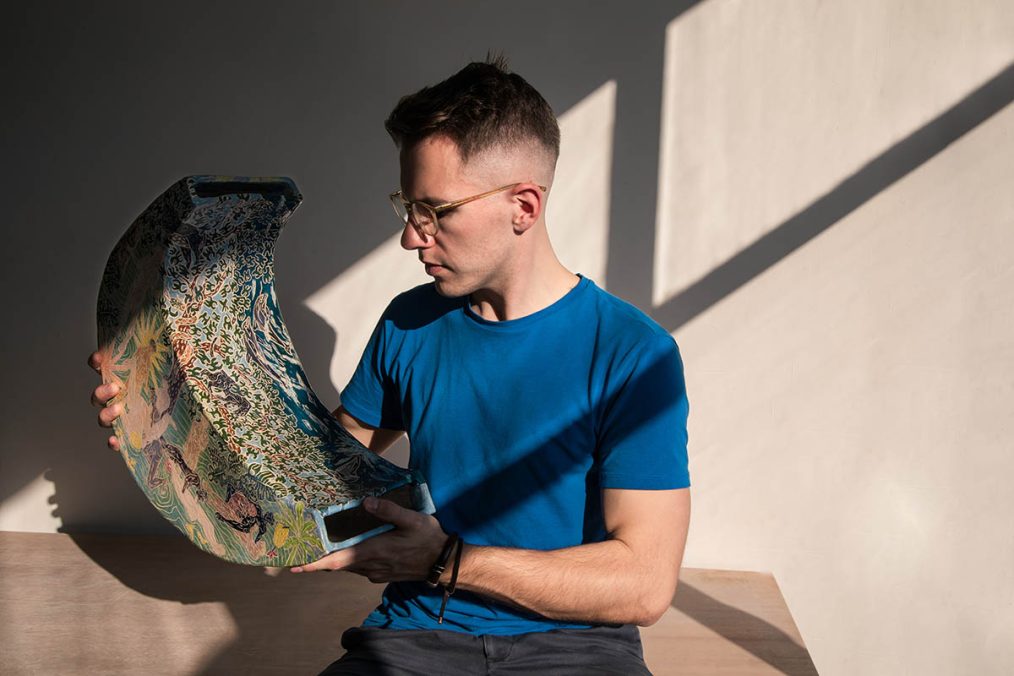 Ceramics is his primary medium today as it combines different aspects of painting, photography and sculpture. His practice examines the contrasts between the contemporary body and the body in history. He explores how queer culture reacts to different environments and changes with time. Strzelecki's influences encompass Christian iconography, ancient mythology and the canon of Western art. He explores the differences (and similarities) between man and the environment, contrasting the wilds of nature with the fragility of the human form. His work often engages with LGBTQ+ issues, especially how different societies relate to issues of acceptance, prejudice and the enduring problem of discrimination.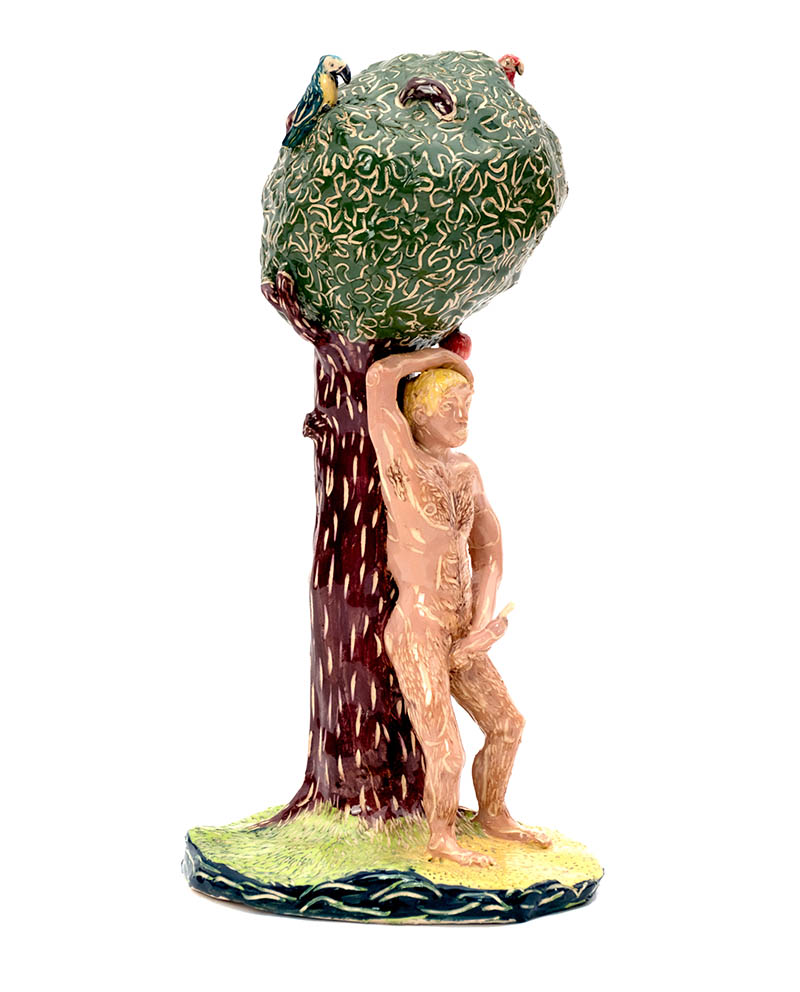 Where do you find your inspiration?
There are many sources but exhibitions and art books are probably my favourite way to find inspiration at the moment. The main source of my practice comes from classical art but also travelling (especially) to Italy and Greece. The rich decoration of churches in Rome and Poland reveal the long and complicated history of contemporary culture. These interiors are often overwhelming but offer clues to how contemporary art can take inspiration from old masterpieces and architecture. I find it inspiring to combine history with current political, environmental and visual aspects too. I'm attracted to classical paintings (19th century) too – especially those depicting the everyday life of the French aristocracy, often set in beautiful parks but invariably excluding queer or coloured people from their work. I see this as a regrettable omission, especially given how art impacts our lives today. So, for example, I enjoy re-interpreting the paintings of Henri Matisse or Georges Seurat to include gay and coloured men, thus subverting a heteronormative version of life.
My current favourites are the paintings of Henri Rousseau and his imaginary jungle scenes and a painting by Frédéric Bazille called 'Summer Scene' from 1869. Social media is a powerful tool to discover new artists and their work. My recent series of works, entitled 'Cruising Fantasies', comes from this source. Everyday pictures of queer people enjoying a 'happy' life, embarking on holidays, having sex, loving each other, etc. Social media creates a sort of idealised 'bubble' and I try to create the same in my art. Depicting a safe (possibly unrealistic) space for gay men to express their desires and fetishes. The representation of Greek and Roman myths, along with Christian iconography, have had the most powerful impact on my vision of art and how I see things today.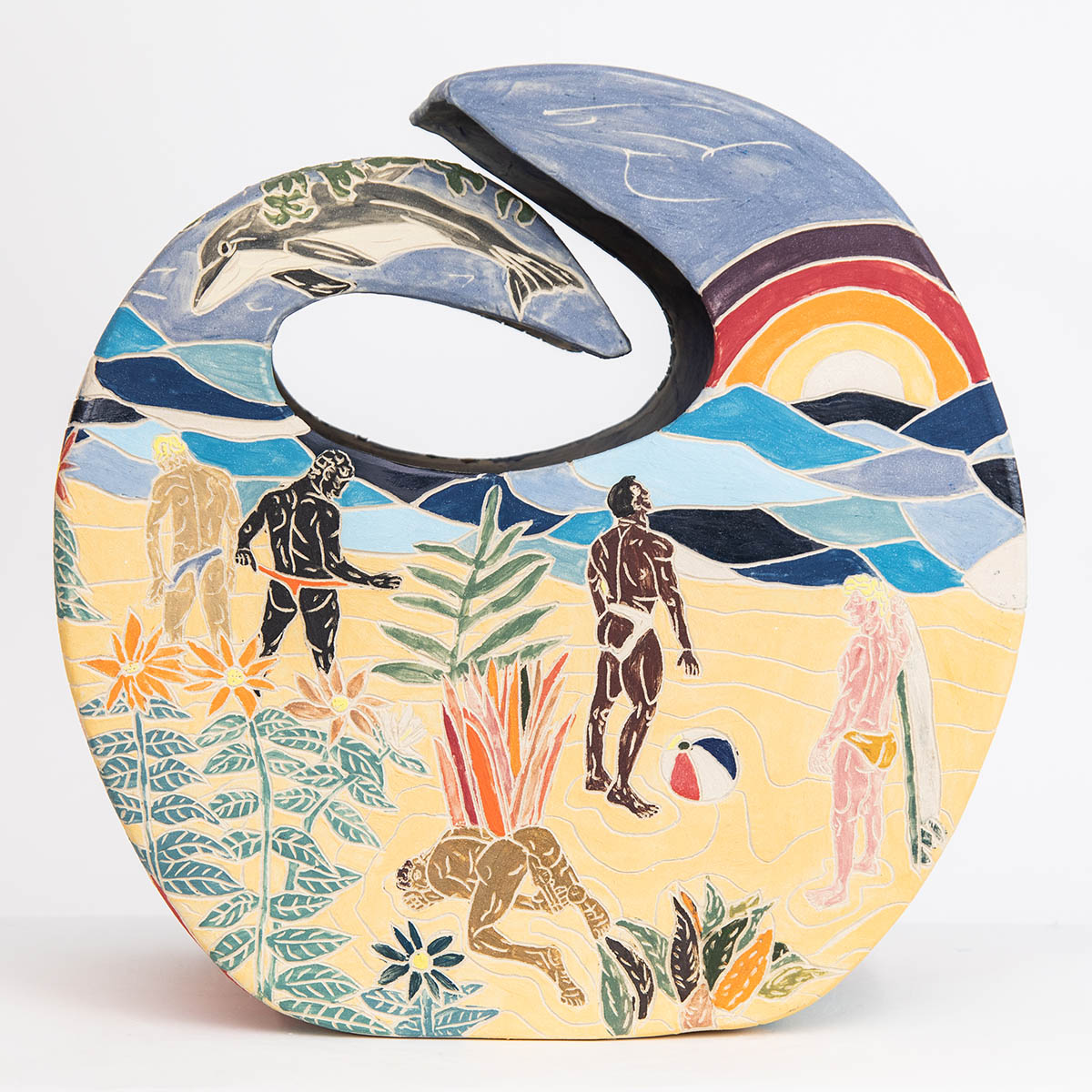 How would you define the style of your work and how did it develop?
My medium combines painting, drawing, sculpture and photography – because of that mix I find it difficult to describe my style. I see my work sitting somewhere between fine art, early 16th-century icon paintings, colourful pop, kitsch, comics and contemporary art. Figurative art is probably the simple label. I started my university studies in the painting department but my lifestyle in London and limited studio space sparked a switch to photography. I was able to take pictures and edit them whilst commuting by train (some 2 hours every day). Photography allowed me to explore my connection with nature but seeing the world through the lens required a particular focus on detail and offered a different perspective. You have to take time and think before you press the shutter release. During my summer break, I spent time in Rome, Tokyo and Kyoto. Exploring these two disparate cultures, I found ceramics to be a common medium and this generated an idea to transfer from photography to ceramics. So I spent my final year at university in the ceramics department, where I created a series of 'Sea Monster' plates and sculptures. This experience established ceramics as my main medium. I think it is too easy to forget how important its take a break and get some distance from what we are doing and allow ourselves to play and explore different paths. Lockdown allowed me to have that time again. I spent lots of time outdoors in nature which had become a safe space to meet people, rather than in a gay club. My own cruising experiences during Lockdown resulted in the 'Cruising Fantasies' series of vases, which I am still exploring.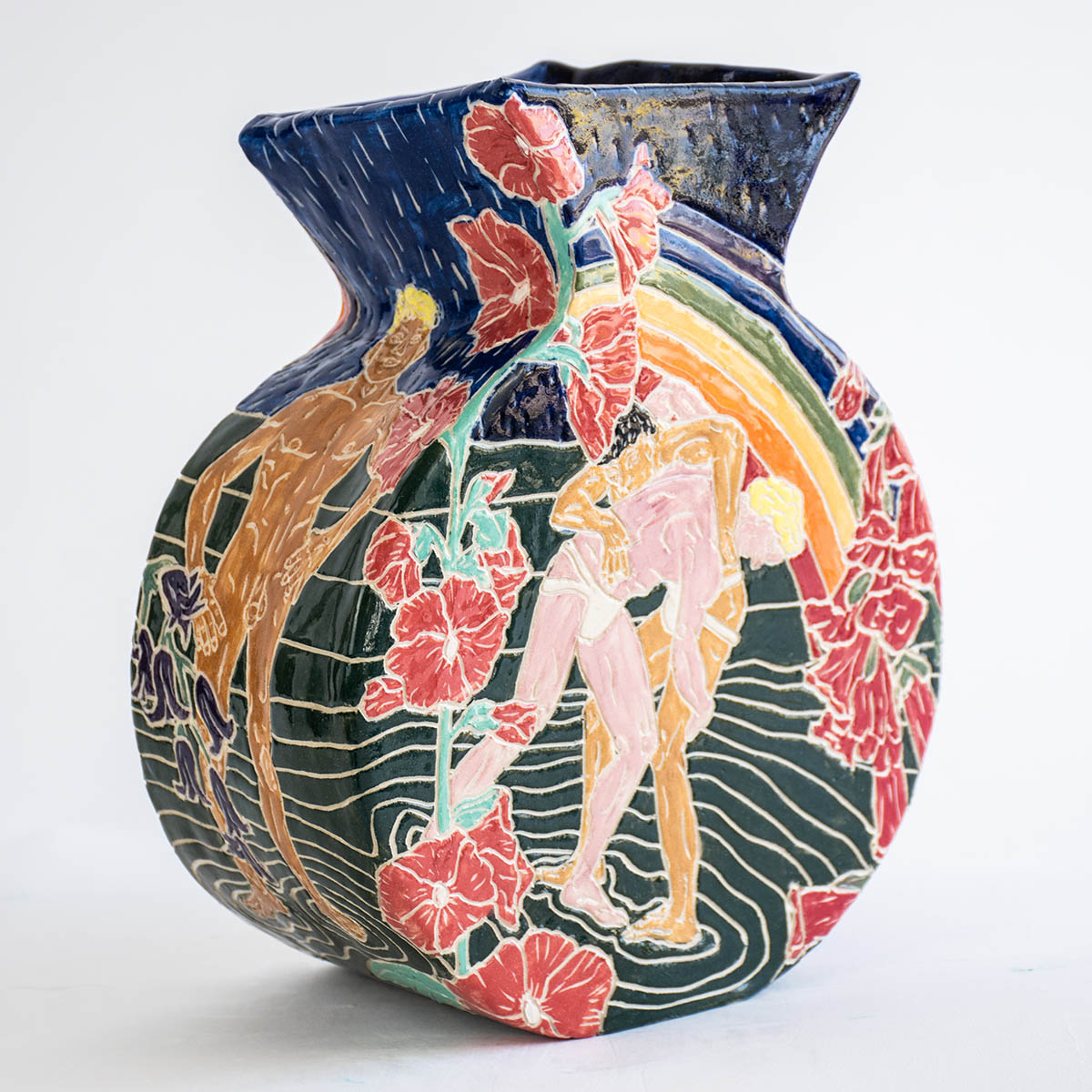 How do you start a project?
Recently I have been focusing on specific themes for my exhibitions. It's a slightly different way to working previously – now I want my vases to have a connection to each other, to form part of a cruising 'story'. Firstly, I draw the shapes of the vases on big sheets of paper and see how they will look together. For example, in my recent solo exhibition at the Anat Ebgi Gallery in Los Angeles, I focused on the idea of beaches and the movement of waves as a repetitive motif. Next step is to make those vases from slabs of clay. Once the vase is constructed, I do some quick sketches of the fantasy scene such as a wild jungle or quiet park where all the drama will happen. I use often my own photographs, images sourced online and pictures sent to me via social platforms by others gay men. It is like cruising but I go online and cruise the web rather than, cruising the forests or parks. A few decades ago, you had to visit actual cruising spots as the only way to meet somebody for sex. Now meeting online is anonymous and safer – collaging these images allows me to explore gay culture in 21st century. I transfer the image into still wet clay and then paint with coloured slips (liquid clay with pigment). The next step is to carve the outline of figures and their environment and how it fuses with nature. After a few days (sometimes weeks) I biscuit fire the work. After this, I glaze it with transparent glaze, then fire again at a suitable temperature. It's a long process to achieve the final results and there's always a risk that something will go wrong, crack or break. This aspect is both exciting and scary at the same time but every work is invested with emotion.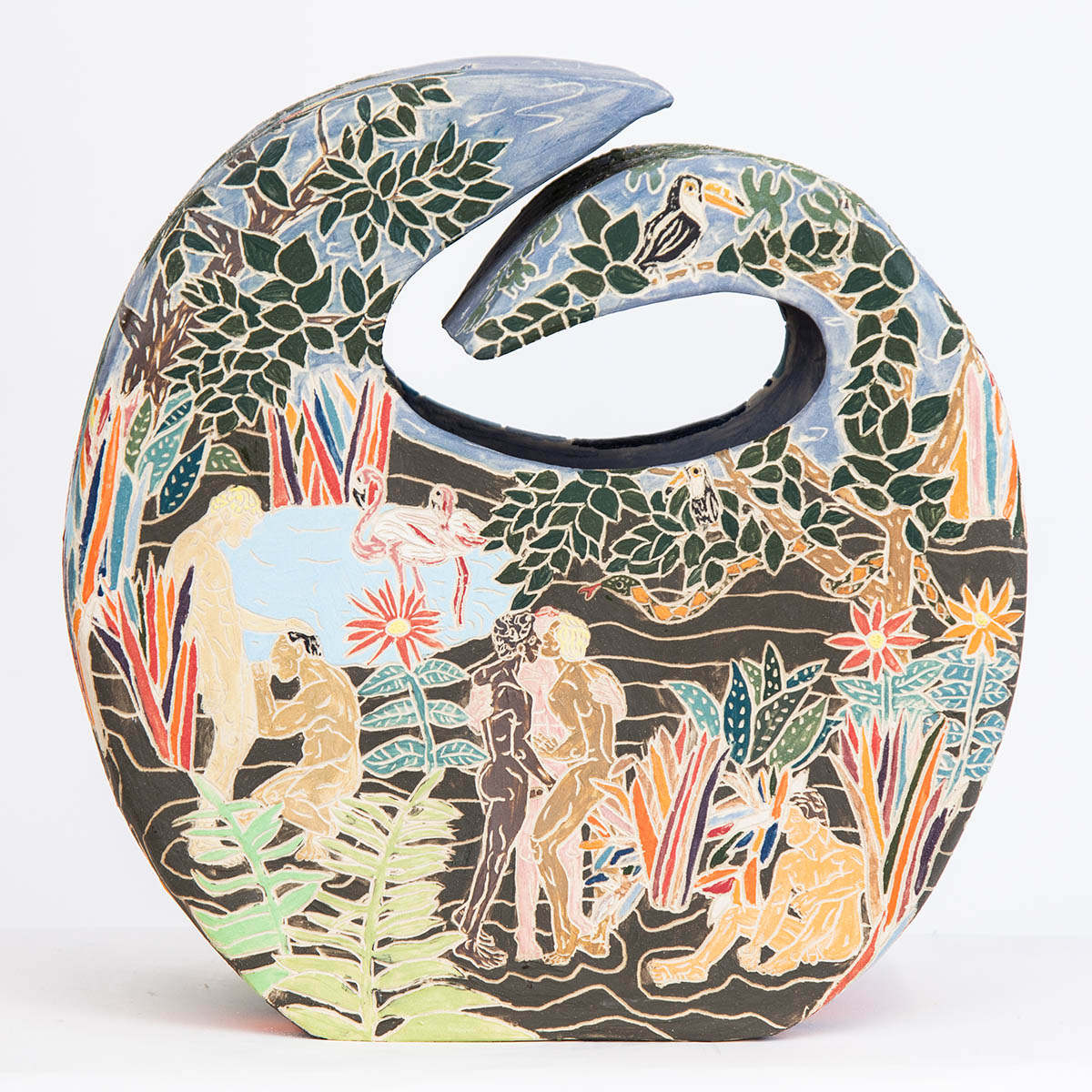 What inspired you to do ceramics?
Clay offers a range of possibilities – I can sculpt (making three-dimensional work) which gives a different perspective from a 'painting'. You have to walk around to explore the 'story' rather than seeing it all at once on a flat canvas. Probably the physical activity of exploration is the most exciting challenge for me – you never know what is hidden on the concealed sides of my work. I have to touch clay with my hands, get dirty and feel the material between my fingers – this tactile aspect draws me to clay. Touch was always been important for me – we can visualise objects by touching it, lifting it, sensing it's temperature – such information undoubtedly enriches the work beyond the merely visual. Ceramic also allows you to paint, draw and/or employ photography, so it presents a never-ending range of possibilities – I don't think I could get bored of it.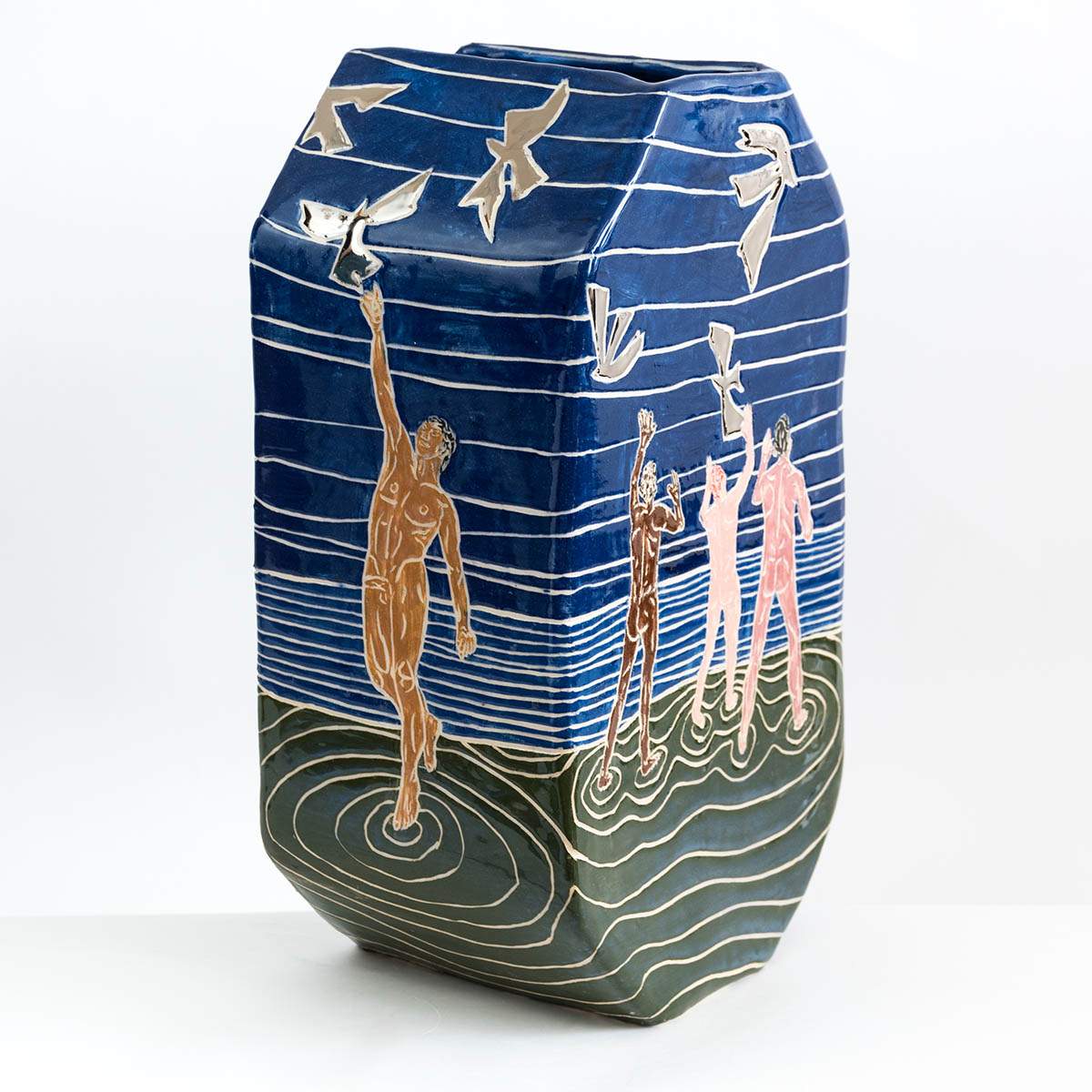 Where can people see your work? Where are you exhibiting right now?
You can find information about current exhibitions on my website or by subscribing to my email updates. At the moment I am showing my work in a few places: In the USA, I am represented by Anat Ebgi Gallery in Los Angeles and you can request a private view of some of my available work there. The Dallas Museum of Art acquired my 'Olympia' vase so hopefully, you will be able to see that piece there soon. In Tokyo, a few pieces are showing at the JPS Gallery in a group show (during July- August). In London, I am showing now at the 'Come Out & Play' exhibition (until 16th July) at Beers Gallery. Of course, I have my studio in North London, where I am happy to show you my work.
Tell us about your plans.
Currently, I am working on a solo exhibition with Taymour Grahne Gallery in Notting Hill, London. Due to open in September, it's a new direction for my work which is taking a lot of time but hopefully it will be work it. After that, I am planning holidays and some time in my studio in Poland to experiment with new black clay and fine porcelain.
Krzysztof Strzelecki – www.krzysztofstrzelecki.com