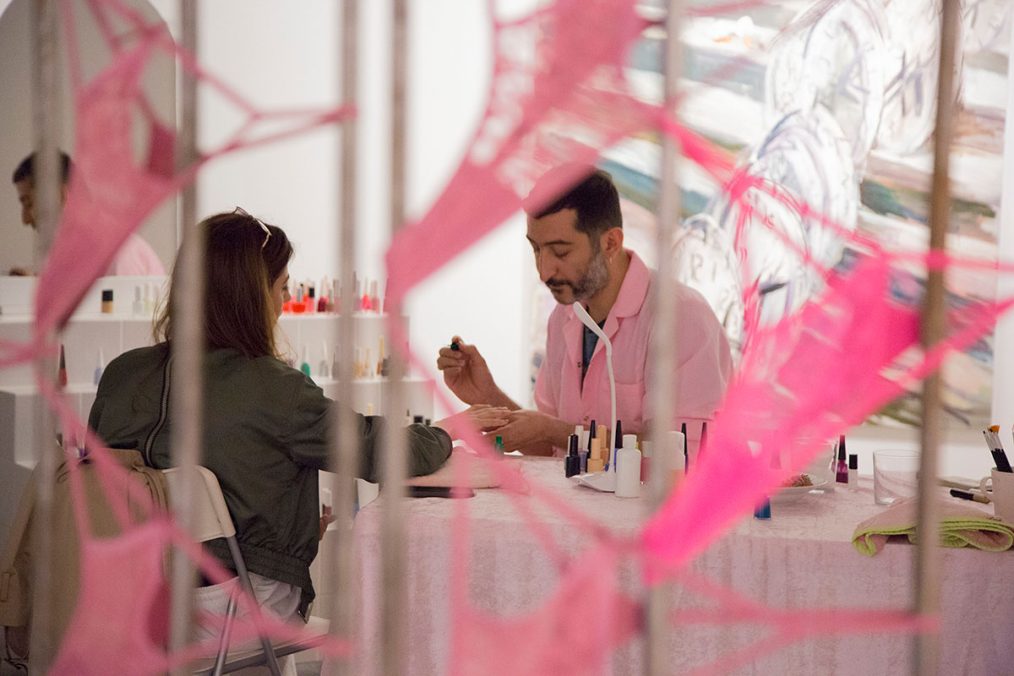 At times, Yilmaz´s expressionistic works have a dinstinctly diary-like quality to them, whereas in other paintings the place and time seem eintirely fictious and the precise subject matter more dreamlike than real. In broad terms, the works exemplify a desire on the part of a new generation of artists to engage painting once again and to deploy this highly personalized mode of expression in the service of a temperament that balances the political and the diosyncratic.
What's your background? Where does your enthusiasm for art come from?
I grew up in Trabzon and Istanbul, Turkey. I am in love with these two cities, they made me grow up with their architecture. I read the history of these two cities with great enthusiasm, and as I read, my horizons and perceptions as a young person broadened. My backstory, I think, contains many little miracles. My mother wanted me to study law so that I could sue my father in court. I was a diligent student in that direction, but very introverted, and unhappy. I had no idea about art, but I used to paint. My grandfather was a tailor; I sewed many clothes for Barbie dolls. I was obviously a feminine boy and was therefore excluded and often humiliated by the other children. My teacher at school encouraged me to apply for a high school that offered classical music and painting education. I will never forget what my art teacher told me then: people like me (!) would feel better in a world of art and artists. I believed her, passed the admission exam and started my art education at the age of 15.
What inspires you?
Other artworks, emotions, social reality…
What does your work aim to say?
Although I deal with themes such as identity and nature, as well as freedom, the works are not didactic, but create contradictions. The classical framework of painting, history and myth are juxtaposed with the subjective as well as with the contemporary politics. However, the main message and my dearest wish is to make everyone aware of the power of their own subjectivity.
In December you launched a book, can you tell me more about it? Where is it available?
"Theological Time, Mean Landscape, Circumcision Throne, Burping Bird, Auto-censure, Nose as a Walking Stick, Tare, Nite Smoking, W15, Dolphin with Woman and the Big Fish, Small Fish" this was my solo show held in June 2020 at Gallery Exile Vienna and the book is designed to document this exhibition Together with the graphic designer Ulas Ugur, we have decided to produce the book in a form of a leporello in order to give the impression of my installation. Borges' Chinese encyclopedia served as the book's godmother: like the animals, "Beasts of the Emperor, suckling pigs or frenzy" in the encyclopedia, the images here form the headings of an encyclopedia without revealing a methodological principle. The book contains an article by curator and writer Àngels Miralda and an interview with me by curator and art critic Necmi Sönmez, as well as work and installation illustrations. At the moment it is only available at EXILE Gallery, but can be ordered by me or PamPam publishing per mail.
How do you start your day? Do you have a daily routine?
I start the day by playing with my cat, then comes breakfast with online newspaper, then work. I'm actually a disciplined person, if I start a new painting it has to be early in the day, with a sober mind and a fit body, and nights are good to continue working on a painting. I always try to take as much time as possible for myself; the social nightlife often seems like a waste of time.
What do you expect from 2022? What are you working on?
First of all, I hope that my application for citizenship in 2022 will be completed in the foreseeable future. You may have heard that this is a process in Vienna that challenges people's patience. If it hadn't been cancelled, I would have been able to show my solo exhibition "Versatile" in Istanbul in March 2022. I would like to develop this exhibition project in another place now. Also, I have recently been thinking about the term "environmental refugees" and looking for a new iconography on this topic. Because the necessary preparations and investments are essential to avoid a "climate apartheid" for which the poor will pay. The painting below, "Snowmen" (2020, oil on canvas, 180 × 170 cm), is the first painting in which I have used snowmen as figures to illustrate the absurdity of national characters in the face of global warming.
Nazim Ünal Yilmaz – www.instagram.com/nazimunalyilmaz/