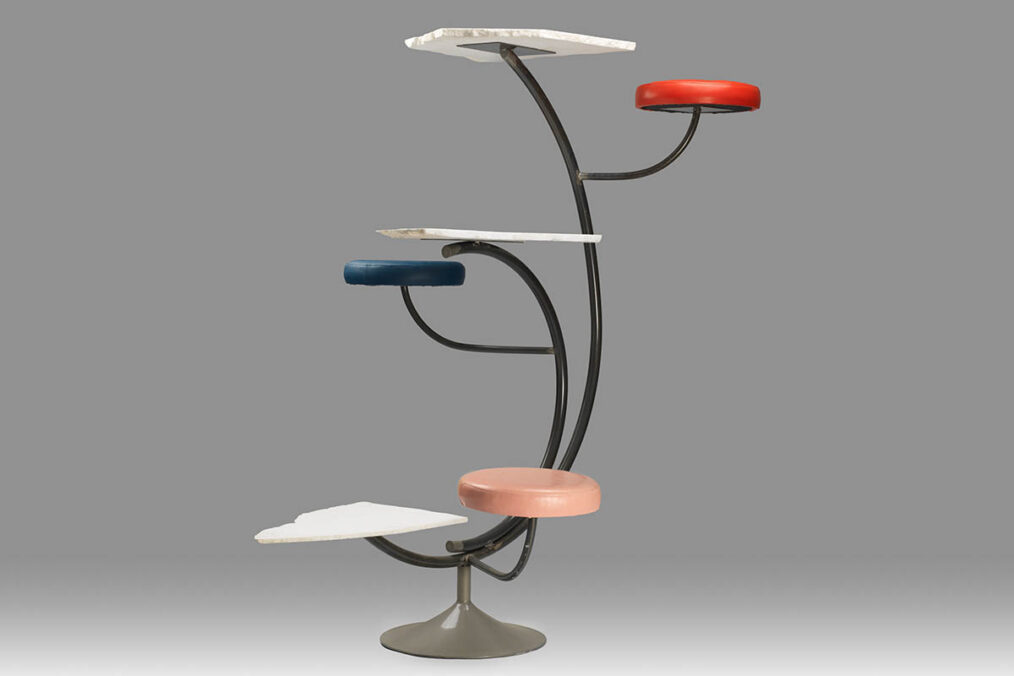 Erka Shalari: Speed, game, bars, how do themes you are investigating in your artistic practice arise?
Vasilis Papageorgiou: All the themes that run through my artistic practice derive from a sphere of personal interests and somehow relate to my everyday life. My work takes different forms and the issues that I touch upon can be very diverse, what interests me the most is actually the links and relationships between them and how each work takes me to the next one. In that sense, my entire practice takes a diary-like texture. The places and spaces that I look into are all points where we gather and where groups are formed. Those moments of resisting productivity and places where we feel exempted from work are in the center of my interest. I focus on how human forces interrelate with public space and buildings or places that hold the memories of prior human use, how we occupy space and how we live in and interact with the various environments.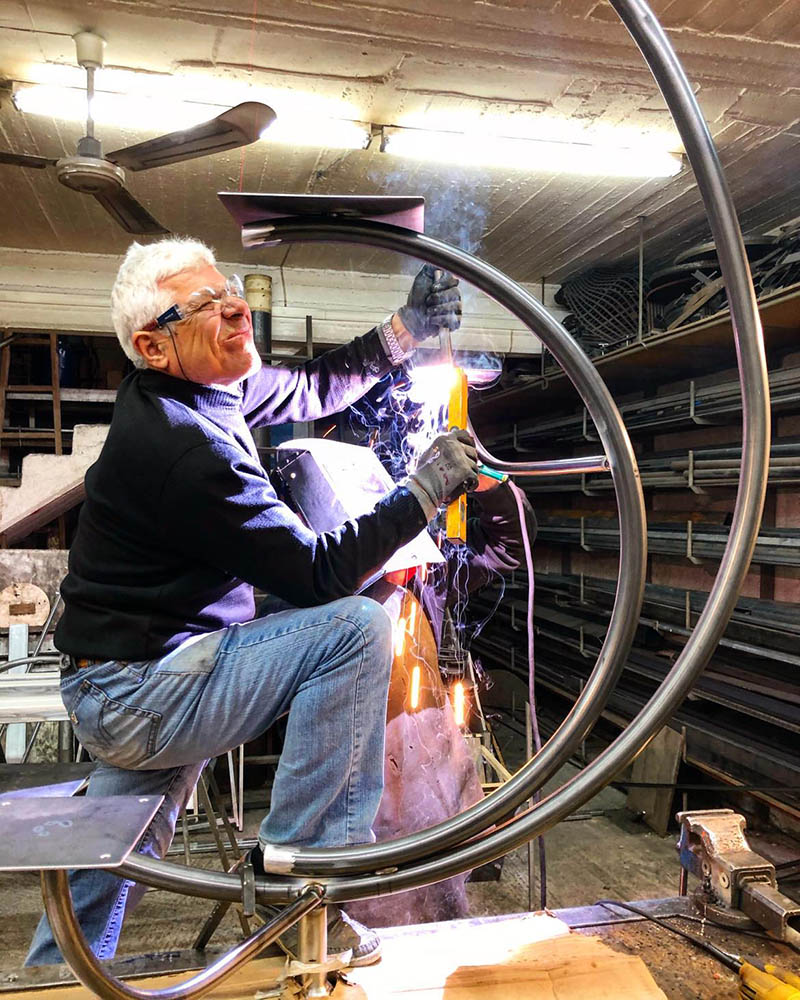 Tell us something about your routines. How important are they to you?
I spend long hours in my studio. I sketch, I draw, I read, I test new materials and ideas, and I also do all the administrative tasks that come with it. An important part of my practice is the people I work with, so my day often involves visits to steel and copper-plating workshops, foundries or marble suppliers. These technicians play a very central role in the way I understand the material and use it in my work, and are long-standing interlocutors for me. At the same time, since the city itself is part of my vocabulary, I like to devote her time. At the end of the day an artist's routine isn't that different from other freelancers, it's a constant negotiation of space and time.
How does it feel for you to travel for work, to have exhibitions abroad? Further, does the site play a role in your work?
As an artist, traveling for work means that you usually get to see the cities from an aspect different than the usual tourist experience. You get to visit from artist-run spaces to chain supply stores and from storage spaces in the outskirts to local art and crafts shops and private art collections. However, what is most important for me in order to understand and find my way in a new city is to spend as much time as possible in the public space.

My practice is very much tied to my studio, so I cannot say that it has a strong in situ element, but my trips and my experiences with different cities and spaces definitely exist in my works. For example, my series of benches carry elements from the park by my apartment in Athens, from the public space of Amsterdam where I used to live and from a small resting area in Lisbon that I visited and photographed a few years back. When my work travels, it is always exciting as the new surroundings and reads enrich the perception of my research. This is also why I like to work with recognizable forms. A jacket, a sunset or a bench, we all know what they are, we can all be part of their code but beyond that base, the personal or collective experiences, the system of reference and the imagery of each one of us can charge the objects very differently.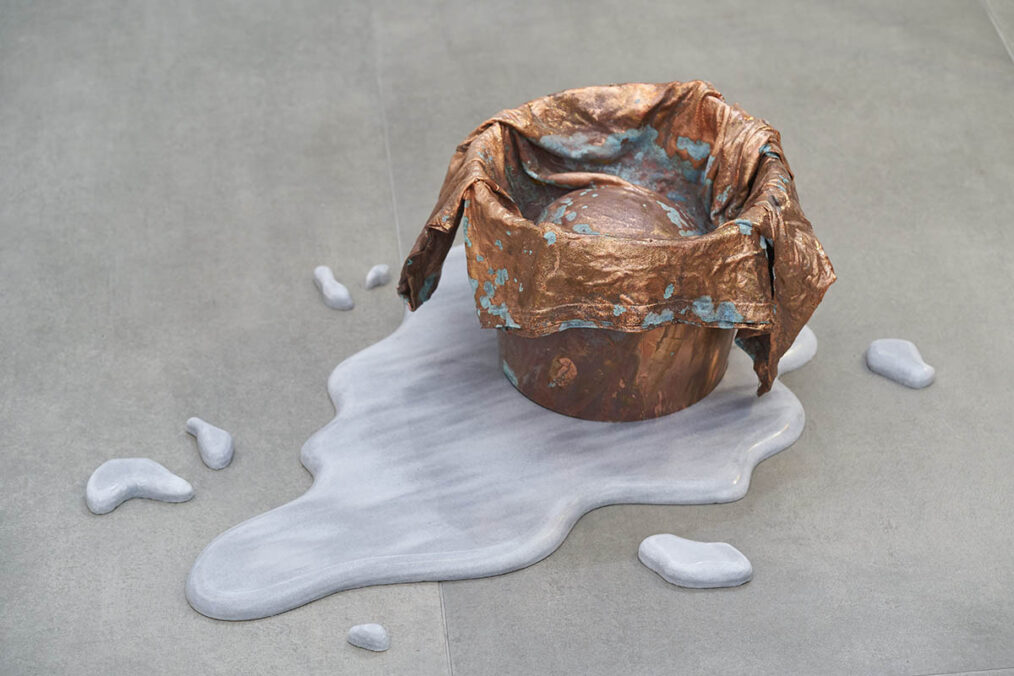 Michelangelo Corsaro, curator and writer, says in a text of him that your works go beyond simple installations. In them, he sees an almost cinematic look and atmosphere feeling. What do you think of that?
The word cinematic is very interesting to me. I like seeing my works as 'screenshots' or 'stills' from a film. A lot of people confuse the ceramic sunsets for photos of the sky. I like that. Not because I was hoping to be as realistic as possible in my representation, but because I am fascinated by this effort to capture constantly moving realities into frozen narrations. The clay of the sunsets is not going to turn black no matter how late it gets, my marble water drops are not leaking and nobody is coming back for the objects left on the bars or benches. I am interested in those paused moments. What Michelangelo Corsaro writes is on point as I am rarely making 'individual' works. I am always thinking in wholes, in environments. The installations I work on are cinema sets, assemblages of objects, feelings and sculptures that most of the time, require the presence of the audience, the body of the viewer in order to be complete. My works could translate into short poems, the first sentence of an unfished novel or a subtitle line in a movie scene.
Can you tell us something about Enterprise Projects? How does curating feels for you?
Enterprise Projects was founded in 2015 by curator Danai Giannoglou and myself. With Danai we graduated at the same time (2014) from the Athens School of Fine Arts. The project is housed in an old car repair shop which is also my studio. It's located in a residential neighborhood close to the city center. Enterprise Projects functions as an exhibition space and at the same time runs an online editorial initiative under the title 'Enterprise Projects Journal'. I am not exactly considering what I do at Enterprise Projects as curating, I see it more as an extension of my artistic practice, but yet again this is often what curating is.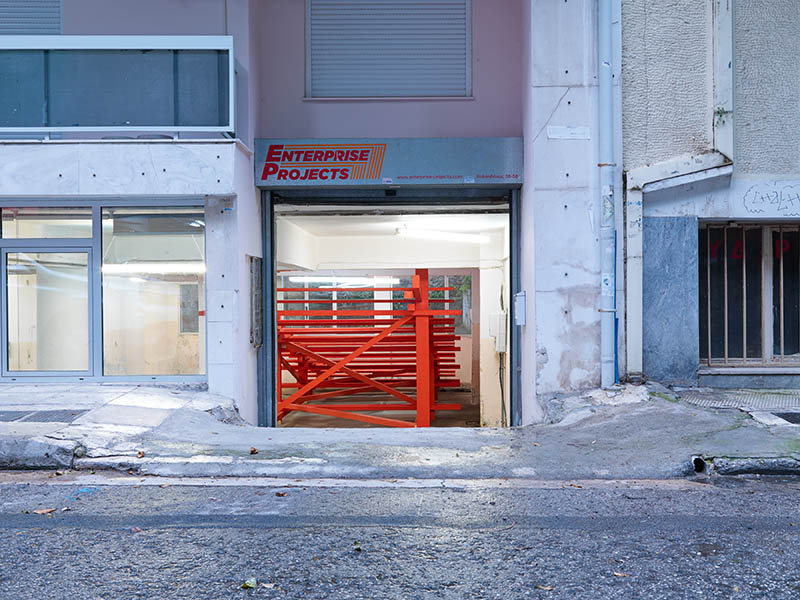 Why are people in art attracted so much from defunctioning places or non-places of the mundane? Thinking here about your videos Apothiki I and Apothiki III.
I think that the use of decommissioned spaces by artists is not necessarily a matter of attraction but more so a matter of circumstances and conditions. Derelict or semi-functional spaces are often what is available and affordable for artists. The aestheticization of ruins is a different thing that might be interconnected to the artistic reality but goes way beyond it. As far as the works that you mention are concerned, this is a good example of how I use video in my practice. Apothiki I (2013) and Apothiki III (2013) are static films of old collective grain warehouses from the central part of Greece which are now left to decay. I use film as a documentation tool, and through it am trying to safeguard moments that will be lost. The same goes for All as one (2021), a series of 3 videos shot in a football stadium the moment the fans are celebrating a goal. I am not going to argue that the momentary emotional outburst on the bleachers and the fifty-year-old toll that time takes on the grain warehouses are of the same temporality.
However, for me, there is something similar in these situations as for different reasons they will never be repeated, and so they become fragile. I wouldn't say that my films have to do with the documentation of the mundane, but more with the documentation of what is about to disappear.
After watching your work, I landed a day for hours in the world of Greece's marble industry, reading articles, watching advertising, scrolling company websites, and even enrolling myself in a newsletter. It was fascinating! How was in your case, what shifted your focus on this material?
Marble is a material that is very present in Athens. From entrances of buildings, hallways and floors to public sculptures and of course the Acropolis, marble is not only constructing images around us, but it is actually surrounding us. As with all of the materials that I use, I am interested in their inherent characteristics. Marble is strong and resilient, hence its use as a surface, it also comes with heavy connotations in relation to archaeology, history and monuments. All these elements are carried into my work.
How do titles emerge?
The titles are playing a very important role in my work. They are definitely vehicles to understand or a least dig further into the context of each piece, they are hints. My titles have a lot to do with time (19:44, I follow the sun as I follow my distraction, It's 2:00 am. I am spilling it. etc.) I want the audience to place the work or the show under a certain timeframe. This way, I feel like we are sharing context, maybe even time. The different times of the day are related to colours, temperatures, smells, and emotions and I like to trigger those with my titles. The timeframes that I choose are either referencing the moment when the work was realized, the moment that I would like it to be experienced ideally, or the moment I would like it to be imagined in. One of my latest series of works are the 28 ceramics 'tiles' representing sunsets. Each one of them takes its title from the time the sun set on the day that I finished the work. The title is referencing a different sunset than the one represented in clay.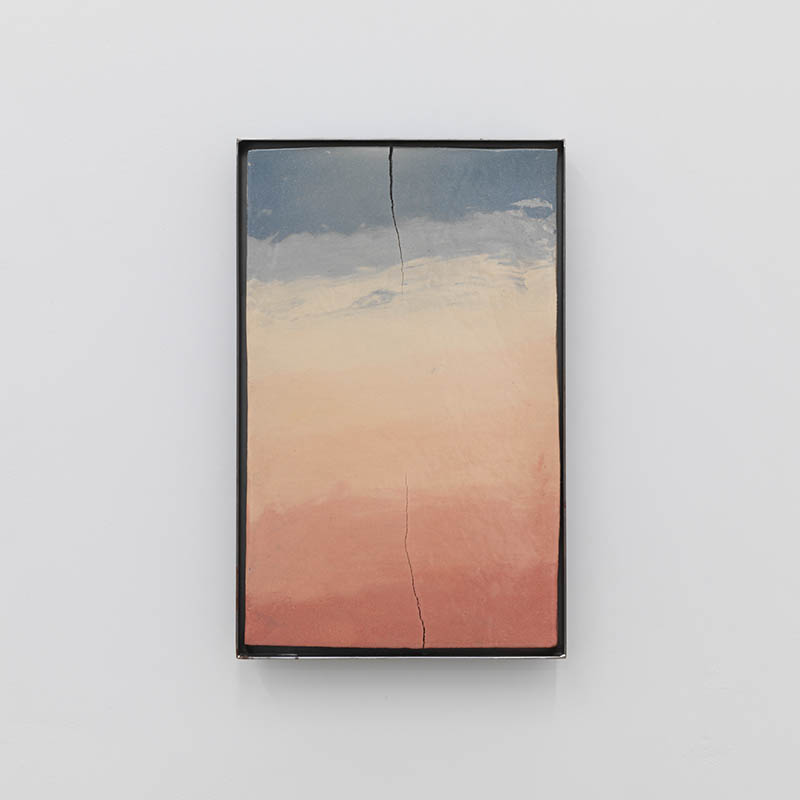 Your work Triple Bar makes one think a lot. The description says, "Papageorgiou goes back to Athenian bars where nightlife, the objects around it, the interaction of individuals, and the randomly formed micro-communities acquire a political character, creates surrealistic scenes where he allows multiple stories of encounters to unfold." Tell us something regarding this work.
This work is a continuation of the solo bars first exhibited in Moscow in the context of the Young Arts Biennale in 2018 curated by Lucrezia Calabrò Visconti and then presented at Hot Wheels in Athens as part of my solo show 'When the sun goes up: Bar stories in 3 acts'. With the triple bar, I am trying to create a three 'floors' space for three drinkers. The presence of all of them is needed for the bar to balance and function. It's a matter of coexistence. The form of the triple bar is very much inspired by the 3D chess of Start Trek. In my research into spaces of gathering, I consider bars as places where a fine line between loneliness and togetherness is being built. The collective presence allows for people to be alone, and because people are there alone a collective presence emerges. Bars can be places of lone togetherness.
Artists, that fill you with inspiration?
Most of my inspiration I think comes from literature, sometimes I get the urge to illustrate the books that I read. But I also feel that the Greek cinema of the 90s, as well as surrealism, are important references for me. I really admire the work of Nikos Hadjikiriakos Ghikas, Greek painter, and I also put Matisse at the top of my list. Then if I should mention some artists who inspire me a lot at the moment, these would be Camille Henrot, Jason Dodge, Michael E Smith, Cevdet Erek, Liz Magor, Thea Djordjadze and many, many more.
Find it intriguing the very last page of your artistic portfolio, it ends with the work The Fountain.
Yes, that's funny as it's also the only work I keep in the portfolio since when I was in art school.
Vasilis Papageorgiou – www.vasilispapageorgiou.com
IG http://www.instagram.com/vasilis_papageorgiou_v/
---
Vasilis Papageorgiou (b. 1991 in Athens/GR) is an artist working and living between Athens and Amsterdam. In 2022, he was awarded the Matteo Viglietta Award in Turin, Italy; in 2020, he was the recipient of the 1st Montani Tesei Award Under 35 in Verona and in 2019 received the 3PackageDeal by AFK in Amsterdam. Papageorgiou has presented his work at the 7th Athens Biennale – Eclipse (2021), at the Benaki Museum (2019), Stavros Niarchos Cultural Foundation (2019), MAXXI – the National Museum of 21st Century Arts (2019), 6th Moscow International Biennale for Young Arts (2018), Neon Organisation (2018), and BOZAR Brussels (2016) among others. His work is part of various collections, such as the Onassis Foundation Collection and the Collezione La Gaia; he is represented by UNA galleria. Papageorgiou is also co-founder of Enterprise Projects, an artist & curator initiative and project space running in Athens since 2015.
Erka Shalari (Tirana, 1988) is a Vienna-based art author. She focuses on discovering unique artistic positions, unconventional exhibition spaces, and galleries that have deliberately broken new ground in their working methods – https://linktr.ee/erkashalari