Working primarily in the field of screen printing, drawing, installation and book arts, Marinova uses a variety of materials such as fabrics, paper, transparent foils and wood as canvases for her screenprints. With such an array of surfaces, the only constant is the large scale.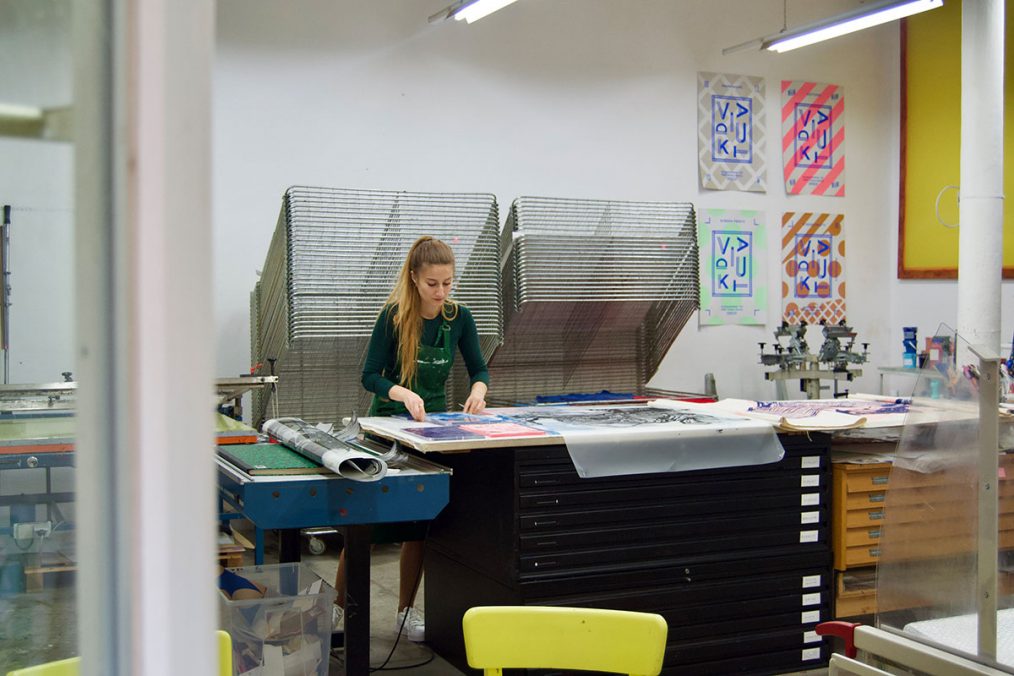 How do you start your work?
There is not a formula. I am a night type of person so for me the creative day starts after 4-5 pm – so that is sort of my morning. The beginning is always a blend between freedom and chaos plus rules and order. Line after line, the chaos is taking a shape and the order is beginning to look abstract. I repeat the process again and again, but it is never the same. Each artwork makes me feel like I am exploring my own mind. Each time it feels like I am diving in my own imagination and I don't know how long I will spend underwater. It happens to me often to feel like I have memories of certain things, places or images that I never experienced before, but paradoxically they are clear enough for me to be able to start a piece. I think that is the beauty and the paradox – there is always a certain direction, rhythm and norm, but I am keeping my mind (thoughts?) free, being able to turn the direction at each given moment and break the rules into small pieces and apply them again.
Each time it feels like I am diving into my own imagination and I don't know how much time I will spend underwater.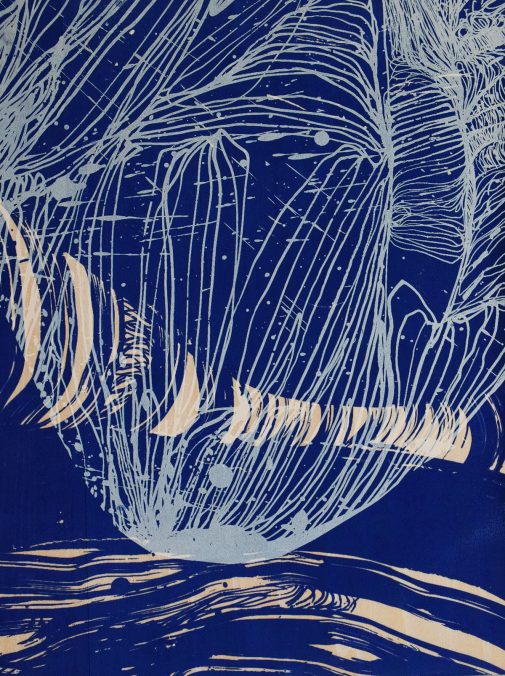 What different art techniques do you use? Why?
Mainly screen printing on different surfaces, drawing on paper, painting and installation. Separately or blending them together. I am still being super manual and I am drawing everything by hand. The bases behind each screenprint I create are big ink drawings on transparent film. They are always in real scale – no computers, no enlargements, no test prints. This is the most exciting part for me and there is definitely no room for doubt – once I mix my own colours and print the image, there is no way back. If there are some errors or if I made a mistake, like in life, I am trying to include them in the whole picture. The more different materials I use, the more I am being able to explore unknown corners of my imagination.
This is the most exiting part for me and there is definitely no room for doubt – once I mix my own colors and print the image, there is no way back.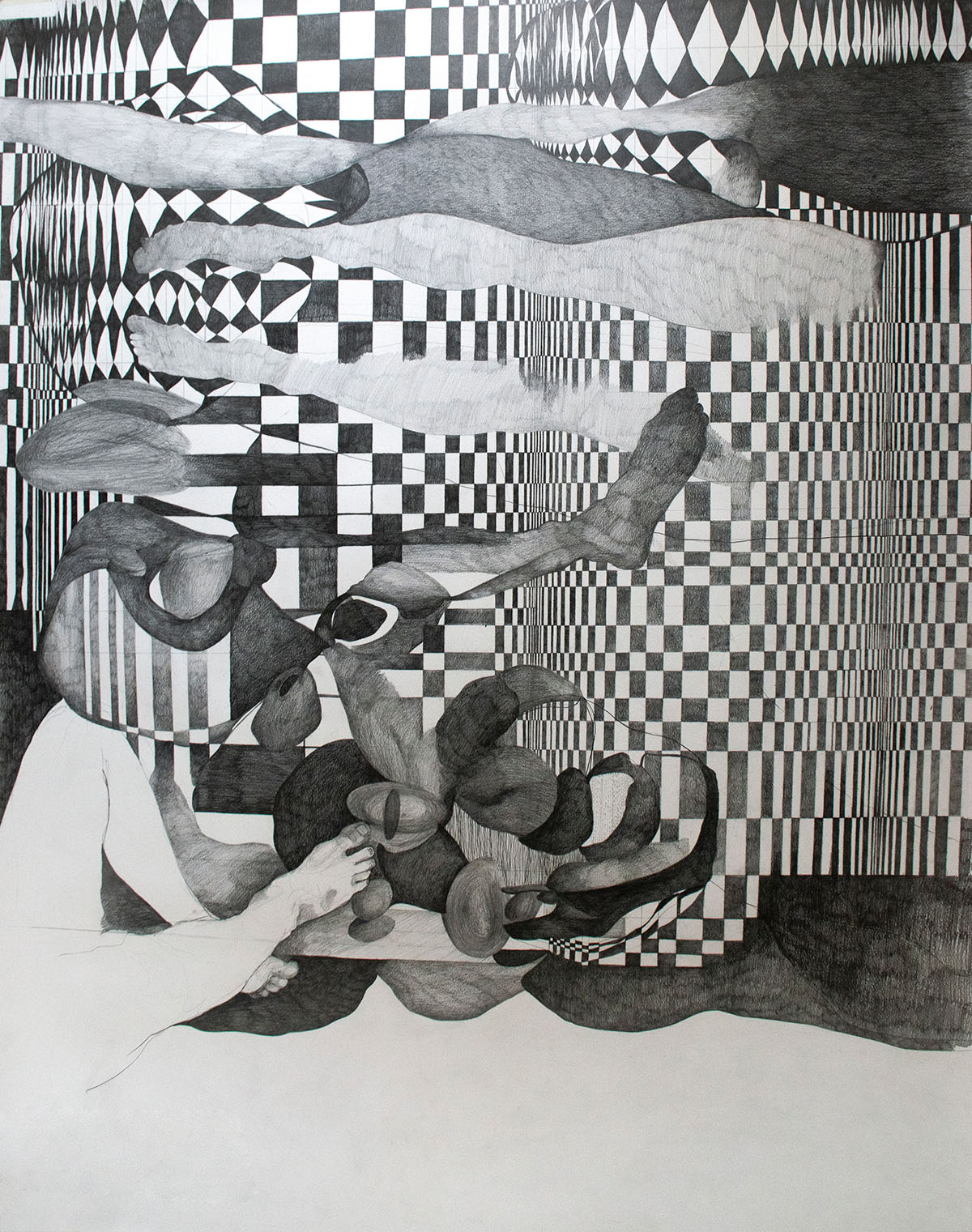 Your paintings are huge. Do you determine the format first?
The format is always big. It is the most natural and constant feeling I have. I am almost always putting the transparent films or the paper sheets on the floor instead of hanging then on the wall. On one hand that could be really comfortable, but on the other might be really exhausting, especially working on paper. Doing it for hours, trying to control my hands and body. The only small works I am making lately are usually print-fragments of a big images which are been exposed on a silkscreens.
Is the creative process a kind of relaxation for you?
Yes it is, but in a weird way. I am observing everything around me, myself included. I am often finding myself thinking about so many things, it seems like I am wrapping the space around me with my thoughts. After this imaginary act my mind is being somehow empty and I am continuing the creating process. It is definitely a strange feeling, but I'm always finding my balance in between.
What do you like most about Vienna? Do you have a favourite district?
The size of the city and its geographical position. The mixture of people and cultures. The contrast between the different districts. Favourite district: I will pick up maybe 6th, 7th and 4th.
What are you working on right now? Do you have an exhibition in planning?
I havе а solo exhibition opening this week with Galerie Rudolf Leeb called SOFT-BOUND. On view will be my latest big pencil-drawings on paper and unicum screen prints on small plexiglass plates. I am working on big project which I have been planning for couple of years. I hope I can release it soon. Let's see.
Zhanina Marinova – www.zhaninamarinova.com