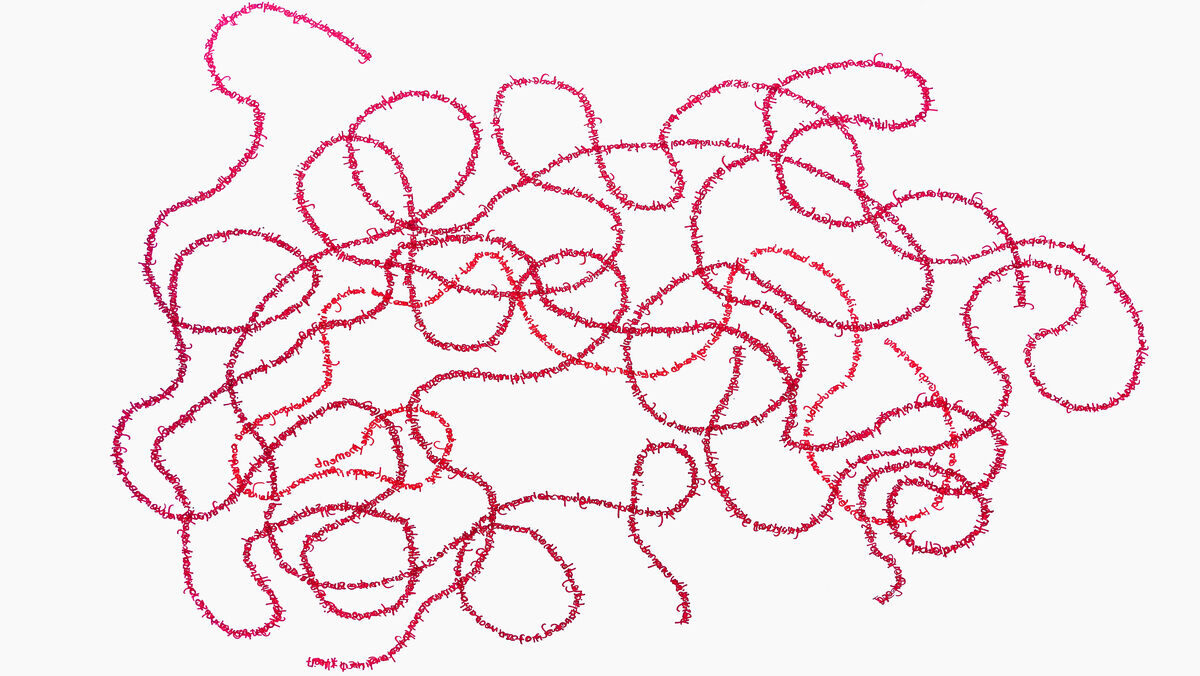 Our subjective perception of time, however, is completely different: minutes can feel like a never-ending eternity and an hour can pass as quickly as the blink of an eye. Even the impression of timelessness is familiar to us, for example when we lose all sense of time while lost in thought.
River of Thoughts – this is how Lerato Shadi has titled the series of her new works. At first glance, the river as a metaphor for the flow of our thoughts may correspond to an even and linear understanding of time. Looking at the new paintings, however, a different consciousness becomes clear. Meandering lines cross the canvases and sheets of paper. They turn out to be bands of writing that the artist applies directly to the picture surfaces with red markers – and which remain indecipherable to us. Her writing technique is based on overlapping characters: After the artist has applied the letters in learned writing from left to right, she mirrors the writing and traces it again in reverse form and direction on the same writing track.
The bands of letters draw circles and loops, they cross each other, concentrate in some places, while other areas remain largely blank. Doesn't this offer a completely different approach to time than that of a linear flow? In a cyclical conception of time, the recurring moment becomes more important than the passing one. Every morning the sun rises again, the seasons return in the same order, and every low tide is followed by a high tide.
Much of nature is organized in cycles, including aspects of our bodies and being human itself. Our story, however, we usually try to tell in a linear manner. In her paintings, Lerato Shadi creates a different form that argues for leaving the path of linear narratives. While writing, here conceived as a performative act, the artist continually moves around the picture surface, changing the direction of looking and writing. Concepts such as beginning or end become less important here, while perspective plays an increasingly important role.
Different strands intersect and in some places form condensations, like a song that swells and then subsides. Then again empty spaces, like undescribed fields of the earth's history or a silence around what has long been forgotten or concealed.
Several loose beginnings and endings can be found on the surface. A canon has not only one beginning, but many – and it can be sung endlessly. It is the circular song.
Tsela di Matlapa is what Lerato Shadi called this exhibition, after a South African folk song that was often sung in her family. Translated, it would mean something like "It's a hard road," but that plays as minor a role as the content of that writing, which is no longer legible. Even before we can understand the meaning of lyrics, and even if it never fully reveals itself to us: The melody, as well as the way of singing, transports its own level of meaning, which remains independent of semantics.
Each line of writing that Lerato Shadi has applied to the picture surface here, she has rewritten a second time – mirrored and backwards. The idea of revising histories – and history in particular – is not new, but it remains virulent. Only slowly is an awareness emerging in the broader social field to question narratives in terms of their narrative perspective. From whose point of view are history books written? Whose history is told there, and from what point of view? Who writes and who is merely described, who acts and who is merely treated? And who is missing? Lerato Shadi here also raises a critique of the written form as a strategy for conveying knowledge and history. Texts have their pitfalls: once written down, they always detach themselves a bit from their authorship. In a field that claims neutrality and strives for objectivity, this circumstance is problematic: a text always remains a subjective account. An awareness of this is the prerequisite for critical reading and, consequently, for independent thinking and reasoning.
Her video work Mabogo Dinku, which can also be seen here, focuses on a different form of expression. With her hands, the artist forms gestures, accompanied by the singing of a South African folk song. Some gestures are universally understandable, others leave room for different interpretations. The screen splits, and the visible hands seem to react to each other. A plot unfolds, and it remains open whether one's interpretation of the gestures corresponds to the narrative intended by the artist. Neither the title of the work nor the song are translated by her into English or into any other language dominant in Europe. What can also be read as a commentary on the marginalization of the South African language during the apartheid regime (and beyond) is at the same time a universal reference to the peculiarity of culture and language, which goes far beyond the written and purely lexical. A language is characterized by certain images, by its own metaphors and allegories, which have been culturally formed over a long period of time and are primarily passed on orally, in stories and songs. If a foreign language becomes primary, more than just a vocabulary gets lost.
In the overwriting of letters, in rethreading backwards what has already been written, the attempt to revision becomes apparent. Can we walk back along the path of what has been handed down and reevaluate what has happened? Can we add new narratives – or at least new perspectives – to the stories? The idea of "unlearning" is a notion that is currently relevant for good reasons. It means the conscious unlearning of internalized structures, hierarchies and patterns of action. This unlearning is preceded by intensive awareness: What norms have we learned, what behavior have we been taught, and what conventions do we unconsciously follow? These questions arise with regard to our own personality as well as for entire societies. Unlearning is not the same as forgetting. Perhaps it is even the opposite.
Notes:
1. The gallery is additionally open for extended hours on the weekend: Sat, 09/09 from 12pm-1pm and Sun, 10/09 from 12pm-6pm. On Saturday 09/09 at 4 pm, there will be an Artist Talk between Lerato Shadi and Nadine Henrich (Curator Berlin/L.A.), accompanied by coffee and cake.
2. Don't miss the new works by Munich artist Patrick Ostrowsky, which will be displayed in the project space of the gallery "Park". The artist deals with the transfer of urban structures and strategies of temporary architecture to sculpture. His new group of works addresses issues of representation and the notion of inside and outside, and references the domestic world and the concept of the homely.
Exhibition Duration: 09.09. – 21.10.2023
The exhibition is part of Various Others 2023 https://variousothers.com
In collaboration with blank projects, Cape Town https://blankprojects.com/
Address and contact:
Britta Rettberg Gallery
https://brittarettberg.com
Gabelsbergerstraße 51, 80333, Munich
---
Lerato Shadi (* Mahikeng, lives and works in Berlin) studied visual art at the University of Johannesburg and earned a M.A. (Spatial Strategies) from Weißensee Academy of Art Berlin in 2018. She received the Alumni Dignitas Award from the University of Johannesburg in 2018 and in the same year Shadi was a fellow of the Villa Romana-Prize in Florence, Italy. Her works have been shown internationally in numerous solo and group exhibition, i. a. in the Bundeskunsthalle, Bonn (2023), Kunstmuseum Wolfsburg (2022), at the Palais de la Porte Dorée and in the Musée d'art moderne both in Paris (2021); in solo shows at KINDL – Centre for Contemporary Art, Berlin and at Kunstverein in Hamburg (2020); during the 14th Curitiba Biennial in Brasil and at SAVVY Contemporary, Berlin (2019); Kunsthal Amersfoort in Holland, Zeitz Museum of Contemporary Art Africa in Cape Town (2018); Her video work Mabogo Dinku was part of the Artists' Film International programme 2020, organized by Whitechapel Gallery London, and presented in art institutions around the globe. In March 2022 her monograph was published with Archive Books, Berlin. Lerato Shadi's work challenges common assumptions to critique Western notions of history and make visible that which is invisible or overlooked. Working across video, performance and installation, and often employing repetitive processes, she argues the importance of centering – not just including – the marginalised body as a main figure of narrative experience. By placing herself at the forefront of her work, Shadi deals with the politics of cultural erasure and structural exclusion. She states: "It serves to challenge myself, and hopefully my audience as well, in how I/we are complicit in the violence of historical erasure by not fighting for a more inclusive and accurate historical narrative. I realised that – by just blindly or lazily accepting an inaccurate history – I would be sanctioning the problematic dominant narrative with my own inactivity".
Johanna Adam works as a curator and personal assistant to Rein Wolfs at Bundeskunsthalle Bonn. She studied art history and history and worked at Kunsthalle Fridericianum and at documenta 13 in Kassel. Adam also publishes texts for various magazines and media such as Kunst + Unterricht and works on curatorial projects.
BRITTA RETTBERG is a gallery for contemporary art, based Munich's Kunstareal. It was founded as a platform for contemporary art in 2017 and started to work with represented artist in 2019. The gallery presents artists of the gallery and guests in six solo exhibitions as well as curated group exhibitions a year. BRITTA RETTBERG focuses on a broad spectrum of artistic approaches and represents an international program with an emphasis on emerging artists. For each exhibition, the gallery places particular emphasis on a content-related positioning of the artistic practice within contemporary discourses.
VARIOUS OTHERS is the international format of the Munich art scene. Its most ambitious players—galleries, artist-run spaces, and institutions—invite you to get to know the city's most important art venues in all their diversity. In collaboration with international partners, VARIOUS OTHERS offers artists, collectors, curators, gallery owners, and art enthusiasts from all over the world contemporary art of the highest quality and relevance. With its splendid kick-off during the second weekend of September, VARIOUS OTHERS heralds the start of the fall art season and is a fixed event in the international art calendar. With its up-to-date, varied, and high-quality program of exhibitions and events, VARIOUS OTHERS promotes the visibility of Munich as a vibrant art city. Through their partnership concept—galleries and artist-run spaces invite partners to jointly realize exhibitions. During four rich weeks, VARIOUS OTHERS invites guests and friends to experience great sites of contemporary art in Munich and get to know the artists who work here—and thus discover new things. VARIOUS OTHERS is a format hosted by the association VFAMK e.V. The association for the "Förderung der Außenwahrnehmung Münchens als Kunststandort" (VFAMK) is a non-profit association aiming to improve international awareness for contemporary art in Munich. All participating VARIOUS OTHERS venues are members of the VFAMK e.V. association