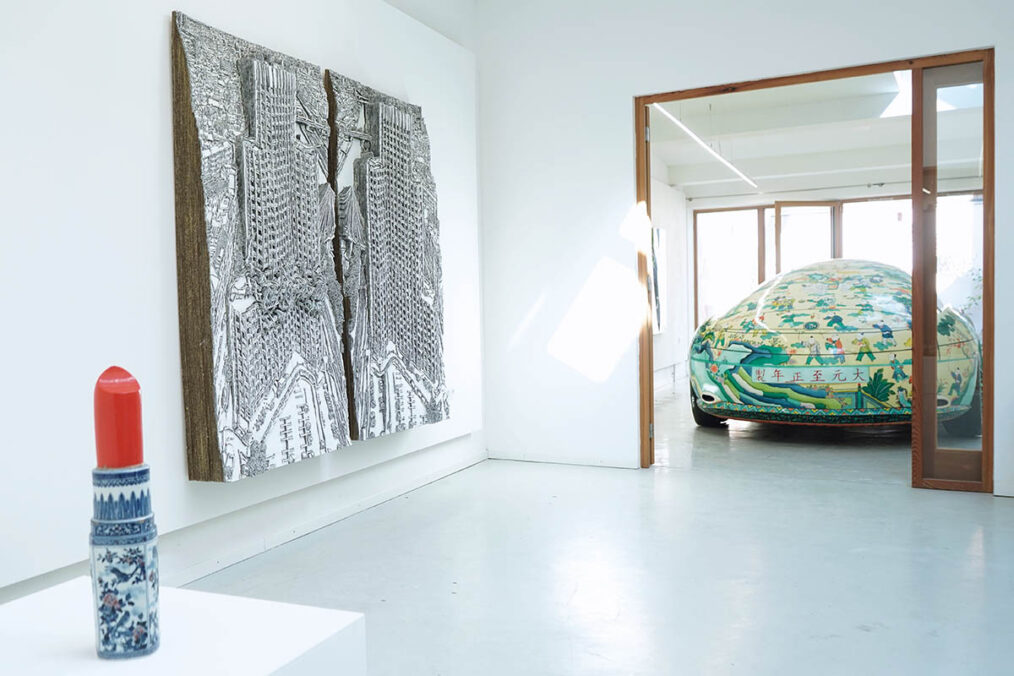 The American critic Christian Malycha observes: "The starting point of Ma Jun's New Porcelain series is the doublespeak 'New China'. On the one hand, it implies a large number of unresolved conflicts to which 'New China' refers; on the other hand, 'New China' suggests how 'New Porcelain', i.e. the development of Chinese reality, is to be confronted: by confronting the meaning of traditional Chinese culture. Both meanings underpin this series of works, reflecting the reality of China and taking one of China's oldest art forms back to the 7th century AD in a contemporary way. Ma Jun's re-appropriation lavishly exploits the sluggishness of industry and strips porcelain of its commodity value; it ceases to be an everyday object and instead allows porcelain to become an object in its own right. He uses sculptural techniques to transform porcelain into a work of art, revealing its full value in its own right before the eyes of the viewer.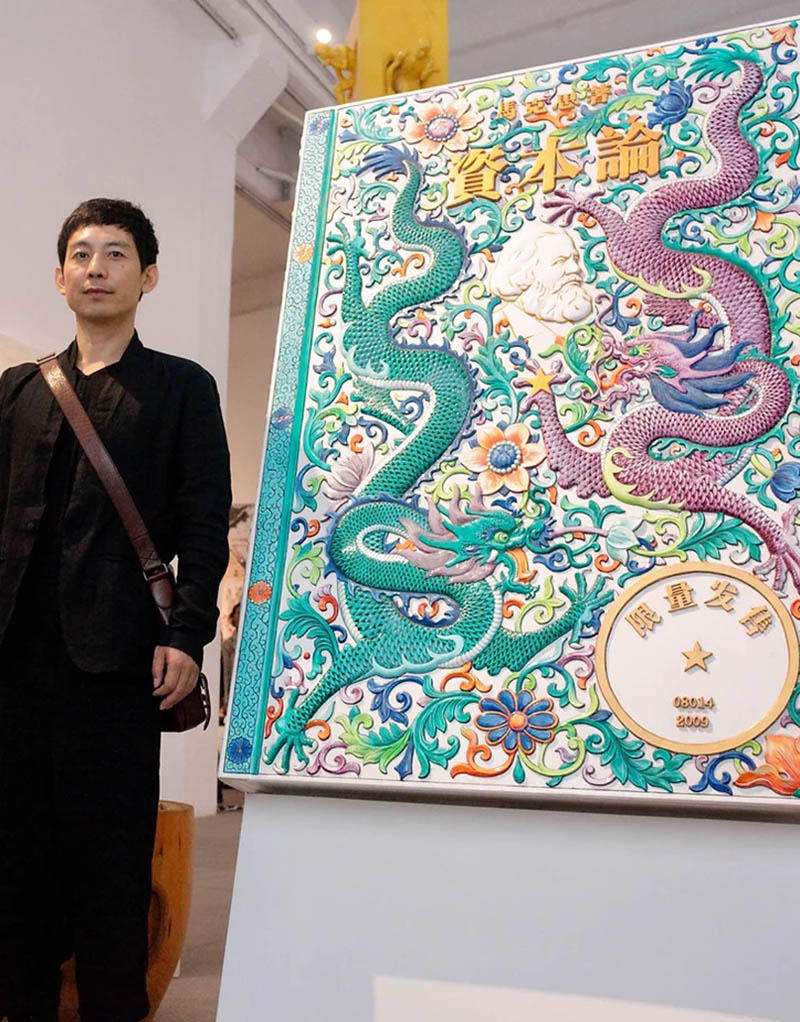 However, in the process of transformation, he skilfully utilises an interesting method of revaluation, using exquisite glazes and exceptional antiquing to create ambiguous objects that represent desire, objects that represent the fetishism of Western culture, which may be prestigious sports cars, or designer perfume bottles, or other consumer goods (such as lipstick), or objects of technological achievement such as record players and televisions, or symbols of The drink of the 'Free West': Coca-Cola.
What's your background?
Shandong Province has always attached great importance to culture since ancient times, and Qingdao, as one of the most important cities in Shandong Province, pays great attention to cultural construction. The entire city has been deeply influenced by Europe, especially Germany, and has done a good job, especially in the artistic training and cultural exchange of young people, so I am grateful for my educational experience. All the way from primary schools, junior high school as a special art student, to professional training at an art high school, to admission to the Central Academy of Fine Arts for undergraduate and graduate level studies, and finally to teaching at the Communication University of China.
Choosing art and taking up the path of an artist seemed to be a natural progression, teaching as a university teacher and creating art as an artist, both of which I am passionate about.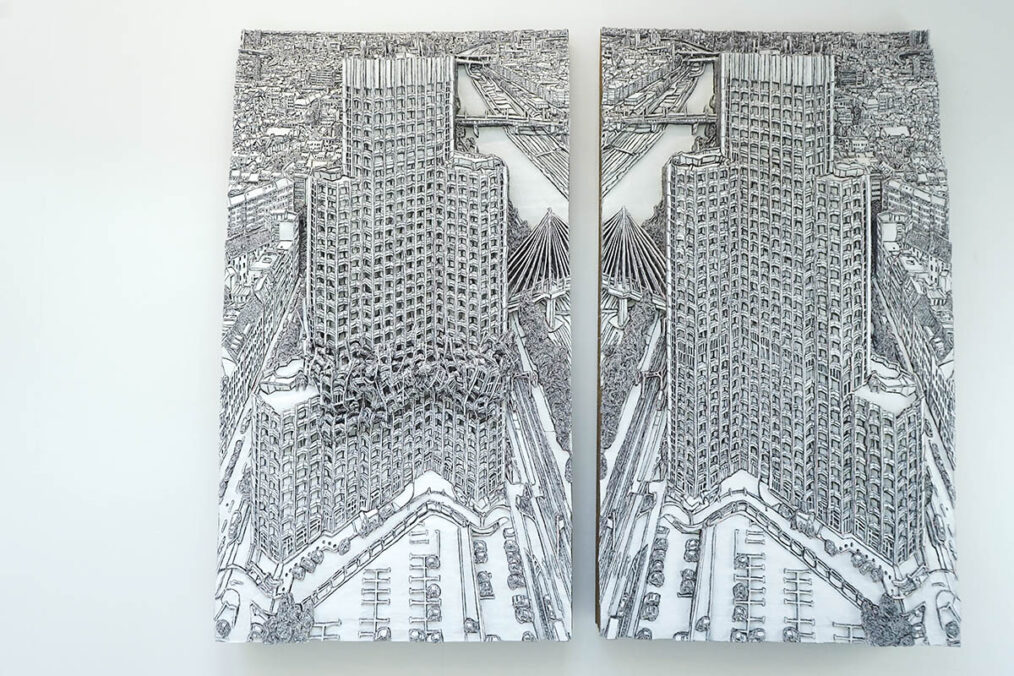 What do you associate with porcelain? What does the material mean to you?
I became involved with porcelain materials through a piece of work I did in my second year of postgraduate studies – 'A clay act about a car'. In 2002, a Buick concept car with a price of $30 million was exhibited at the Beijing International Automobile Expo, which gave me a huge shock at the time. First, it was dramatically expensive; second, the car was made for the Chinese market and there was only one in the world; third, people had an eager look in their eyes. At that moment, I realised the power of capital, or charm, which is very material, metaphysical, and at the same time has an irresistible appeal. I thought that since there was only one in the world, I could make an extra one out of it in an artistic way.
Then I spent about four or five months sculpting the car in clay, replicating it from a pile of mud, the whole process was a performance. At the end of creating a clay sculpture, the clay needs to be transformed into a hard material. From the perspective of material language, the car is a representative product of the globalised, modern Western civilisation, which advocates speed, power and symbolises hierarchical status. Porcelain is a representative product of the earliest globalisation in China and the world, which advocates stillness and elegance and also symbolises a hierarchical status when it is exported to the world.
From a Chinese perspective, the car is an input from the outside and porcelain is an output from the inside, there is a correspondence between porcelain and the car, therefore, porcelain became the ultimate material I chose for this work.
Where does inspiration come from?
Porcelain is not only a sculptural material for me but also has its own cultural significance. Porcelain is an important contribution of classical Chinese civilisation to the world, and the whole process of making porcelain is a reflection of the relationship between Chinese people and objects. Before the discovery of Kaolin clay, only China could produce porcelain, and in Europe, because of the inability to imitate high-quality porcelain, "Chinese porcelain" was called " true porcelain ". In the 17th and 18th centuries, Europe's obsession with Chinese porcelain once formed a "Chinese Fever" which had a profound impact on the West at the time in terms of aesthetic taste. For modern China, along with reforms and opening up to the world, the continuous inflow of modern Western consumer goods has also profoundly influenced Chinese society and produced a distinction between "imported" and "domestic" quality, which on the surface appears to be a material level of integration between Eastern and Western cultures. In fact, what lies behind this is a very different cultural view of nature and the world.
How do you create your work? What is the biggest challenge?
In 2005, I went to Jingdezhen to work in residence, examine the cultural ecology of ceramics material in the field, and create the first works in the New China Series. Jingdezhen has a history of porcelain production of approximately 1000 years, during which time it has never been interrupted, and is known as a centre of porcelain production worldwide. Jingdezhen was previously known as CHANGNAN, and some even believe that CHANGNAN is the reason why CHINA got its name. What I see here is a magnified relationship between people and consumption. Although Jingdezhen was full of porcelain, people were longing to get rich as fast as possible, to have money to build houses and buy cars. On the one hand, people are trying to establish some sort of connection with traditional culture by imitating antiques; on the other hand, there are legends of people getting rich from the successful sale of a fake antique. Jingdezhen, the porcelain capital of the millennium, is a microcosm of the whole of China, where people are on the road to modernisation and marketisation, and after wealth, there is a void and emptiness in both spirituality and faith.
My "New China Series" is the outcome of this reflection, not to imitate something that already existed in the past, but to make the reality experienced now back to the old times. It does not matter whether it is true or not, it is just a reality that exists. The biggest challenge is that this kind of porcelain has never existed before, and it needs to be designed in a new shape, while the whole process of making porcelain needs to follow exactly the ancient method so that it looks like a real antique.
What does your art mean to you?
Art for me is my relationship with myself and the world, it is a way of life and a way of thinking. On a more general level, it can record or represent an era; on a more specific level, it can be used as proof that I have existed, sensed, and thought. Whether the value of the work is ultimately greater or lesser, this should not be the purpose of the artist's work, nor can it influence him or her, all the artist can do is to speak with his or her work, to record and witness it.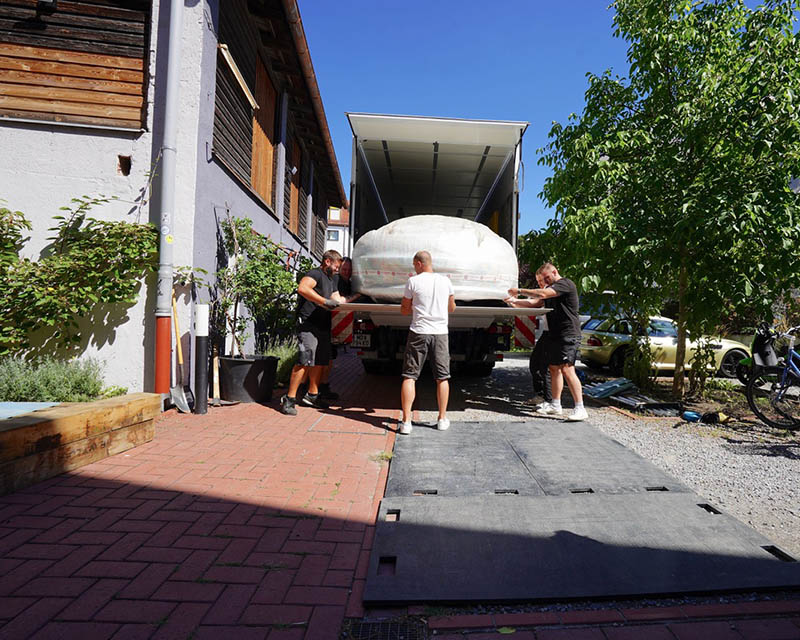 BMCA (Blue Mountain Contemporary Art) is working with you on an exhibition in Munich. What will you show there?
BMCA is an Israeli art foundation with whom we have collaborated for many years. They are very attentive to the development of Chinese contemporary art and have done a lot of work in the promotion of exhibitions, academic seminars and documentation of Chinese contemporary art. We are very grateful to them for their courage in doing solo exhibition projects for Chinese artists abroad when the pandemic is not completely over.
Of course, it is a pity that, the Chinese customs entry and exit declaration of artworks is not supposed to be very smooth at the moment, so the works in this exhibition are all from a selection of my works from the BMCA collection in 2017.
Have you ever been to Vienna? What do you know about the city?
I visited Vienna once in 2014 for the exhibition "The Future is the Past – In Search of a Chinese Portrait", organised by the BMCA at the European Times Centre in Vienna. Vienna is very well known in China because of its association with music and its romantic and beautiful atmosphere. The last time I was in Vienna was during the Christmas season and I was really impressed by the wonderful feeling of the city, the Christmas markets, the Christmas wine, the spectacular palaces, the top art galleries and so on. A friend who lives in Vienna was proud to say that Vienna is the most beautiful city in the world, and I believe he was right.
Would you like to greet someone else?
I would like to take this opportunity to once again express my gratitude to the BMCA collection for hosting this exhibition. To Mr. Ofer Levin, the owner & founder of BMCA, and to Gedaliah, the head of the collection, for their continued support. I would also like to thank Alexandra Grimmer, the curator of this exhibition, to Nitzan Unger and Jonathan in Vienna, and to all the other staff, for all their efforts in making this exhibition a success! I sincerely thank you.
Exhibition: MA JUN "TRUE PORCELAIN" Munich Encounters with Hubertus Hamm, Felix Rehfeld and Martin Spengler.
Curator: Alexandra Grimmer
Exhibition duration: August 12 – September 13, 2022
Address and contact:
PFEUFER38
Pfeuferstraße 38, 81373 Munich
More informations about the exhibition
Ma Jun – www.bmca-art.com/ma-jun
---
Blue Mountain Contemporary Art (BMCA) is a collection of contemporary Chinese art based in Vienna. Since its foundation in 2013, the BMCA defines itself as part of China's dynamic art scene, maintains close contact with its artists and focuses on works that critically engage with their time and surroundings. The aim is not to witness passing trends but to acquire and cultivate unique works with a long-term impact. Since the BMCA Collection moved its headquarters from Beijing to Vienna, its focus has been on making its works visible in international projects. The continuous presence of current Chinese contemporary art in an international context is as important as "Capturing the Moment in China", which has been BMCA's credo since the beginning. BMCA works on its mission to shift the perception of China's emerging artists as strong international positions, and no longer as Chinese phenomena, as defined in the years of China's first generation of contemporary artists. Numerous exhibition projects at various venues in China, Israel and Vienna preceded over the past nine years and form the basis of the BMCA Collection, which also sees itself as a project platform. In addition to exhibitions, artist residencies and collaborations between Chinese and European artists, the realisation of exhibition catalogues and artists' books is a further focus. With this multi-layered approach to contemporary Chinese art, the BMCA Collection aims to raise awareness of artistic positions and strengthen their perception both in Europe and in China. www.bmca.art