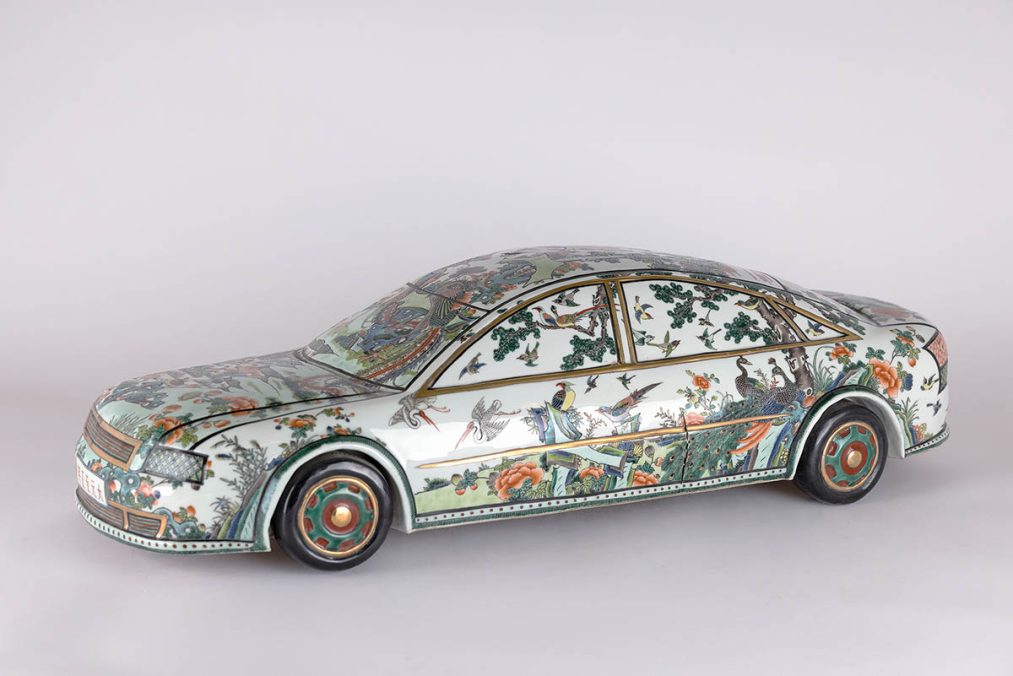 The Chinese art of magnificently painted porcelain objects was coveted by the European courts as excellent decoration. What the vessels contained was nonetheless something immaterial: the imagination of the foreign. For an enigmatic Far East, the high bourgeois connoisseur formed the ethnography of the exotic as a form of superficial compensation with the term chinoiserie.
The term of "True Porcelain" originates from the 17th and 18th centuries when Chinese ceramics entered Europe as luxury items. Europeans tried to find a way of copying porcelain but were not very successful until they discovered 'kaolin clay'. For this reason Europeans called ceramics from China 'True Porcelain'. Ma Jun choose this exhibition title with a twinkle of an eye, in a form of flirtation with history."
The sculptor Ma Jun also comments on the surface; he paints Western consumer goods and counteracts a European concept of freedom that has become fixed in the fetish and lost its imagination. The artists Hubertus Hamm, Felix Rehfeld and Martin Spengler contrast this with works that push out of the surface or even reflect distortions under the pressure of their underground.
Ma Jun calls his objects the "New China Series". On the surface of his "consumer goods", the painted glazing celebrates a festival of multiplicity, of fullness of existence, of uselessness. The saloon car, the radio player, or the flacon is either popped into the ironic from the surface, or the coveted product loses its original market value under a numbing pastoral stroke. In a standstill moment, the metaphorical overrides the theoretical. As the philosopher Deleuze stated, in a moment of unproductivity, the organless body of production acquires an artificial décor that overwrites, inverts its theory of capital emanating from production. The image of a shop window of commodities is a counter-position that leads the material desire for freedom into the absurd. The commodity has disappeared. Cryptically, this even expresses a paradoxical kinship to Marcel Duchamp, who became famous in China after the 1980s.
The exhibition at Pfeufer38 will showcase 12 porcelain works together with one of the two "Porcelain Cars" in spectacular size. All works are from the holdings of the BMCA Collection. The confrontation of Ma Jun's objects with works by the three renowned Munich artists will lead to new ways of interpretation of the Chinese and of the Western approach.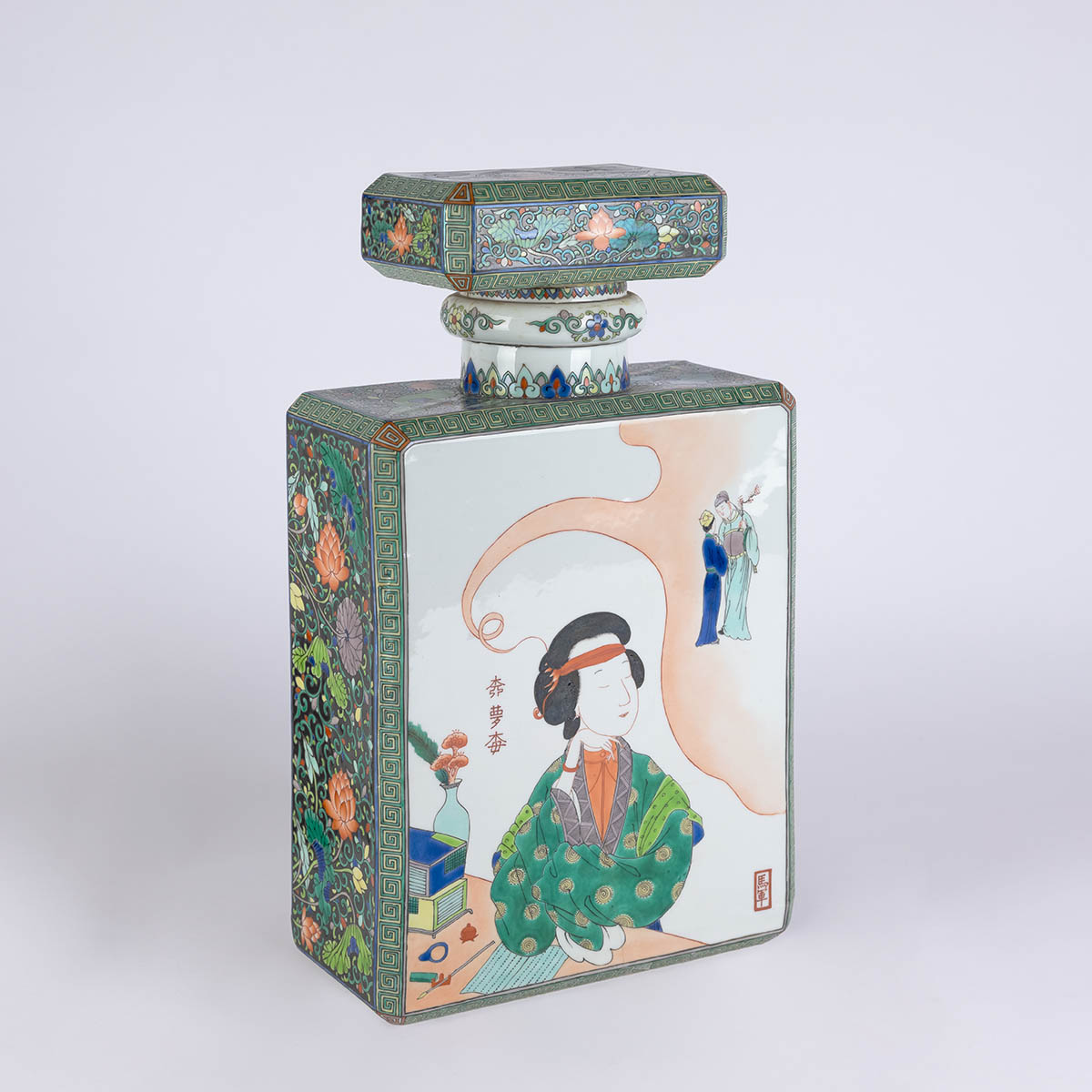 Blue Mountain Contemporary Art. Blue Mountain Contemporary Art (BMCA) is a collection of contemporary Chinese art based in Vienna. Since its foundation in 2013, the BMCA defines itself as part of China's dynamic art scene, maintains close contact with its artists and focuses on works that critically engage with their time and surroundings. The aim is not to witness passing trends but to acquire and cultivate unique works with a long-term impact. Since the BMCA Collection moved its headquarters from Beijing to Vienna, its focus has been on making its works visible in international projects. The continuous presence of current Chinese contemporary art in an international context is as important as "Capturing the Moment in China", which has been BMCA's credo since the beginning. BMCA works on its mission to shift the perception of China's emerging artists as strong international positions, and no longer as Chinese phenomena, as defined in the years of China's first generation of contemporary artists. Numerous exhibition projects at various venues in China, Israel and Vienna preceded over the past nine years and form the basis of the BMCA Collection, which also sees itself as a project platform. In addition to exhibitions, artist residencies and collaborations between Chinese and European artists, the realisation of exhibition catalogues and artists' books is a further focus. With this multi-layered approach to contemporary Chinese art, the BMCA Collection aims to raise awareness of artistic positions and strengthen their perception both in Europe and in China.
About the artist. Ma Jun (b.1974) graduated from the Sculpture Department of the Central Academy of Fine Arts in 1999, and obtained his MFA from the same academy in 2003. Ma Jun is currently an Associate Professor at the Communication University of China. Ma Jun's works, which are full of irony, deal with the cultural conflict between tradition and modernity in today's China. Since 2005 he has been working on his "New China Series," porcelain sculptures that take the forms of everyday objects such as televisions, cars, CD players, and Coca-Cola bottles. Each of these sculptures is covered in drawings of flora, birds, dragons, clouds, and landscapes in the traditional style of the Qing Dynasty. This way, the artist transforms the objects beyond their original conceptual and political domain. For Ma, this imagined "official" ancestral pattern is a reminder of rich cultural and historical tradition. The shapes of the sculptures represent recognizable popular brands, leading us to reflect on China's current extreme consumerism and create new understandings and narratives of our era.
His solo exhibitions include: Immaterial Substance, Michael Schultz Gallery, Berlin, Germany (2014); Ink—Linguistic Experiment and Experiential Space, Being 3 Gallery, Beijing, China (2013); Fragile, S.E. Gallery, Bergen, Norwegian (2012); Porcelain and Porsche, Crow Collection of Asian Art, Dallas, USA (2011); Pop Dynasty, Krampf Gallery, New York, USA (2009); China and Car, Michael Schultz Gallery, Beijing, China (2009).museum, Guangzhou, China (2012); Shuffling The Cards—1st Round , HilgerBROTkunsthalle, Wien, Austria (2012); Meissen artCAMPUS, Der Neue Anfang, Baumwollspinnerei, Leipzig, Germany (2011); Personal Structures, 54th Biennale Venice 2011, Palazzo Bembo, Venice, Italy (2011); EASTSIDE, Aktuelle Positionen Chinesischer Kunst Galerie Michael Schultz, Berlin , Germany (2011); Peekaboo, CAS, Salzburg/Austria; China Welcomes You, Begegnungen, Stadtmuseum Oldenburg, Germany (2010); All the Great Modern Things, Schloss Mochental, Germany (2010); FLOWER POWER, Craa Centro di Ricerca Arte Attuale Villa Giulia, Verbania, Italia (2009); China Total, Kunsthalle Rostock, Rostock, Germany(2009); Chinese Pop, Kunsthalle Dominikanerkirche, Osnabrück, Germany (2009); Craftivity, Greenlease Gallery, Kansas, USA (2007); Beijing+Paris+Barcelona, Espace Ample Cultural, Barcelona, Spain (2007); Fresh Wind from Beijing, Gwangju Museum, Gwangju, Korea (2007).
Exhibition: Ma Jun "TRUE PORCELAIN". Munich Encounters with Hubertus Hamm, Felix Rehfeld & Martin Spengler. Curated by Alexandra Grimmer
Exhibition duration: August 12 – September 13, 2022
Address and contact:
Pfeuferstr. 38, 81373 Munich
www.bmca.art