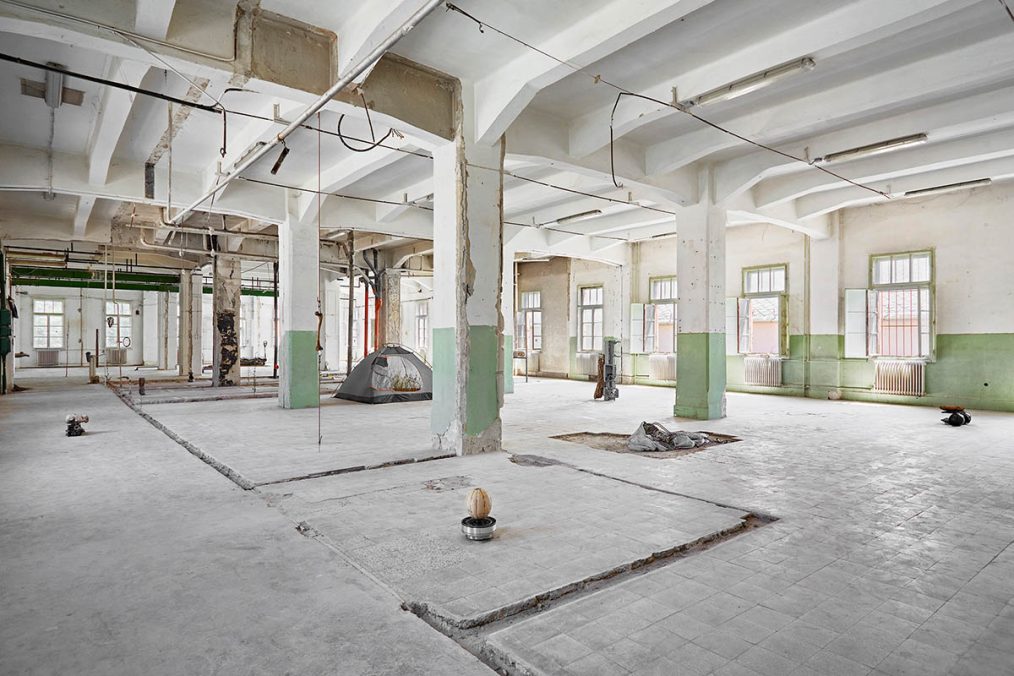 It would be almost impossible to describe each of the thirty-two works that Lamas has created for the show, but all the pieces fit into a whole that oscillates between past and future, human and non-human, tragic and hopeful. Most works, ranging from small sculptures to elaborate site-specific installations, have been created over Lamas' three-week stay in Budapest and were built primarily from materials he found on the streets and in scrapyards. In each work, the artist combined organic materials like bones, rotting fruit, or dried tree branches with more artificial or "manmade" objects such as scrap metal, car parts, prosthetic limbs, or an occasional ceramic vase—creating a landscape of unexpected collisions. Paying attention to the traces of the building's past life, Lamas incorporated elements such as cracks in the wall and abandoned pipes into his pieces.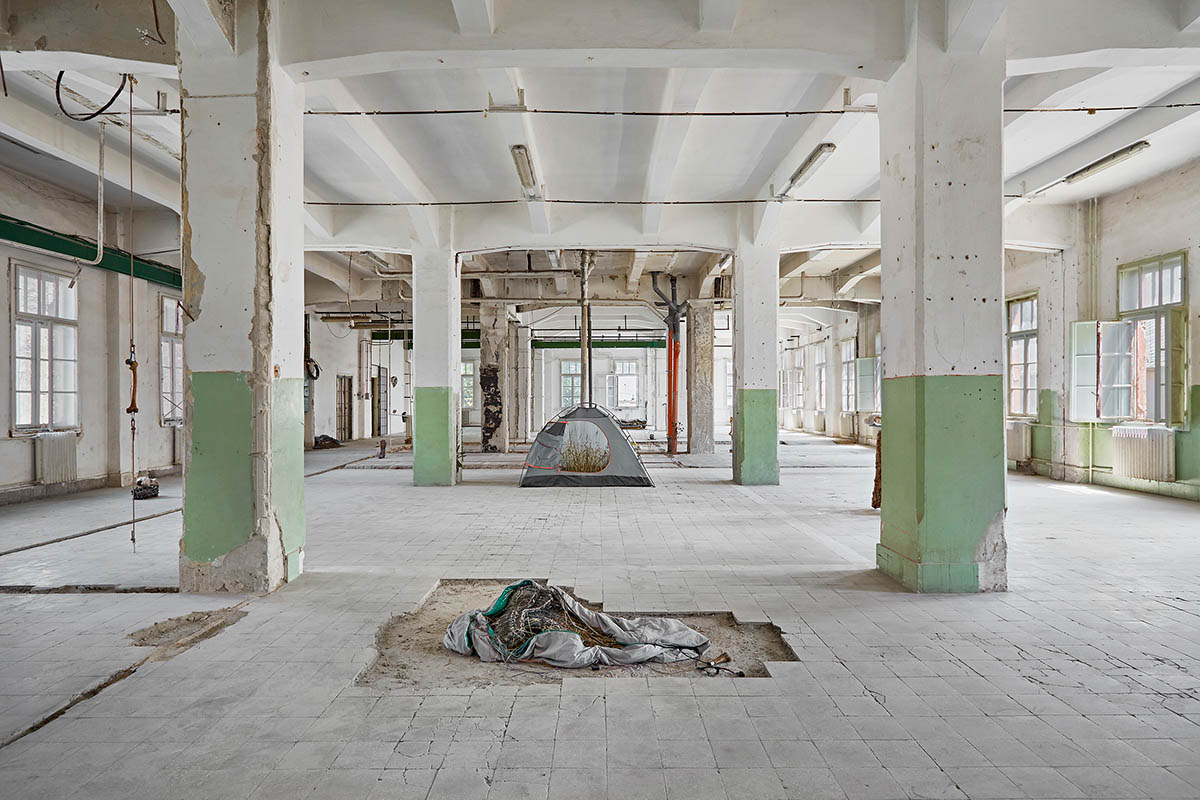 There is a certain archeological attitude about Lamas' practice in which one cannot ignore the post-anthropocentric overtone and questions: What will be left on Earth once humans, or animal and plant life as we know it, are gone? What will the material landscape look like for those who might come after us? How does deep time turn the traces of the past into new beginnings? In past exhibitions, Lamas has used vitrines to present his archeological findings, but at Longtermhandstand Hall, these objects are left to interact with each other freely in an entropic dance. In a backroom, the immersive installation entitled Threshold offers just this experience: the dry weeds slightly waver to the rhythm of the fog machine under the blue light of an electric bug zapper—a party that humans aren't invited to.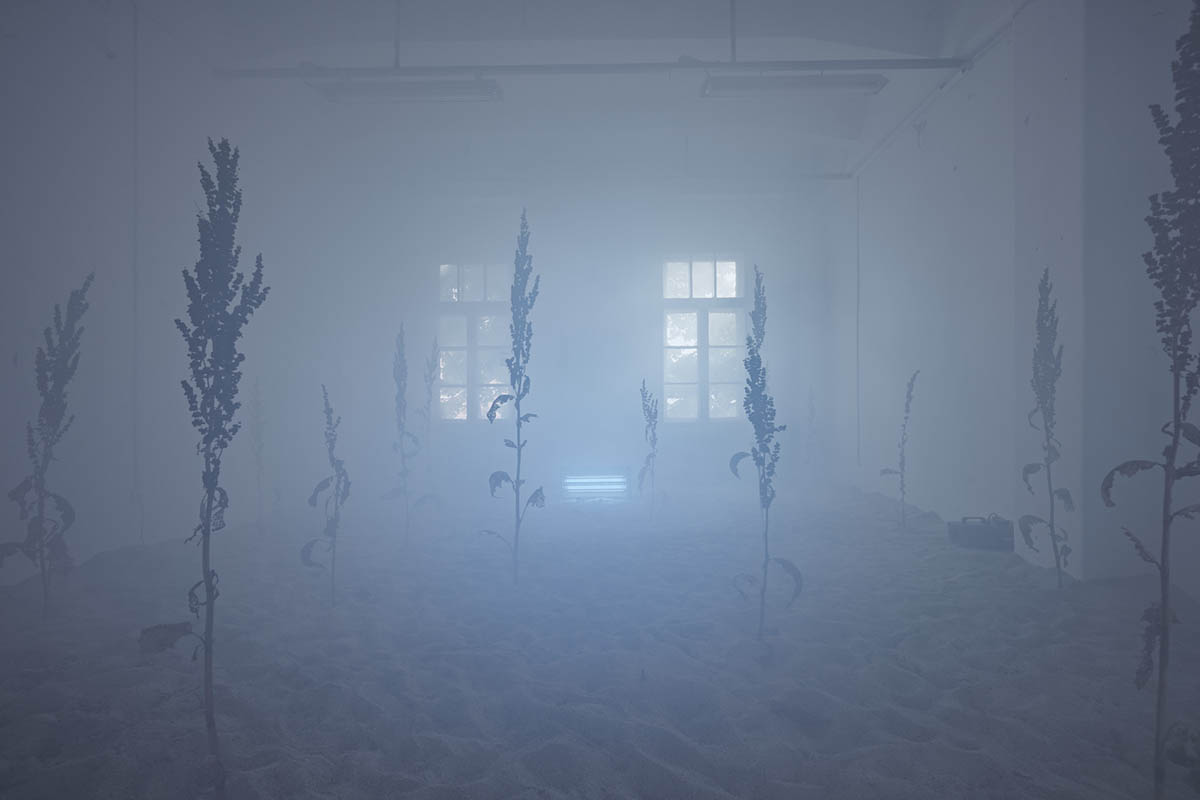 This artificial landscape, characterized by the coexistence of "natural" and "artificial" objects, is haunted by violent pasts and futures: growing up in Lima in the 1980s, Lamas' childhood was marked by a terrorist insurgency. "Car bombs were exploding all the time, and the front pages of newspapers were full of fragments of cars and limbs," the artist recalls. The presence of death can be readily felt not only in his material choices but also through specific references, such as the burnt sneakers appearing in several works that allude to the lived experience of his mother, who worked in the police department as a forensic chemist.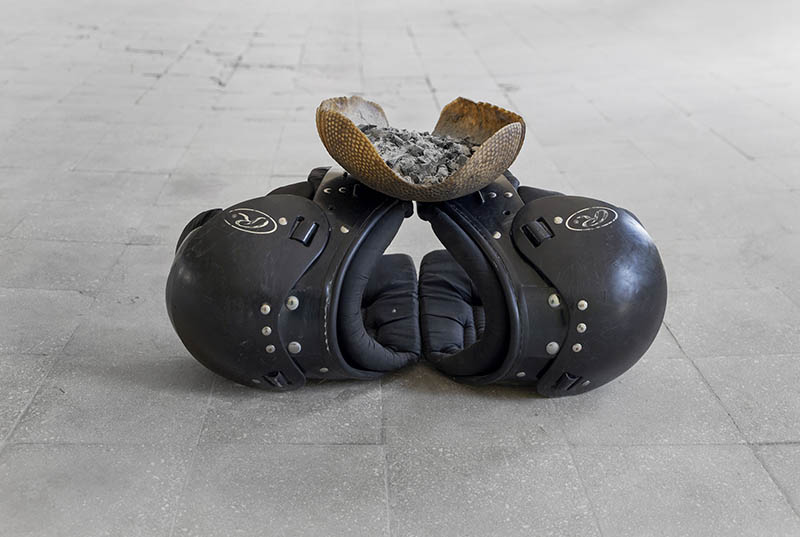 These traces of historical violence are brought into dialogue with issues of our present moment and speculative future, on the level of the personal and the collective. A tent has been erected in the middle of the space, filled with sand and hay, evoking lives left behind and the nomadic conditions of refugees fleeing war, terror, or natural disasters, which will only increase in number and frequency if we keep doing business as usual.
In addition to Umbral, a smaller-scale pop-up exhibition was on view at Longtermhandstand Gallery for two weeks between June 27 to July 15, making it a double solo project. The End of Motion showcased five sculptural works in a white cube setting, and while it is worth seeing Lamas' sculptures occupying a more traditional art space, one can't help but wonder whether these works would reach their full potential as outdoor interventions across cities, fields, and forests.
Exhibition: Nicolás Lamas: Umbral
Exhibition duration: June 25 till August 28, 2022
Address and contact:
Longtermhandstand Hall
Budapest, Mészáros u. 38, 1016 Hungary
www.longtermhandstand.art
---
About the writer. Veronika Molnar is an independent curator and writer based in Budapest and Brooklyn. She received her MA in Art History from Hunter College, the City University of New York, in May 2021 with the support of the Fulbright Student grant. Her research focuses on the history of environmental and ecocritical art, and her dissertation examined the ways in which artistic activism can address environmental racism in the United States. She has held curatorial positions at The Museum of Modern Art, carriage trade gallery, Edward Ressle Gallery, Faur Zsofi Gallery, FERi Gallery, and Budapest Photo Festival. Her essays, reviews, and interviews have appeared in The Brooklyn Rail, Hyperallergic, and MoMA Magazine.