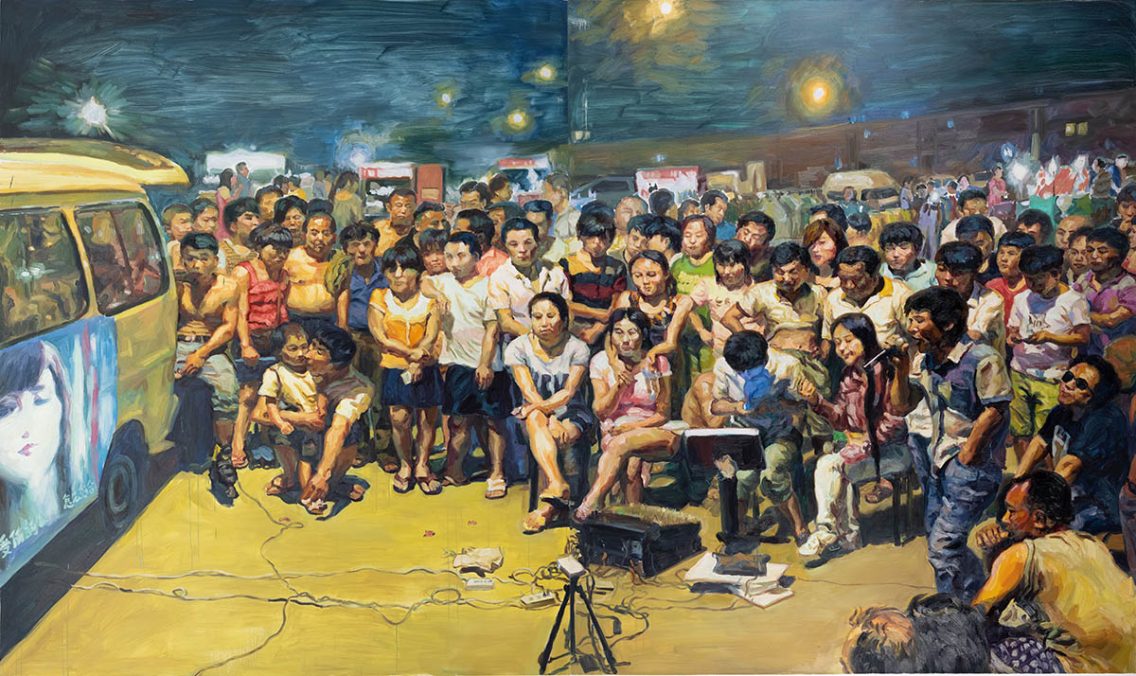 Even in the old whiteBOX, before the extension of the Werk3 building, where the new whiteBOX is located today, the organisers endeavoured to show new developments in Far Eastern art. In 2010, the old whiteBOX showed "all about Peking", and in 2012 Michael Wüst, then director of the whiteBOX, and curator Alexandra Grimmer, who had already been living in Beijing for a long time, got to know each other at "all about Shanghai". With "Journeys back to Europe", the passion for contemporary Chinese artists who reflect the tradition of their mother country continues in a special way. While Western art in the 20th century elevated the habit of breaking with tradition to an aesthetic level, Chinese artists took a slow, inductive path to answering the question, "what is the world behind its appearance?" It is exciting to be transported by Huang Min's colossal paintings a cosmopolitan distance from the world, where the essence of things does not yet seem set in programmatic terms, and the colossal has not yet degenerated into an expression of veneration.
Given the spacious exhibition venue in Munich, the focus of this exhibition will be on eight large-format paintings by Huang Min from the holdings of the BMCA Collection, to be shown in combination with important porcelain objects which the artist created in Jingdezhen. Huang Min's oeuvre includes a variety of media: from canvas, on which she especially loves to use over-dimensional formats, to different kinds of paper or wooden boxes. The surface of porcelain also represents a common base on which to add her characteristic painted brush strokes in the glazing. Regardless of technique or colours, her painted language is immediately recognisable.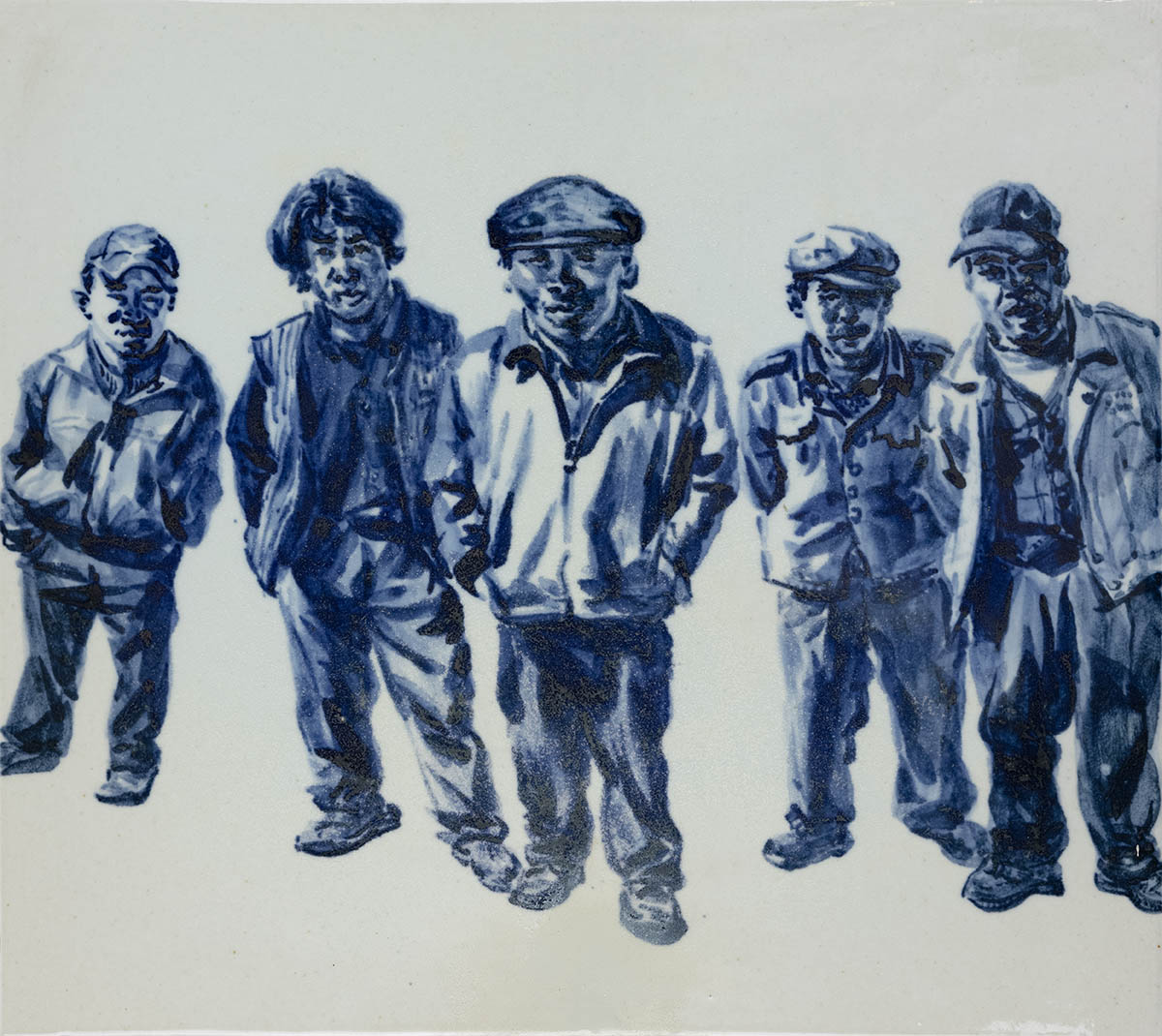 Blue Mountain Contemporary Art. Blue Mountain Contemporary Art (BMCA) is a collection of contemporary Chinese art based in Vienna. Since its foundation in 2013, the BMCA defines itself as part of China's dynamic art scene, maintains close contact with its artists and focuses on works that critically engage with their time and surroundings. The aim is not to witness passing trends but to acquire and cultivate unique works with a long-term impact. Since the BMCA Collection moved its headquarters from Beijing to Vienna, its focus has been on making its works visible in international projects. The continuous presence of current Chinese contemporary art in an international context is as important as "Capturing the Moment in China", which has been BMCA's credo since the beginning. BMCA works on its mission to shift the perception of China's emerging artists as strong international positions, and no longer as Chinese phenomena, as defined in the years of China's first generation of contemporary artists. Numerous exhibition projects at various venues in China, Israel and Vienna preceded over the past nine years and form the basis of the BMCA Collection, which also sees itself as a project platform. In addition to exhibitions, artist residencies and collaborations between Chinese and European artists, the realisation of exhibition catalogues and artists' books is a further focus. With this multi-layered approach to contemporary Chinese art, the BMCA Collection aims to raise awareness of artistic positions and strengthen their perception both in Europe and in China.
About the artist. Huang Min (b.1975, Sichuan province, China) graduated from the Oil Painting department of Sichuan Academy of Fine Arts in 1998, and obtained her MFA from the Oil Painting department of the Central Academy of Fine Arts in 2006. She currently lives and works in Beijing.The contemporary figures painted by Huang Min are based on ordinary people around her. They form a constant theme throughout her works from the beginning. Their presence seems to object to the established taste in art; instead, these unsophisticated contemporary characters offer a new aesthetic order of our reality. Just as writer Wang Minan once said, her works are "paintings about paintings."
Her solo exhibitions include: Heiqiao Village: A Micro-Narration, Being 3 Gallery, Beijing, China (2014); View, Review, Huang Min Solo Exhibition, Michael Schultz Contemporary Gallery, Beijing, China (2010); Huang Min solo Exhibition, L.A. gallery, Frankfurt, Germany (2007). Selected group exhibitions include: Historicode: Scarcity and Supply, Nanjing Bai Jia Hu Art Museum, Nanjing, China (2016); Myth, White Box Art Center, Beijing, China (2015); China 8, Hagen Osthaus Museum, Germany; Dusseldorf NRW-FORUM, Germany (2015); Metamorfosi: Biennale China-Italy, 798, Su 3 District, Beijing, China (2014); Do a Book, White Space, Beijing, China (2012); The New Beginning, Meissen, Germany (2011); China Welcomes You, Oldenburger Stadt Museum, Germany (2010); The Touch of History, Bethanien, Berlin, Germany (2010); Chinese Garden for Living / Illusion into Reality, Old Parliament Palace, Brussels, Belgium (2008); Addict To Paper, Lelong Gallery, Zurich, Switzerland (2008).
Exhibition: Huang Min "Journeys back to Europe" curated by Alexandra Grimmer
Exhibition duration: September 4–11, 2022 daily 2–6pm
Address and contact:
whiteBOX Munich
Atelierstrasse 1, 81671 Munich
www.bmca.art