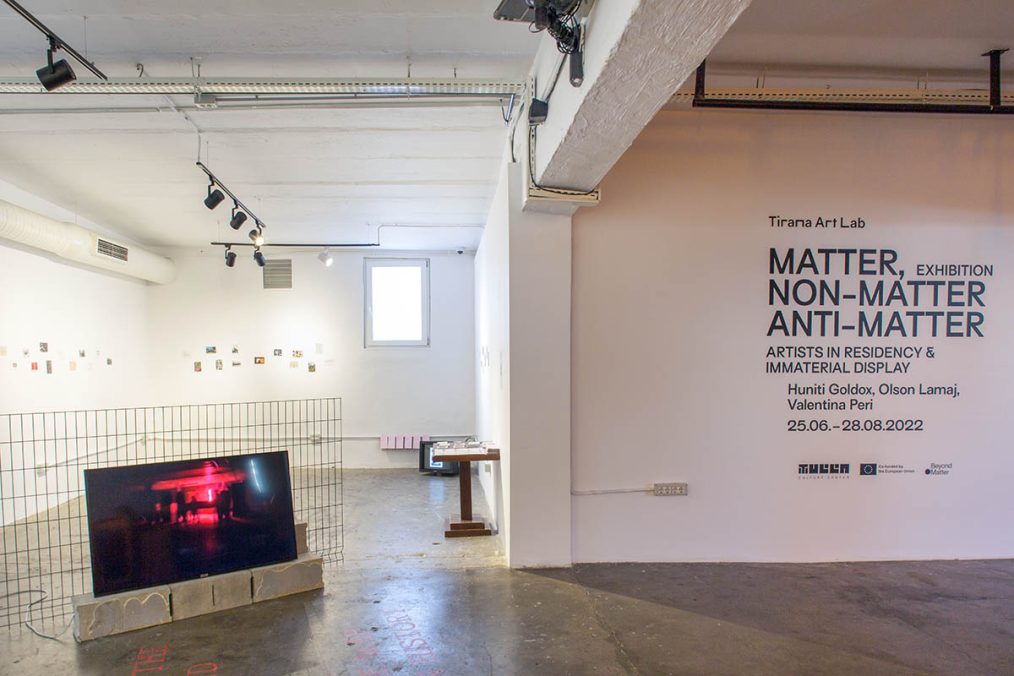 Their works involve Extended Reality tools and deal with issues of public space in the city of Tirana, while engaging with topics of individual and collective memory, water ecosystem and power representation in the virtual age. The artists were chosen from the joint second call for artists in residency launched by Tirana Art Lab – Center for Contemporary Art, Tallinn Art Hall, and the Hertz-Lab of the ZKM I Center for Art and Media. The exhibition also includes the Immaterial Display, an interactive station for experiencing two legendary and major past exhibitions: Les Immatériaux (Centre Pompidou, 1985), and Iconoclash (ZKM | Center for Art and Media Karlsruhe, 2002). This novel installation consists of two browser-based models presented in a custom-made immersive display through which a connection between virtual space and real space is established. The display examines the possibility of exhibition revival through experiential methods of digital and spatial modelling based on the case studies of the two exhibitions with the aim of exploring the impact of computer-based information and the shaping of digital realities on all fields of knowledge. Matter, Non-Matter, Anti-Matter" in Tirana is in itself a hybrid exhibition where newly created works, that use Extended Reality tools, are displayed in combination with virtual reminiscences of past exhibitions, posing questions about current and past issues and their representation in art, while opening the road to a more philosophical debate about virtual and the physical. The residency program and the projects resulted by it as well as the Immaterial Display are part of the large-scale cooperation project Beyond Matter. Cultural Heritage on the Verge of Virtual Reality. Dedicated to novel, digital approaches to exhibition revival, documentation, and dissemination.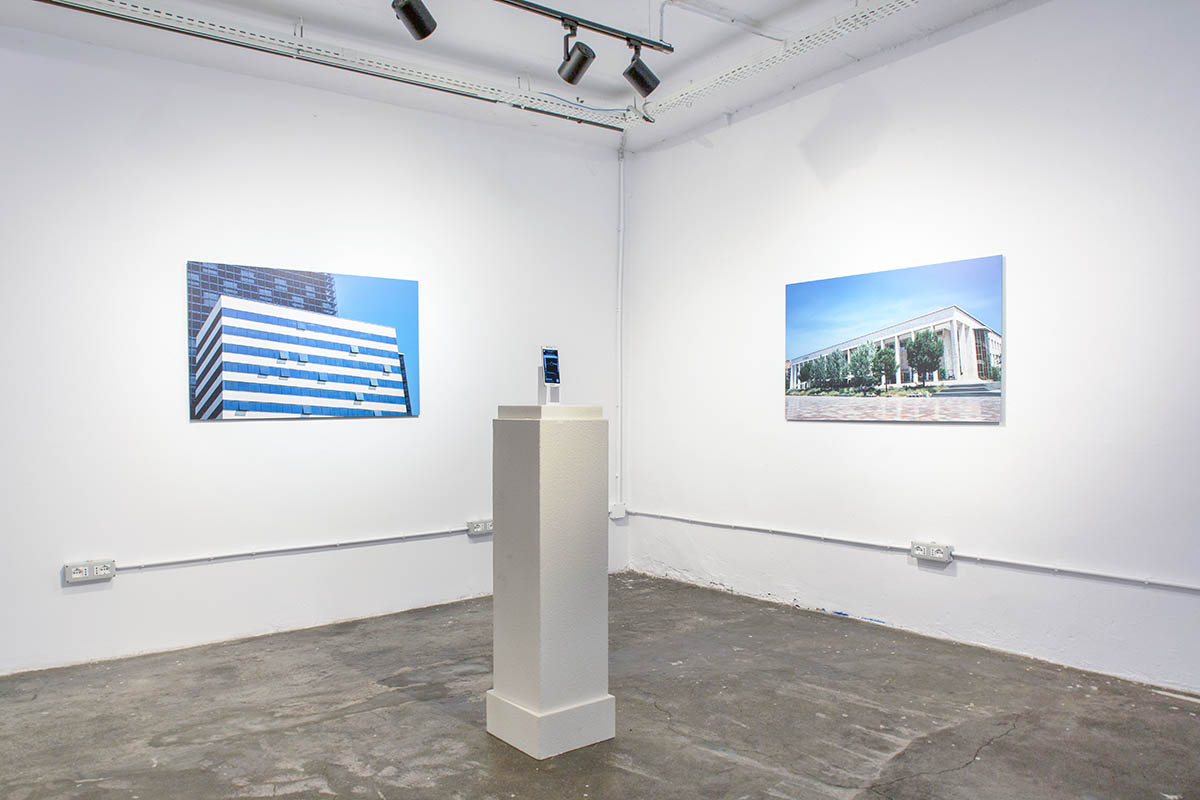 HUNITI GOLDOX. Water flows from its source in the north of mount Dajti into Bovilla's ground of gravel and sand. Through pipes and drains, it gushes into the city's showers, sinks and plants. Charged with diverse substances and contaminants, it leaches into the river "Tirana". Somewhere between dream time and world time, the "Tirana" river thrust upwards in the form of a tower. The building is part of Tirana's urban masterplan set in 2030 in a 'smart' city embedded with health and safety requirements "necessary" for facing contemporary seismic and pandemic emergencies. Water streams and matter make up the structure and surfaces of the tower.
Stones from the mountain range are extracted and brought to the city for the construction of buildings.
The mountain reverberates the inhabitants' thoughts, memories and dreams. As the degradation of stones continues, frequencies and echos get disturbed and affect people's psychosphere. Legend has it that inhabitants of the mountains are the guardians of human and nature. When dispossessed, their reminiscents get reproduced in the world of signals and messages. One appears as an avatar to offer individual conversation sessions. Cities, like water, encounter strong currents and shocks. As tidings of wars, attacks and earthquakes crack the ground apart, narratives slip beneath the surface. To make way for their interventions, neoliberal economic policies exploit fear and disorientation, generating a steady stream of disasters before wiping the slate clean and starting over. But when the old submerges with amnesia isn't salvaging whatever there is, repairing what wasn't destroyed and letting things stay a little longer that keeps one oriented and out of shock? "As Dust, as Rain, as a Line on The Map and a Crack in History" is a three-channel video installation that has a magical realism plot to it that reflects on the state of the present while unveiling vulnerable landscapes and societies and their entangled relationships. It poses questions about the lines of power affecting present capitalistic, social and ecological structures in Tirana and beyond.

Olson Lamaj has researched and investigated ongoing debates around art in public space in Tirana. He is presenting a series of photographs under the title "Pixel and Blood" depicting important buildings like the Palace of Culture, the National Bank of Albania and Tirana International Hotel situated around the main square, that mark the identity of the city centre since years. The prominence of these buildings has been previously used by the communist regime and the state propaganda as sites to place political slogans. As a reference to the sites where the slogans have been previously present Lamaj creates new statements that appear on top of the buildings. This time only as an intervention in the virtual space and through Augmented Reality (AR). These new contemporary slogans are a combination of popular expressions and own creation of the artists, made with the intention to capture the paradox of current virtual and technologic era. Specially in a county like Albania and a city like Tirana where poverty and progression are equally present.
These new semi-monuments, that can be experienced through an Application, contribute critically to debates in relation to digital transformation, spectacle, consumption and power structures in contemporary societies and art in Albania and beyond.
Two of the statements/monuments have been introduced as instagram filters and can be placed in different settings by users worldwide. (A.D)
Valentina Peri. The starting point of her work was the discovery of her Italian Grandfather's WWII archive who was stationed in Albania and the love correspondence between her grandparents at that time. The aim of this project is to reactivate the archive through the use of Augmented Reality (AR), and to trigger a re-enactement of individual and collective memories. She is particularly interested in how it will impact the organization of narratives. The metaphor of the theater is a take on Giulio Camillo's "Theater of Memory", a mental device from the Italian Renaissance that created the possibility of a shared space, based on a common set of associations that anyone can use, but whose significance is intersubjective. Inspired by her grandparents archival material and the documentation she has gathered during her research and journey throughout Albania, on the traces of this archive, she wants to explore the parallel between the operations of Giulio Camillo!s mental theater and today's AR technologies by means of data that can be accessed and activated through the Augmented Postcards.
The Augmented Postcards work as her own markers. And simultaneously historicize, narrativize, and personalize the encounters between the viewer and the images, generating a process of narrative discovery, as the users find new associations and coherence through newly sequenced encounters with their own markers.
Curatorial and scientific team: Corina Apostol, Philippe Bettinelli, Julie Champion, Adela Demetja, Lily Díaz-Kommonen, Felix Koberstein, Marcella Lista, Cvijeta Miljak, Lívia Nolasco- Rózsás | Curator of the artist-in-residency program and exhibition: Adela Demetja | Exhibition production team: Erida Bendo, Ermal Hoti, Jiri Gruber, Berjad Qojle, Alexander Walmsley, Tulla Culture Center
Exhibition: HUNITI GOLDOX, Olson Lamaj, Valentina Peri & Immaterial Display "Matter, Non-Matter, Anti-Matter"
Exhibition duration: 26 June – 28 August 2022

Address and contact:
Tulla – Culture Center
Rruga Medar Shtylla, Tirana, Albania
www.tulla.tv
www.tiranaartlab.org
---
HUNITI GOLDOX is an artist duo consisting of Areej Huniti and Eliza Goldox. They have been active for over 2,5 years now and reside between Germany and Jordan. In their practice they are interested in geopolitical realities, marginalised oral histories and contextual research. They like to utilise new media tools, video art, conversations and writing. When working, they try to think of formats that can involve different voices and beings, be this human and nonhuman, such as workshops, excursions and interventions. This stems from the desire to create moments for collective imagining and re-imagining, to collapse dominant narratives and fixed geographies.
Olson Lamaj is a multimedia artist from Albania. He graduated as a painter from the Academy of Fine Arts in Florence and received his M.A degree in artistic photography from the Academy of Fine Arts Brera in Milan. After he finished his studies, he moved back in Albania, where he currently works. His work investigates social and political issues related both to contemporary life in Albania and more universal and timeless systems of meaning, extending beyond immediate conditions.

Valentina Peri is an independent curator, cultural critic and author based in Paris. Her work examines the role of technology in contemporary culture, with a focus on love and intimacy in the digital age, media histories and technologies in the Anthropocene. She has curated exhibitions, published writing and given lectures on a broad range of topics in these areas, including data collection and surveillance, the commodification of desire, representation and identity, media ecologies and new materialism.