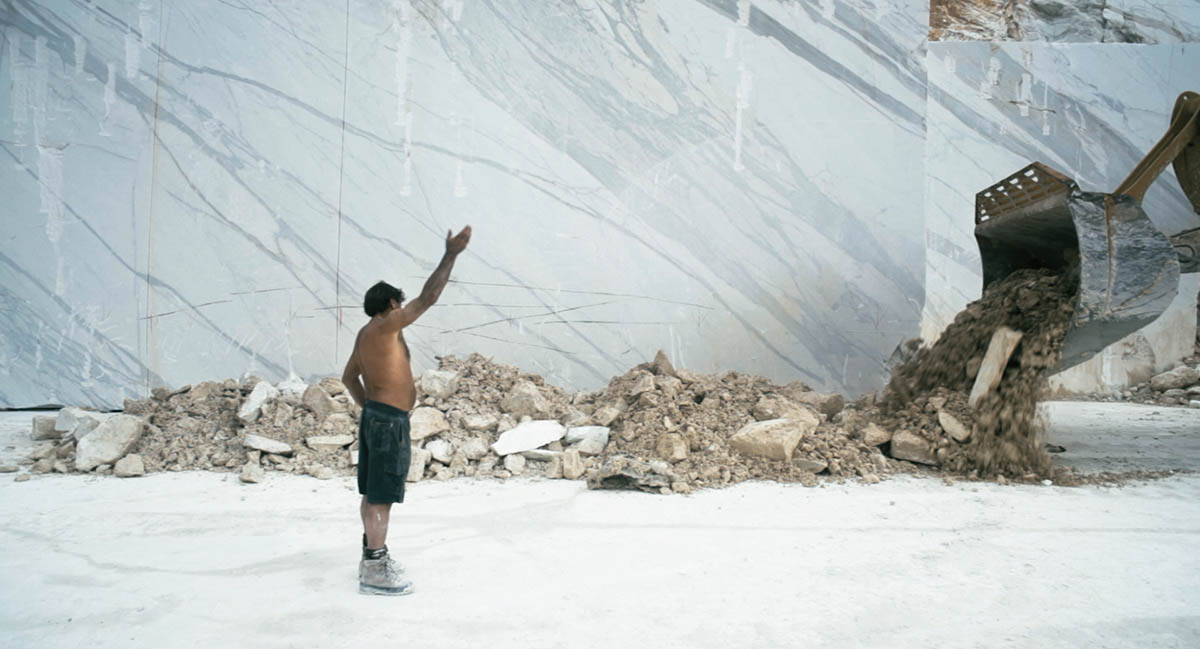 Upon taking a few steps, you enter the exhibition space and in front of you is a giant screen playing the work "Il Capo" (2010). But it's probably too early to concentrate; at the beginning, the architecture only invites you to walk around to understand how the space is constructed, the stairways, the divisions, especially if you're visiting the museum for the first time. Nevertheless, Il Capo, which is part of the Trilogy "The Malady of Iron", is very quick to introduce you to Ancarani's work.
Exhibition space
Most of the works, etherealizing an interface between art and cinema, are displayed in a series of separate rooms. Heavy red Venetian curtains separate these spaces from the rest of the museum's main hall. Each room has a huge screen, and the sound is reproduced from several loudspeakers, always arranged in different chorographies (sound is a focal element of Ancarani's work).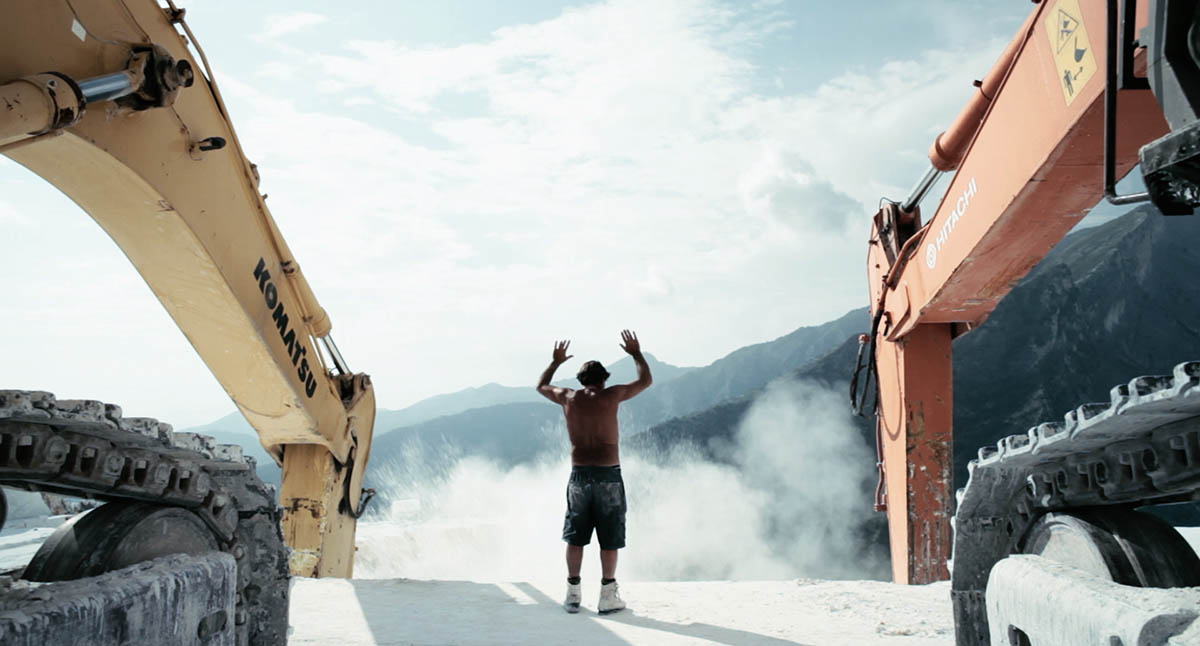 The curators of this exhibition, Diego Siela and Iolanda Ratti, describe the language that the artist has moulded through decades as an amalgamation of everything: Italian master directors, fiction, Japanese cyberpunk, literature, and archaeology. Yuri's works have no script; maybe you do not need much when you are an observer like him. Similarly, his medium is always variously described – someone calls it film, others video, artist's friends call them paintings, while others sculptures.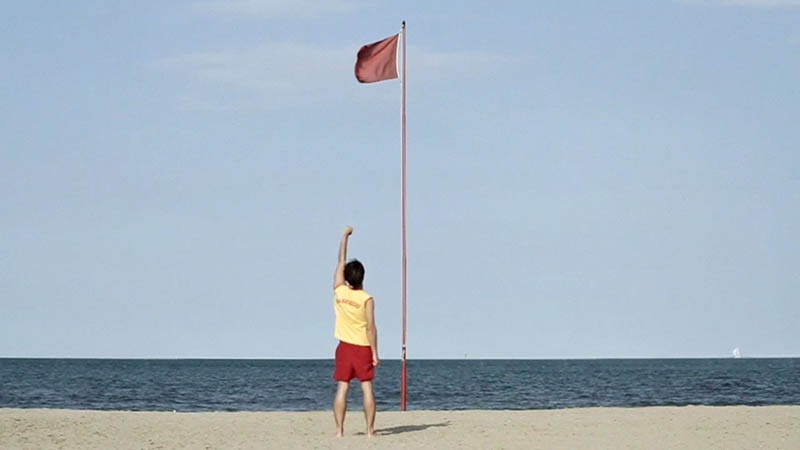 Memories for Moderns: Ambulant merchants, slot machines, ice cream shops
Then we are in the main room, which contains eight screens, positioned one next to the other, so close that there is almost no distance. You can watch the works from above, sit on one of the benches, or you can go up and down the hallway ramp. What we see in "Memories for Moderns" is not a single work; it is the output of an almost a decade work cycle (2000 – 2009), which is for the first time featured in this way. You rarely get from where the sound comes or to which video it belongs; you can only guess by pairing them with the fragments. Indeed Ancaran only shows fragments to his audience, leaving you to judge for yourself.
We encounter here narratives of different individuals, social, political and very mundane stories of the Riviera Romagnola. Here we meet the children of Lido Adriano, the beach, the ice cream shop, ambulant merchants that sell plastic supermens, the bronzed Strandläufer*.
Then a bar filled with slot machines and slot machine screens loaded with words that give hope and dreams: Monte Carlo Gold, Hawai (…)
On the next screen, a community is filmed while celebrating, or forgetting – they dance with bucks in their hands, but we don't know anything else besides this repeated fragment. Many fragments continue repeating in a kind of eternity, such as the dance on a street sign pole next to the highway of a likely sex worker or the image of empty condoms floating in the water. Behind the large, darkened windows of PAC, I see in a moment daisy heads; they remind that outside is sunny.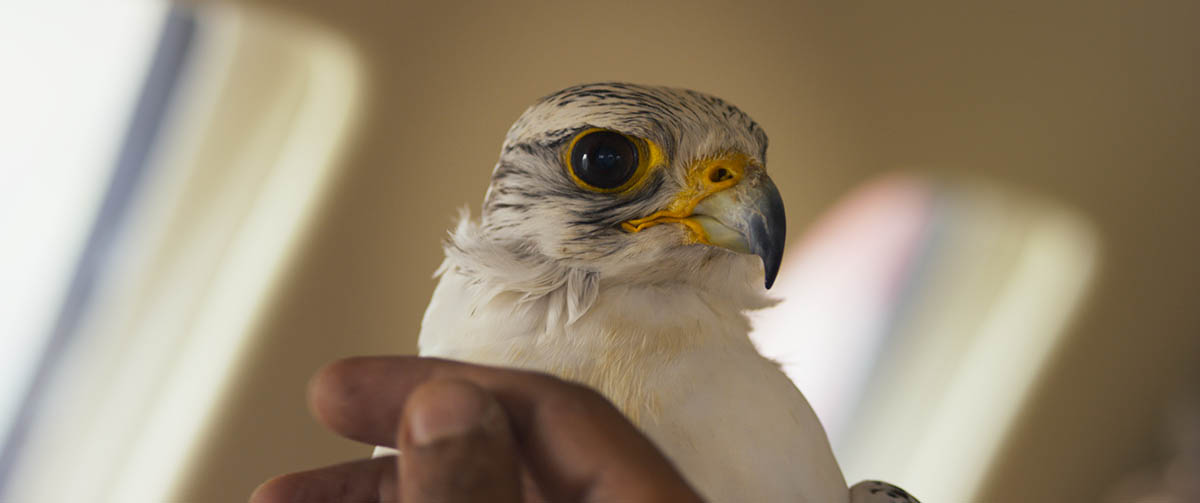 Before going
I briefly enter the rooms where San Siro, Da Vinci, and The Challange are featured. So, I find myself within a short time in one of the largest stadiums in the world, in an operating room where technologies treat bodily defeats, and then in a falconry competition – before that, their claws and beak are being arrowed with probably electric nail fail. Despite the brilliance of colour in Ancaranis' videos, a deep melancholy inheres in his works.
Maybe I'm just looking for the feeling of going under the curtain and finding spaces to continue thinking. Now it's time to depart. The psychedelic images continue to remain with me in my wandering across Milan, through my return journey until today.
Exhibition: Yuri Ancarani, Lascia stare I Sogni (Forget your Dreams)
Exhibition duration: 04.04 – 11.06.2023
Address and contact:
PAC Milano
Via Palestro 14
www.pacmilano.it
---
Yuri Ancarani, born 1972 in Ravenna, is an Italian video artist and filmmaker. His works come from a continuous mingling of documentary cinema and contemporary art and are the result of research aimed to explore regions which are not very visibile in the daily life. His works have been shown at national and international museums and exhibitions, like the Fondazione Sandretto or the Guggenheim Museum in New York and several film festivals as the Venice Film Festival.
Erka Shalari is an independent art writer and curator. She lives and works between Vienna and Italy – https://linktr.ee/erkashalari
Note: *Strandläufer is a borrowed term that artist Sibylle Ciarloni has been coining – https://sibylleciarloni.com/2018/07/01/strandlaeufer-lungomare/