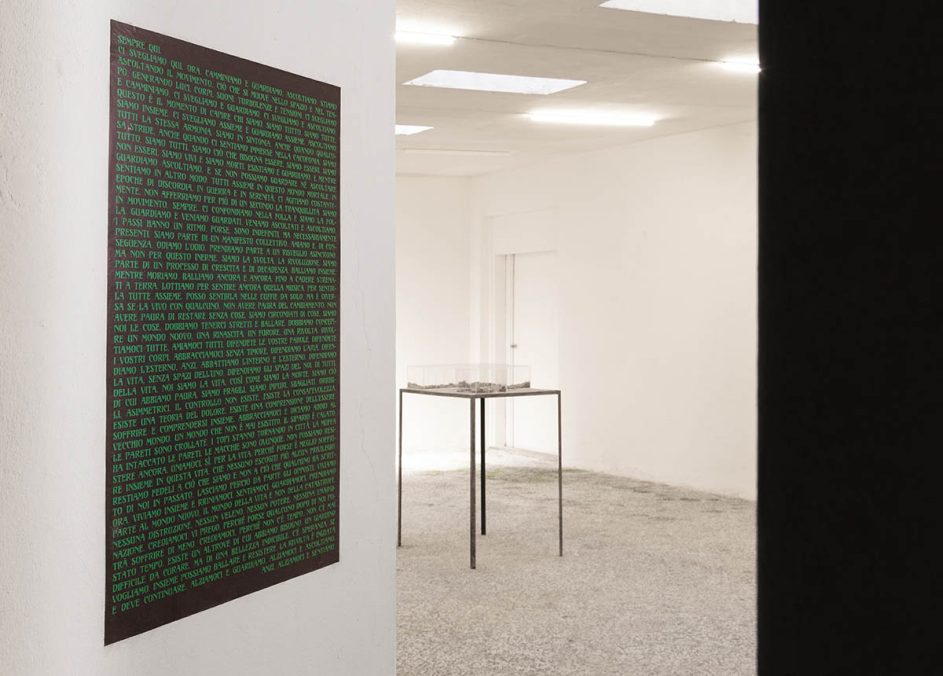 We are not in a large museum or in an important gallery, but in an independent provincial space, where you can breathe that strange thrill you feel as a teenager, when the boredom of your days, all the same, is shaken by something transgressive that however you reflect. You feel avant-garde to be a spectator of that moment. The Roberto Casti exhibition is just that. The rediscovery of those small sensitivities that are lost with the strengthening of the character, with the armor that little by little we try to put on to appear stronger. Roberto no, he doesn't. He tiptoes into the space that hosts him and into our emotions. He is not one of those artists who, when he presents a project, imposes his subjectivity to the point of changing the place that hosts it. He engages with it and searches for himself within everything that already exists.
The cornerstone of the whole exhibition is Sottofondo, this space that brings art to the province. Where the goal is not the Vernissage and the party, shaking hands or Instagramming the moment just to be there. One goes to Sottofondo to feel that what one experiences is part of a larger project.
And living for Roberto is equivalent to a color, his color: green. I have known this artist for a very long time, ever since we studied together in the crowded classrooms of the Milan Academy, and since those years, an emotional dialogue with that chromatic component was already present in him. At a certain age, we all stop having a favorite color, simply because we no longer have a true link between our feelings and it. For Roberto, it was not. He is still that sensitive soul that gets excited when seeing his color. He establishes a constant dialogue with us, as if to express all the essence of him in the different shades that this shade can take.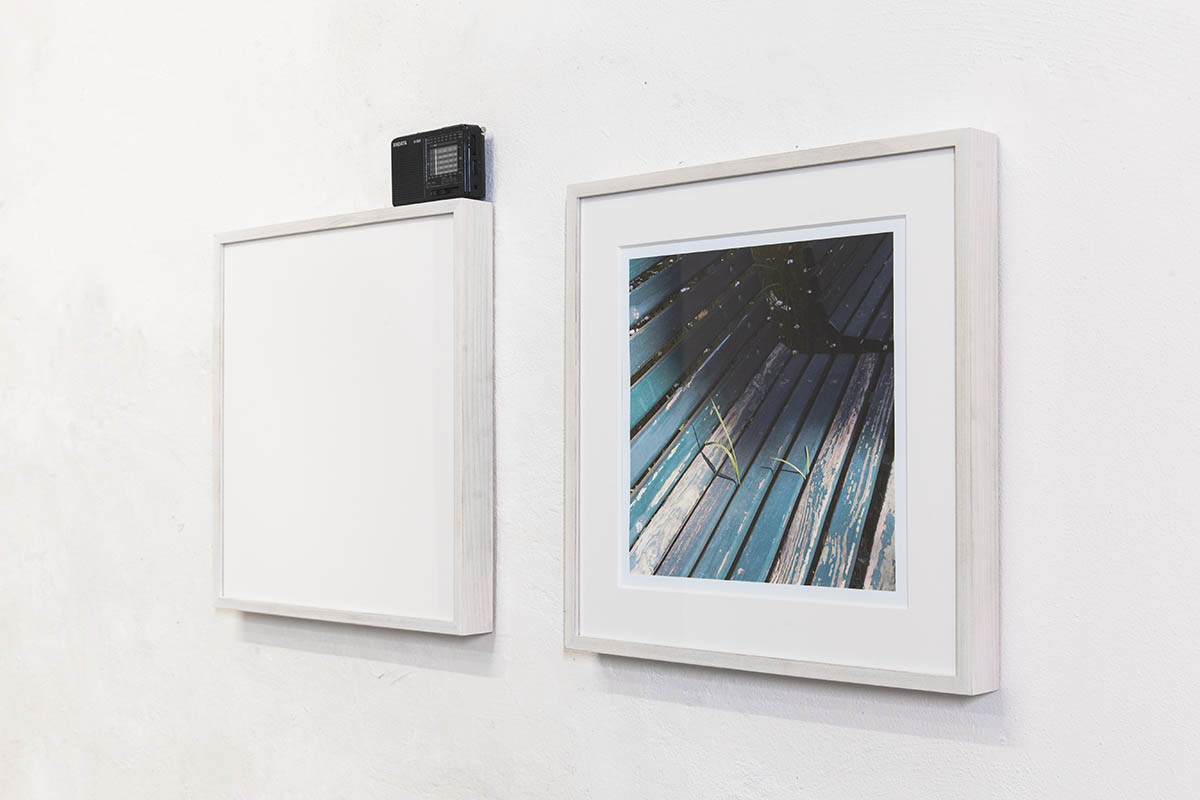 You enter the door and the faint noise of a radio immediately attracts you on. You turn and see that this is positioned on two small frames that surround a white sheet and a photo where, through a green bench, a thread peeps out. 'grass. The sound that comes out of that radio is something that creeps into the space left blank. How does it fill it and not erase it? You begin to sense something, even if you still don't understand, but you only feel. The room opens up to you and a plexiglass maquette attracts you. That model is really Sottofondo and at the same time is filled with Sottofondo. No, it's not a play on words. The artist created that sort of lunar landscape inside the transparent walls using the dust collected in the previous weeks in that space. Sottofondo dust fills Sottofondo model stored in the center of Sottofondo.
Sottofondo dust fills Sottofondo model stored in the center of Sottofondo.
Those environments where Roberto moves on tiptoe. It does not impose itself but merges with it, trying to be Sottofondo. Just as it does with the damp stains on the floor which, over the years, have "decorated" the tiles. The artist makes them his own by coloring them with a light layer of green pigment … to feel at home … to be there and make that corner of the world your own, creating warmth and a feeling of home, right into the color that makes you feel better. But then you agree to a black room, a different environment, still rough and not whitewashed, where a video is projected on that peeling and livid wall, where he merges with them and changes their images.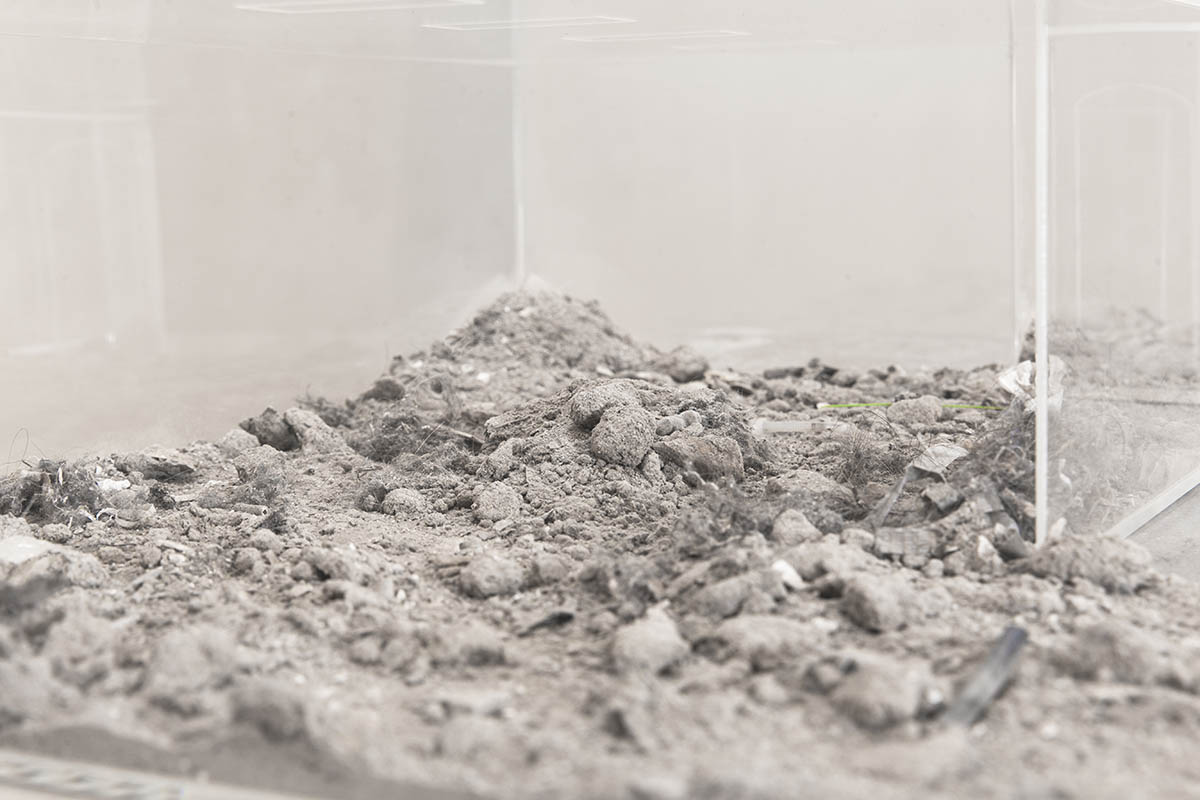 Tomorrow is the opposite of yesterday, but what is today? It is a work that conquers you over time, a work that the artist has created by formulating a request to friends and colleagues. In some moments of our days, each of us is captivated by a feeling that makes him/ her jump. Those moments are really worth living. Sometimes we immortalize them in a video which, however, by its very nature, evokes emotions only for us and, for this reason, they end up being abandoned in the memory of our smartphone… Beautiful and personal moments have been collected and edited by Roberto in a single large choral video, united by a text that the artist himself has created. It is not a sharing, but an appropriation of shared emotions. The awareness that those moments are moments of all of us. That the animal at the basis of all this is always the same, despite our differences, including those of the space that welcomes and changes, with that peeling wall, our splinters of life.
Finally, a Performance. Roberto is not just an artist, but for years, parallel to his exhibition activity, he has been carrying out his musical experimentation project: The Boys and Kifer.
A microphone in the window, an electric cable that cuts all the space and four headphones that receive the sounds of the street and the city. Four musicians who listen to all this and improvise a composition, a soundtrack, born from the auditory stimuli received from the outside. This Music is shot from the speakers outside, in the city, while the auditory stimulus of the street is reproduced in the space. Still inside and outside, a circle around architecture and its most ephemeral components – noise, silence, waiting and note … Roberto Casti's is not an exhibition but a huge act of generosity: to make you perceive your life through the small sensitivities that you let get lost every day. Even before you realize it, this dimension has created an addiction from which you do not want to escape. (p.s. there is a work hidden in this exhibition … an intimate work linked to a long-standing friendship that connects me to this virid entity. But I will not talk about it here … you will have to ask us, get in touch… if you want to discover it.)
Roberto Casti (Iglesias, 1992) is an artist and musician. He lives and works between Milan and Iglesias, in Sardinia. His artistic research includes various languages including video, performance, installation, painting, music production and writing. His transdisciplinary project The Boys and Kifer, born in 2014 as a fictional music band, investigates new methods of community, coexistence and relationship with otherness through the participation of numerous artists, musicians and theorists. He has collaborated and exhibited in various spaces and institutions such as MAN (Nuoro), FRAC di Corte (France), Marsèlleria (Milan), PAV – Parco Arte Vivente (Turin), OGR – Officine Grandi Riparazioni (Turin) and the Academy of Fine Arts of Brera (Milan).
Sottofondo Studio is the artistic studio of Bernardo Tirabosco and from 2021, with the involvement of Elena Castiglia and Jacopo Naccarato, it welcomes in the exhibition space inside the project "The studio hosts" which wants to give space to emerging artistic researches of the territory and beyond. Sottofondo is an informal and independent reality that operates in the Arezzo area.
Address and contact:
Sottofondo Studio
Via Garibaldi 136A. Arezzo
www.sottofondostudio.com
Roberto Casti – www.robertocasti.org
---
About the writer: Max Mondini (Parma, 1990) is an artist and Art Advisor. He lives and works in Civitella in Val di Chiana (AR). In his work, the work of art becomes an activator, a form of communication that requires a visual approach that is not linked in the first place to a justification of thought. Emptied of any explicit cultural reference, it becomes an object in constant determination. He has collaborated and exhibited in various spaces and institutions such as Palazzo della Triennale (Milan), Museo del Novecento (Milan), Museo Villa Croce (Genoa), Center for Art Contemporary Luigi Pecci Museum (Prato), Tobacco Factory (Florence), Eduardo Secci Gallery (Florence), Monza Biennale, Spazio Volta (Bergamo) Talent Prize (Rome) and Carapelli for Art (Florence). www.maxmondini.weebly.com