In practice-led exploration of harmony between form, texture and the natural colour of the material, Evgeniia sets accents on raw beauty and sustainability. During the creative cycle, Evgeniia treats clay as a partner, being in constant dialogue, forming, but not controlling it. Every object she makes is unique and one of a kind.
I think a lot about the borders of space, both physical and mental. How the outer affects the inner. What can my piece offer to a person not only in the aspects of everyday use but in its cognitive context? How can my vases influence the "life flow" of the person they belong to. I am not only creating an item to use I am creating an experience.
Evgeniia is a child of post-Soviet Russia. Observing soviet postmodernist and brutalist architecture along with contemporary urban and landscape design she rethinks the relationship between humans and nature on a city site, making connections between different natural phenomena.
It's amazing how plants find their place sometimes in the most unexpected places. On a solid wall of a five-story building. On the stone steps. They make their way through the concrete, sprout through the fences. I have always been attracted to this play of urban constructions and rebellious nature. Observing, rethinking the position of plants in our urban life, I create vessels that convey the spirit of these complex relationships.
In the process of creating a vessel, Evgeniia thinks first of all about the basic functions of the vessel: keeping water and how the vase will hold and support the plant. Setting her focus in this way, she goes further from the usual perception of a vase. As if closing our palms, we try to hold water in our hands, we personify complete unity with nature and love for it." The interaction of man and nature through design and craft is the main theme of Evgenia's projects. Combining technologies of the past and modern opportunities, with respect for the environment she creates intermediary objects which put this connection into practice. The Wearable vase project intended to carry a piece of nature right on you. Shopping in the fields.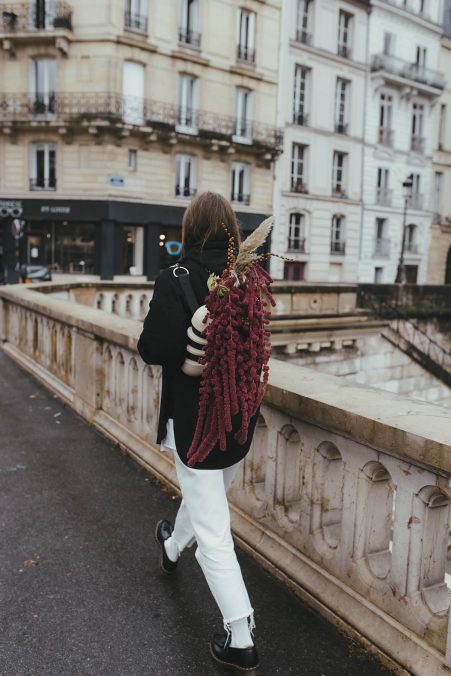 The wearable vase is made in slipcasting technique (the basic form for a slipcasting mold was 3D printed) in a sand color clay, with a white glance glaze inside. The vase is fixed on the body with straps that resemble a bandage in design and feel. The object is an accessory that allows you to carry a bouquet of fresh flowers, creating the image of a person who has just gone shopping for them in the fields. First appearance of the vase in public dragged a lot of interest – Evgeniia wore it on 1000 vases exhibition opening, event in frames of Paris design week where her other works were taking part. Impressed, influencer Alejandro Acero invited Evgeniia to collaborate, and soon afterwards he appeared in a terrific look with a luxurious bouquet by Louis-Géraud Castor in the wearable vase on Yohji Yamamoto fashion show during Paris Fashion week.
Evgeniia Kazarezova – www.zheni.studio
Accessories designer: Vivien Babicova
3D printing: FabLab