In London, there are a multitude of impressive galleries and museums. If it is your first time visiting the city, the classic institutions such as Tate, White Cube, Hauser & Wirth, Gagosian and Saatchi Gallery (to name a few) are must-sees, sure. But London has so much more to offer. In this article, I will recommend five of my favorite contemporary art galleries and why they are worth visiting when in the home of Big Ben.
1. Ordovas, 25 Savile Row, Mayfair, London W1S 2ER
Let's start with Ordovas. This gallery is based in London and New York, and the London space is on Savile Row in Mayfair. It was founded by Pilar Ordovas, who worked at Christie's auction house for thirteen years and Gagosian for two before starting her own gallery – so needless to say, the gallery has competent direction. They exhibit art from the twentieth century and three times a year, they stage museum-level exhibitions while also often collaborating with various museums, institutions and curators. The gallery is near other galleries, situated right across the road from Hauser & Wirth and a five-minute walk from Sadie Coles HQ in Carnaby, where you can also get amazing pizza and great cocktails or even grab a bite at the widely admired restaurant Dishoom.
2. Galerie Thaddaeus Ropac, Ely House, 37 Dover St, London W1S 4NJ
Next up is a gallery that is well-known in the UK as well as Austria because it has its roots in Salzburg. The gallery is situated near Green Park and the well-known department store Fortnum & Mason, so it's the perfect gallery to visit before or after a classic afternoon tea. GTR exhibits art from the twentieth and twenty-first centuries, with artists such as Anselm Kiefer, Erwin Wurm, Joseph Beuys, Gilbert & George, Alex Katz…. Shall I go on? The gallery represents a multitude of very impressive and talented artists, and their exhibition space in a townhouse on Dover Street is absolutely stunning with its grand staircase and multiple rooms. It is also a short walk from the Royal Academy of Arts, where highly esteemed exhibitions are on view throughout the year.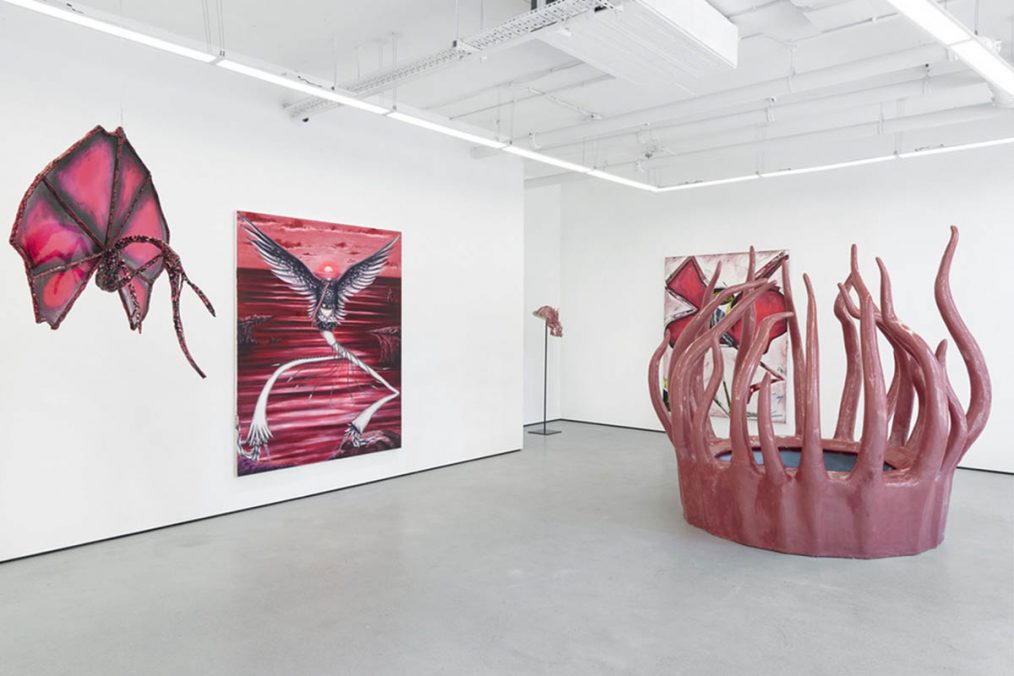 3. Lychee One Gallery, Unit 1, The Gransden, 39-45 Gransden Ave, London E8 3QA
Lychee One Gallery is a small art space in Hackney, in the North-East part of London. They often feature younger, emerging artists and their small space allows for a closer, more intimate experience with each artwork presented. Their installations are immersive, for example their exhibition 'Tides in the Body' in early 2020 and they truly utilize the space they have for showcasing young contemporary talents. Hackney is also a very lovely area with cute café's and shops – after visiting the gallery, I would recommend the Market Café for some lunch in their quirky interior and then a walk along the Regents Canal if the weather is nice.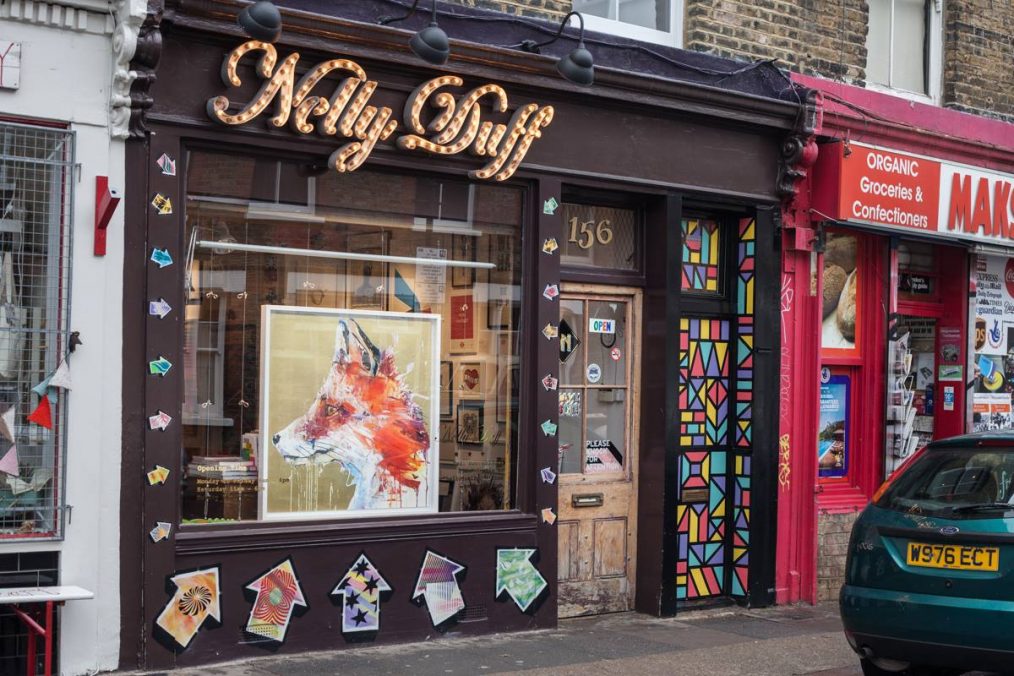 4. Nelly Duff, 156 Columbia Rd, London E2 7RG
Not far from Hackney is Nelly Duff Gallery on Columbia Road. Something else takes place on that road every Sunday and it's the best flower market in London: the Columbia Road Flower Market. Nelly Duff is at the end of the road right by a great café called Laxeino, which is great for avocado eggs on toast. There is a hustle and bustle filling the streets when people are finding the perfect potted plant for their new dorm room (been there, done that, and it's still alive), or putting together a stunning bouquet to bring home and brighten up their flat. It's great to then enter the gallery, which features more affordable artists and wide range of limited-edition prints, after an exciting walk through the flower market and brunch at the Spanish cafe.
5. The Cob Gallery, 205 Royal College St, London NW1 0SG
The Cob Gallery supports emerging artists and is situated in Camden. This part of North London is a lovely area to visit as the Camden Market is right down the road from the gallery, where there are stalls offering international culinary dishes, clothes, hand-made jewelry, and other interesting activities. The Cob Gallery has a strong focus on female artists and exhibits predominately drawing and painting. Their exhibition space is in an area below ground, and it creates a lovely environment to experience the works while separated from the hustle and bustle of Camden. A trip to Camden Market and a visit to the gallery after some delicious street food on the canal is an ideal way to spend a Friday afternoon.
Text: Alexandra Steinacker Clark – www.instagram.com/alexandrasteinacker/