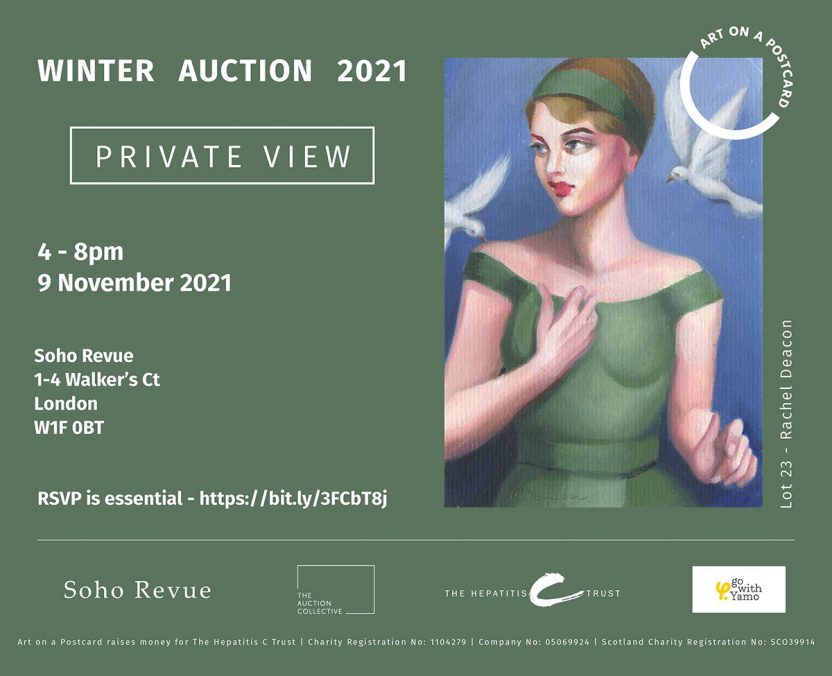 For this edition 250 artists, including Ryan Mosely, Petra schott, Lisbeth Mitty and Hurvin Anderson, have created approximately 550 unique, mini postcard masterpieces. The Art on a Postcard auction is an essential and innovative fundraising tool, forming a key pillar of The Hepatitis C Trust's annual operations.
This auction sees the return of Art on a Postcard's loyal contributors including Royal Academician Mick Rooney, whose imaginative story paintings explore inner mythologies, neurosis, dreams and the secrets of modern society. His commissioned works include a wall mosaic for a new Basilica in Nazareth, Israel and a painting in honour of The Financial Times centenary in 1988., British painter Peter Messer who uses his native Lewes as a backdrop his sometimes- supernatural metaworld, full of ghostly figures at windows or lurking in trees and always against a Sussex wall absorbed into an everyday setting. Deborah Batt whose work lies in between abstract and representational has also created a piece for the auction. Deborah has said her work 'comes originally from the idea of community. The towns and structures we build and the way we shape and neglect the natural and urbanised landscape. In my pictures there is a melancholy a trace of something already lost and I try to recapture that moment in time'.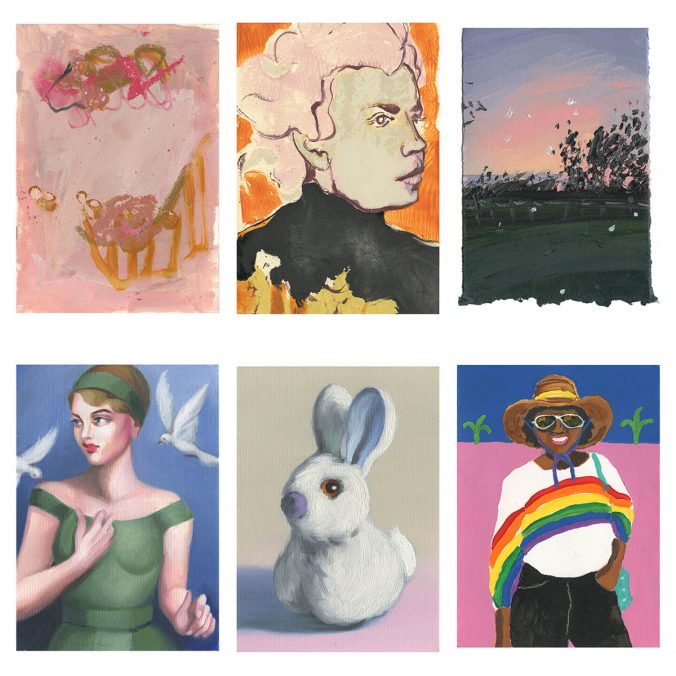 For this exciting edition, new artists have joined the auction including Hurvin Anderson, Petra Schott, and Lisbeth Mitty. Hurvin Anderson is a painter born in Birmingham to Jamaican parents; his vibrant works utilise the genres of still-life, landscape, and portraiture to explore representations of community and identity. He uses layered paintings and prints to touch upon his Jamaican heritage and the places, and spaces that are central to his communities. German painter Petra Schott creates semi-abstracted colourscapes which aim to bring viewers back to internal and existential questions, plus Sheffield based artist Ryan Mosely whose narrative style of painting was included in The Whitechapel's show Painting in the New Millennium. New York based painter Lizbeth Mitty's body of work — described by New York Times critic Ken Johnson as a combination of "painterly verve and hellish beauty" — has long been concerned with examining and amplifying the intrinsic abstract beauty of deteriorating or overlooked corners of urban architecture and interiors.These artists, among many others, will each create a handmade, postcard scale mini-masterpiece for auction, with all proceeds going to The Hepatitis C Trust.
Gemma Peppé, founder and director of Art on a Postcard, comments: "This year's auction is so full of exceptional little works; it feels like there is an unconventional theme which has come together on its own and which is perfect for a celebration of The Hepatitis C Trust's 20 years. The Trust stands alone in its glorious, idiosyncratic unconventionality, we have never followed a formula or rules and many of us hadn't worked in an office when we started. It's a miracle we've got where we are now." In its twenty years of operation, The Hepatitis C Trust has made an incredible difference to the lives of those living with this disease. Due to the Trust's work, the illness has been lifted from obscurity; when they began their vital work there was almost no public information surrounding Hepatitis C, currently the disease is much more widely understood, sufferers are receiving more effective treatment and support, and large steps are being taken towards eradicate the disease. Art on a Postcard is an example of The Trust's innovative approach to charity work and is an essential fundraising tool for The Trust.
The auction will take place 4– 25 November 2021 via The Auction Collective Please register to bid in advance of the auction closing Click here to RSVP for the private view on 9 Nov
For more information visit www.artonapostcard.com
---
The Hepatitis C Trust is the national charity for people with hepatitis C. It is a patient-led and patient-run organisation; most of its board, staff and volunteers have had hepatitis C themselves. It is committed to eliminating hepatitis C in the UK by 2030. Its strategy is based around pillars of better prevention, increased diagnosis and treatment for all. It has established strong partnership models of working with substance misuse and homeless service providers across the UK. In substance misuse services, it delivers staff training, peer-led education about the importance of testing and availability of new treatments, and personal one- to-one support from initial diagnosis through to treatment. It runs a range of support services, including a confidential national helpline run by staff and trained volunteers who have all had personal experience of living with hepatitis C.
Art on a Postcard is a unique platform that offers the opportunity to purchase beautiful limited- edition artworks by celebrated artists at affordable prices. Art on a Postcard is perhaps best known for its coveted postcard auctions. These eagerly anticipated events feature special edition artworks by renowned names that are auctioned anonymously for charity each year. Bidding starts at £50 and they offer a truly rare chance to own mini masterpieces by highly collectible artists, whilst supporting a worthwhile cause, The Hepatitis C Trust.
The Auction Collective was established by former Christie's auctioneer and Contemporary Art Specialist Tom Best. Tom spent six years at Christie's London as an auctioneer, and two years in humanitarian aid before combining these twin passions for art and social good. The Auction Collective is an auction services platform that helps artists, arts organisations and charities run efficient and enjoyable auctions. Combining a suite of innovative in-person and online auction technology with a wealth of auction expertise and advice, The Auction Collective makes the auction process a simple, effective, and enjoyable experience from start to finish.