In particular, he was part of the "In viaggio con Calvino", at the Casa dell'Architettura in Rome, of the "Biennale del Disegno" in Rimini, of the "Biennale del Mediterraneo" in Tirana, of "Selvatico quattordici" in Ravenna and "Pittori fantastici nella valle del Po" at the PAC in Ferrara. He's currently a resident of ViaFarini in Milan.
While I scroll, titles of your works like Avevo un vaso in faccia, Avevo una testa a vaso remain in my mind. How do they emerge?
I believe that the titles of my works should reflect some of the initial process that characterizes them. The work "Avevo un vaso in faccia" is the result of a mistake. It was supposed to be the portrait of a friend of mine but I was not satisfied with it, and thus I decided to modify it by painting on top of it the first thing I saw in front of me. It was a blue vase. Like this, randomness resolved the difficulty faced in that moment, producing a new image. "Avevo una testa a vaso" was made later with the opposite intention, which was to recapture the same idea but reversing its meaning. Ultimately, the titles of my works are often ironical and self-deprecating.
War looks like a significant motive in your work. You work in large format, and at least four works deal with the meaning of war [Il senso della lotta]. Can you elucidate something on it?
Plant and animal species fight for survival. The sexual act itself can be seen as a fight. Similarly, I think that the elements of an image – the sign, the background, the pictorial gesture, the figure put in relation to each other – are the protagonists of a never-ending battle for the conquest of space within the image.
And it is during this fight between parts, and different energies regulating the composition that life is created.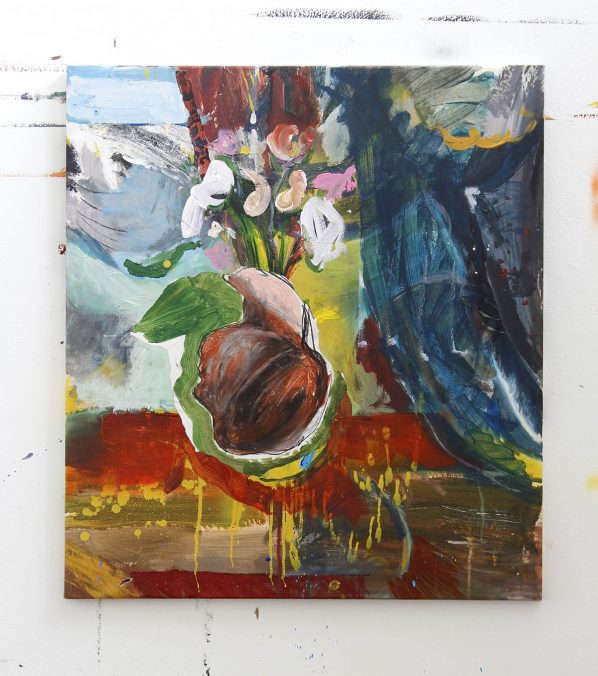 Michele Ainis says in his essay the following about your work: "It is his way of representing the world, his artist code. For Zarattini, every composition is a decomposition." What is composition and decomposition for you?
Essentially, decomposition and composition express the need to infuse a certain amount of chaos into my work. I begin by take apart a series of images previously created by me, like drawings, photographs or pictorial works on paper, and then re-assemble them on the canvas to form a new image.
The decomposition is therefore used to create a sense of randomness, while composition is needed to restore an order and a new meaning to what happened previously.
During this stage, I enjoy pushing the image to the limits of its own recognizability, on the threshold of its own decay.
What is important when creating an exhibition? I was wondering the role of music in your work Mille Piani(Thousand Floors).
When I think of my exhibitions, it is essential for me to create an experience that is as immersive as possible for the audience. In the piece Mille Piani, I wanted to generate this feeling, by connecting an improvised musical performance to the act of painting. And in this way, through the use of a bass clarinet and a dismembered tailpiece of a piano, me and Gianluca Fortini produced a fragmented sound incursion, inspired by the visions of the different moments of the painting. In a dialectical exchange, the image is combined with the sound.
Can we go a bit back in time, to the times of the art academy in Bologna. What have you been learning in these years?
I learned how to open beer bottles with the lighter in Bologna. Aahahah! During my years in Bologna as a student, I experienced a very active cultural life there, not just for art but also for music. In fact, an exciting underground music scene was going on at that time. In the academic environment it was good to be able to discuss ideas around painting with the other students and the teachers.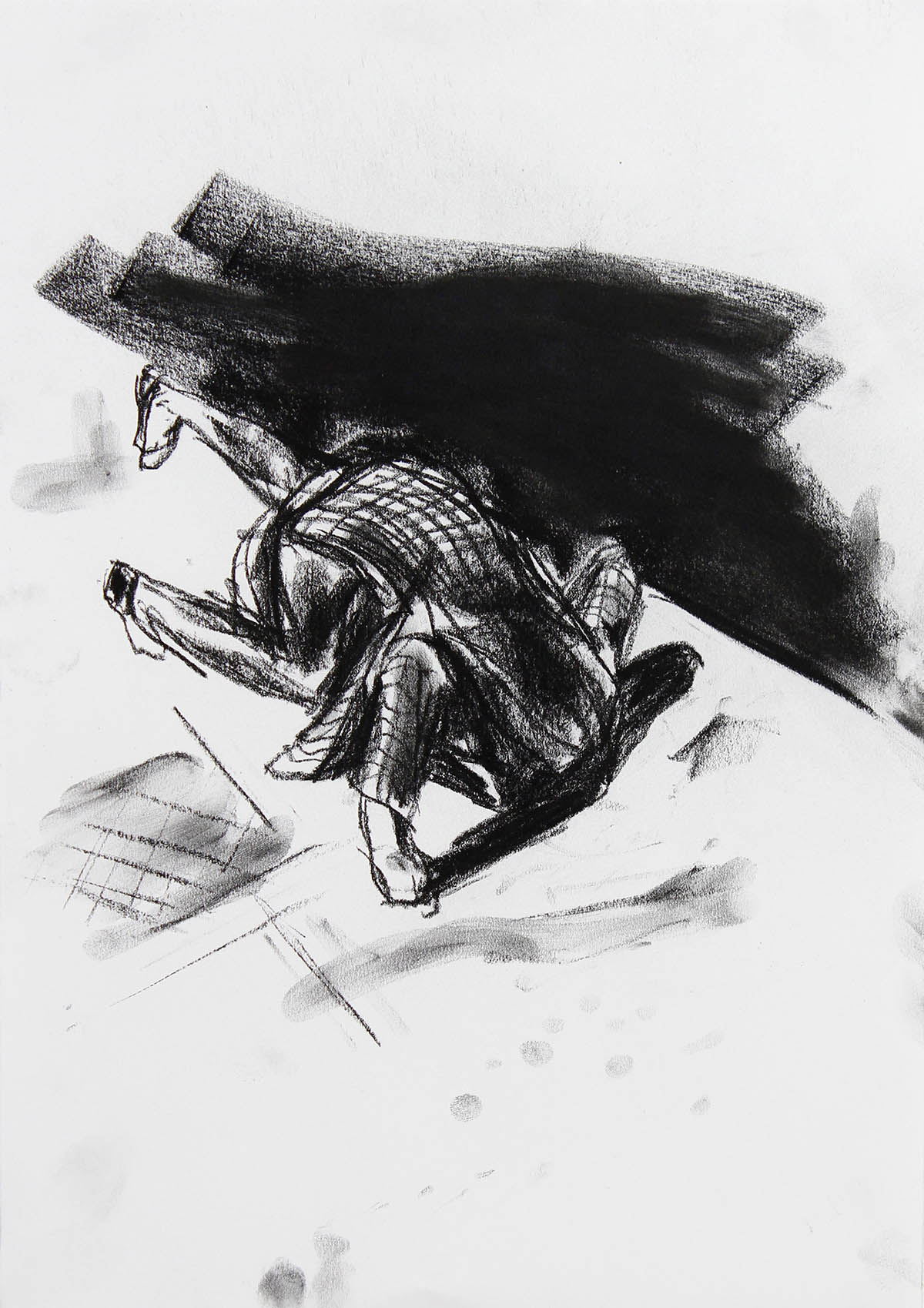 You are currently artist in residence in Via Farini Milano. What do residencies mean to you, and on which project are you working here?
Being a resident in Via Farini enables me to confront and share ideas with other artists, contaminating each other. For me discussions are always moments of growth. In terms of my projects here, I've been thinking about a pictorial installation, composed by many small square canvases that will be put in relation to each other. Different fragments perceived as pixels. I'd like this work to behave like weeds taking over the surrounding space, and spreading over the wall and the ceiling.
How does Milano feel to you?
Milan is a really dynamic city with an explosive art scene. I like the diversity of events that the city offers both in the private and public spheres. "It takes a second to go from being at a punk concert to visiting a prestigious art gallery in the centre of the city.
*We did not give much space to music this time, but I absolutely wanted to share with the readers this:
VIR is a place open to dialog between visual arts and other forms of expression and creative incubation, aiming at giving space to the artistic productions of the hosted artists and facilitating skills' exchange and professional growth. At regular intervals the doors of the shared studio, which can always be visited by appointment, are opened to the public in occasion of the VIR Open Studio, for the presentation of the works produced during the stay. Meetings and talks are organized. Viafarini has the possibility to guest in individual apartments, located in the same building of the studio.The guests of the studio are selected through open calls, by invitation of curators, as well as through application form submitted directly by artist and curators themselves.
Luca Zarattini – www.cargocollective.com/luca-zarattini, www.viafarini.or
---
About the Interviewer: Erka Shalari (*1988, Tirana) is a Vienna-based art author. She focuses on discovering independent young and emerging artists, unconventional exhibition spaces, and galleries that have deliberately broken new ground in their working methods. In this regard, she relies on unorthodox publishing practices, coupling these with a nonchalant manner of writing. The work oscillates between articles for magazines, exhibition texts and press releases.