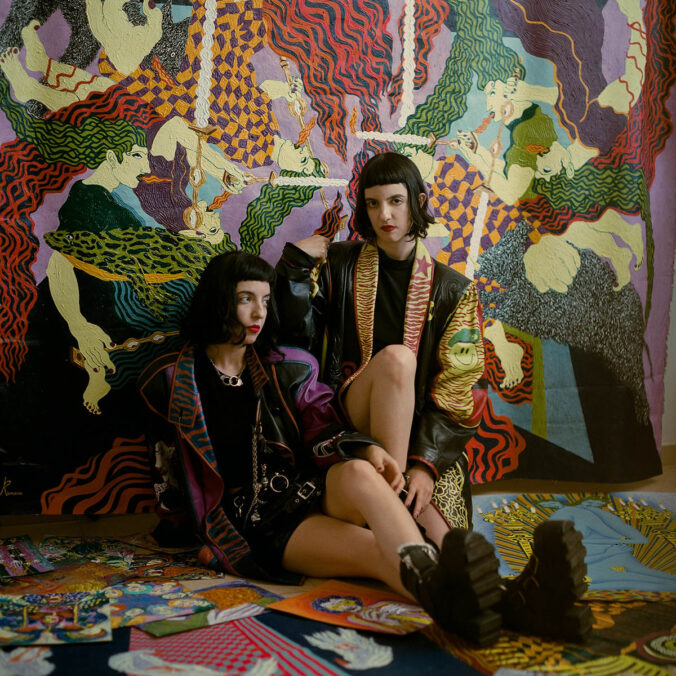 The use of strong and bold colours, together with the dark, surrealistic scenes that they unfold through their paintings capture the viewer's eye and imagination. For the artists, each work is an opportunity to narrate a story of their inner world. Their interest revolves around the complexity of human soul and emotions and they communicate these notions through motifs such as chaos, ritualism and nihilism. They explain that such ideas resulted from a long period of depression and, therefore, of isolation from society. As they explain, "being introverts by nature, we found in art a way to communicate our messages to the world". Their creations are mutual and simultaneous and their style is intense, ritualistic and cult-like, dealing with beliefs and religion, relationships between women, occult, symbolism , queer relationships, magic, as well as with the power of emotions. Romano often use themselves as a reference to create imaginative female characters, something particularly visible through their black and white series of drawings.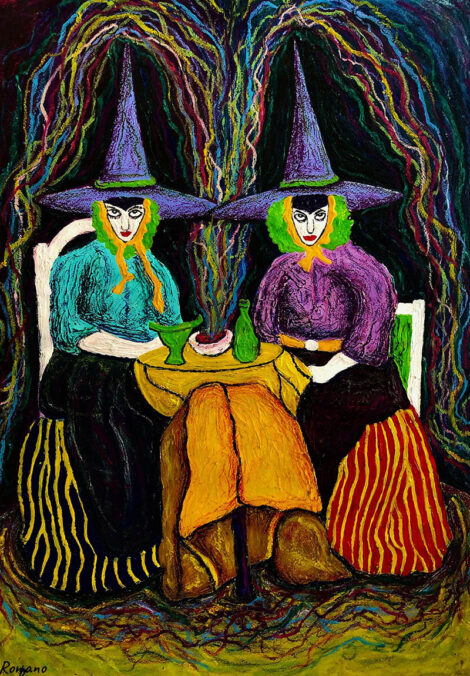 Where does the inspiration for your work come from?
We are inspired greatly both by music and cinema. Loneliness and alienation created in us a great interest for cinema that deals with destructive relationships and misery. The fragility of human existence has always had a great impact on our aesthetics, that is why we appreciate for example the modern German art in the Weimar Republic that despises models of perfection. We can name few of our most favorite artists directors and cultural figures : Hans Belmer, Leonor Fini, Man Ray, Nobuyoshi Araki, Hilma Af Klint, Agnes Varda, Catherine Breillat, Virginia Woolf, Anais Nin, Isabelle Huppert, Sofia Coppola, Leonora Carrington, Chantal Akerman, Francis Bacon, Michael Haneke, Wong Kar Wai , Jim Jarmusch , David Cronenberg, Kieslowski Susan Sontag, Leos Carax… We think that our closest friends who are few btw inspire us the most, they made us make a series of drawings. Our bestie, Daniel, he is gay and we recently made few drawings that focus on relationship between gays and queers inspired by him.We have another friend that is a delicate pianist, we watched him play the piano and it made us create a few paintings and drawings that revolve around the piano.
Besides the fact that we really love piano. Watching day life routine makes us also inspired. There are so many things in life we get inspired by it's hard to list, we get inspired by tragic and beautiful moments.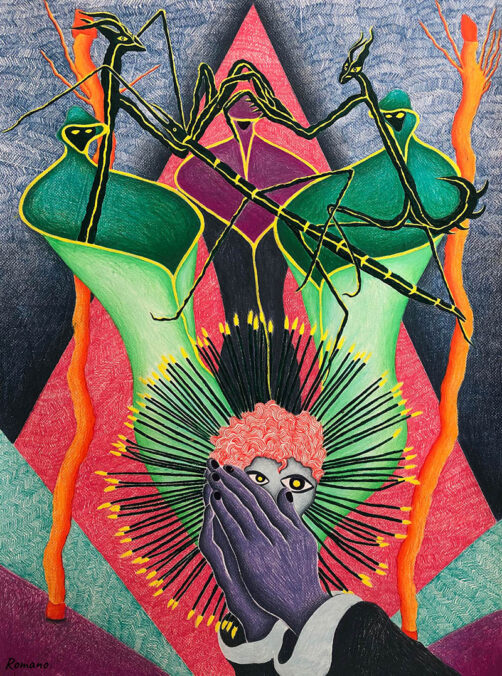 Do you always paint together?
Before we start to paint we sit together trying to think about a new topic. After brainstorming, we immediately create some sketches where we try to combine both of our ideas. Sometimes we can get up with few ideas and general topic we would like to paint, sometimes we have little fights on final presentation but eventually we agree. Then we start working diligently several days until we accomplish the painting. On our black and white paintings that require extremely high level of concentration we are calculating and carefully regarding the motifs and shapes. On the other hand on color paintings we let ourselves to go more intuitive. we always try to paint together because when we paint separately we feel the piece is incomplete. when we paint together we become one, we feel more satisfied, we feel complete.
How would each describe the other?
We can tell these about one another: short temper, wild, messy, dreamer, passionate, curious, impulsive, driven by emotions, sensitive, honest, chaotic, intense, mischievous.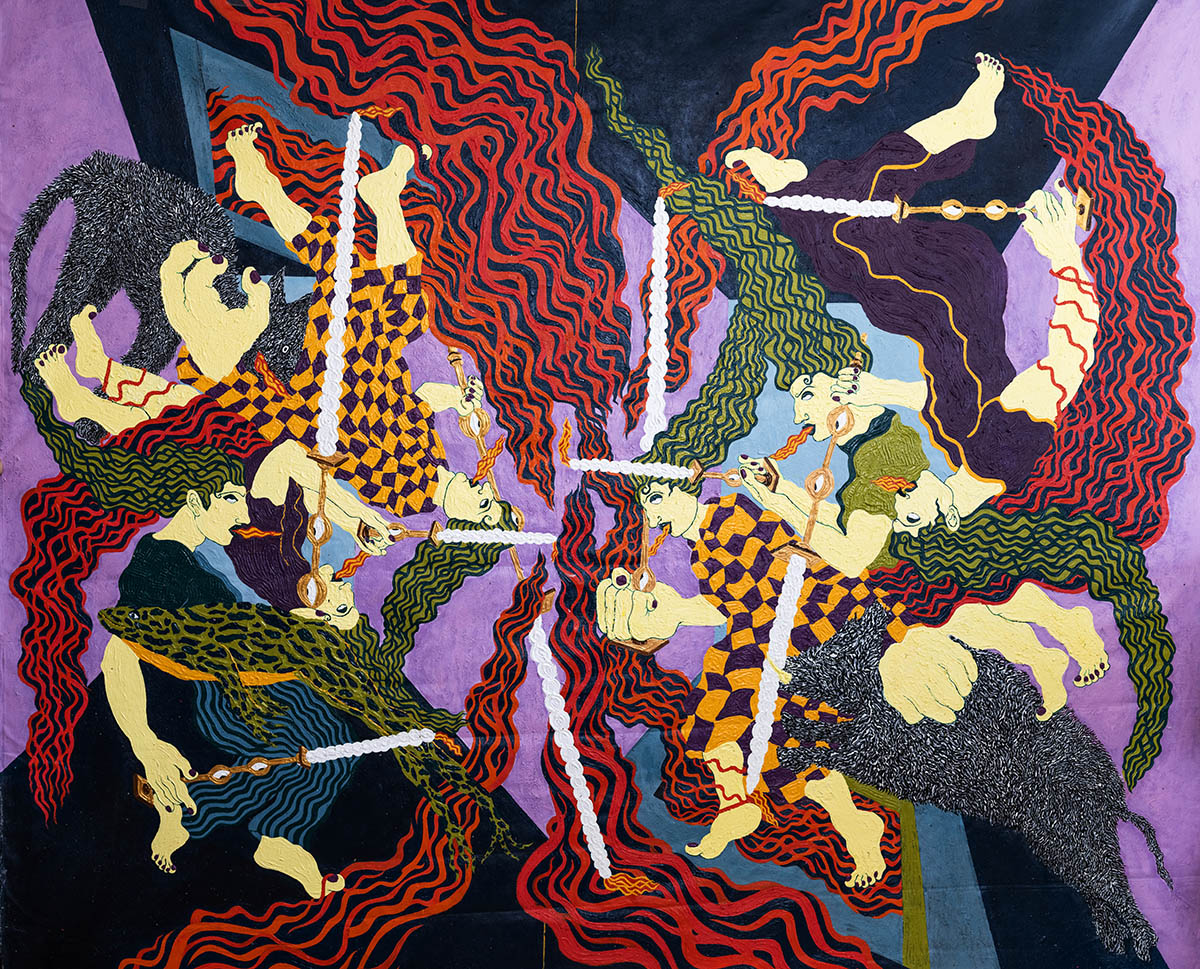 How do viewers perceive your paintings?
We never tried to please anyone besides ourselves, if other people can see the beauty in it we appreciate it. We are flatherred when we see the reaction of visitors to our exhibitions and read their facial expressions especially when we recognize an intrigued face and when we are asked many questions about the work process and the works themselves. There is something very exciting about knowing how to touch people through a work of art, we payed attention that many people try to analize our paintings and drawings, we like that because it means our paintings provoke emotions and curiosity in the viewers.
What do you do in your free time?
We always were attracted to art, aesthetics and music since we remember ourselves. We don't run a hedonist lifestyle, we like living it simple, we enjoy staying at home and enriching our inner worlds with cinema, close friends, philosophy, music. these "minor" things in life mean the world to us. We are not big fans of social events. we are pretty much very introverts, silent on the outside, stormy on the inside.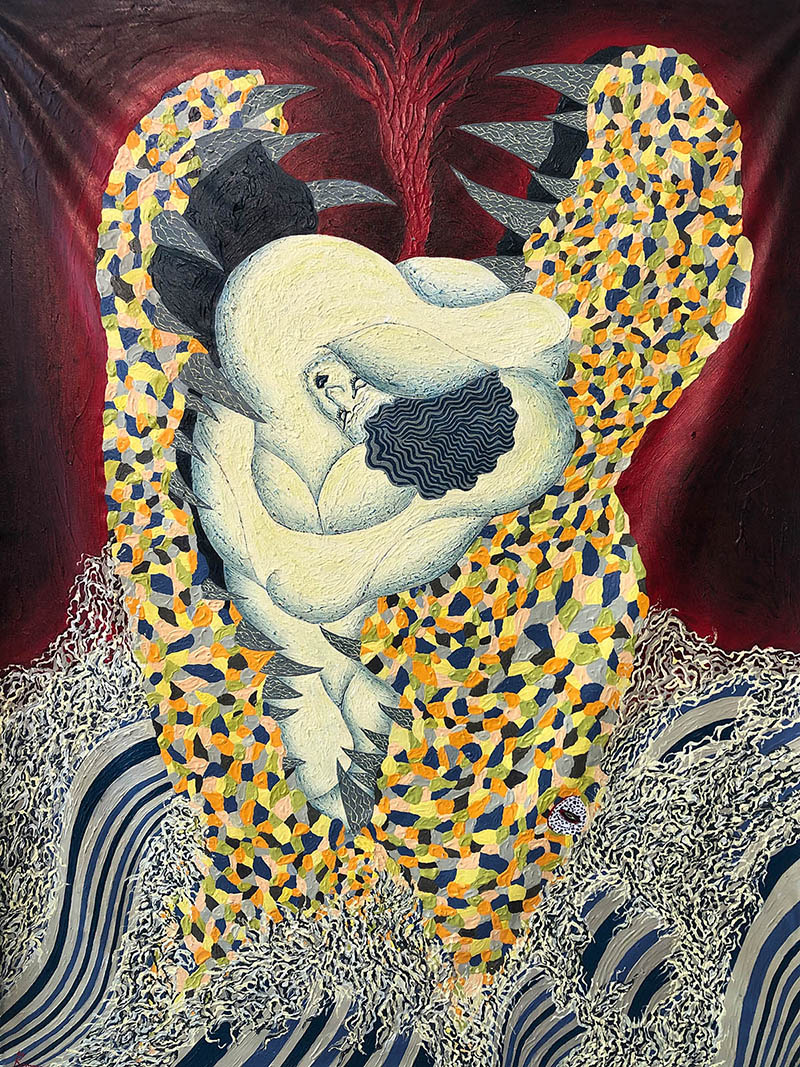 Do you have any other passion?
At the age of 22 we started djing in clubs (Dark-Wave, Industrial, Techno Acid and House), but despite the passion for music it felt that there is something missing. After high school the sense of alienation got stronger and stronger. Hence we are coping with major depression, engaging with people was always a big issue for us. We yearned for something that would fill our life with meaning and help us to ease the daily pain. Painting was the answer. Finally at the age of 25 we discovered our potential. Our four hands became a lethal weapon of 20 fingers. At first we painted on clothes and patches, then on small pieces of paper. Art, painting and creation are our way of connecting to the world, of feeling a sense of belonging.
What are you working on right now? Is there an exhibition planned?
As a matter of a fact nowadays our solo exhibition "Kishufim" is running. we produced series of large canvases flooded with fantastic subject-matter, realised in sumptuous, substantial colours, alongside smaller expressive and spontaneous works — all of which exhibit the same mastery of a range of painting techniques (including scratching, engraving, and glueing etc.) employed in innovative combination to generate a seismic energy. we think that what makes this exhibition special and different is that we show all our our artistic sides in it. We were working one full year non stop for this exhibition. We feel it's time to recharge and rest a little before we start to work on our next solo exhibition. These days we are thinking of new ideas for our next solo exhibition.
Nil & Karin Romano – www.instagram.com/blackorchids/