Erka Shalari: Why is it, that artists often only show fragments of their work on their website?
Matilda Odobashi: That is absolutely true. I have, for example, uploaded only a few works in there. I've tried to conceptualize the website in the form of a portfolio by choosing works with a similar aesthetic. I don't show everything, it is impossible to show everything. There are certain works I share with my close friends only, some works only my partner has seen, and others that I have shown to no one. This is partially because it takes a lot of time to arrange, select and photograph works, this is the point when a third eye is needed, a curator or someone who knows the work I do. And there are other personal reasons for not showing some of them, of course.
Erka Shalari: What connects you with Austria, also regarding your work?
Matilda Odobashi: I have an emotional connection with Austria, and especially Vienna, where I have spent most of my time. The first time I visited was in 2015 at a residency exchange between the Land of Salzburg and Tirana. Before going there, I stopped in Vienna and this started a rollercoaster as I got hooked (smiles). I won the air program at KulturKontakt Austria the following year, which was a great opportunity to know Vienna in-depth as it was three months long.
Then I was invited in Salzburg for a solo show the year after. With Zeta Gallery (Tirana), I had the chance to show my work at Parallel. This participation brought me an invitation as an international curator at the fair next year. Then a very good friend, Gerlind Zeilner (artist and curator) invited me to a group show at FLUCK and then I had in 2018 a duo show and performance at Size Matters. These are some of the events that made me return over and over to Austria.
E.SH: What do you appreciate about the city of Vienna?
M.O: During my visits, I met a lot of friends from there and I made new ones as well. They are the ones that make me experience Vienna through their family and friends, the places which they share with me, the stories of how they have grown up in this city and all that is dear to them, or not. Before this, Vienna was for me only something I had a feeling from sayings of S. Freud and works of S. Cvajg, the works of which I was and still am so much fascinated.

The first time I visited the city, a dear friend named Volker, as if reading my mind, would leave me appointments at old coffee houses very early morning. I like to start early in the day as well, and this was a must for me to do as reading somewhere Freud saying that '…if you want to know the real Vienna, go at coffee houses very early morning', smth like this. So off we went, and in one small coffee house in the district of Landstrasse, we sat and met old musicians or workers. How easily you could start a conversation. I was amazed, it was like an old Jarmusch movie. Maybe because we both liked coffee too much and smoked a lot.
One of my best friends Eva, is from Vienna, and with her we would have walks and she would show me the best and untypical places on my first time there. She showed me a city with two faces, that of the former empire, which is everywhere on the surface, but as well the everyday life of people, traditions and some very specific elements that never die in the city and in the people's mentality. Again as in the coffee houses, I love how you can enter into conversation a bit everywhere and sometimes it happened to me with the old generation (speaking great English) on a bus from Hütteldorf. Some favourite spots include my favourite coffee house, Rüdigerhof. I love how they have no wifi and they haven't changed the place. The fact, that it is owned by Albanians from Kosovo gives it another charm as well (smiles). I like trams a lot, so I try to hop on them as much as I can but when in a hurry, the underground is perfect. I love Amaliienbad and the fact that you can meet all kinds of people in these places. It is hard for me to stop when it comes to Vienna as there is so much memory for me there, so I will stop here.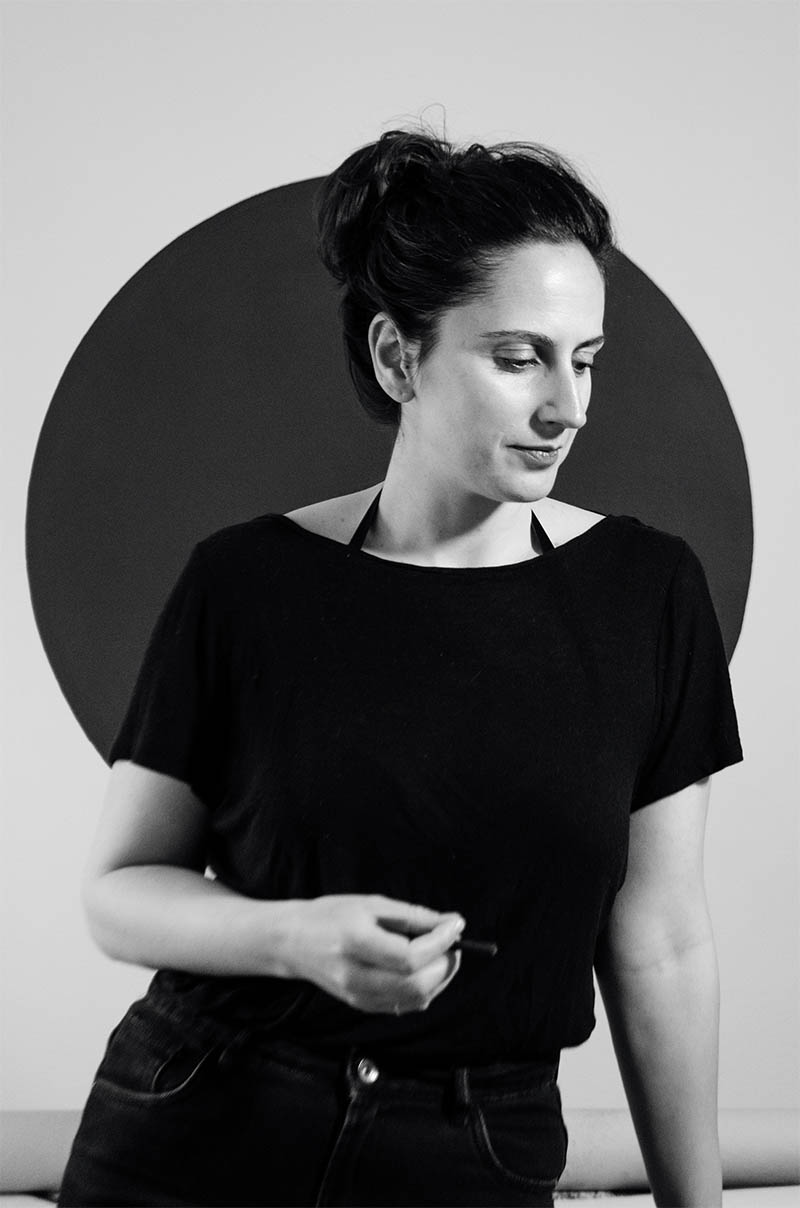 E.SH: And what about Tirana?
M.O: Tirana is the city I was born and where I lived all my life. If I could choose some words to describe it, I would say: noisy to the limits of sanity, young but in a decaying mood, very pretty but without care, welcoming and yet very intruding, in a hurry without a destination. When we say that 'people make a city,' I think in Tirana, this phrase is a bit more literal than in other cities.
The urban landscape represents the typical example of a city and architecture built without architects, where its inhabitants have created a canvas of perfect chaos, where rules don't apply, and everyone has left her/his own mark on the face of the city.
I think this is the reason why most of the artists, at least one of their works they dedicate to the chaotic architectural elements of the city. Certain things are surprising to see as well. I notice how little people respect and take care of the common property when I think about the fact that just a bit more than 30 years ago, Albanians didn't have "private property". In this sense, I sometimes feel that the shared spaces in Tirana belong to everybody and to no one simultaneously, as everyone claims they are theirs, but no one is taking care of them. Very hard to talk about Tirana as I have with the city a love-hate relationship. I always value the sun, though.
E.SH: Do you also have such work?
M.O: Yes, a series, called Error!Error! aka. Lines that lie, is derived from elements of the city. In my work, the human figure is always the main subject (or a humanoid of some kind) so the architecture or the landscape, when there is one, is always in the second place. In this case some works from the series you can clearly see elements, and forms reminiscing the city while at the same time from them are created humanoid figures. This is my interest at the end: the inter-relationships, how people interact, be it in the intimacy of a love relation, family or more expanded in space.
E.SH: Actually I would have had to ask this at the beginning of the interview: how did you land in the field of art?
M.O: From what they tell me, like many kids, I liked painting when I was a child. From what I remember, I would be quiet in a corner with paper and crayons, and I would take refuge there. Today is very similar to this feeling of having a place of my own. I don't come from a family of artists but rather from a family of artisans, in my opinion. My mother is a baker, mostly making life sweet through desserts for us and others. I remember her as a kid working for long hours, making filo, creating cookie shapes or cutting baklava into uniform geometric shapes.
On the other hand, my father worked most of his life with metals, creating all sorts of metallic shapes, from small objects to construction tools in huge buildings.

When I think about what stimulated my desire, I am sure it was as well the fact of being raised by two people who made/created something by investing themselves physically as well. And of course, I consider myself lucky that besides what I mentioned above, my parents also supported my desire to paint also by inscribing me to creative courses with tutors that would help me develop my passions even further, so I am very grateful for this.
E.SH: How would you describe your studio?
M.O: I recently became a mom, so everything is new, and it feels somehow the same, yet everything has changed. Not being able to work in the studio for the moment made me create the studio everywhere possible. Even though the house has taken a playground shape and everything revolves around the babies, what I consider studio is my notebooks. I always have one with me when I go out, or multiple notebooks spread in the house, papers attached to the walls and so on.
So, in this sense, for the moment I take my studio wherever I go, and whenever I can, I put down a line or a few words.
E.SH: I am especially interested in what the act of drawing represents to you.
M.O: Drawing for me has a crucial part in my creative process. Always did. As I mentioned before, I have the habit to use notebooks, so it comes only naturally to me to write or sketch daily, be it with a pencil or any other material that leaves a sign. I am fascinated by how many things you can do with such simple tools.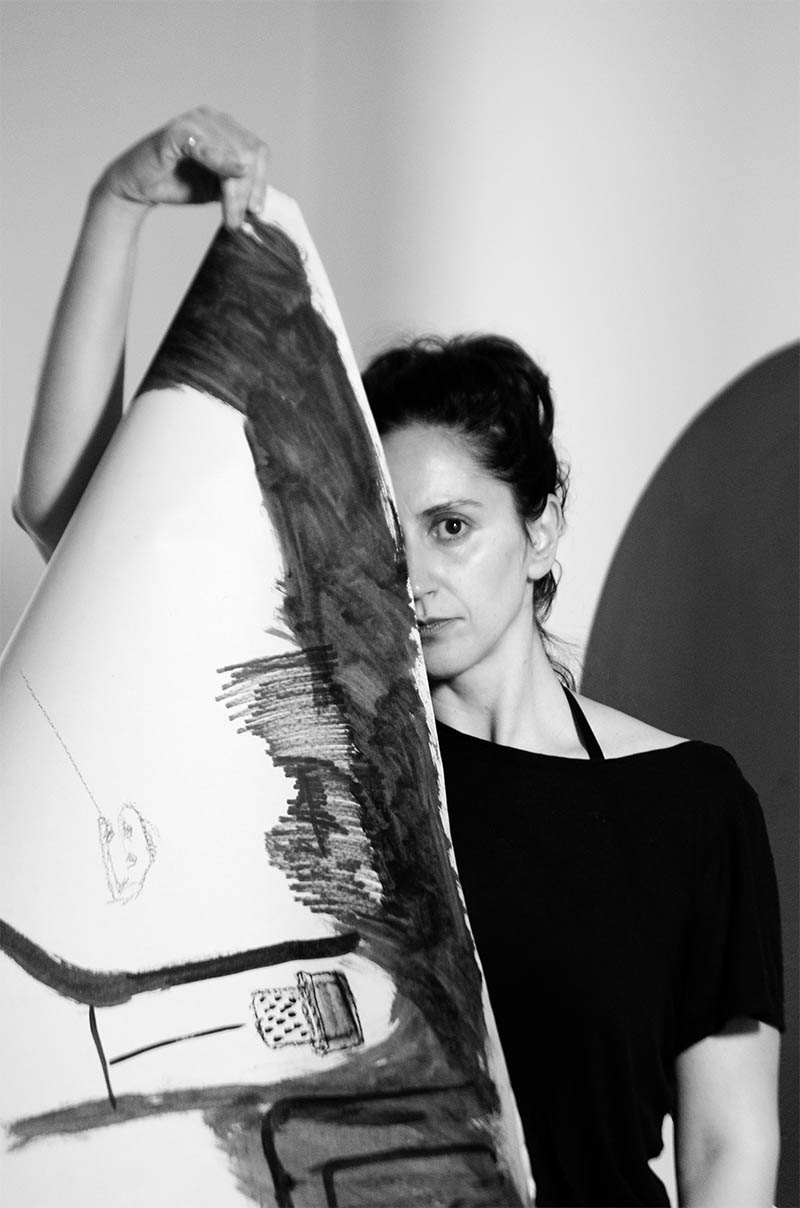 E.SH: You often return to earlier works and continue "toiling" with them. Maybe at some point, we all return to working with things from the past. Why is this process so important, would you say?
M.O: I regard history as a cyclic process and thus, as a spiral would rotate and once it has completed the full circle takes on into the next step, so is my work, once I complete a full circle, I tend to return to my old works and take elements from there in order to bring it into other mediums. Thus my work is never finished as it is a perpetual work in process.
For me, this is important because certain ways of feeling/being repeat, and when I go back to something, it means I still have to explore it. The thing is, I can't call a work completely 'finished.' This concept is now more than ever abstract to me. I would rather say that mostly my works are unfinished.
E.SH: Regarding your work titles, how do they emerge?
M.O: Most of my titles are short and I like to use them to give a hint of what the work is about for me, a general idea, very similar to a writer delivering a title to the book. Sometimes in my work, I refer to writers or books that are important to me, and it's there that I might find inspiration for some titles. Other times the titles are very descriptive of a specific action or an element that is very visible in the work.
E.SH: Along with your personal artistic career, you have also been curating quite a lot of shows in institutions and off spaces, just to name a few – Tirana Art Lab, National Museum, Zeta Art Center, National Gallery Kosovo, Parallel Vienna; recently also in the M/NUS art space, that you have co-founded. How does it feel for you to curate?
M.O: Yes, there was a time I was very interested in curating. After my graduation, I met Adela (Demetja), she had created Tirana Art Lab. As a young artist, I was interested in exhibiting my work, but she offered me the opportunity to coordinate some international projects as well (exhibitions and workshops), to which I said yes for many reasons. I wanted to work with international artists, practice my English and just learn new things. I learned a lot about building up exhibitions and organizing workshops.

Then I continued with curating a group show, during the time I worked at the University, and after some time worked together with two good friends on their personal shows, one in Tirana and the other one in Prishtina. I have a long collaboration with Zeta Gallery in Tirana and worked with Valentina (Koca) on building up shows I was participating in or of other artists. I can't say I am a curator or that I ever was, but I think I was passionate about it as it developed in a conversation with artists friends and building up their shows.
Today I think about curating in a very similar way. Together with my partner, we opened M/NUS in Tirana with the idea that artists can create their show from scratch while being in conversation with us. We assist, we help if asked and needed, but the concept is that of a space where the artist has all the freedom to conceptualize and show her/his work in her/his way. Experimenting is key for me, and I would like to pursue it myself as much as to encourage it in young artists as well.
Contact:
Matilda Odobashi
www.matildaodobashi.com
www.instagram.com/odobashimatilda
Notes from the author: I got to know Matidla Odobashi in 2019, on one of my trips to Tirana. The interview has been a written correspondence between the artist and me.
---
Matilda Odobashi was born in Tirana, Albania. She studied fine arts at the University of Arts in Tirana, later cultural anthropology and currently is pursuing a formation in psychoanalysis. Her inspiration is drown by what it means to live together and the anxiety as a result of the relation with 'the other(ness)'. Initially trained as a painter, Odobashi explores inter-relationships throughout different mediums such as drawing, digital drawing, painting, and installation. Matilda Odobashi has exhibited at numerous solo and group exhibitions. Some of her solo exhibitions are Size Matters (Vienna, 2018), The passenger (Salzburg, 2016), The Chronic (Zeta Art Center, 2014). Remarkable group exhibitions are Ambitions (National Gallery Tirana & Pristina, 2021), Maeutic (Fluc 2017), The whale which was a submarine – Contemporary Art in Albania and Kosovo (Ludwig Museum, Budapest), The Albanian way: 100 km Art-Tirana Shkodra Public Art Paracours, National Road Tirana-Shkodra (Tirana Art Lab – Center for Contemporary Art), A day like any other (Zeta Art Center, 2016), etc.
Erka Shalari was born in Tirana in 1988 (AL). She studied Occupational Psychology at Tirana State University and Culture Management at MDW, Institute for Culture Management, Vienna. She focuses on discovering distinctive artistic positions, unconventional exhibition spaces and galleries that have deliberately broken new ground with their working methods. She relies on unorthodox publishing practices, coupling these with a nonchalant manner of writing. Editor at Les Nouveaux Riches Magazine since 2020 – http://linktr.ee/erkashalari