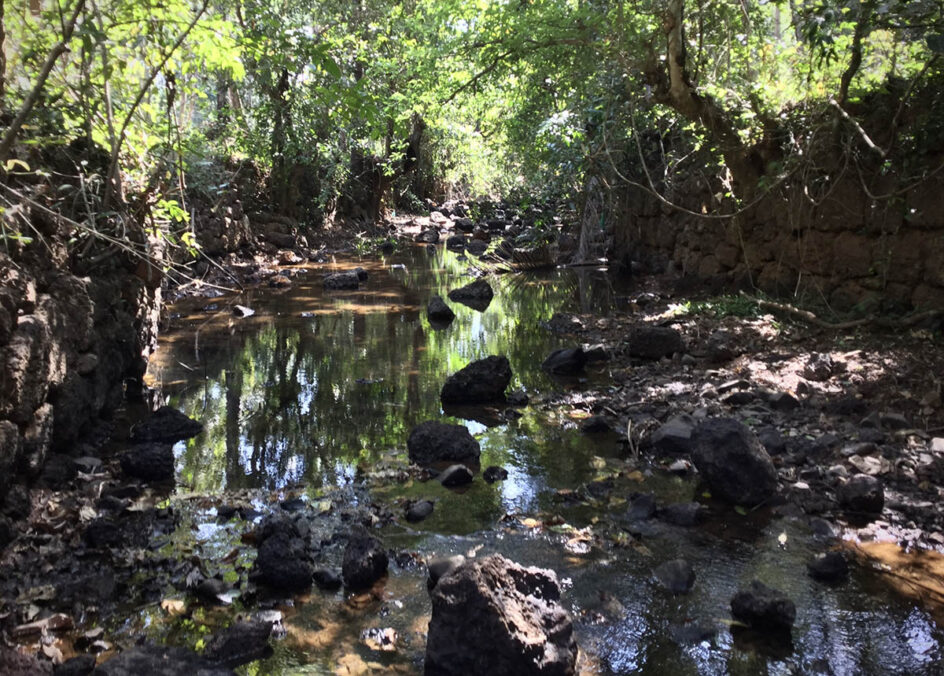 Les Nouveaux Riches Magazine is pleased to present Elsa Martini's latest site-specific work, DISHEVELED (2023).
Tropical vegetation, a creek in Goa, year 2020, just a chapter from many, an anthology of media: photo, a disarranged lullaby, and then swimming flowers in transformation, relaxed, pressed, died, hanging all around, in various ephemeral states, bearing a symbolic that changes with time. DISHEVELED belongs to the Ophelia Series, an expansive body of work, typical of artists' way of working (1). The succession has been kept private for a long time, and it is only now that Martini starts to reveal elements of it (2) analyzing all the times she has recreated new forms of Ophelia's expression.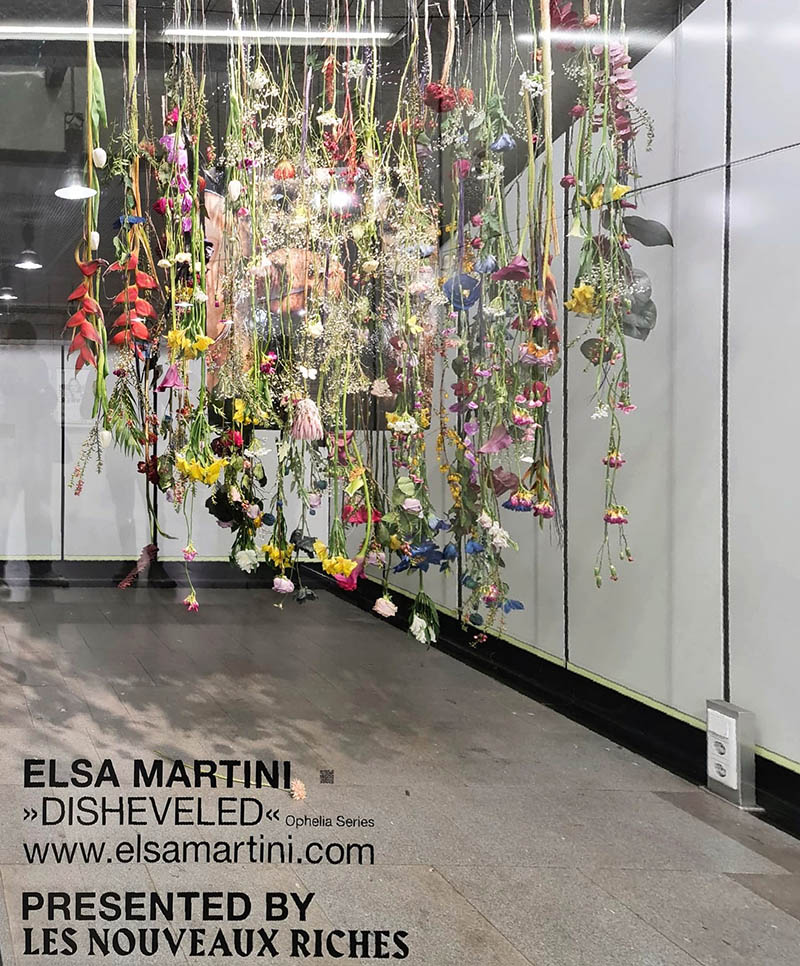 This ongoing strain of work is now present in the subway station, a cube art space that seems to belong to both private and public at the same time. The fact that the room is locked makes it atmospherically impenetrable, and a large transparent object that is recreated through the glass walls. Just like her complex layers of the works that simultaneously speak with forthright and partway encrypted languages. The latter alternate, mature, give the artists new insights that address identity, archiving, love, madness, misogyny, degradation, acceptance, and many dichotomies. DISHEVELED from Ophelia Series is a character who proves to have at the same time obedience and disobedience, absence and abundance of libido, but also more. At the end of this journey, one wonders how one can break out of the duality or if it is possible. Or do we have to resign because we are water bodies, blue humanities (3) always in transition? And this is only the beginning of a large body of work.
– Erka Shalari 19.03.2023, 23:15
Notes:
(1) See Series "Dreams" (2005 – Ongoing), "The Happiness of the Others" (2018 – Ongoing).
(2) Some felt things are like pomegranate seeds and they have to be silent for a while. Conversation with the artist, March 2020.
(3) Bezan, S. & Neimanis, A., (2022) "Hydrofeminism on the Coastline: An Interview with Astrida Neimanis", Anthropocenes – Human, Inhuman, Posthuman 3(1).
Elsa Martini graduated from the Academy of Fine Arts in Tirana 1996 in the monumental painting class. Certified by the University of Applied Arts, Vienna in 2011 and Institut für Kultur Konzepte 2012. She has never been envisioning herself just in a medium, so over the decades, she has developed a complex artistic practice, seeking and approaching the horizons of her works – moving from painting to multimedia, site-specific, performance, text art. The artist deals with tensions between the individual, society and environment; examines and reflects on personal behavior and social trauma, questioning boundaries, space, environment and gender issues. In her work we witness vernacular influences from the places she travels and researches. Her works have been part of numerous solo and international exhibitions in galleries, museums, art festivals, biennials, and critical formats. In Austria her work has been shown at Belvedere 21, Parallel Vienna, Künstlerhaus Wien, IG Bildende Kunst, Vienna, Kultur Kontakt, Sommerakademie Salzburg, Galerie Krass, Aktionsradius, Galerie Hochdruck and in various alternative projects. She is the founder and curator of NATA international art collective – https://secondaryarchive.org/artists/elsa-martini/, http://www.instagram.com/elsamartinistudio, http://elsamartini@yahoo.com.
Exhibition: Elsa Martini, DISHEVELED
Exhibition Duration: 29.03. – 19.04.2023, Opening: 30.03.2023, 18 o'clock
On view: Subway station Altes Landgut U1 (Exit Altes Landgut), Red Carpet Art Award Showroom, 1100 Vienna

Flowers: The most outstanding amount of flowers for this exhibition has been kindly supported by Zweigstelle Atelier – http://www.zweigstelle.com
Sound composition for Elsa Martini, DISHEVELED, 2023 by: Cornelius Wildner (Binaural Ophelia)

---
Cornelius Wildner is a Vienna-based sound artist and music technologist. He deals with ephemeral sounds, field recordings, archiving, live performance, analogue and digital synthesis. At the same time, he collaborates with artists from different genres.
Erka Shalari (*1988, Tirana, Albania) is a Vienna-based art author & curator. She studied Industrial Psychology at Tirana State University and Culture Management at the State University of Music and Performative Arts, Vienna. Relies on unorthodox publishing practices, coupling these with a nonchalant manner of writing. Editor at Les Nouveaux Riches magazine since 2020.
Les Nouveaux Riches (LNR) is a Vienna-based art platform that gives artists and cultural professionals the opportunity to present themselves to a broad audience in an authentic way. Since April 2019, more than 1.500 interviews, articles and 9 print magazines have been released. In the LNR cosmos, we organise and curate exhibitions and events, represent artists at international fairs, refer artists to galleries, design and produce garments in limited editions and publications.