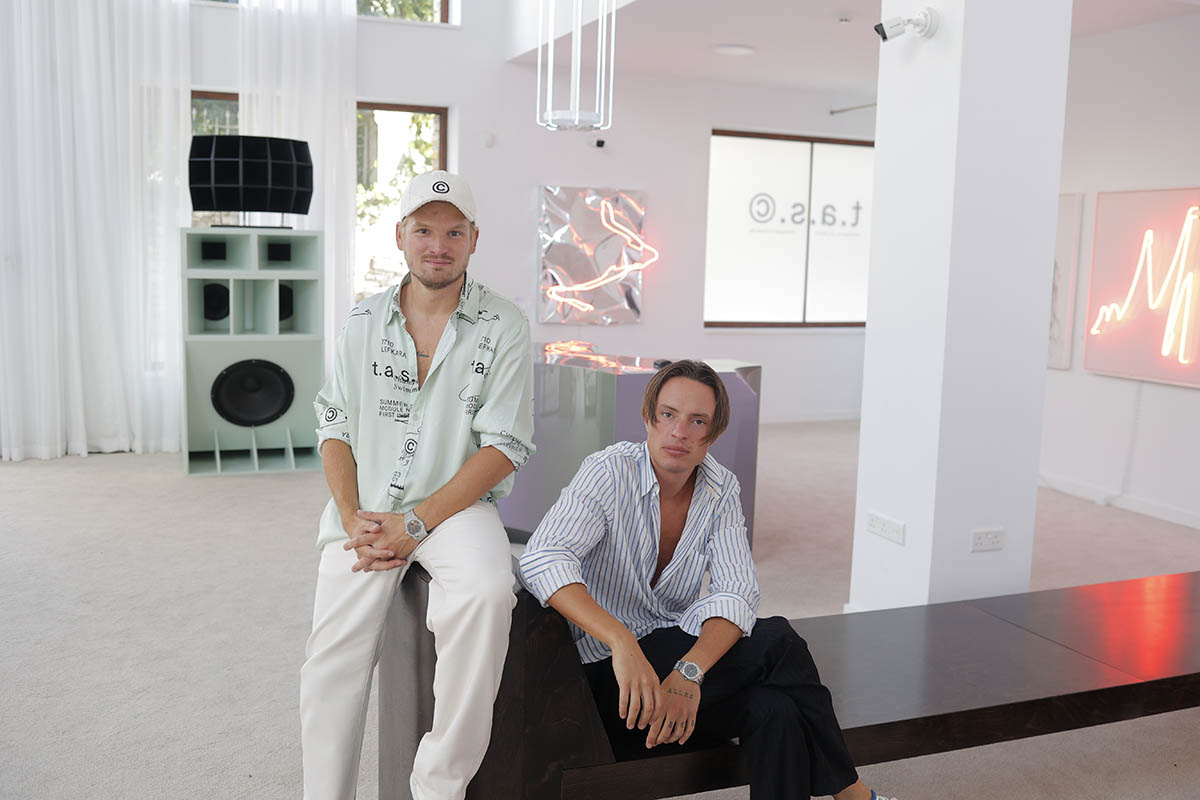 Lefkara, celebrated for its rustic charm and recognized as a UNESCO World Heritage site, is a village steeped in history. It was here that the legendary Renaissance polymath Leonardo da Vinci found inspiration for his iconic masterpiece, "The Last Supper," in the intricate embroidery of a Lefkara-style tablecloth. Now, this tranquil village is home to t.a.s.©, which juxtaposes its rural backdrop with urban elegance, surprising and enchanting visitors with its unexpected presence.
At its core, t.a.s.© is a platform dedicated to promoting contemporary art, design, and various creative endeavors. A recent addition to the gallery, the Capsule Collection, pays homage to the spirit of Cyprus, celebrating its rugged landscapes and the charm of its people, particularly those from Lefkara.
However, t.a.s.© goes beyond traditional gallery offerings. Visitors can immerse themselves in a holistic experience that includes a champagne and caviar bar nestled in the gallery's courtyard, adding an element of fine dining to the artistic journey, further enhancing the senses.
The gallery's ambition extends to exploring the synergy between culture and architecture.
In the words of Julian Epok, t.a.s.© is envisioned as a "renaissance spaceship," bridging the gap between the old and the new, tradition and contemporary, and vanity with depth. It aspires to become a cultural beacon akin to the iconic Colette Mon Amour, but with a heightened focus on contemporary art and fine dining.
For those who appreciate the seamless integration of art, culture, and heritage, t.a.s.© promises to be a destination that embodies emotion, lifestyle, aesthetics, and even a fragrance—an invitation to explore the very essence of this Mediterranean island. In this tranquil corner of Cyprus, the t.a.s.© Contemporary Art & Design Gallery invites visitors to embark on a unique journey that transcends boundaries, celebrating the beauty of art, design, and history in harmony with the island's rich cultural heritage.
t.a.s.© – tas.xyz, www.instagram.com/t.a.s.xyz/
Press & Contact:
a b c works
Ana Berlin + Team,
hello@abc-works.today
---
Julian Epok, born in 1994, grew up in Vienna (Austria) in an artistic family. His father is a pianist, his mother a designer, and his brother is a product designer. He attended the Lyçée Français. He began with graffiti as an entry point into art at the age of 13 and held his first solo exhibition at 16. He studied at the University of Applied Arts, creating design and fashion collections, and transitioned his artistic practice from photography to mixed media painting.
Christoph Pliessnig, born in 1995, grew up in Klagenfurt, Carinthia (Austria). He founded his first company at the age of 19 and has since been a successful serial entrepreneur. He moved to Cyprus in 2018. He is the CEO of the Digital Asset Boutique Teroxx, with an annual trading volume of over 750 million euros and more than 60 employees throughout Europe.
The Agora Hotel was opened a few months ago by a Danish entrepreneurial couple after several years of renovating a former monastery with great taste and attention to detail. In the center of the building, there is a courtyard with a pool, around which the restaurant, lobby, and bar are arranged. Rooms are accessed via a first-floor arcade. The Agora embodies a globally traveling bohemian spirit that sometimes merges work and vacation into "workaction" and "staycation." It exudes a worldly flair for simple pleasures.