"What a pity", the artist states, "it's the basis of all visual production, the essence, so to say – black and white, a simple yet powerful means to create contrast – accompanied and varied by the intensity of pressure applied to the paper, with your body holding a pencil. If this isn't fundamental, I don't know what else is."
Constructed line by line, also a certain temporal aspect is captured in the work. In doing so, she focuses on making time – or rather the passing of it – visible by the bundles of lines.
Be it ephemeral strokes, geometric constructions or – as in the Showroom Volkstheater – organic shapes, Lanner's artistic practice centres around drawing, more precisely, 3B pencil on paper. The simplicity of the means is what she is interested in, being the most direct and immediate way of giving shape to thoughts, and, at the same time, allowing her to create and construct complex gestures with it.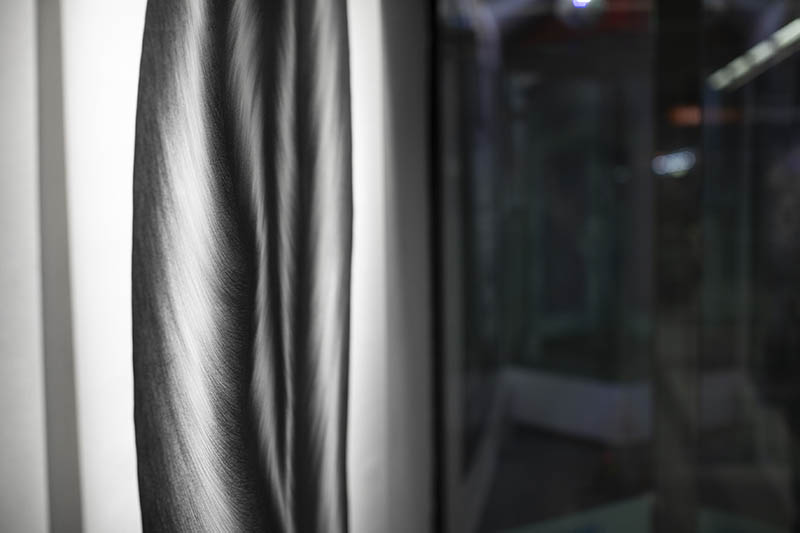 In small and large-scale formats, Lavinia Lanner pursues a drawing's ability to slip into different roles, all being unfamiliar to the technique, such as sculptures, furry objects, metallic monuments, or, as an ongoing series of hers, brushstrokes. What pretends to be a dynamic and expressionistic doodle, is a precise reconstruction of a brushstroke by means of pencil and its single lines bearing only the concept of the original material. Other series include drawings of found objects, forgotten relicts of everyday life shown in a drawn close-up, resurrected in the new environment and context. She is interested in the ambiguity of shapes and their respective overlappings and boundaries.
Born in 1985 in Austria, Lavinia Lanner is a Vienna-based visual artist. She studied at Slade School of Fine Art (University College London) and graduated from the Academy of Fine Arts Vienna in 2010. In 2022 she received the Austrian State scholarship of Fine Art (bmkoes Staatsstipendium). Her studio is currently at studio das weisse haus (Hegelgasse 14, 1010 Vienna).
Exhibition: Lavinia Lanner – Assume form / Portal V
Exhibition duration: until 21.11.2022 
On view: Red Carpet Art Award Showroom Volkstheater (U3 metro station Volkstheater > exit Museumsquartier). More Informations: www.redcarpetartaward.com
Lavinia Lanner – www.lavinialanner.com