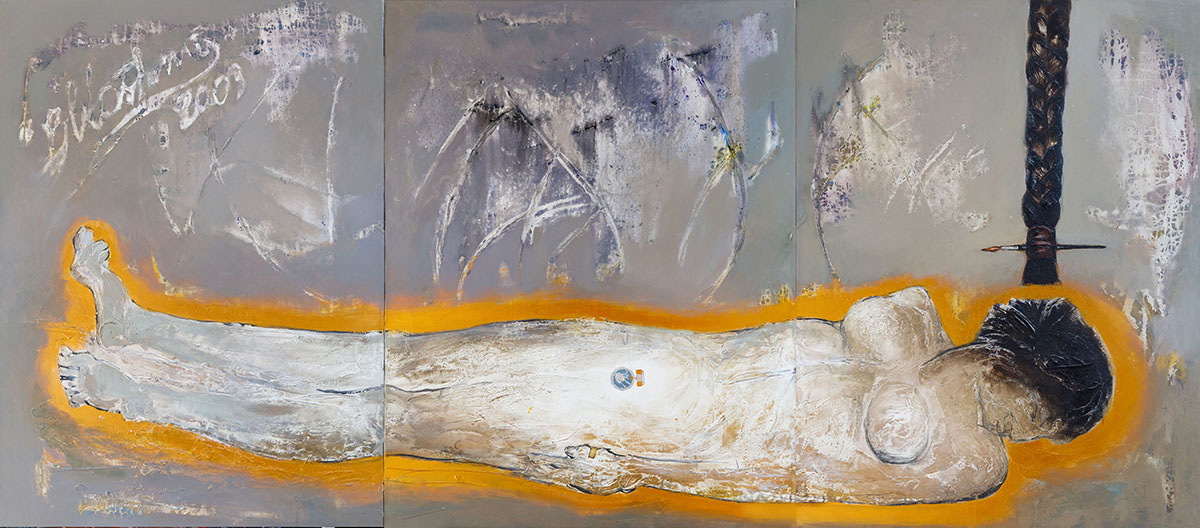 It follows her successful presentation at the 59th Venice Biennale as part of the Albanian pavilion in 2022. The National Gallery of Kosovo is honoured to host this extensive retrospective, showcasing a significant part of her half-century-old creative journey. The exhibition aims to present and reposition Lumturi Blloshmi's work and life within the context of national and international art histories. The selection comprises Blloshmi's works from the 1960s to the 2000s, including self-portraits, landscapes, portraits, painting compositions, photographs, and installations. These works reveal her aesthetic essence and personal reality and bring insights into the political and social context in which she created. Like many artists of her generation, Lumturi Blloshmi adhered to the constraints of socialist realism until the late 1980s. However, in the 1990s, she distinguished herself as one of the few who successfully repositioned and transformed her work until passing.
Her works in painting, photography, installation, and performance are marked by an ironic reflection and overcoming of the reality in which she lived. Her dynamic and self-aware personality, nourished by philosophy, poetry, sensibility, and spirituality, shaped a distinctive body of work.
Drawing from previously unexhibited works, the exhibition aims to introduce the multidimensional practice and individualized metamorphosis of Blloshmi to the public.
The display traces her artistic trajectory chronologically, highlighting the main themes: the individual context through Blloshmi's personal experiences that have become the main inspiration for the many Self-portraits; the Albanian context which she systematically analyzed, commented, and captured be it through the landscape paintings of the 1980s, the Exodus of the 1990s or the political transition of the 2000s; and ultimately the universal context as a concern with philosophical and spiritual aspects which her latest works deal with.
All these expressions that nurtured her artistic practice reveal how Blloshmi continuously recreated the figure through imagination and experimentation in various mediums, achieving what she aptly described as "a distinct, tangible universe." Blloshmi's impressive artistic practice, extraordinary biography, and powerful personality make her a unique and portentous figure in national and international contemporary art. Despite facing various limitations, such as being deaf from the age of five, enduring oppression under the communist regime due to political reasons, and being a woman in a field dominated by men, Lumturi Blloshmi did not receive the recognition she deserved during her lifetime. The exhibition aims to shed light on her work and life, which have yet to be thoroughly researched, displayed, and contextualized.

Curator: Adela Demetja| Filmmaker: Tin Dirdamal| Interactive media artist: Alexander Walmsley Exhibition| Architect: Dea Buza / Apparat Studio | Design: Joreld Dhamo / Parallel Studio
Exhibition: Lumturi Blloshmi. From Scratch
Exhibition duration: 01.09 – 15.10.2023
On view: Kosovo National Gallery, Street. Agim Ramadani, no. 360, 10000 Prishtinë, Kosovë www.galeriakombetare-rks.com
Past Interview in Les Nouveaux Riches: www.les-nouveaux-riches.com/albanian-pavillion-venice/
---
Lumturi Blloshmi (1944–2020) was born and lived in Tirana. Her father, an officer in the Government of King Zog I, was executed by the communists when Lumturi was only two months old. At age five, she lost her hearing due to a meningitis infection. Blloshmi graduated from the Department of Painting at the Academy of Arts in Tirana in 1968. In 1973, she became a member of the League of Writers and Artists, but her membership was revoked from 1974 to 1984, preventing her from exhibiting and continuing her creative practice. After graduating, Blloshmi worked as an offset worker at the Mihal Duri printing house and later as an editor and illustrator at a textbook publishing house until 1989. Until 2004, she worked at several institutions, including the National Art Gallery and the Institute of Culture Monuments in Tirana. Her first solo exhibition took place in 1988 in Berat. In the 1990s, she stood out as one of Albania's best contemporary visual artists, showcasing a synthesis of installation, photography, drawing, and painting. Some of her works are included in the collection of the National Art Gallery in Tirana. Her works have been exhibited in various group and solo exhibitions, including those at institutions such as the Chelsea Art Museum in New York, the Municipal Art Gallery in Bydgoszcz, Poland, Alexandria Biennale for Mediterranean Countries in Egypt, National Art Gallery of Albania, and National Art Gallery of Kosovo. She made history as the first woman artist to represent Albania at the Venice Biennale in its 59th edition. Lumturi Blloshmi passed away on November 27, 2020, due to a Covid-19 infection.
Adela Demetja is a curator and author born in Tirana, Albania, currently residing in both Tirana and Frankfurt am Main. She holds a master's degree in "Curatorial and Critical Studies" from Städelschule and Goethe University, Frankfurt/Main. In 2010, she founded the Tirana Art Lab – Center for Contemporary Art, where she serves as the director. As an independent curator, she has curated numerous international exhibitions and collaborated with institutions such as the National Gallery of Arts in Tirana, the National Art Gallery of Kosovo, Maxim Gorki Theatre in Berlin, the Portland Institute for Contemporary Art in the USA, the Project Biennale D-0 Ark Underground in Konjic, the Action Field Kodra in Thessaloniki, the Lothringer 13 Kunsthalle in Munich, the Villa Romana in Florence, and the Haus am Lützowplatz in Berlin. Notably, she curated the Albanian Pavilion at the 59th Venice Biennale, representing Lumturi Blloshmi.