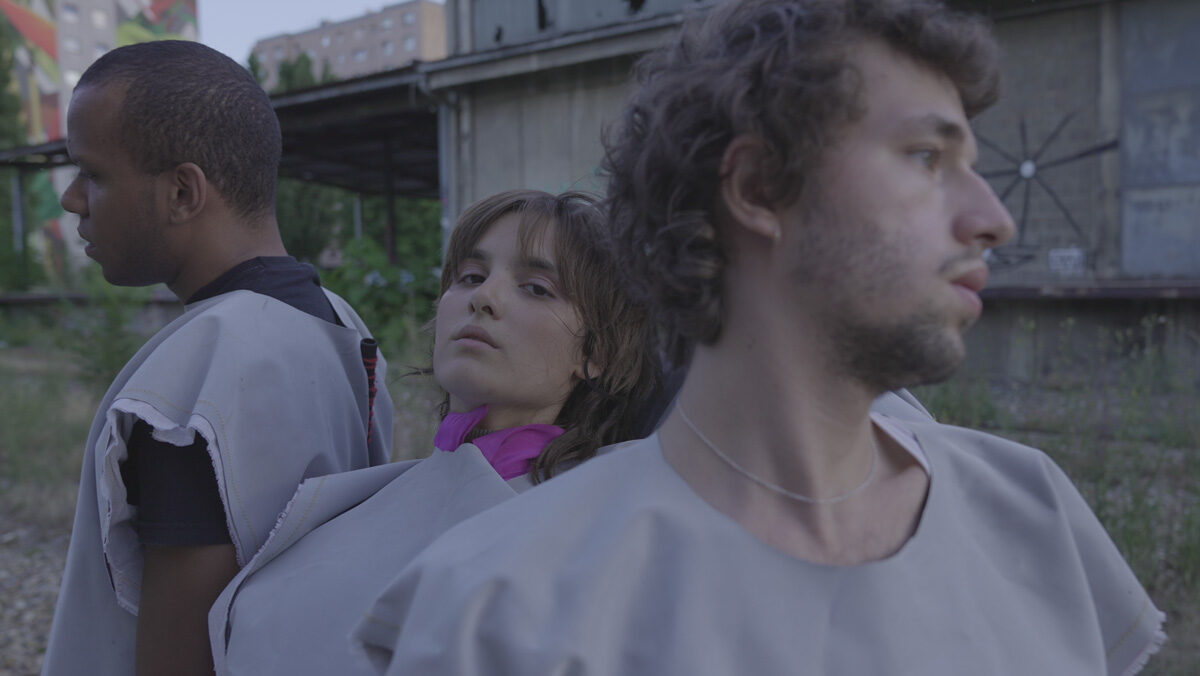 The work aims to discuss the intertwined relations of materiality and waste powered by the cultural industry in the Anthropocene. The penetrable sculptures framing this piece were built using tensegrity techniques, which have been mostly incorporated in architectural, artistic, and design projects by active male figures in the fields such as Buckminster Fuller and Frei Otto.
Through a queer-feminist perspective, the work weaves found materials such as plastic, wood, and metal with second-hand fabrics to create a fiction in which the images created by the artist expose the residual aspects of industrial processes involved in the making of such re-signified materials.
The penetrable structures will serve as an open-air stage and a prosthetic extension of the performer's bodies as the material affinity links inorgânic and organic parts, while the choreography evolves through a hybridization process. Digital sketch of Cornucopian Cut installation elements in scale to the performers bodies.
*Videos of all previous performances can be seen at https://vimeo.com/user85198608
Entering the Web, a performance project by Luiza Furtado | Performer*s: Frederike Gordillo // Leandro Barros // Luiza Furtado | Production: Hannah Doppel | Sound design: Francis Hirschl | Editorial supervision: Anne Meerpohl | Documentation: Fedor Handzo and Vera Sommer
Performance happening on September 9th at 5 pm 
Location: Parallel Vienna, Pavillion 16, ground floor, Room 015 (16/015)

Tickets: http://www.parallelvienna.com/tickets/
---
Luiza Furtado was born in Florianopolis an island in Brazil, in 1999. She lived for over 20 years in Rio de Janeiro where she received her Industrial Design BA from PUC University in 2021. Since two years she moved to Austria for her studies in the Contextual Painting Class with the Professor Ashley Hans Scheirl at the Academy of Fine Arts Vienna. Furtado's research on intuitive dance weaves painting, soft sculpture and audiovisual media. Creating cloth capsules for symbolic rituals of empowerment and care. Her performative work is based on prosthetic experimentations with upcycled textille craft through a queerfeminist perspective. Resulting in bulging spawns suggestive of metaphorical haptics and sensuality. The optimization inscribed in the process of transforming found materials relates to a prosthetic quality of the artist´s costume designs that gradually morphed into textile sculptures. As upcycling is defined by the reuse of discarded objects in such a way as to create a product of higher quality or value than the original. Her body of work unfolds as axiomatic fictions which approach ecology through the embodiment of poetry. Furtado has presented her pieces at Bienal Black Art Brasil, Paço Imperial in Rio de Janeiro, Coronet Theatre in London, Das Weisse Haus in Vienna, Alfred Institute in Tel Aviv, BCMA gallery in Berlin and MOM Art Space in Hamburg. Having an active practice in between Brasil and Austria, the artists interest on video-performance grows; as a sustainable alternative to work cross-atlanticaly.
Leandro Barros is a fashion designer, illustrator and performer born in 1991 in the city of Santo André, Brazil. Graduated in fashion from Faculdade Santa Marcelina, he worked in the fashion industry for about 10 years before coming to Vienna. He is currently doing his master's degree at the Academy of Fine Arts in Vienna. One of his best known works is as the drag queen Madame Léa, a persona with which he seeks to bring black, Brazilian and Latin representation to the local drag scene. He has performed in events such as Spit Festival and Frequency Festival, also in other events with partners such as Queens Brunch, House of Moonlight and Queer Museum Wien.
Frederike Nikotina Gordillo is a transdisciplinary artist born in 2002 in Puebla Mexico.They came to Vienna two years ago to study Fashion design but dropped out to now study at the University of Applied Arts in the TransArts Department under Nita Tandon and Stephan Hilge. Frederikes Research revolves around the interconnections and dogmas inside of Art. Obsessed with the concept of Gesamtkunstwerk, Frederike Aims to use Conceptual Trash, a form of contemporary Kitsch, as a medium for philosophical and theoretical Debate to further the advancements in Art.
Francis Hirschl's work shows a wide transmedial body with a fondness for narrative and worldbuilding. After receiving a diploma in Media Design, Hirschl, best known for his musical work and songwriting in Viennese bands such as Kunstword (Between Naive and Wise EP) and Sybylle (Lustige Videos aus dem Internet) has been studying at the Academy of Fine Arts in Vienna with professor Ashley Hans Scheirl where he deepened his experience with painting, video, writing and sound design (and DJing).  Despite a deep affection for visual arts, Hirschl has plenty to offer in the area of sound and music, giving reason to anticipate more from his still very young solo project Francis 21 such as his band Sybylle together with artists Tereza Hossa and Francis' brother Elias Hirschl. Recently Hirschl has been doing costume design for Norbert Pfaffenbichler's new horror film piece 2551.03, which is i.a. part of SLASH filmfestival.