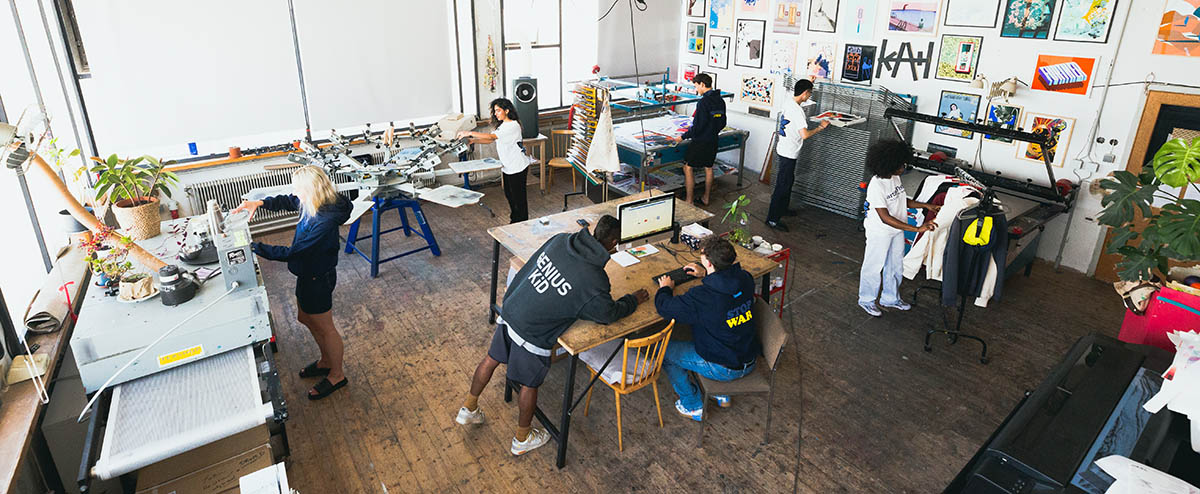 His work spans art, design, photography, and storytelling. In addition to his creative endeavors, Oluwatimilehin Adesanya is also the founder of Artistrybeing®, a Vienna-based brand that was established in 2021. Artistrybeing is an amalgamation of garment design, art, and storytelling, and is created upon the principles of expression and creativity. The brand is also committed to ethical practices, ensuring that its products and activities contribute positively to society.
Why did you start Artistrybeing®?
In 2017/2018, I had the idea to start Artistrybeing® to bring my long-held ideas based around the idea of self-expression to life. My self-expression is driven by my own unconscious mind, and I turn my articulated thoughts into materialized ideas that I present to society. Artistrybeing® is not just a clothing brand or product line, but a multifaceted brand created to inspire creativity and encourage ethical living as a lifestyle. The products of Artistrybeing® are not limited to garments but also include art and social commentary. I am always eager to materialize my thoughts, and Artistrybeing® allows me to express myself and bring my ideas to life without restrictions, in a way that is unrestricted by the means by which it is expressed.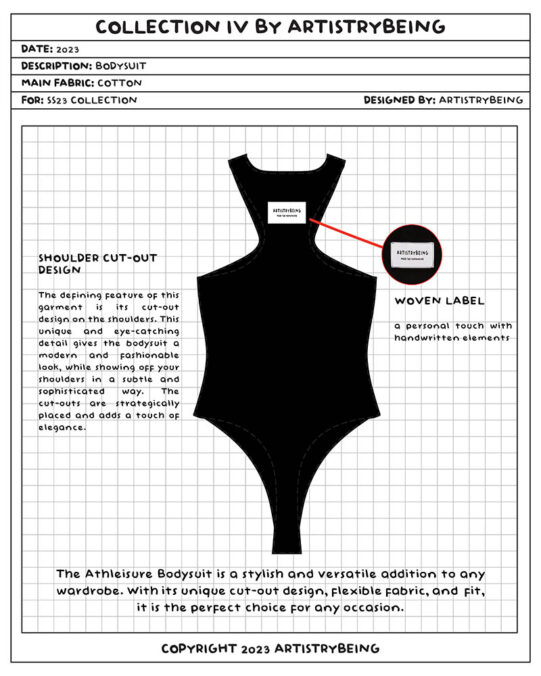 Can you talk about your creative process and how you translate your ideas into tangible fashion designs?
I believe my works are based around a storyline and in a way an eccentric interpretation of individualism, which is displayed in various forms, that includes fashion design. My take on fashion design is mostly about a topic (dialogue) that is interpreted through capsule collections. It all starts with the idea of exploring certain subject which is layered into little stories, and those stories are what inspires the capsule collection. Once I have an idea, I start with sampling to capture the essence of what I want to create. From there is basically just experimenting with different silhouettes and techniques. My creative process is fluid and iterative, meaning that I often go back and forth between different stages of the design process as new ideas come to me. It is important to me that my designs are not only aesthetically pleasing but also meaningful. As a multidisciplinary artist and designer, I draw inspiration from different art forms such as music, literature, and visual arts. This allows me to approach my designs from a unique perspective and create pieces that are not only fashion-forward but also tell a story and convey a message.
Ultimately, my goal is to create fashion designs that are not just beautiful, but also have a deeper meaning and contribute positively to society.
Artistrybeing® is a Vienna-based brand. How does the city and its culture influence your designs and brand identity?
Vienna is a culturally rich city with a deep history of arts, and fashion. Being based in Vienna has had an impact on the brand's identity. The city has a strong emphasis on ethical values and a unique blend of cultural attributes, which is reflected in my designs and Artistrybeing® philosophy. The city's architecture and art scenes have also been a source of inspiration for me and have influenced the way I approach my creative process. The city's cultural diversity and openness to different perspectives have also helped shape the ethical and inclusive values of Artistrybeing®.

How do you intersect garments, art, and storytelling in your designs?
In my designs, I use garments as a medium to express my ideas and tell stories. The garments themselves are designed to be works of art, incorporating unique textures, colors, and patterns. Each garment is a piece of a story (dialogue) I am trying to convey. I also use art in the traditional sense, incorporating digital artworks, illustrations, and other visual elements into the capsule collection. Either the Artworks are displayed on the garments themselves, creating a symbiotic relationship between the art and fashion, or revealed as an art piece. Finally, storytelling is a crucial component of my designs. Each collection is centered around a specific theme or message, which is conveyed through the garments and the accompanying visuals.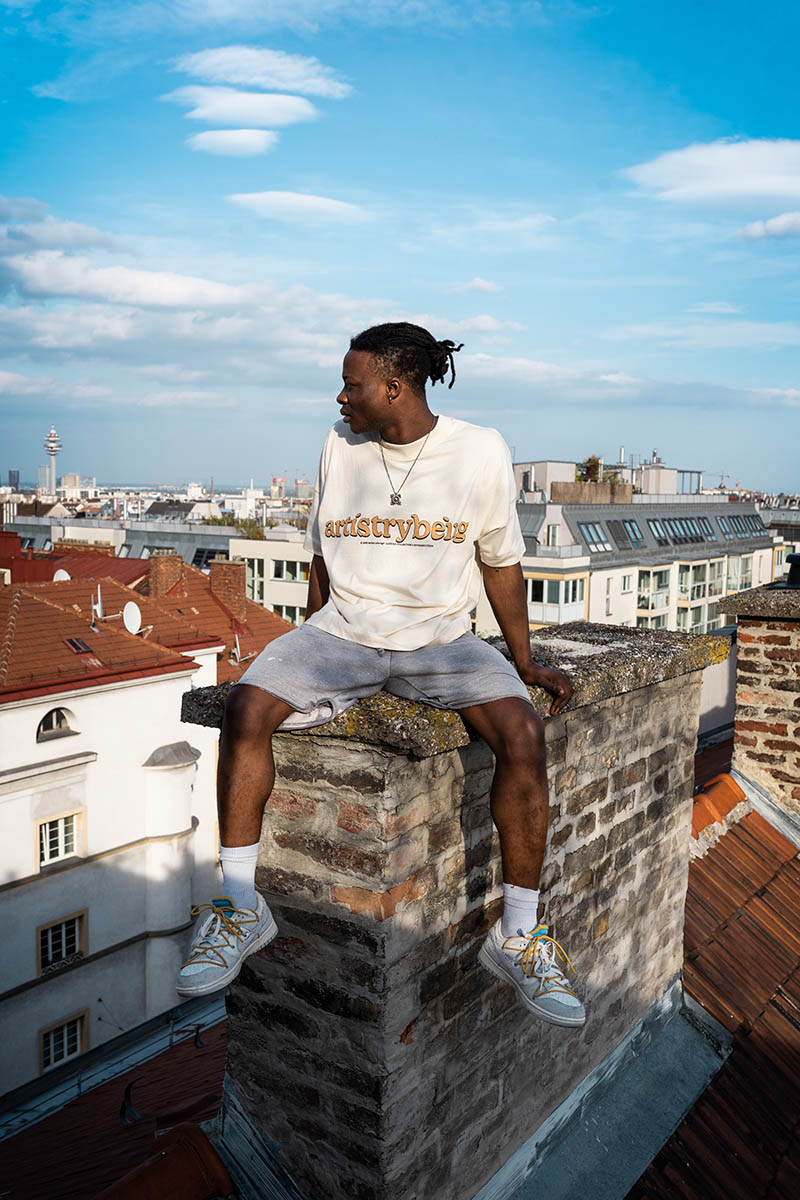 What does HUMANKIND mean to you?
HUMANKIND refers to being a part of the human race without any restrictions based on gender identity or sexual orientation. This concept is embodied in Artistrybeing®, where the products are created for everyone, regardless of gender identity or sexual orientation. MADE FOR HUMANKINDTM: indicates the brand ́s commitment to inclusivity and acceptance. Made by a human for humans.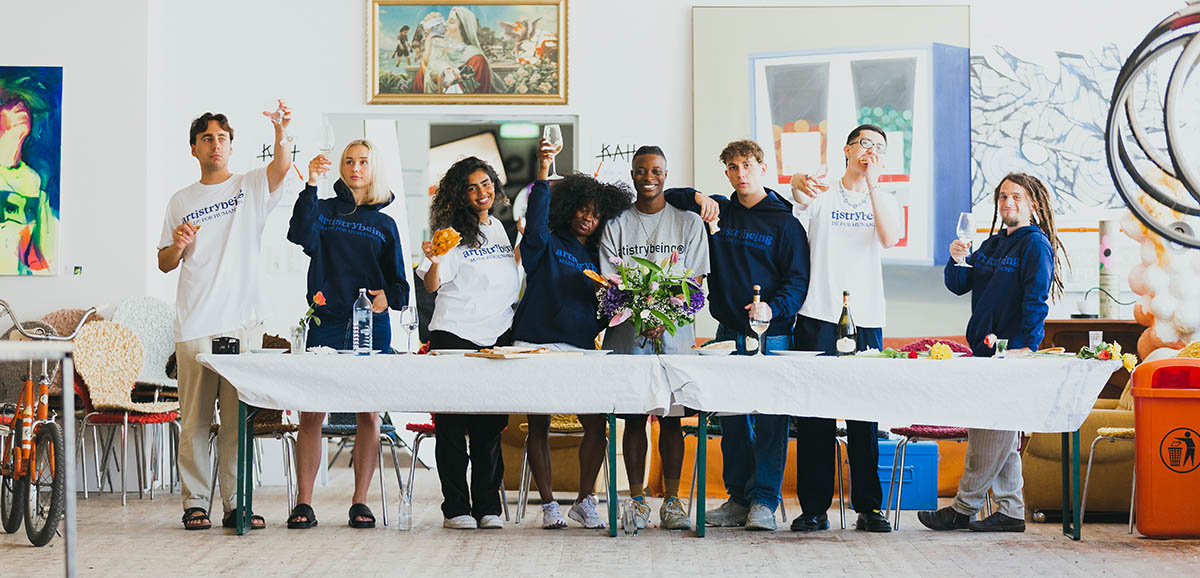 What materials do you prefer to work with, and how do you ensure that they align with your brand's values and sustainability goals?
For materials, I prefer to work with natural and sustainable materials such as cotton, linen, hemp, and bamboo. But since Artistrybeing® is quite a young brand (almost 2 years now) and still find itself in its growing phase, cotton is the truly ideal sustainable material for Artistrybeing®. There are plans in the work that involves indulging new sustainable materials, but it just must be at a sustainable commercial standard for ethical accessibility. I also prioritize working with local suppliers and manufacturers to reduce my carbon footprint and support the local economy.
Artistrybeing® – www.artistrybeing.com, www.instagram.com/artistrybeing/