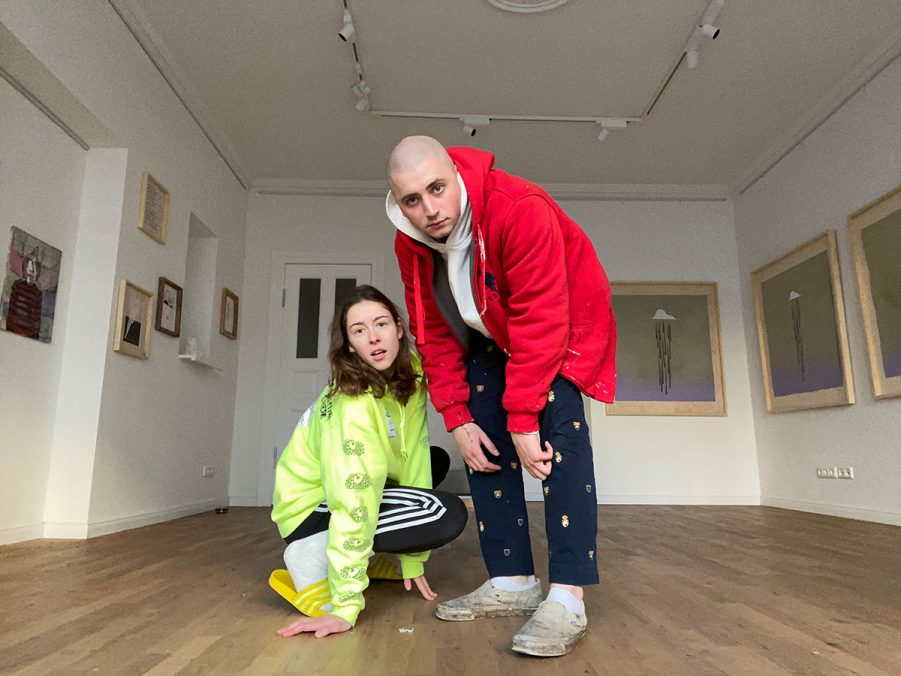 As yet, they have presented artists they know personally from their significant times in London, and from their time at Art College Central Saint Martins. Stallmann's first exhibition was called "for Christmas" and has brought together works by various emerging artists: Elliot Bottle, Tyler Lurks, Jonas Pequeno, Charis Entwisle, Mino, Jack Sommerville, and Daniel Spivakov. I like how Stallmann announced this show in December 2020: "When the world is on fire, Stallmann is opening a gallery in Berlin-Charlottenburg -yayy….find wonder in the midst of the crisis". Currently, the gallery is having the first solo exhibition, showing Jack Sommerville's work. We talked about what it means to have your own name on the gallery door, the art market, the work behind it, the selection of artists, communication design, and about gallerists, collectors, and dealers.
There are many galleries that are named after the owner, David Zwirner, Johann König. I have not asked this question to anyone yet, therefore I have remained curious. Can you say something about the choice of the gallery name, and who is running the Stallmann gallery?
L: Daniel Spivakov, and I, Lina Sophie Stallmann, are running the gallery in Berlin- Charlottenburg together. Well, Daniel is a full time artist, but also is my main consultant for all the decisions. He also takes the lead in curatorial decisions. You can say, that we are working back-to-back trying to give enough space for each other to make decisions without stepping on each others toes. Basically, we are partners in life and in business. This is a big pleasure, because of the fundamental trust we have. The name of the gallery is Stallmann, my last name. When it came to choosing the name, we had a couple of ideas but Stallmann seemed the most adequate. Firstly, it sounds great and, secondly, it's Daniel and me running the gallery – we get to share our vision and perspective on things. Art, of course, is the main concern but personal relationships tie it all together.
So why not putting my name as the person behind the whole thing. Also, it is very cool to have your own name on the door.
D: Yah, it kind of makes things more personal. I remember a little unease in the room when we were about to decide on Stallmann being the name. The option to fail kind of disappears.
Everything you do from now on is attached to you personally. With your name on the door, you can't say you weren't serious about it, when things start going south.
That pressure helps you, as well as the people engaging with the gallery. We definitely want the visitors and costumers to know that they deal with a real person, not a storefront (As to why my name is not there, I guess I've got enough pressure to deal with as an artist).
Lina Sophie Stallmann tell us something about yourself and your connection with art?
L: I've been always interested in art since I was a kid, but growing up and trying to decide on a career pathway, I never actually thought art simply could be one. I just wasn't aware of anything that went beyond a painting hanging on a wall. So I went studying economics and then had been working in fashion. I thought I had a career plan.
From Munich and Paris, it led me to London, specifically, Central Saint Martins, an art school that also teaches business. Seeing all the kids running around and betting their lives on being full-time creatives, I realized there was a back-stage to an artwork sitting in a museum. I started having artist friends, I delved into galleries, auction-houses, museum projects… It was fascinating to learn about this whole another world that partakes in a cultural production along with the artists. It has its own rules, rivalries within, changes of attitudes, and yet it all seems to be revolving around finding, circulating and presenting you with the culture itself.
I was captivated by that, and I wanted to contribute. No harm in trying, right? The rest kind of followed organically. I was already dating Daniel and I knew I liked his works. At some point a friend of mine (who was also my former boss) proposed for me to organize something in his space in Central London. It was a great opportunity, I couldn't miss. It was a lot of work. Still, it was a wonderful feeling to see the final show and people coming to engage with it. D: You got the taste of blood then lol. It's nice to see people looking at things you show them…
Btw, I remember thinking how good it was to work with you despite the stress. I didn't expect that at all. I figured then, if I would be doing stuff with somebody consistently, it'd be you. I usually hate working with people. There is a reason why I paint alone…
L: I agree – we were very much in synch and not stepping into each others territories. The whole experience felt random at the time. But I guess, these kind of random experiences is what brought us to Berlin. Bottom line: I came to London with a career plan and left with passion.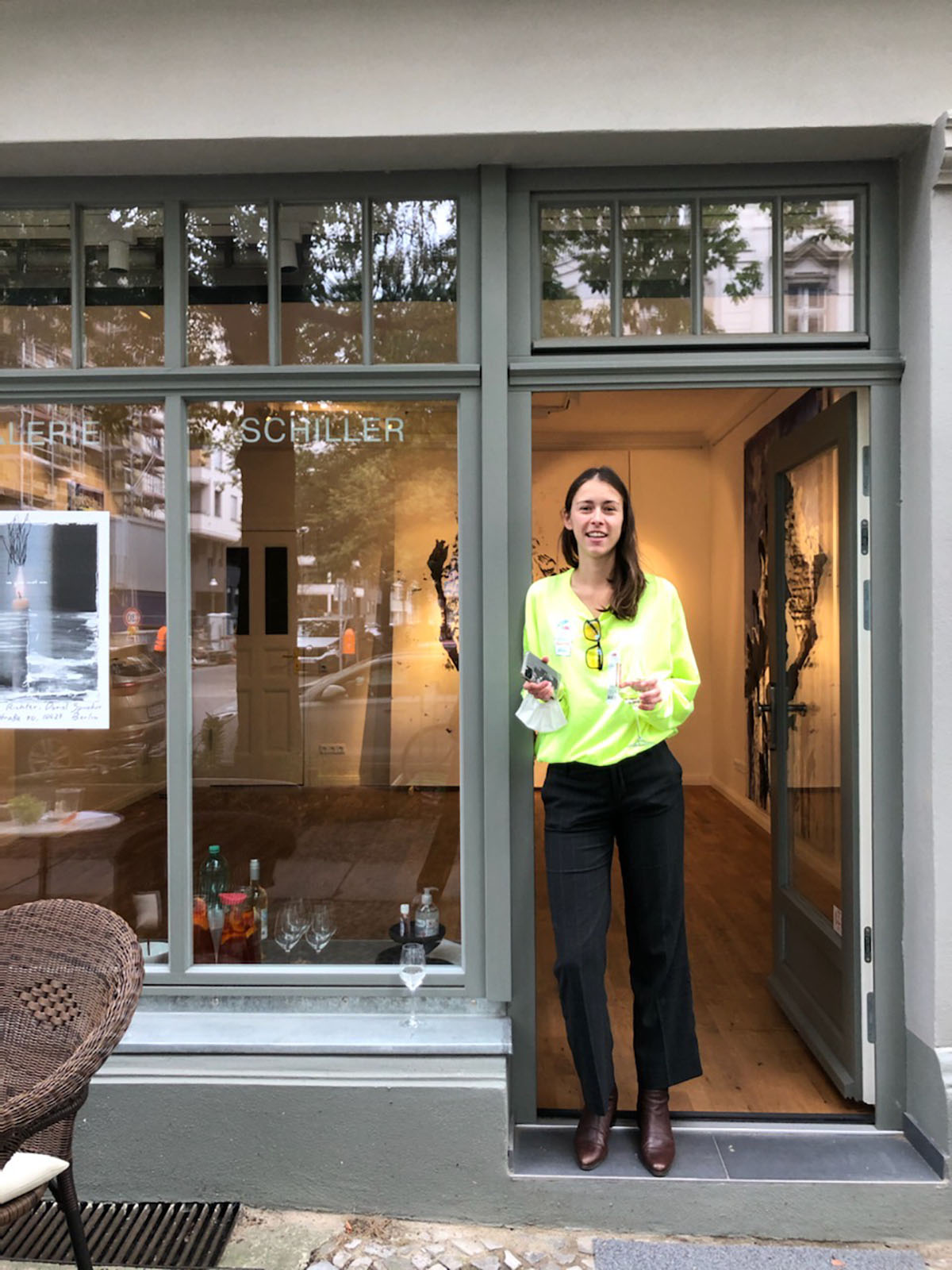 Is it difficult to be a gallery owner and an art dealer in two galleries simultaneously, or do they complement and enrich each other?
L: Of course you always want two activities to go well together. I'm very happy that it's the case with Salon RT and Stallmann. I see them as different tools, I guess. Stallmann presents a more traditional way of exhibiting. There, we choose art that really has to be experienced in person. Salon RT, on the other hand, gives space for experimentation with the possibilities of how art can be engaged with. It helps me use my brain a bit differently, try other things. I hope that Stallmann can learn from Salont RT and vice versa. Of course it is work on both ends, but it is more enriching than exhausting.
In difference with many others, you stoped calling the contemporary art just like this, but you have add a "super" before. Can you tell us something?
L: We do everything the other galleries do, but in super.
How would you describe the art, that you are showing? Where have you been finding your artists?
D: I think, at this point, we're showing art that has been around us for some time. You have to know what you're proposing before doing so. I wonder how it's gonna go further, but usually I need to see the work in person, and the more times I saw it myself, the better.
I know some people choose artworks for exhibitions from instagram, and see them only when they arrive for the show. It doesnt work for us like that. As Bob Dylan said, gotta "know the song well before I start singing
What are the features of Stallmann Gallery?
Our main space is a square with a big window front – the space is very straight forward and leaves enough space for the art to take it over. The classic appearance is very beautiful and charming. However, the real exciting architectural experience is the gallery's backyard where you can find Daniel's studio, the office, a private viewing room and a big terrace. It is a rare architectural oasis in the middle of Berlin-Charlottenburg. If you are a favourable visitor, you will be definitely invited to the backyard for a glass of wine 😉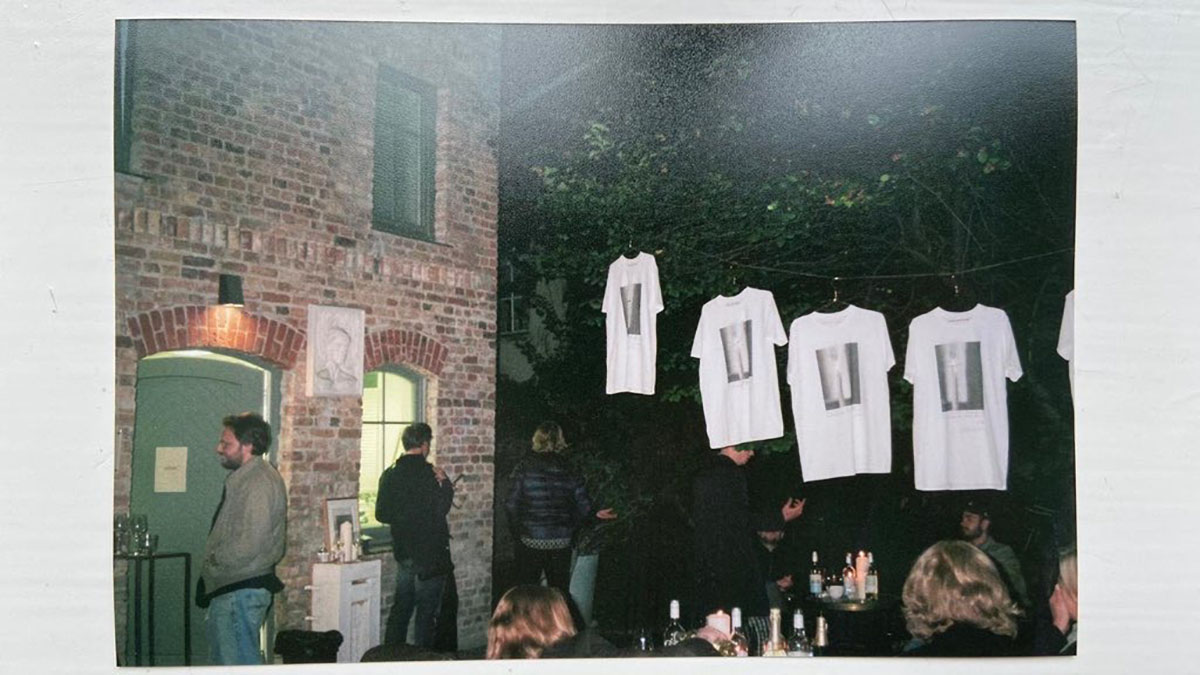 The way you communicate your exhibitions struck me. The digital catalog, the exhibition views give one the impression that Stallmann has been on the market for a long time, but then after some research one realizes that it is a young gallery. What are your design strategies for communication?
L: The design inspiration for the gallery definitely comes from the urge to establish something long lasting and with art historical impact – so it's very flattering that you say that! It is an intuitive work though. We like some things and we use them until we don't like them anymore. It helps keeping things fresh for yourself. As long as we can get people engage with the art, we are very much satisfied. That's essential. I don't think there's some big strategy behind it. Just trying to keep it about the essential.
Christmas Edition is your first exhibition at Stallmann, a group show. How was the selection process, and how did you organize the first show of the gallery?
D: We were told that the first gallery's show should be a powerful statement. We decided to do it a bit different. Instead, we talked to the artists we knew we were interested in, we chose some works, and tried creating a more intimate and delicate experience.
Instead of walking into white-cube gallery with a smell of fresh wall-paint, you walked into an almost personal space where things don't hang 2 meters away from each other. We wanted little warmth to run up you back when you come in. Unpretentious and fragile.
L: Under this premise, we approached artists we already were in touch with before – some were good friends and some were artists we always kept our eyes on. It was really a matter of trust from both sides, and I am very thankful that it worked out so well.